Spoke Notes


On the Road Again
Copyright © Peter Snow Cao, 1999.
---
Skip to: Travelogue Index | Introduction | South Korea | Hong Kong | Macao | China | India | Pakistan | China, Again
---
Back to Travelogue Index

Skip to: Travelogue Index | Introduction | On the Road Again | Pakistan | Roasting in Islamabad | Monsoon Washout | Breakup in Gilgit | Khunjerab Pass | Kashgar | Urumqi | Lanzhou in September | Labrang Monastery | Zoige, Sichuan | Farmhouse Family | True Love in Chengdu
---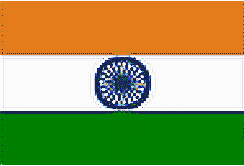 June in McLeod Ganj, India (a.k.a. Dharmamasala, Home of the Dalai Lama)
A new journal, a new record system and a new outlook on life thanks to Behram, my mediation and yoga teacher. My new system is to write in a smaller diary and have a separate record book for the multitude of things I like to track. My new outlook is to follow the path Behram outlined, which can be summarized as:
"LIVE LIFE LOOSELY AND SIMPLY."
Behram's Words of Wisdom
I prepared for leaving McLeod Ganj after about six weeks here. It really feels like home to me now. I have friends, know places I like to go and meditate, yet I know it is all temporary, impermanent. Oddly, I'm not all that excited about cycling again. The thought of the hot Indian plains, the Punjabi people I will meet and the impending monsoon has dampened my enthusiasm.
A large black-faced, white-haired, long-tailed monkey was sitting in a tree nearby and we watched each other for quite a while. Fascinating creature.
I woke up this morning to the sound and fury of a rapidly approaching storm. Like most nights for the past six weeks, I slept under the stars. Last night I had a companion, a female dog from the monastery warmed my back. It was a nice feeling. I have been thinking about getting a dog to travel with, maybe when I get to Europe.
"Sometimes, however, it seems that journeys are undertaken for their own sake, with the intention of turning anything encountered on the road into a means of spiritual profit. This is best expressed in the phrase "gang shar lam khlaer," to bring to the path (of enlightenment) whatever may happen. The journey is itself therefore regarded as being of equal importance to its goal."
Aung Saw Sui Kyi
The rain is depressing as I intended to leave this morning after yoga with Claudia. Still it may stop in time for me to make it to Pathankot, 86 km away. It stays light until 8 PM now, which is nice.
The greens of the trees and the grass are so vivid. ZZITT CRASH BOOM!!!! A lightening bolt struck very near by. That is a great way to get my mind back to the
"You are the architect of your own destiny."
Behram's Words of Wisdom
Nurpur 68 km
Ah, after my first shower in four days, here I am relaxing on the patio of the Forest Rest House and being pampered by a nice chowkidar. I'm feeling tired and sore after my first day's ride in six weeks. But now everything seems quite nice.
The rain stopped about 11 AM this morning and I left the hilltop that has been my home for so long. On the way down I met Behram and Shanti, the German woman who was in Behram's class. We said our good-byes and I went to have breakfast with Claudia. She told me about some more of her vivid dreams and expressed her sadness about leaving Behram. After yesterday's lectures with the Tushita group, she was even more thankful she had taken Behram's class. She said he made it seem so alive and vibrant, and if Tushita's instructors introduced her to Buddhism, she doubts there would have been any change in her life. We had a nice chat and I let her read my sister Elizabeth's letter to me. As a parting gift, she gave me her set of miniature Tarot cards.
Batal 101 KM
This place is the antithesis of yesterday. The hotel is in the middle of town across from the bus station. Horns, loudspeakers, noisy engines filled the air.
"One never sleeps well in Asia."
"J" in Baranas, India
I entered the State of Punjab today, leaving the wonderful mountains and the laid-back mountain people behind. Now I'm back on the plains again with its congested, bumpy, dusty, noisy roads and some obnoxious people to contend with. Actually, it hasn't been too bad yet, though I felt I was being tested today by four young Sikhs on two bicycles. They were determined to harass me for six kilometers and did a good job. I tried to avoid them by stopping several times or going faster, but it was just a big game to them. At the end I lost my temper and stopped to get some rocks to threaten them with. At that point they turned off. But I showed my anger and now feel ashamed. They threw a rock after me as I rode on. This was not the high point of my day.
"Abuse is not skillful."
Behram's Words of Wisdom
Although I had good intentions of trying to really rough it by staying at small temples like the Sadus, I realize that after a hard day's cycling, I really need a shower and a place to lay my head. I think I earned a little bit of comfort.
Armistar 40 KM
It was another very hard day. While it was only 40 km, I was on the verge of collapse when I got here. I think it must be heat exhaustion. My abdomen felt very bad and I even tried to bribe it with soft drinks, something I rarely do. It helped a little, but I was in a pathetic state by the time I got to the accommodation. Like the other Sikh temple, this place is offered free of charge, very generous and a good idea. Granted it is not that fancy, but it allows pilgrims and others a place to stay.
On the way, I met another challenge or test and lost my cool again. Damn, when will I learn to deal with these seagull situations? This time it was two milkmen, about my own age who were puttering along at about 12 kph. When I passed them at 19 kph suddenly the race was on to ride very close behind or beside me. I tried slowing down, speeding up, telling them no (I got a very negative response from one of them after which I told them to f--- off). Then I stopped suddenly when they were inches behind me and one of them crashed into me. Everyone got off the bikes. I checked my bike and nothing was evidently damaged and then got on and rode without looking back for a long time. When at last I did, they were nowhere in sight.
I am trying to understand how I should handle these situations. I thought I had it worked out earlier, by pointing out where they can and can't ride, leaving me some space, bit it doesn't seem to work here.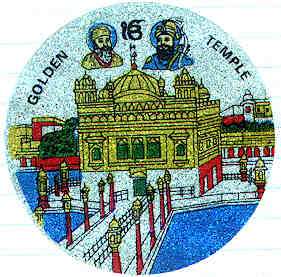 I am spending the day walking around looking at the sights, Durgrana Temple, GPO and now a splurge, eating in an air-conditioned restaurant paying outrageous prices to get a few moments of respite from the inferno outside. I have never sweated so much before. All last night I laid in a constant state of perspiration not really sleeping very well, which made for some semi-conscious dreams. At the Durgrana Temple I meditated, or at least I tried. I ended up being stared by many Indians who must have thought me a strange sight. I was undistributed, however, which was nice. I will try mediating at the Golden Temple tonight.
What shocks me most about Armistar is the oppressive military presence. At virtually every intersection there are several bunkers with many soldiers brandishing rifles or machine gun often pointed at eye level down a street or alley. On the way here from Batala (40 km away) I passed roadblocks about every 5 km. Violence is an ever-present threat.
"Life is like a candle in an open doorway. At any moment it can be blown out."
Behram's Words of Wisdom
I visited Jallianwala Bagh, the infamous place where the British general Dyer opened fire on a peaceful demonstration in 1919 killing over 300 and wounding 1,700 people. This scene was re-enacted in the movie "Gandhi". It was an eerie feeling walking down the alley where the massacre took place.
Tomorrow I will go to Pakistan since have no other reason to stay in India. I'm a bit sad about leaving, yet I know I will be back soon.
On to Pakistan
Skip to: Travelogue Index | Introduction | On the Road Again | Pakistan | Roasting in Islamabad | Monsoon Washout | Breakup in Gilgit | Khunjerab Pass | Kashgar | Urumqi | Lanzhou in September | Labrang Monastery | Zoige, Sichuan | Farmhouse Family | True Love in Chengdu
---
Skip to: Travelogue Index | Introduction | South Korea | Hong Kong | Macao | China | India | Pakistan | China, Again
---
Bike China Adventures


Main Page | Guided Tours | Maps | Tour Planner | Photo Gallery | Cycling Travelogues
Favorite Quotes | FAQ | General Info | Links | About Us | Contact Us

Copyright ©© Bike China Adventures, 1998-2004. All rights reserved.