Spoke Notes


Zoige, Sichuan
Copyright © Peter Snow Cao, 1999.

Back to Lebrang Monastery

Skip to: Travelogue Index | Introduction | On the Road Again | Pakistan | Roasting in Islamabad | Monsoon Washout | Breakup in Gilgit | Khunjerab Pass | Kashgar | Urumqi | Lanzhou in September | Labrang Monastery | Zoige, Sichuan | Farmhouse Family | True Love in Chengdu

Zoige
It was a very long day with no food after breakfast with the Tibetan nomads other than a few apples. The road was flat, dusty and monotonous. I rode most of the day along the edge of a marsh except at the end of the day when I was faced with several nice dips. After about 65 km, I spotted some bee hives along the road. The boy filled my small water bottle up with fresh honey for 4Y. As I was getting ready to leave it began to hail like mad a small pea-sized hail. I was quite surprised to see it. Fortunately I was able to take shelter in the bee keeper small tent. They made me a honey (of course) and hot water drink that was really great. I could feel the energy flowing through my veins. Four young Tibetans joined the three Chinese and me in the tent while it was hailing. It was apparent their was some animosity between them, though I think they tried to hide it. One of the Tibetans carried a sword almost three feet in length. It was an impressive weapon.

I was really pooped by the end of the day. Sunset had already passed when I got to town. I had a great dish of fried egg and onions over noodles. Food never tasted so good. And in my room is another cyclist!

Dreaming of poetry

Art and Death and Inspiration and Motivation

Making one' life a work of Art
Striving to become Buddha-nature and Christ-like
Yet realizing the inevitable failure.
But with the sunrise dawns a new day of hope
Dream on brother, dream on.


While I was standing around waiting to see one of the Living Bubbdas, a mean-looking PSB man came by and snatched the postcard I was holding from me. As soon as he saw it was an image of a Buddha, he gave it back to me. Jonathan, the other cyclist in my room wasn't so lucky. His postcard had a picture of the Dali Lam and the PSB man confiscated it. I found myself fearing the Chinese as I stood there waiting.

There is such a dramatic difference between the Chinese and the Tibetans, in attitude, temperament, dress, looks, language, and lifestyle they are totally different.

I spent the day fixing my packs, adding some more patches and fixing the plastic stiffeners. I also got some more souvenirs, candlesticks and small brass dishes for offerings.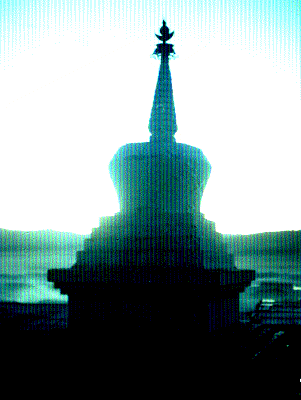 I feel a real affinity with the Tibetans. It was really great to watch the old women waiting patiently at the end of the line wearing a lifetime of accessories on the their clothes and on their bodies. While there are lots of similarities in dress, each one has customized their belongings with different things. The men with their belts and both with their necklaces and prayer beads. I went crazy here getting various things. I feel more relaxed about spending money now that the end is in sight.
Dawn, the best part of the day. Beautiful day, the sunrise is magic. I sat near a building of prayer wheels, sketched, and painted while the Tibetans went round and round singing their mantras, or catching up on the gossip. They are such fun-loving happy people.
I spent some time with Danelle, a beautiful Australian woman. She also has been travelling for a long time, about a year now, and she feels she has reached the point when it is time to go home. She reminded me of the special moments that one takes for granted after being away for a long time. My letters have become so drab and artificial", not discussing the sense of wonder and excitement because the "thrill is gone". I wonder if I will be able to regain that after going back to the US. Hmmm. Is sounds odd to say "going back". I hope I continue to grow and develop. Maybe I am going home, but I still have "no fixed address". Danielle said she found herself writing so much more descriptively when she wrote to her 12-year old brother. She said, "You write with feeling when you are dealing with kids."
The dawn was again magnificent. I walked around the monastery turning all the prayer wheels and chanting "Om Mani Padme Hum" and "Om Ah Hum, Benge Guru Payme Hum". I left feeling very well and want to learn to take life as it comes.
Baxi
Thunderstorm! I am staying in a private inn in a five-bed dormitory in a closed town. I made a 90-km mistake trying to get to Lamping from Zoige. Another map error. Damn. But it was interesting nonetheless. After 20 km of grasslands (where I met a Tibetan touring cyclist who needed some air in his rear tire), I climbed a small hill and dipped into a completely different environment. Trees! Both evergreen and deciduous (which were turning yellow). Someone said the area was like being in North America. Rushing water, mountainous landscapes and a glorious screaming downhill plunge. However, I have to climb out of it tomorrow. But that is okay. I am surprised I am not more upset about what happened. I must be mellowing out.
"There is a job in this life,… leading one's own caravan, enjoying a special thrill of responsibility for the love of your men and yourself, riding into thie morning mist, an hour ahead of the sun, driving yourself, on foot, over the hills that tax the utmost strenght in your limbs, and arriving toward sundown in a new valley knowing not what room will hold your cot at night and hoping only for quiet, well-earned sleep. Thes are simple primal thrills that no city dewller, no one who clings to the pavement can ever feel."
Edgar Snow's Journey South of the Clouds, by Robert M. Farnsworth
Along the way I met a group of six Tibetan monks, four young and two older. From the way they were hanging on each other it seemed as though they were gay.
Now the people in the hotel are watching me. It is a good way to stop the flow of thoughts.
On the Road
The grasslands are a wonderful place to do some heavy-duty meditation. I climbed out of the "North American" valley with a little pull from a tractor. On the way I met another Tibetan on a bike. He invited me in for some tsampa. He was living in a yak hair tent, but among a permanent community of mud thatched and sod-roofed huts.
God only knows where I am at 4,000 m, 75 km. A wicked headwind grew stronger as the afternoon progressed reducing my speed to about 10 kph. I am trying to hide from it now in a scar on the bank of the hill used for road patch material.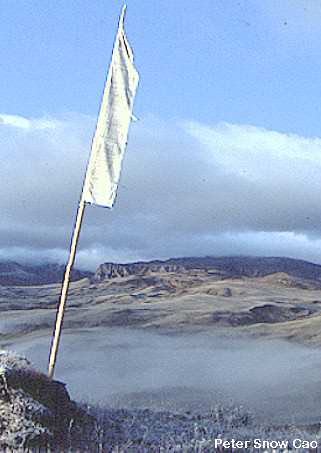 October in Songpan

It was a somewhat difficult day. After two-km my legs felt like rubber. At eight km I stopped and asked for food at a road workers commune. It was apparent I was imposing; yet the young man obliged me, and didn't want any money. He had pictures of scantily dressed Western women all over his room and was apparently married as a woman was present and acted as though she lived there. Yet there was very little communication between them. After breakfast I painfully and reluctantly continued my climbing a long slow grade that has gone on for two days. I passed Tibetan nomads, their tents and yaks scattered along the road every few kilometers. Then, a sight to behold sore eyes (and especially legs), the pass! A small pile of stones and some prayer marked it flags. I almost kissed the ground. I had a small celebration of a pear and some candy. I took a few photos marking the end of the Tibetan plateau (for me) and took a peek over the edge in the beginning of the huge Sichuan Basin. It also marked a change in river basins, from the Yellow River to the Yangzi River.
On the way down (or rather mostly down as there was a steep and painful four-km hill) I stopped at another road maintenance commune to ask for some food. There was a bit of a commotion and they thought I wanted pump for my tires. When I said I didn't need air, I needed food, they said there was no food. At that point I was nearly faint with hunger and I cried out, "Wo ugh le!" (I'm hungry). One of the older women said she would make something. It turned out to be lunch for the family and was a wonderful meal of potatoes, a type of lettuce and rice. As usual, I was given the seat of honor, and like before, they wouldn't take any money for the meal.
Later in the day I stopped at a small shack of a restaurant. It was like entering the intergalactic bar in the "Star Wars" movie. It was filled with women very ornate and colorful dresses, turbans and lots of jewelry. What an incredible sight. The headpieces that the women wear are truly fascinating. One style is made like an arch with large two-inch hunks of pink coral and golden amber set along the edge.
"All the richness of my youth seems bound forever to these names and adventures and romance found unexpectedly with them."
Edgar Snow's Journey South of the Clouds, by Robert M. Farnsworth
On the way I stopped to buy some oranges from some young girls along the roadside. I tried to find out how much they cost using the Chinese phrase I always used, but they just stared back at me uncomprehendingly. I finally gave up and left without them.
Now I am sitting in a hotel with laundry strung all over the room. A thunderstorm is doing its thing outside. I was a bit pissed off at having to pay for a whole room at tourist prices, 8.4Y for each bed (my total was 16.8Y) while the Chinese pay 3Y. Even though it isn't that much I still resent having to pay over five times more.
On to Farmhouse Family
Skip to: Travelogue Index | Introduction | On the Road Again | Pakistan | Roasting in Islamabad | Monsoon Washout | Breakup in Gilgit | Khunjerab Pass | Kashgar | Urumqi | Lanzhou in September | Labrang Monastery | Zoige, Sichuan | Farmhouse Family | True Love in Chengdu
---
Bike China Adventures


Main Page | Guided Tours | Maps | Tour Planner | Photo Gallery | Cycling Travelogues
Favorite Quotes | FAQ | General Info | Links | About Us | Contact Us

Copyright ©© Bike China Adventures, 1998-2004. All rights reserved.