Spoke Notes


Urumqi
Copyright © Peter Snow Cao, 1999.

Back to Kashgar

Skip to: Travelogue Index | Introduction | On the Road Again | Pakistan | Roasting in Islamabad | Monsoon Washout | Breakup in Gilgit | Khunjerab Pass | Kashgar | Urumqi | Lanzhou in September | Labrang Monastery | Zoige, Sichuan | Farmhouse Family | True Love in Chengdu

Urumqi
Roland went to the train station to try and get some black market tickets. Some guys who he felt were undercover policemen approached him. They were asking him all sorts of questions. No black market guy talked to him and he came back empty-handed. I said that maybe he would have to take a bus. He said, "There is one thing that is certain, I will fly before I take the bus."

"In Guangzhou, the Chinese eat everything with four legs or wings except airplanes and tables."
German traveler's comment in Urumqi about the choice of restaurant dishes.

Actually the routine of my stay here has been about the best I could hope for under the circumstances. I am staying the men's dormitory, a large room with about a dozen comfortable beds. I have my bike locked to the radiator, and my belongings under the bed. I watch the parade of travelers come through, stay a few days, and then leave. My social life here isn't so bad as there is always someone to talk to.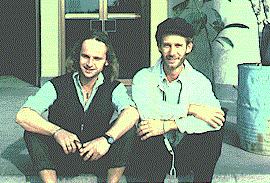 At dinner Roland and I were joined by a Cossack, one of the minority group in far northwest China who are more Russian than Chinese. They generally live a nomadic life, living in tents and tending cattle. He said he was Christian. He bought a bottle of strong grain alcohol and insisted on Roland drinking some. At first he refused, but then he accepted. After two cups, Roland had enough. Then the Cossack tried to get me to drink some. However, because I was feeling sick, I refused. He set the cup in front of me, but it wouldn't touch it. Unfortunately, we had no way of telling him why I wouldn't drink his alcohol. He then got very angry and took the bottle, which was 2/3 full and threw it in the bushes. He seemed to be saying that he would rather not drink than to drink alone. Roland said he will probably never try to have contact with a foreigner again.
I have been thinking of Claudia today and last night. I got out the Tarot cards she gave me and asked what I was to do now. I turned up a knight on horseback riding solo into the mountains. It is a significant and meaningful answer. I suspected as much, that even though I would like to be touring with Roland, "It wasn't in the cards". And I recall from Behram's Chinese parable, "Good luck, bad luck, who knows." There is a reason for this.
There once was a farmer in China who had an ox. One day the ox ran away. All his neighbors came to console him, but he was not distressed. He told them, "Good luck, bad luck, who knows?" A few days later the ox returned and with it was a horse. All his neighbors came to him to congratulate him on his good fortune, but again he would not mind them telling them, "Good luck, bad luck, who knows?" A week later his son was riding the horse, fell and broke his arm. Again the neighbors came to wish him condolences and tell him how very unlucky he was. The farmer shook his head and said, "Good luck, bad luck, who knows?" A few days later, war was declared and all able-bodied young men were conscripted, but because on his son's broken arm, he was not. "Good luck, bad luck, who knows?"
Story retold by Behram, my yoga and Buddhism teacher in India for six weeks
Then, as it looked like I was going to have the whole dorm to myself, an American guy, Hugh showed up and then the usual Japanese and Hong Kong crowd, plus three Germans who are sporting some heavy duty climbing gear. Talking with Hugh has been good for me. He has offered to try and forward my mail to me via someone headed on a bus back to Urumqi. So I'm thinking of going to Turpan for a few days, then maybe up to Heavenly Lake. I have been lamenting my being here and not "seeing the sights".

Turfan
The four-hour bus ride here was harder on me than I expected. For one thing I woke up two hours earlier than I had to because of someone else's alarm went off and I thought it was mine. The ride was very bumpy, but I had the company of a 26-year old Chinese woman from Guiyang who was on vacation. We had a short English lesson and a little chat.
Turfan is pretty hot, but not unbearable, yet. I got angry with the hotel clerk, a nasty lying slovenly guy. I really felt my emotions going over the deep end in a very bad way. It is scary how some people can do that to me.
I t was a day of walking around and eating grapes. I bought 3 kilograms (6+ lbs.) today and I am almost starting to get tired of them. I have been thinking about writing an article about the nasty Chinese that the tourists have to put up with.
A full day of tour-bus sightseeing. I have had my fill for the next year. I am going back to Urumqi and then up into the mountains.
Tianchi (Heavenly Lake)
Russell and Linda, two Kiwis living in the UK, invited me to join them on a short camping trip up here. Heavenly Lake certainly earned its name. It is truly a beautiful place, such a contrast to the city life of Urumqi, with snow capped mountains, Cossacks living in yurts (round tents made from bamboo and wool), rivers, a deep blue lake and lots of evergreen trees. It seemed like such an unlikely place for all this beauty. I haven't seen anything but barren deserts for weeks.
The bus ride up here was three hours long, and then we walked for another 2 hours. We made a smashing good dinner of a soupy noodle vegetable dish with a bit of bread.
I am grateful to Russell and Linda for inviting me to go with them. The three-hour bus ride and the two-hour hike had finished me off for the day. We setup camp and cooked a wonderful meal. It was really nice sleeping outside again. I missed doing that. I hope I get more opportunities after I get on the bike again. The next day we started walking up the valley beginning with a river crossing in which I screwed up. I was being too cocky and slipped and fell in the frigid water up to my chest. It was a literally a breath-taking experience. The river is glacial melt-water and the temperature seemed to be just above freezing. I was strapped into my backpack and wearing flip-flops, not exactly ideal footwear for mountain climbing, but the Nepalese seem to do fine, so I figured, why not? Nothing was waterproofed; the sleeping bag in my daypack was just floating on the water. It was a shocking experience. Fortunately, the only major loss was my shoe. Russell and Linda thought that would be the end of the day, just as we got moving. I told them I could walk barefoot for a while. Shortly later we passed yurt and I found a discarded sole of an old shoe. Fortunately, it was for the left foot, which was the one I needed. I decided to try and make it work. Using a small piece of rope I made a type of sandal that worked fairly well. I liked it so much, I think I'll try and make a pair.
"Non-Personal Service"
The name of a bank window in Urumqi
Back in Urumqi
I woke up and bought a train ticket, a hard seat to Lanzhou for 71Y renminbi, and my bike shipped for 101Y, so my bike cost about 30% more than me to get there. Getting my ticket was pure luck. I waited in line for 45 minutes before I found out I was in the wrong line. I went to another line and got behind a guy who happened to be from CITS (China International Travel Service) who was buying tickets for tourists at the tourist prices. He was kind enough to help me. It turns out I also got in the wrong line for second time. I got in at the end of the third line, behind about 50 people. I had waited there a few minutes when the CITS guy came by, took my money and went up to the front of the queue, wedged himself in front of the ten other people simultaneous trying to get tickets and got mine in about 2 minutes.
"Trustworthy and No Fake Shop"
English sign on a shop
Getting the bike shipped was easier than I expected; I just had to ask several people how to fill out the form. It is a humbling experience to be illiterate and have to rely on others to help you.
When I got back to the hotel, I found Michael Carlton, from Chicago who I had met 4 years ago in Grindlewald, Switzerland while hiking up to out of the glaciers. He saw my note I left in the lobby looking to trade books. We have been talking like mad ever since.
Now that I am feeling better, tomorrow, I'm out of here!
"We found your son's backpack, but no body yet."
US State Department's tactful call to Michael Carlton's parents after his stolen pack was found in the UK. Fortunately, he had called them before the State Department.
Train No. 54 Urumqi to Lanzhou
On the move again, finally. Boy, I am a space cadet today. I left my chopsticks and my small water bottle in the Big U. Now I rolling in my hard seat #4, but by the window, thank God. Across the table from me is a pretty young Uighur woman. She smiled at me, so I think it will be a pleasant trip. I have had no hassles with my ticket, so far. I find it nice that I will be able to write while on the move. Maybe I can pen a few letters. In the waiting room, I took look at my fellow passengers and didn't see any other Westerners. It will be a quiet time for me. Also exhausting as I tired already.
I had a chance to weigh myself with all my luggage. It came to 94 kg minus 62 for me makes 32 plus 16 for the bike. I am carrying 48 kg including the bike (about 110 lbs.). Holy cow! I am going to have to reduce that soon. It is a ridiculous amount, and I don't even have a tent.
The twilight recedes as the horizon turns blood red on the high desert horizon. Small hills are silhouetted against the dawn of a new day. Red turns to orange fading into yellow. The midnight-blue sky with the bright morning star hanging delicately above. Light increases and forms become discernable. Orange, yellow, blue, the colors fading as sunrise approaches as we slide along these tracks through the Gobi glimpsing a sight so common, yet so special. The desert provides a stage of immense portions and the light assumes a clarity that is impossible to describe.
So ends the end of my first night in hard seat. It was a night of interrupted snatches of sleep, and a stiff neck from trying to find a way to lay my head down. I got a brief break as my seatmate moved to an empty seat and I am able to get horizontal for a while with my leg cross against the window. Far from ideal, however it provides a bit of relief to my spine. Sunrise pierces my eyelids as me pass through a sliver of sunshine along the jagged terrain. To the west is a snow-covered mountain range and we have entered the grasslands. It is stunning to see and I regret not cycling here.
On to Lanzhou in September
Skip to: Travelogue Index | Introduction | On the Road Again | Pakistan | Roasting in Islamabad | Monsoon Washout | Breakup in Gilgit | Khunjerab Pass | Kashgar | Urumqi | Lanzhou in September | Labrang Monastery | Zoige, Sichuan | Farmhouse Family | True Love in Chengdu
---
Bike China Adventures


Main Page | Guided Tours | Maps | Tour Planner | Photo Gallery | Cycling Travelogues
Favorite Quotes | FAQ | General Info | Links | About Us | Contact Us

Copyright ©© Bike China Adventures, 1998-2004. All rights reserved.