Touring Bicycle Photos and Descriptions
Peter's Bike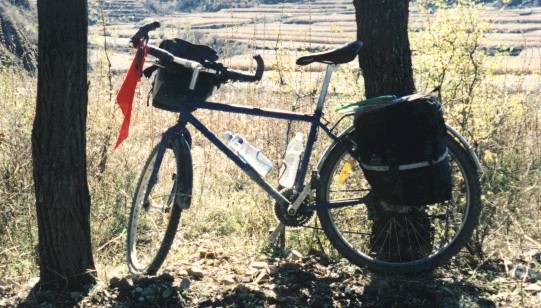 With this bike I travelled 30,000 miles during three years of continuous touring. The bike was a closeout of last year's model at REI, marked down to US$199. It was set up as a cross mountain/touring bike with 26" wheels. It has a very small frame, 19"/48 cm from the bottom bracket to the top of seat post lug. This made it extremely stiff. While I am not that tall (5'9"/176cm), I did have to use a rather long seat post and handbar post so the bike would fit me.
The bike was set up with three set of water bottle fittings, and eyelets for front and rear racks. The handbars are the ram style that I perfer for long distance riding because they provide a number of different hand positions which help reduce numbing. I used a Ideale leather saddle that I bought at a thrift shop years before for a song. I covered the painted areas of the frame with black handbar tape to reduce the attractiveness and protect the steel frame from corrosion.
I used the rat trap pedals with conventional toe clips, and standard tennis shoes. I also used Blackburn racks, and had to repair the rear rack once in Pakistan. The failure was caused by a bike accident where a couple of milkmen harrassed me for 30 minutes and I finally got fed up and slammed on the brakes causing one of them to plow into my rear rack.
I used ESGE fenders which provided extremely good service. I used a cateye cyclometer which also worked well. I carried a frame mounted hand pump which was stolen in Islamabad while I was watching a movie. This proved to be disastrous, since the Shrader-style pumps were unheard of there. Next time I will carry two pumps, one tiny one inside the seat tube, as well as a standard-sized hand pump.
At the time of this photo, I was cycling in Asia up the Karakorum Highway and had removed the front low rider panniers and racks, since I was no longer camping out on a regular basis. I used Rhode Gear five pocket rear panniers, that I also purchased at a big discount at the end of a pervious cycling season. These panniers were mid-size, which forced me to continually limit the amount of gear I carried. I also carried an REI big day pack to carry food, cooking equipment and overflow from the rear panniers. In addition, I used a nylon string bag for those times I needed to carry a wee bit more, like food just before finding my spot for the night. I used Cannondale quick release handbar bag for storing valuables. I also carried a six-foot cable for locking the bike.
I kept a diary of my travels called Spoke Notes. This online travelogue details a portion of my three-year journey through China, India and Pakistan.
If you would like to put your bike photo in this collection, just send me an email with a URL or a digital photo in either *.jpg or *.gif format and a brief description. The more bikes the better!
---
Back to the Main Photo Index | Touring Bike Index Page | Paul Woloshansky's Homemade Gear | Jeff Kruys Bike | Andy MacGee's Home Made Bike | Andy's Bike - Page 2 | Peter's Bike | Jon Erik Larson's Sakkit Bike | Francisco Dellatorre Borges' Bike | Aussie Off-Road Tourer | Today's Bicycle Equipment Commentary
---
Bike China Adventures, Inc.
Home
|
Guided Bike Tours
|
Testimonials
|
Photos
|
Bicycle Travelogues
|
Products
|
Info
|
Contact Us
Copyright © Bike China Adventures, Inc., 1998-2012. All rights reserved.