Touring Bicycle Photos and Descriptions
Andy MacGee's Home Made Bike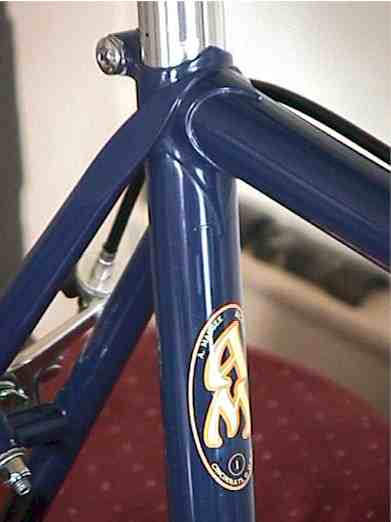 Despite your explicit instructions, I'm sending an attached bicycle photo anyway. The actual file size is 52 K-B, not M-B, as I had stated in my previous correspondence. You would think a mechanical engineer who once designed major structural jet engine components that were actually flown by several pilots over the Mojave desert would be conscious of a factor like 1000. Maybe it's time for me to go into management (ha!). I've sent this picture to my father (who is learning this stuff, too) and it took about 18 seconds to load. I hope I didn't blow anything up on your end.
As for the bicycle, it was hand brazed and finished, slowly and painfuly, from Reynolds 531 tubing and mostly Everest lugs (some of which were extensively re-shaped). It was painted with blue automotive lacquer, which will chip off readily from a low-velocity gnat impact, but takes on a wonderfully glossy shine while intact. Much of the componentry is made by old French companies that are no longer solvent, like the Ideale leather saddle and the Simplex retro-friction downtube shifters. Not a speck of Shimano will be found anywhere (except for the rear dropout forgings, which I think were really made by Tange). It handles well, rides smoothly (on tubulars, of course) and climbs like a mountain goat. I like it. Don't expect me to build another one, though.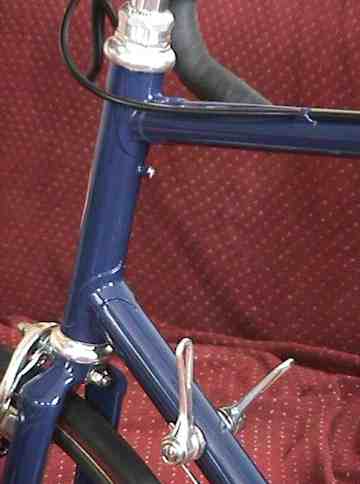 Another photo of the bike, featuring that extended head tube. I also made a small aluminum washer on my lathe that fits under the head bearing locknut to extend the stem an additional 5 mm. Luckily, I did have the foresight to take these pictures before the chain got dirty, or the paint started to chip off.
Here's the best full side view of the bicycle I've got. I wish I had taken some real film photos while it was still new; right now the paint needs a lot of touching-up from chipping. The smaller detail photos I have are much better, for some reason. Maybe the auto-focus doesn't know what to auto-focus on (I wish these cameras had a manual setting).
---
Back to the Main Photo Index | Touring Bike Index Page | Paul Woloshansky's Homemade Gear | Jeff Kruys Bike | Andy MacGee's Home Made Bike | Andy and his Bike | Peter's Bike | Jon Erik Larson's Sakkit Bike | Francisco Dellatorre Borges' Bike | Aussie Off-Road Tourer | Today's Bicycle Equipment Commentary
---
Bike China Adventures, Inc.
Home
|
Guided Bike Tours
|
Testimonials
|
Photos
|
Bicycle Travelogues
|
Products
|
Info
|
Contact Us
Copyright © Bike China Adventures, Inc., 1998-2012. All rights reserved.