Touring Bicycle Photos and Descriptions
Jeff Kruys' Touring Bike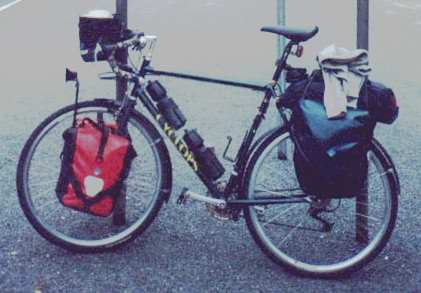 "I was just crossing the border from Victoria to New South Wales in Australia here. Actually at the time, I was intending to ride up through southeast Asia, up to Chengdu, and into Tibet and India, but that didn't work out (I couldn't get into Indonesia because of the political troubles so I gave up on the whole idea and went to New Zealand, where I ran out of money). After I got home (to Canada) and saw a travel show about China, I was surprised to learn that Chengdu was home to about 10 million people! They showed a street scene with thousands of bicycles swarming everywhere and almost no traffic control. Sounds like a nice place to visit, but I'm not sure I'd want to live there!
"Anyway, I don't know how much detail you want about the bike, but here's a little write-up:
"True-temper steel frame, custom-built by Mike Mulholland of Cyclops in Vernon, BC, Canada in 1996. Ortlieb bags with a Jandd handlebar bag. Union headlight & generator. Alesa X-Plorer 700C 36-spoke rims. Sierra Designs Orion-CD tent. Pentax A3000 camera. Realistic DX-380 shortwave receiver.
For more of Jeff's Great Bikin' Stories, click here!
---
Back to the Main Photo Index | Touring Bike Index Page | Paul Woloshansky's Homemade Gear | Jeff Kruys Bike | Andy MacGee's Homemade Bike | Andy and his Bike | Peter's Bike | Jon Erik Larson's Sakkit Bike | Francisco Dellatorre Borges' Bike | Aussie Off-Road Tourer | Today's Bicycle Equipment Commentary
---
Bike China Adventures, Inc.
Home
|
Guided Bike Tours
|
Testimonials
|
Photos
|
Bicycle Travelogues
|
Products
|
Info
|
Contact Us
Copyright © Bike China Adventures, Inc., 1998-2012. All rights reserved.