Do you have a China cycling travelogue you would like to share here?
Contact us for details.
---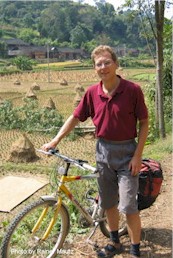 Rainer Mautz

Rainer Mautz@alumni.TU-Berlin.DE
Cycling and Confluence Hunting in Hunan and Guizhou
Email from the Road, 2004
Part 6
Copyright © Rainer Mautz, 2004.
---
Dear Peter,
October 11th Weining
As you might have figured already, I didn't make it to a place with an Internet cafe yesterday since you didn't receive an email from me this morning.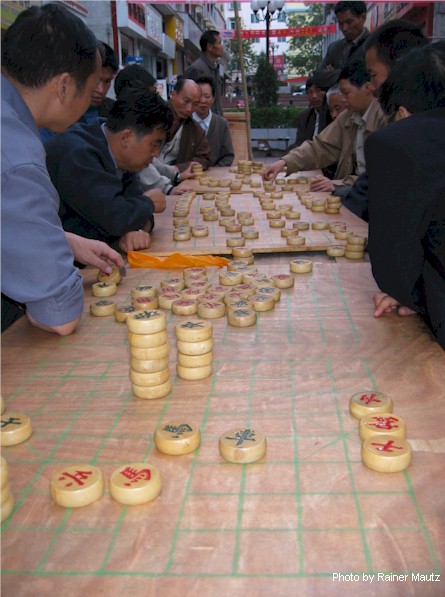 It's always anti-proportional: when a lot happens you don't have time to write about it. And if you have time, nothing happens. Well, fortunately the first condition is the case these days.
Today was an incredible day. I woke up with the first daylight, but found myself locked in the hotel. Only by making an extremely loud noise I could wake up someone to unlock the front door. Without breakfast I left the 'town' of Gukai. The next village seemed not too far away; I estimated an hour to reach it. But the road was bad gravel windy and steep uphill so it took almost three hours.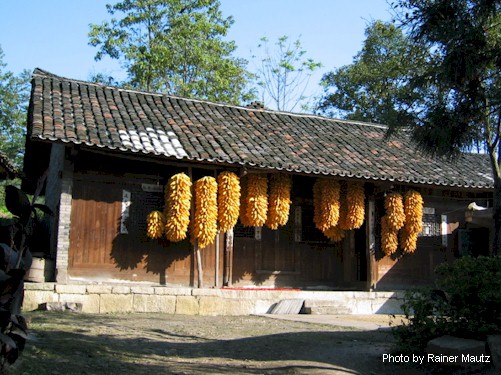 My goal was the CP 27N 105E and the closest place to it was Yangzhang. Right at the confluence point, my map showed a big white area with nothing on it. It looked like an upcoming adventure to get to this point, especially with the steep mountains all around. Once I passed a motor bike. While I passed, the rider asked me where I want to go. Without stopping I answered 'Yangzang.'
After a while, this motorbike passed me again and stopped at the next intersection. First, I thought he would only try to do some small talk with me. Indeed, he pointed to a small way up and told me this would be the way to Yangzhang. I surely would have missed that small track without his help, since there was no sign either. He also said that he was going to Yangzhang because he was the Geography teacher there. The geography teacher! Great opportunity to explain that I wanted to go to 27 North 105 East. Indeed, he understood and we agreed to meet after his lesson was over (he was late for class and had to speed ahead). Meanwhile I pushed my bike 4 km the steep grade gravel road upwards into a dead end. Almost starved I reached Yangzang.
This is probably the most remote place in China that I have seen. The place consisted only of an elementary and a middle school, some sleeping rooms for the teachers, a restaurant and a small shop. It actually was on top of a mountain and you could see the mountains in all directions.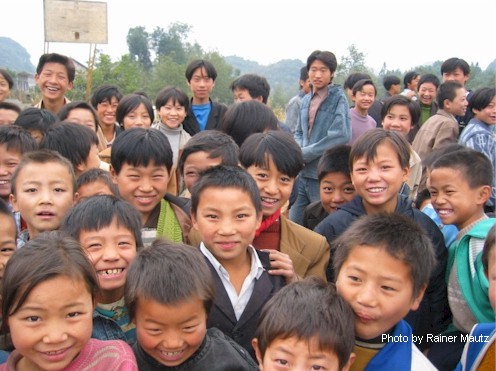 First I had a meal, while everybody was watching me. The cook wanted to do me a favor and did cook a lot for me. Nevertheless, I ordered a second meal. At 10:30 a.m. the classes were over and some hundred kids with running noses soon surrounded me. I explained to the Chinese, the English and the geography teachers what I wanted to do. They understood and suggested taking their motorbikes, because this way wouldn't be suitable for bikes. I thought the same so I agreed. And off we went altogether four motorbikes (and eight people).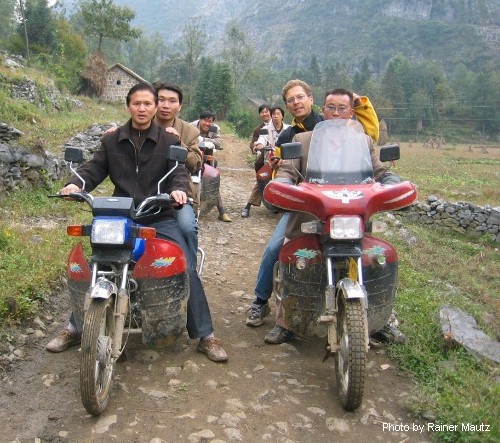 Indeed, the way was incredible, big rocks, deep mud holes, really not suited for a bicycle. We had to push the motorbikes once in a while and sometimes the passengers had to walk. Using the motorcycles we managed to come as close as 1.2 km from the confluence. Then we started hiking. I told them, that this distance in the mountains means a lot. But they said that people from Guizhou are used to do mountain climbing. Everybody had the confluence fever. Every 100 meters the whole group had to stop and look at the GPS display.
We climbed mountains up and down, asked local people (mostly Miao Minority people) for the best way. But, we made it! Everybody was happy and we took pictures together. Interestingly, on the whole way, there was no house at all. But just 20 m from the CP there was a farmer's house.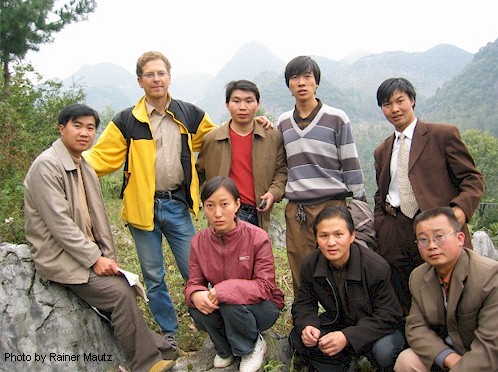 The teachers had to rush back to school, because their next lesson started at 2:30 p.m. After we were almost there, a police car came towards us, of course because of me. There had never been a foreigner here before. To be honest: I was bored. The same procedure as always: First of all I had to get off the motorbike, because riding a motorbike was 'unsafe'. So I had to return back the last two kilometers in the police car. They took me directly to the police station. There, I had to explain to them my passport, visa, why I came here (of course I didn't mention the CP-visit). Afterwards they wrote a lengthy report and phoned to the capital Guiyang to report. Finally, I could go and they stopped being strict with me. A handshake and I was off.
I rode until darkness today. When a bus overtook me, I stopped them and they took me and the bike. There was no need to ride in darkness the last 20 km to Hezhang. When I reached Hezhang, I saw a bus just about to leave for Weining. Without thinking too much, I got in, the bike on top. What a mistake! The bus was cramped with people and luggage. I was squeezed in-between. It was a 76-km gravel road and almost everybody was throwing up (but me). All windows had to be opened so they could put their meals on the road and not in the bus (most of them made it, some didn't).
Well, now I am here and very tired....
See you,
Rainer
October 12
On this day I started in the district town Weining about 30 km east of the confluence. When I left the hotel on my bicycle it had just stopped raining, but it still was a nasty humid and cold day. Actually a day to stay inside as much as possible. Well, I did want to complete my series of confluence visits and I didn't have time to wait for another day.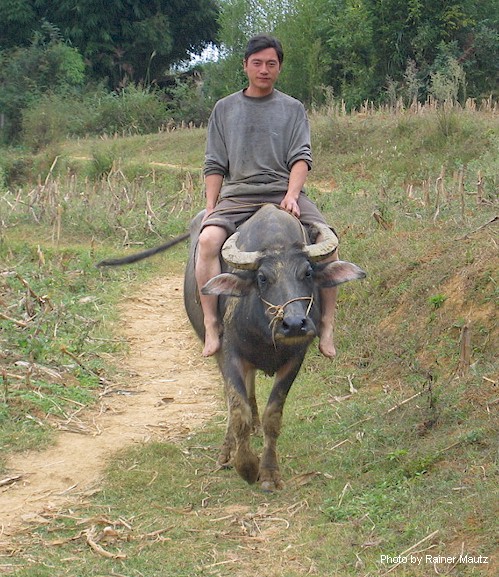 The road between Weining and Zhaotong (in Yunnan province) is under construction right now. The road conditions were extremely rough with muddy holes and sharp rocks. At 10:30 a.m., I reached the village of Guangfengmei at a distance of 3.2 km from the confluence point. I continued riding on the main road until I found a turnoff at a remaining distance of 2.1 km. This track had a surface of deep mud due to the heavy rain that had come down in the morning. I soon got completely dirty by draggling my bike through the mud. Some locals passed me, but they didn't even notice me as a foreigner, because of the fog being very dense.
At a distance of 1 km I had to climb a hill. Even though it wasn't that steep, I just couldn't make it. The reason was that I - almost like Sisyphus - always slid down after I did some steps forward. Now it was time to hide my bike behind some bushes. Without it I managed to climb that muddy hill and continued on different paths. At a distance of 800 m I came through a small deserted village. I didn't meet anybody there, probably due to the cold foggy weather. I continued the hike across harvested cornfields and then through a little forest with tiny conifers. I reached the confluence directly on a small footpath. Due to the bad weather conditions it wasn't easy to take pictures of the area. All I could do was to point the camera down and take some close-up views of the surroundings.
The way back was also very unpleasant. It made me doubt if these visits do make sense at all. I could have had a much nicer day without this CP-visit. But no, I had an inner feeling of a positive ego, which was worth the suffering.
Back to the road I decided to take a bus and get out of the highlands as soon as possible. Unfortunately, the first bus would come three hours later (in order not to cool down I rode my bike all the time). I had to change another bus at the border to Yunnan in a place called Zhongshui. This town has a Muslim population and was worth a visit. I reached the city of Zhaotong in the evening and was lucky to catch a train right away to Chengdu to meet you.
This is the end of my 2004 bike trip.
Rainer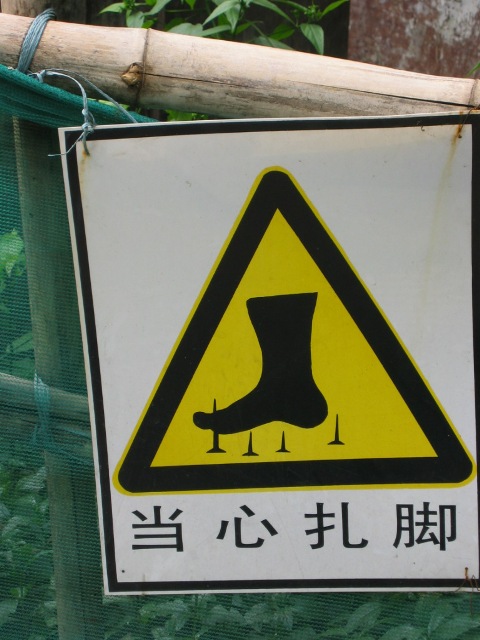 ---
Cycling and Confluence Hunting in Hunan and Guizhou:Part 1 | Part 2 | Part 3 | Part 4 | Part 5 | Part 6
---
---
Bike China Adventures, Inc.
Home | Guided Bike Tours | Testimonials | | Photos | Bicycle Travelogues | Products | Info | Contact Us
Copyright © Bike China Adventures, Inc., 1998-2012. All rights reserved.