Do you have a China cycling travelogue you would like to share here?
Contact us for details.
---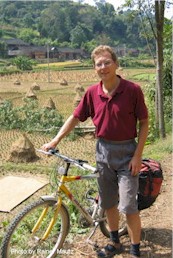 Rainer Mautz

Rainer Mautz@alumni.TU-Berlin.DE
Cycling and Confluence Hunting in Hunan and Guizhou
Email from the Road, 2004
Part 5
Copyright © Rainer Mautz, 2004.
---
October 09, 2004 3:56 PM
Subject: KaiYang
Dear Peter,
Today I used the 12 hours of daylight optimally. I had an early start (after having four Chinese breakfasts) and started riding mountains up and down again. Actually, the region was not so pretty anymore. I am getting into the coal mine area (as we came across to the coal area 14 years ago, too). There is industry here and the air is accordingly not the best. Besides, some million farmers are having their fires on the fields, adding smoke to the dust. But nevertheless, there was one astonishing sight today about half way between Kaiyang and Rongan. It was the best view I ever had: 10 layers of mountains up to the horizon, just like in a shanshui (Mountains and Rivers) picture.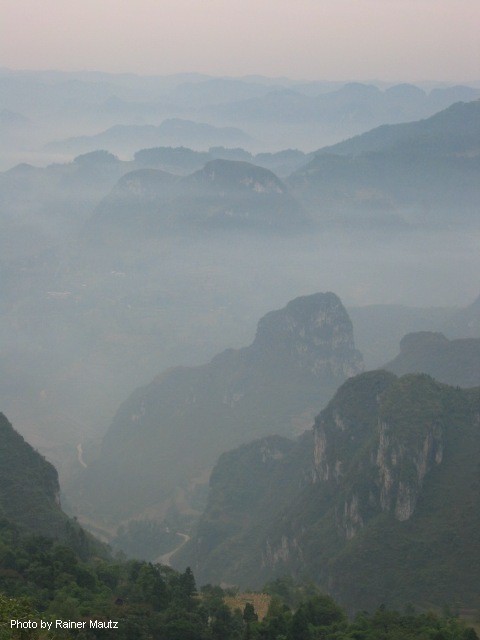 At 3 p.m., I reached the turn off for confluence 27 N 107 E with a beeline distance of 6 km from the confluence. I knew that was late for starting a confluence hunt (since most incomplete visits happen due to running out of daylight), but I thought I would give it a try anyway. I took the paved road to Nanlong for 4 km to the village of Dingfang (2.8km from the CP). This time, it didn't look like an easy visit, because the mountains are steep and high in this region and 2.8 km can be very long! There was a concrete way to a smaller village, bringing me one-kilometer closer. Then, I started to walk my bike on small foot tracks. At the distance of 1.3 km, I gave up my bike, packed my backpack with all my valuable stuff in it and started hiking. After a while, I suddenly was looking to an incredible steep, forested valley ahead of me. I thought it would be over, since on the other side, there were vertical cliffs.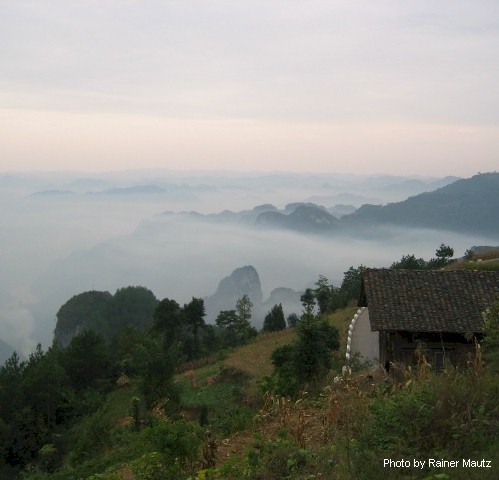 I managed to find a footpath leading down to the river. There were two small rice fields on the other side so there must be a way to cross the river. Indeed there was. But after I had passed the rice fields, the path wasn't a beaten track anymore. Hundreds of spiders had spread out their webs across the track. With every meter I had to destroy one spider web first and then step forward. These spiders looked very scary, but I went on anyway.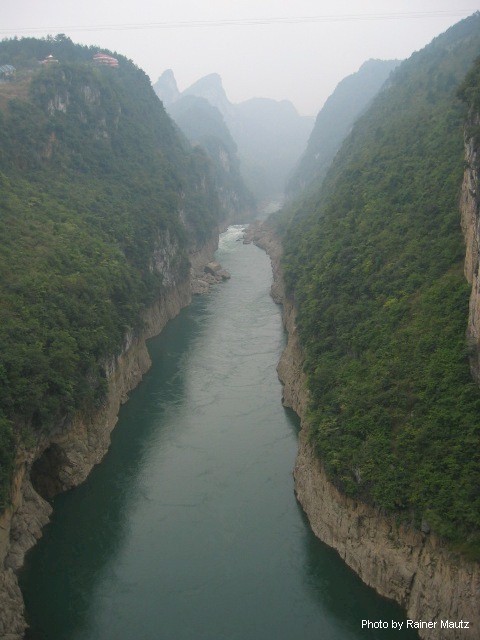 The valley was so steep, that I hardly got enough satellites for positioning myself. The last 200m were really difficult - so difficult, that I jumped when I passed the 100m-distance from the confluence. Again, I couldn't get a zero reading since the forest is dense and the grade almost vertical at the point. With a risky climb, I managed to come as close as 41m. According to my watch there was only one hour of daylight left and I had to find my bicycle again, which I hid in the forest. I just made it back to civilization before it got completely dark.
Now I know what to say if people ask me, what I am doing: I just say that I am a photographer. First, people understand that I want to go to strange places (foreigners are weird anyway). Secondly, people agree with pleasure, if I ask them for to be photographed.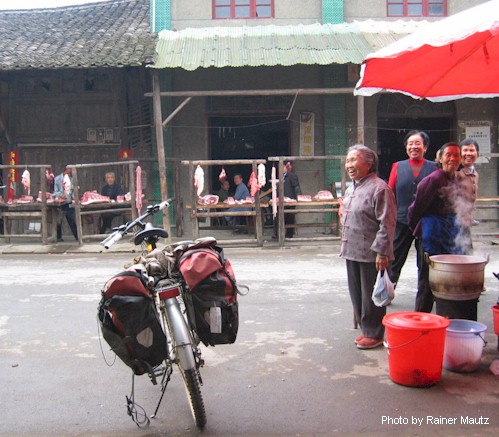 Rainer
October 10, 2004 2:38 PM
Subject: Zhongshan
Dear Peter,
Tonight I am staying with a family in a small village called Zhongshan. It just got dark when I arrived here and I couldn't make it to the next town (Qianxi). When I stopped at an intersection, a family started to ask questions about my trip. But they were just about to have dinner so they invited me to join. Of course it is great to be with someone for the night and not being alone. They are - probably as everywhere in China - very nice to me. Now they guided me to the Internet cafe and all are watching how I write this email. In order not to bore them too much I have to be quick today.
The biking day was extremely hard today. First, it started to rain, but I went on anyway. In a place called Liuguang there was a steep valley, which I had to cross and was going down 550m and afterwards a 700m climb. The road is an old gravel road and besides me, nobody takes it because there is a new highway parallel to it in which I could not take with my bike. Today is the first biking-day over 100km. Usually I ride 200km a day, but in Guizhou it's just impossible.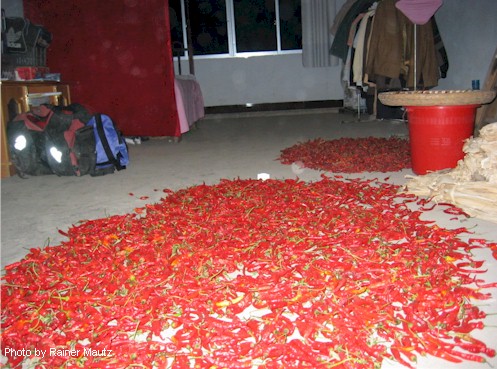 See you soon,
Rainer
---
Cycling and Confluence Hunting in Hunan and Guizhou:- Part 1 | Part 2 | Part 3 | Part 4 | Part 5 | Part 6
---
---
Bike China Adventures, Inc.
Home | Guided Bike Tours | Testimonials | | Photos | Bicycle Travelogues | Products | Info | Contact Us
Copyright © Bike China Adventures, Inc., 1998-2012. All rights reserved.