Do you have a China cycling travelogue you would like to share here?
Contact us for details.
---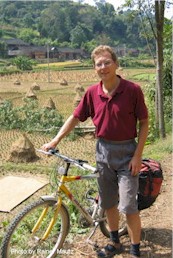 Rainer Mautz

Rainer Mautz@alumni.TU-Berlin.DE
Cycling and Confluence Hunting in Hunan and Guizhou
Email from the Road, 2004
Part 1
Copyright © Rainer Mautz, 2004.
[Editor note: This travelogue was written as email messages from a good friend of mine, Rainer Mautz about his cycling trip retracing the route he and Peter Snow Cao rode in 1990, Rainer recounts his adventures as they happened by sending Peter email from the road. Rainer cycles through Hunan and Guizhou provinces while pursuing his new found hobby of confluence hunting.]
---
October 3, 2004
Dear Peter,
I made it to Jinping today!!!!
Two days ago, on the national holiday, October 1st of 2004 I landed in Hong Kong. My delay of the airplane was three hours (I had to wait in the airplane for three hours at the Mumbai Airport). Thus I arrived quite late in Hong Kong at about 7:30 p.m. I didn't want to travel into the stressy city, so I took a bus directly to Guangzhou City. It was 11 p.m. when I arrived in the modern town. Actually, I wanted to take any train or bus heading to Guilin or anything heading northbound. But unfortunately, at this time nothing was departing; escaping from the city was not possible and I had to spend the night. Finding a hotel there wasn't easy at all, because they have still the restrictions for foreigners (they are only allowed to stay in "good" hotels). But all good hotels were booked out already because of the holidays. However, I finally found a rip-off place for the night. The next day I managed to get a train ticket to Jingzhou, a town in Southwestern Hunan Province. We went through that place 14 years ago! In 1990, it was a closed town for foreigners and we just went through at daytime.
Now read my story from today:
I hopped off the train at 11:45 a.m. suddenly standing in the middle of nowhere. Just another girl and me got off the train. Her father was picking her up with in old pickup-style car. He was very nice to me and offered me a ride into the town (Jingzhou). I agreed and we started talking. He asked me, if I was aware that foreigners are not allowed in this town! I was surprised, almost shocked! First, because I thought Hunan Province would be completely open by now, and secondly, because he knew it and mentioned it to me. Well, I said to him this was news to me. He drove me directly to the bike shop, where I bought a Chinese mountain bike for 600 Yuan.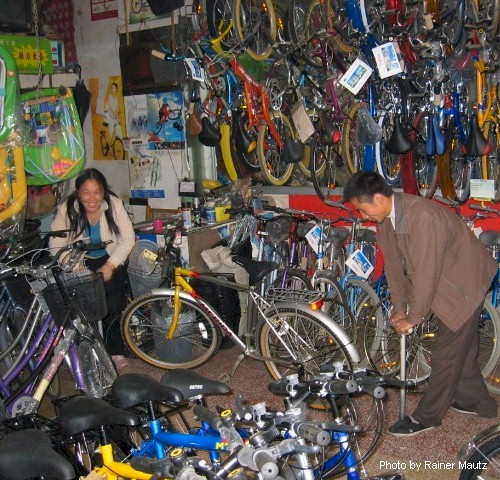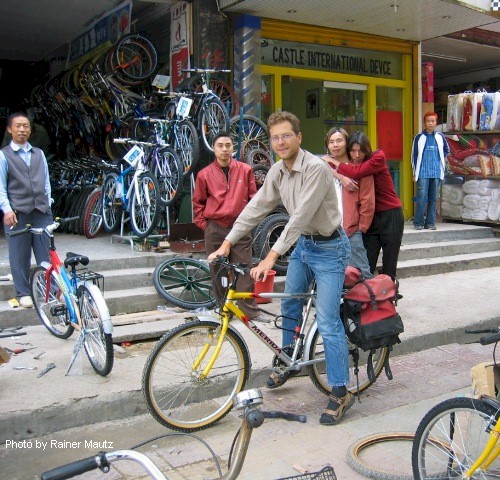 As you know, I do not care much about bikes and quality. I just took the first bike I tried, and not even 30 minutes after I had hopped off the train my baggage was already on the bike and I would have been ready to start my bike trip...if... the police wouldn't have come. They told me that I wasn't allowed to be here, they checked my passport, I had to answer many questions and I felt like I was back in time like 14 yeas ago, when most of China was not open for tourists. But after I had explained to them that I wanted to ride my bike to Jinping they finally agreed with the words "go very quickly." I was happy to have the official allowance to leave the area by bike.
Jinping is already Guizhou province so I was pretty sure, that after crossing the border I wouldn't have any trouble anymore. The road to Jinping is concrete, but it was already that way 14 years ago. Actually there were not many changes since then, very view traffic and when I stopped somewhere to buy something I attracted a crowd of people around me.
At one small place called Dabaozi I had an interesting experience: out of the 50 people surrounding me two little girls started to speak English to me. They came from the city of Jingzhou and seemed very educated. Suddenly one girl asked me to my surprise: "Are foreigners allowed here?" Well, of course she knew the correct answer so I directly said, "No, they are not allowed here. So what?" I couldn't believe it. These girls hadn't graduated from middle school yet and could bring me in such an embarrassing situation. I said, "Well, within 20 km I will reach Guizhou province". Actually, these girls were very happy to meet me, because I was the first foreigner they had ever met.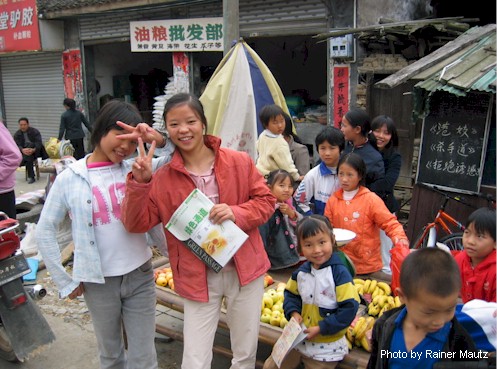 At 6 p.m., I reached Jinping, again as we did 14 years ago on an October evening. This is the town according to the Spoke Notes: "We made the untimely arrival in a big city right at the onset of darkness and our route out of town was not as self-evident as it usually was. So we had to try and ask for directions, difficult at best. Several people seemed to indicate that we should spend the night there. How we wished we could! One man even said the way to where we were going was back in town. Apparently he was taking us to a hotel. We thanked him and turned around down incredibly bumpy road. We checked several possibilities before finding this place. Then it started to rain."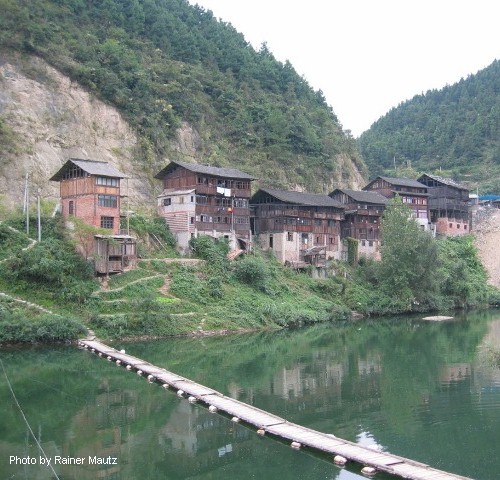 We also took a picture of the river and the town. So did I today. The change I feel is minimal. The old wooden houses at the river are replaced by the riverfront. And the nice thing today: I am able to enjoy a hotel in this town!
Tomorrow I will try to follow our road according to the map on Spoke Notes. I am so interested in seeing how things have changed. Even though 14 years have passed our impressions where so deep, that I remember everything that happened on that day. Let's see if the road is paved now!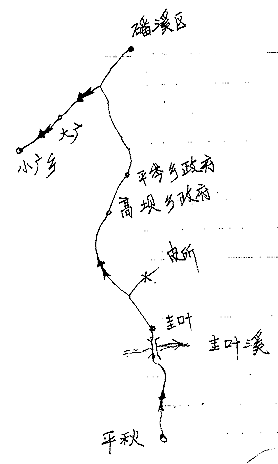 ---
Cycling and Confluence Hunting in Hunan and Guizhou: Part 1 | Part 2 | Part 3 | Part 4 | Part 5 | Part 6
---
---
Bike China Adventures, Inc.
Home | Guided Bike Tours | Testimonials | | Photos | Bicycle Travelogues | Products | Info | Contact Us
Copyright © Bike China Adventures, Inc., 1998-2012. All rights reserved.