Do you have a China cycling travelogue you would like to share here?
Contact us for details.
---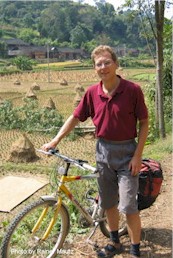 Rainer Mautz

Rainer Mautz@alumni.TU-Berlin.DE
Cycling and Confluence Hunting in Hunan and Guizhou
Email from the Road, 2004
Part 3
Copyright © Rainer Mautz, 2004.
---
October 6, 2004
Dear Peter,
Now it is morning and I was just ready for an early start, when it started to rain. On the other hand, this is giving me more time to tell you more about my trip, while I wait for the rain to stop.
In the town Gaoba, where you saved a duck's life by stating that you are vegetarian, I couldn't find anyone remembering us. Only a few other concrete buildings had been added. The place consists of mostly traditional wooden houses. This time, there was no crowd of kids following me, when I left the village. I took a picture of a bunch of people, watching an American movie, but they did not see me at all! This shows directly, how life has changed...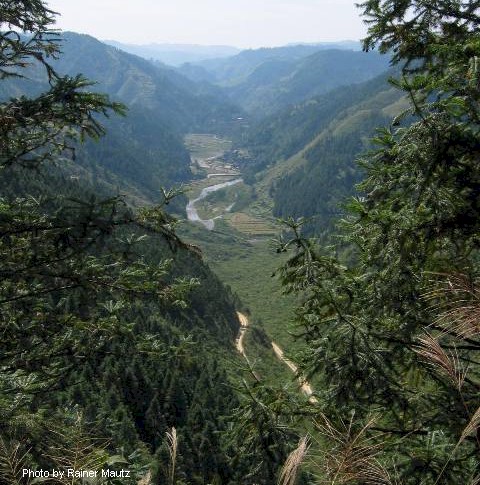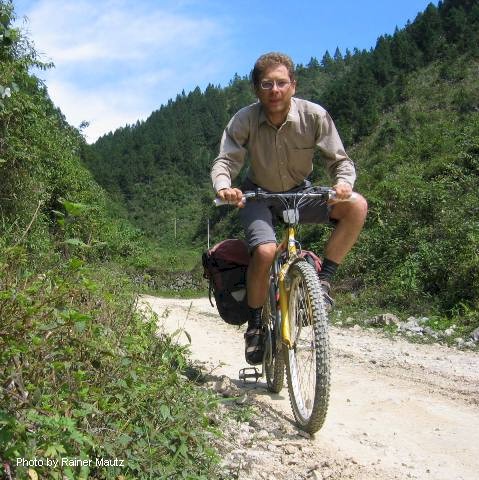 The following part of the road was even worse. I couldn't believe how we managed that part with our full gear on the bikes. But actually, this is not an official road. Especially at the border areas between two 'Xians' (counties), the roads tend to be extremely bad, if not nonexistent. The roads towards the (county-capitals) are usually better. I stayed the night in a 'Xiang' (village of a smaller order) called Panxi (the last town on the sketch from 14 years ago), but did not have an Internet bar. But nevertheless, I had fun with the town's headman and his colleagues, having a hotpot duck and inviting me to join in. On the one hand, it's fun to be invited and eating in a group with others. On the other hand it is stressy, trying to understand them, always lifting the glasses with Baijiu (potent rice liquor) and pretending to drink and trying to fill the stomach all at once.
October 5th
On this day again I didn't have any paved roads. But still, they were much better than yesterday. The place I had lunch was called Nanming. There a typical thing happened; after the lunch I headed 8 km uphill, when suddenly a motor-bike stopped me. First, I thought it might be police for some reason, but in fact it was a nice guy, bringing me my maps, which I left at the table where I had lunch. I was so happy and overwhelmed from that helpfulness. I also was one hour on the road, and he came after me just for giving me my maps. The local people feared I might get lost without my maps. At least he accepted 20 Yuan for gasoline, which I gave him. In the afternoon I visited the confluence 27 N 109 E.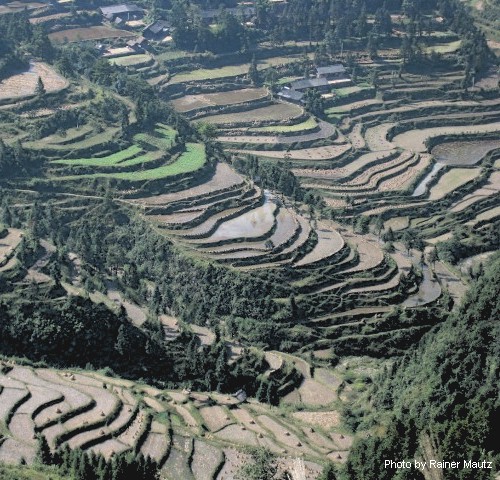 The beginning of this confluence hunt was already weird. I just stopped at the intersection, where I intended to go and looked towards it, when somebody approached me and asked why I wanted to go down this dead end. Could he read my thoughts?? Well, I tried to give my best explaining what I wanted to do. But he seemed not to be satisfied with my explanations and reasons. Suddenly he said he was a policeman and he had to call his colleagues now. I couldn't believe it - not even having started to go for my first Chinese confluence and it seemed to be over already. Well, it turned out, that the policemen didn't understand what I wanted to do either, but, at least they let me go after all imaginable questions where asked and my passport was read over three times.
I followed the road about 14 km to the dead end with road surface being pretty bad. But luckily, it came as close as 400m to the Confluence Point (CP). From there I just had a footpath up to 51m from the CP. There I left my bike behind and tried to get a zero reading. Unfortunately the point was in steep jungle-growth terrain. I managed to come as close as 16m with getting a lot of scratches everywhere on my body.
On my way back, just 500m from the CP, the police were waiting again for me. They of course were not feeling secure with a foreigner doing something they didn't understand. I took a picture of them (anyway they were the first people I met after the visit of the CP). And they followed me until I was back to the main road. Just for my safety, of course.
Rainer
---
Cycling and Confluence Hunting in Hunan and Guizhou: Email from the Road: Part 1 | Part 2 | Part 3 | Part 4 | Part 5 | Part 6
---
---
Bike China Adventures, Inc.
Home | Guided Bike Tours | Testimonials | | Photos | Bicycle Travelogues | Products | Info | Contact Us
Copyright © Bike China Adventures, Inc., 1998-2012. All rights reserved.