Do you have a China cycling travelogue you would like to share here?
Contact us for details.
---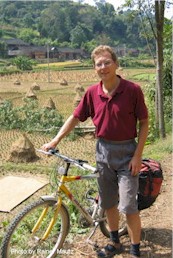 Rainer Mautz

Rainer Mautz@alumni.TU-Berlin.DE
Cycling and Confluence Hunting in Hunan and Guizhou
Email from the Road, 2004
Part 4
Copyright © Rainer Mautz, 2004.
---
October 06, 2004 2:42 PM
Dear Peter,
October 6th
Today I finally reached a city and I am able to spend the night in a fancy hotel. The hotel costs 15-fold more compared to yesterday and the day before. Zhenyuan is an ancient town attracting a lot of tourists. It is a weird feeling to walk on the street and have nobody turning his or her head towards me anymore. The ancient town looks nicely renovated (but I am not sure, if it is still all-original). Often, the whole town is rebuilt instead of being renovated.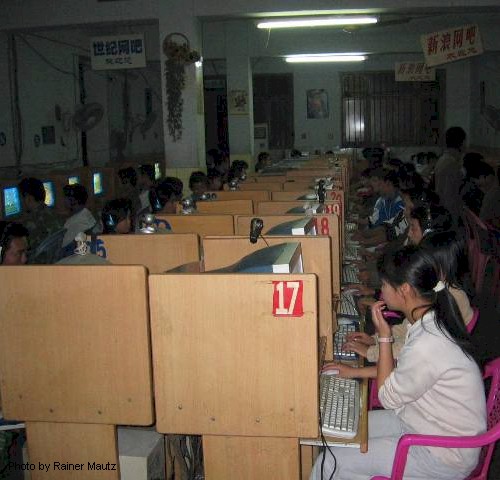 The road was unexpectedly unpaved again and always an endless up and down. I just covered 70 km today. May be, with an early start, I am able to reach CP 27 N 108 E tomorrow.
Rainer
October 07, 2004 3:06 PM
Subject: Huangping
Peter,
It is good to hear that you enjoy my emails. Maybe a part of them could be part of the travelogue pages. I also enjoy reading the other ones.
October 7th, Thursday
This morning I finally got an early start. I had to wake up the gatekeeper in order to get out off the hotel. He knocked at the reception door, so that the receptionist woke up. The receptionist phoned the floor-keeper out of his sleep. Then the process was reversed: The floor-keeper looked in my room (everything was ok) and let the receptionist know. The receptionist finally gave the OK for the door to be opened by the gatekeeper. A lot of trouble for an early-starting biker.
The daylight was coming, but the little breakfast stands on the street hadn't opened yet. So I decided to ride the 43km to the next town Shibing. Well, it turned out to be extremely hilly, so that I reached the town almost starved and found all breakfast stands closed already. At least I could impress a jaiozi (dumplings) shop owner how big my stomach is.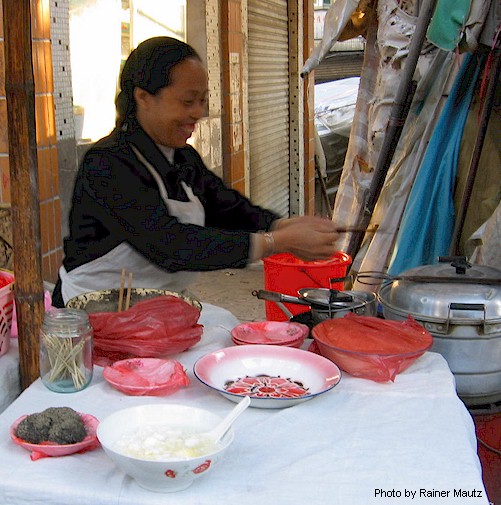 After I left Shibing, I headed for the confluence 27 N 108 E. The main road got as close as 4.27 km to the confluence point. Just one km out of the village Xinqiao (= Newbridge) I found a turnoff towards the CP. At the distance of 2 km there was another turnoff to a really, only pushable track. It turned out that the confluence was in the little village called Ganxi. The track came as close as 63 m to the point, so it was actually easy. On the other hand, the people in the village watched me carefully doing weird things like taking pictures of my GPS receiver. There was no way I could get a zero reading because: 1. The actual point is at a steep grade up in dense forest. 2. Even if I would try to get through this jungle, the people from the village would call the madhouse. It is a 'little' difficult for me to explain what I do. Besides my Chinese is not the best and the problem is that the average farmer does not know what an integer point of latitude and longitude means. And even if he does know, that does not mean that there is a real appreciation for what I do. Today, my hotel is a good deal for 20 Yuan (2 Euros) I have my own hot shower and toilet!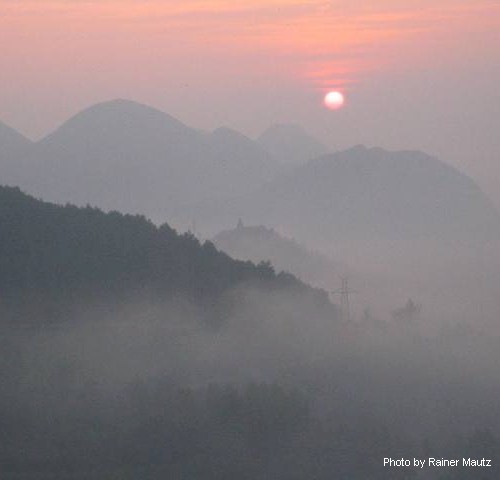 October 08, 2004 2:58 PM
Subject: RongAn
Peter,
I really can not access www.confluence.org from any wangba (Internet bar). I there a workaround?
Now I am pretty sure that there is no flat road in all of Guizhou province. I have been biking in Guizhou quite a lot and all roads are either steep up or down. There is no way for speeding here. Today, after a really strenuous ride all the day, I managed to get 50 km westward by beeline. On the road it was about 90 km on mostly gravel roads. The downhills are so steep that one has to go really slow in order not to lose control while riding. Again, beautiful scenery!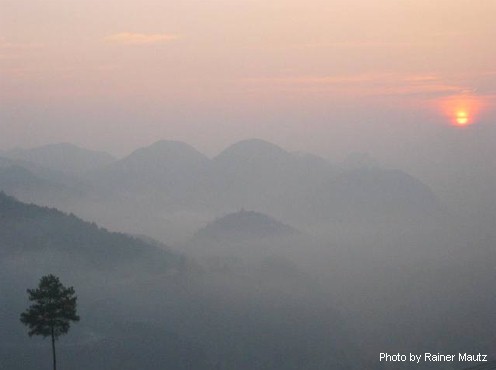 Everywhere I here a 'bang bang' noise from the rice fields. While harvesting the rice, the rice plants are cut and then right on the field thrashed by hitting the ears towards a wooden box. Rongan seems to be a place, not having seen foreigners before. Also it's the biggest city I have been on the trip so far. Before I went to the Internet cafe, I had to sign autographs for the kids. I also was pleaded to write my email address and phone numbers on their arms. They promised me not to have a shower in the coming week.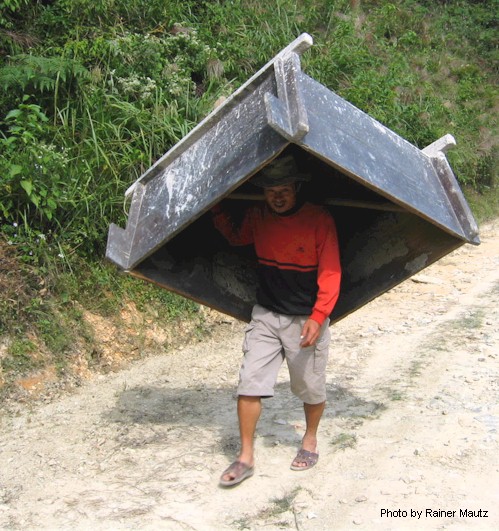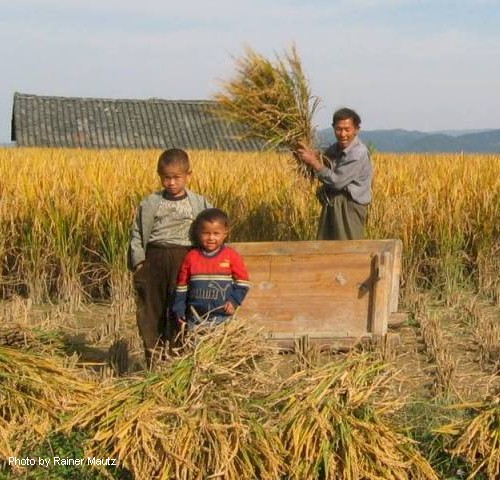 Rainer
---
Cycling and Confluence Hunting in Hunan and Guizhou: Email from the Road: Part 1 | Part 2 | Part 3 | Part 4 | Part 5 | Part 6
---
---
Bike China Adventures, Inc.
Home | Guided Bike Tours | Testimonials | | Photos | Bicycle Travelogues | Products | Info | Contact Us
Copyright © Bike China Adventures, Inc., 1998-2012. All rights reserved.