Do you have a China cycling travelogue you would like to share here?
Contact us for details.
---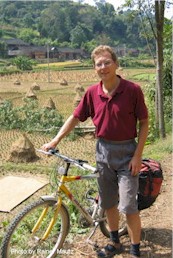 Rainer Mautz

Rainer Mautz@alumni.TU-Berlin.DE
Cycling and Confluence Hunting in Hunan and Guizhou
Email from the Road, 2004
Part 2
Copyright © Rainer Mautz, 2004.
---
October 4, 2004
Hello Peter,
I couldn't sleep well last night because of being so excited about what would happen today. From Jinping - believe it or not - I still could find the right way out of town, just by my memory from 14 years ago! I followed the road on the right side of the river and after 1 km of riding there it was clear: the road has not been paved yet.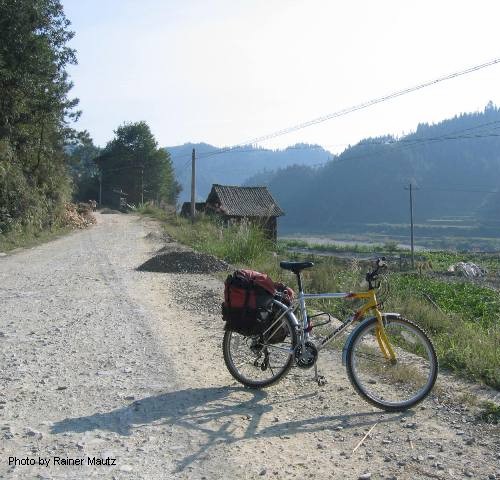 I also could find the spot where we had camped that night, about 3.5 km out of town. Actually the road doesn't go uphill all the 22 km, there is a downhill section about 5 km in-between. Do you remember the town, which we reached almost starved and had two bowls of noodles each of us? And where a crowd of some 100 spectators watched us having our noodle soup? This was also the intersection where we took the wrong route first, then came back and somebody drew us a little map. Well, the town is called Pingjiu, it's a "Zhen" and has an elevation of only 800 m. Not really the 'top of China' as we thought.
Arriving at the famous intersection I could immediately remember it. A crowd still surrounded (like they did us before) shortly after someone started talking to me. But hear the most interesting story about it:
Since the two noodle shops did not exist anymore, I went to a nearby restaurant to have lunch. While taking to the women cooking serving me the meal, I mentioned that I had been here before. And she would just very coolly said, "Yes, I remember. You had a friend with you and both of you had soup there" (pointing in the right direction).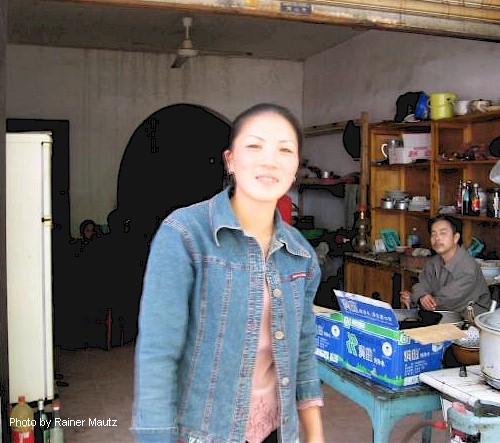 How on earth could she remember that? She said, "You had been the first foreigners to ever come to her town and this is something you never forget."
Next, the bad downhill section came up. And I can tell you, nothing has changed since then (may be the road got a little worse, but this might me my impression only). I tried to take pictures at the same spots as we did last time. Do you remember the bridge after the downhill section?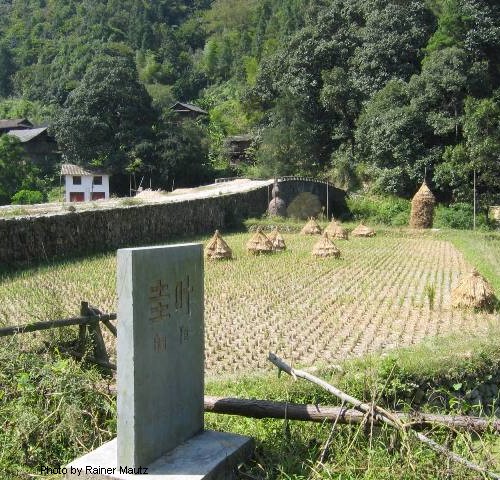 Below, the same bridge in 1990.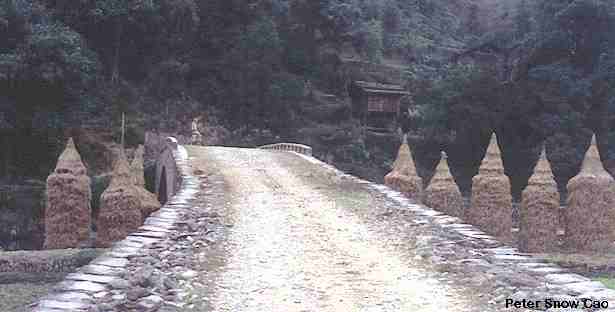 The village is called Guiye and is the first village on the map that somebody had drawn for us. We camped out about 3 km after that village and you wrote in your diary: "Only God knows where we are." Well, according to you I am God. I also could give you the GPS coordinate if you like.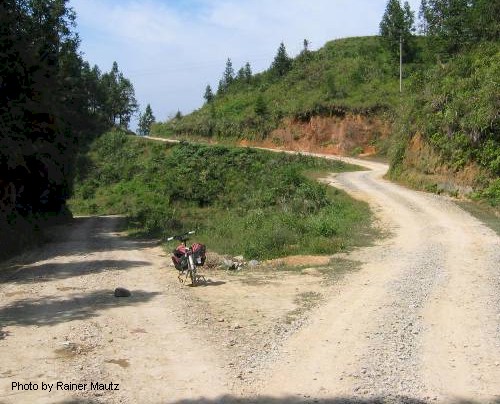 After that, came a long uphill section. I don't remember that part as being soooo bad. I had to push the bike due to fist-sized loose rocks on the surface. Next, there came the place where you saved a duck's life! The village is called Gaoba (Elevation 900m). I saw the balcony, where we waved to the crowd...
Oh sorry, I was told that my "hotel" is closing (I must stop emailing and go to bed, because the people want to go to bed). I think they had been waiting for me to return already for a while. Next time more...
Rainer
---
Cycling and Confluence Hunting in Hunan and Guizhou: Email from the Road: Part 1 | Part 2 | Part 3 | Part 4 | Part 5 | Part 6
---
---
Bike China Adventures, Inc.
Home | Guided Bike Tours | Testimonials | | Photos | Bicycle Travelogues | Products | Info | Contact Us
Copyright © Bike China Adventures, Inc., 1998-2012. All rights reserved.