Do you have a China cycling travelogue you would like to share here?
Contact us for details.
---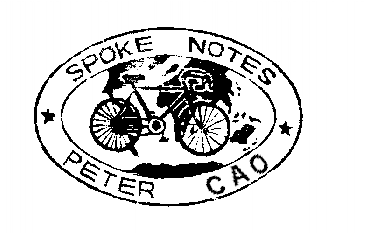 Peter Snow Cao
Spoke Notes

Khunjerab Pass
Copyright © Peter Snow Cao, 1998.
---
Skip to: Travelogue Index | Introduction | South Korea | Hong Kong | Macao | China | India | Pakistan | China, Again
---
Skip to: Travelogue Index | Introduction | On the Road Again | Pakistan | Roasting in Islamabad | Monsoon Washout | Breakup in Gilgit | Khunjerab Pass| Kashgar | Urumqi | Lanzhou in September | Labrang Monastery | Zoige, Sichuan | Farmhouse Family | True Love in Chengdu
---
Sust, Mountain Refuge 38 KM
What a magnificent ride it was today through the narrow valley of golden mountains with low overcast clouds making for cool conditions, perfect for cycling. This is the Pakistan border post 86 km before the actual Pakistan-China border at the Khunjerab Pass. Then there is 35 km to Pireli, the Chinese border town. I think it will take two days to get to China.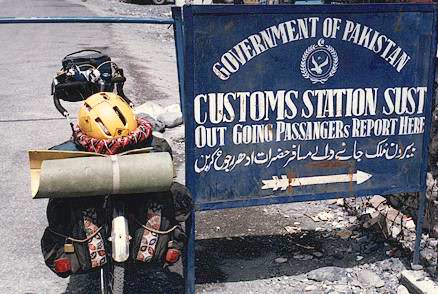 I met Jan (German) and John (U.K.), two cyclists who have come overland through China by bike from the Hong Kong. It took them 3 months to get here. They said they cycled the from Turfan to Kasghar in nine days through the desert. John gave me a copy of his cycle permit travel document that said that he officially had permission to ride his bike through specific areas. I will try to obtain one as well. They gave me some very good information about the Sust-Kasghar route, which they managed to cycle the entire way despite it being a "closed" road to cyclists. They also had some distressing news about getting bike parts shipped into China. Mr. Lee at Flying Ball Bicycle Company told them that the government stopped permitting parts to be shipped into China. What a drag. Suzanne will be pretty upset about that I'm sure. I hope Mr. Lee returns the traveler checks (editorial note: He did, but I had to go to Hong Kong to get them).
"The art of Himalayan travel and indeed of all adventure, is the art of being bold enough to enjoy life now."
W. H. Murray
I am passing enormous quantities of excrement. I think I must have giardia, but I am missing the telltale egg-tasting burps. The evening meal is always a combination of a heavy meal (Hungza style) with six dished of food including spinach, rice, chappattis, potatoes and peas, potatoes and spinach and lentils. I can't stop myself from eating a lot, but it also coincides with the time the gas started building up in my abdomen. I experience some serious pain. I hope I'm doing the right thing self-prescribing this medication. There has been a change in the consistency of my bowel movement. All day yesterday it was mostly water, but today it was a bit firmer.
I have noticed my decrease in attention to my personal hygiene, letting myself stay dirty for several days. Maybe part of it is because I'm sick, but mostly I think it is from being in Asia so long where it is more accepted. And it is also carrying over to my clothes. I have been wearing thread bare clothes, shoes that are almost falling off my feet, no socks, dirty T-shirts, patched and patched clothes, a bicycle that is barely kept going. Now I realize it was a big mistake not buying a spare tire before leaving India.
Cave, 46 km north of Sust
Later, after 46 km, 40 km south of the Khunjerab Pass. A great day of cycling. I goofed off much of the day stopping to take pictures. The next batch I plan on sending to family and friends with my next mail drop address. I won't decide on where or when that will be until I get to Kashgar. Maybe I'll hook up with Roland or another cyclist.
"Effort is never lost. The season for ripening will come in its own time."
Behram's Words of Wisdom
There was a wonderful hot spring by the side of the road seven kilometers outside of Sust. I soaked for am long time there. It felt really great to be clean all over, and to lie in the warm water. It was a nice way to leave Pakistan. I got the tip from the rumor books in Sust. These are great sources of information and hints on what to do and see and what to avoid. They are very candid, and fun to read. They also act as bulletin boards for other traveler to post notes to people they have met on the way.
Tonight I'm camped out in a cave near the highway. I was hoping to get to the workers' camp another 12 km up the road, but my legs went on strike after 45 km. I think it is due to a combination of diarrhea and the high altitude. I have plenty of food, maybe enough for four or five days. It seems ridiculous carrying all this stuff. But I would rather not starve.
Right after I stopped, a group of 11 cyclists came whizzing by; southbound and downhill to Sust on mountain bikes with daypacks on their backs and a sag wagon pickup truck full of bike boxes trailing behind. I jumped up and yelled, but nobody stopped, so I didn't get the story.
I was awakened by rain after sleeping out under a full moon. Even after a very long sleep I find myself still exhausted. The diarrhea is not getting any better: it is still the consistency of runny porridge.
The Pakistani-Chinese system of transporting people by bus is weird. Each side carries passengers over the pass and then returns empty. Very wasteful.
PAKISTAN - CHINA BORDER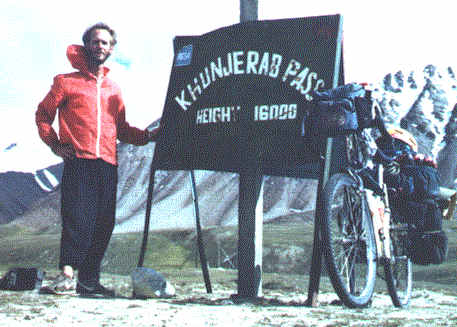 Khunjerab Pass, Elevation 16,000 FT
Far from feeling elated; instead I have a huge headache, feel listless and I'm easily annoyed. The f---ing flies are driving me nuts. It took me eight solid hours of cycling to cover the 40 km from my camp spot to here. The pass is indeed incredibly beautiful, yet not what I expected. It is so silent, with a light wind, rolling green meadows, and snow within arms reach. The peaks are very close as well. I am tempted to stay up here for the night, but without a tent, it could be dangerous. The downward ride to Pirali promises to be a screamer.
"Do you realize that you have been four times higher on your bicycle than I have been in my airplane?"
My friend, George Frigo, in a letter to me after I told him I cycled the Khunjerab Pass at 16,000 feet
Pirali, China 72 KM
The ride to the top was definitely tough. It wasn't so steep, but exhausting due to the thin air. It was a quiet day, not much traffic, and fairly warm except when the sun was hidden by the clouds, or the wind picked up. The pass itself was rather anticlimactic, not like the passes it Europe or the US where upon reaching the top you are suddenly exposed to the view on the other side. Still it was an amazing place. Snow cover peaks all around. I had a pretty bad headache, probably minor altitude sickness. After the requisite border crossing photos I took off for a flying ride down the Chinese side. A few kilometers down I stopped at the police checkpoint. Inside I was warmly welcomed and the head guy there poured me a drink of Chinese whiskey (which is closely related to high-octane gasoline both in taste and potency) and some food. It was a nice welcome. Cycling here was pretty good, though my legs really burned on the uphill sections. I rolled into Pirali and the officials were pretty good to me, not hassling me at all. I was somewhat worried they might give me a hard time about the bike, but they didn't. I met two other cyclists Pakistan-bound. I have yet to talk to them, dinner seems to be taking forever.
The bank officials opened up the exchange service just for me, so I am all set. The people at customs said I would have to take a bus to Taxkurgan. However, I am hoping to cycle there.
This restaurant is such a bizarre place after Pakistan. It is a tent with half of it being a kitchen on the ground and the other half being a raised area carpeted, with music playing and the Chinese playing cards.
"Tomorrow and tomorrow and tomorrow creep in the petty pace from day to day to the last syllable of recorded time. And all our yesterdays have lighted fools to dusty death. Out, out brief candle, life is but a walking shadow; a poor player that struts and frets his hour upon the stage and then is heard no more. It is a tale told by an idiot full of sound and fury, signifying nothing."
Macbeth, Shakespeare
August in Taxkurgan 92 KM
Last night was bad. I had a constant production of gas and with each fart I wondered if it would be a dreaded wet one. Fortunately, that development waited until morning. However, I was also too hot under the incredibly heavy and warm quilt. I was too hot with it on and too cold with it off. My heart rate was also quite high and this morning I found myself short of breath and energy, all altitude related. But right now my abdomen feels awful. There is a gurgling inside that becomes quite painful at times and intensified by the bumps in the road.
The change is landscape from the serve ruggedness of the Karakoram to the soft smooth rounded features of the Pamir came as a welcome change. However, after 100 km in the broad flat valley, I feel quite bored with it. I think my illness has a lot to do with these feelings.
The road is so quiet it is almost eerie. I left the hotel and turned right at the highway and left Pirali never looking back hoping I wouldn't be spotted by the police. Fortunately, so far so good. Rupert, a cyclist I met last night, said this was an open county so there should be no problem.
I am happy to be back in China. The people along the road appear to be Tibetan in their dress, often seen riding horses or donkeys and tending cattle. Everyone waves or smiles. It is a nice welcome.
Next morning - I am feeling totally wiped out. The journey over the pass took a lot out of me. I have no energy; doing even the simplest things is a struggle. My resolve to take on China again is in a very weakened state. It seems like it will take too much out of me.
I checked into the Traffic Hotel, which is the overnight stop for buses between Kashgar and Pirali. It is a very nice place by Chinese standards, and a bed in a four-bed room is 10 yuan. However, its sterile atmosphere has taken the fun out of it. I decided to move to the Pamir Hotel that is at the other end of the scale. I am in a five-bed dormitory with the people I had dinner with last night. There are three English teachers from New Zealand, and a Brit from Hong Kong. The room and especially the toilets are bad even by Chinese standards, but it seems to have a homey atmosphere.
Even though this place is on the other side of the country, it is still very Chinese. Most people are wearing the Maoist blues and greens. They spend the day cycling around at a walking pace, milling in small groups, very aware of everything that is going on. Meeting these teachers has given me the idea of perhaps teaching English here in China, or perhaps going to Taiwan. For some reason, I feel very drawn to the Chinese in spite of all the problems with the government.
What is really great is seeing women again after being in Pakistan. I find the Chinese women particularly attractive.
On my third day here I met up with three Kiwis teaching English in China for the past year and William Holtby, a wild and crazy Brit living in Hong Kong and doing freelance writing and photography. We have been getting on reasonably well, although Will gets to be a bit much once in a while. He loves to talk. I like his approach to freelance travel writing, "It give me something to do".
"Two Wheels Good!"
William Holtby's name for me
It has been a bit of a break for me; much needed as I was feeling really wiped out after the ride over the pass. I have mixed feeling being back in China. On the one hand, I really like the Chinese people, but the government restrictions are quite oppressive. I am also wondering about the practicality of cycling in China from this side of the country. There are huge distances, with a flat hot windy desert to cross.
---
On to Kashgar
---
Skip to: Travelogue Index | On the Road Again | Pakistan | Roasting in Islamabad | Monsoon Washout | Breakup in Gilgit | Khunjerab Pass| Kashgar | Urumqi | Lanzhou in September | Labrang Monastery | Zoige, Sichuan | Farmhouse Family | True Love in Chengdu
---
---
Bike China Adventures, Inc.
Home | Guided Bike Tours | Testimonials | | Photos | Bicycle Travelogues | Products | Info | Contact Us
Copyright © Bike China Adventures, Inc., 1998-2012. All rights reserved.