Do you have a China cycling travelogue you would like to share here?
Contact us for details.
---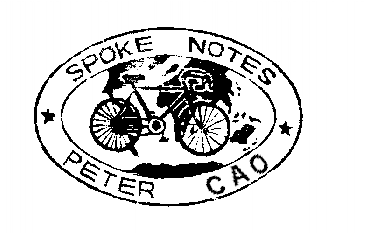 Peter Snow Cao
Spoke Notes

Farmhouse Family
Copyright © Peter Snow Cao, 1998.
---
Skip to: Travelogue Index | Introduction | South Korea | Hong Kong | Macao | China | India | Pakistan | China, Again
---
Skip to: Travelogue Index | Introduction | On the Road Again | Pakistan | Roasting in Islamabad | Monsoon Washout | Breakup in Gilgit | Khunjerab Pass | Kashgar | Urumqi | Lanzhou in September | Labrang Monastery | Zoige, Sichuan | Farmhouse Family | True Love in Chengdu
---
Farmhouse Accommodation
A day of contrasts. During the early part of the day while I was getting my butt pulverized by the rough road, a young Tibetan boy on a bike greeted me with a gesture that resembled blowing a kiss. I have also had several Tibetans stick their tongues out at me as I ride past. As odd as it seems, I will continue to assume that it is a sign of approval or pleasure with me.
I decided to try my luck again with staying with a family along the road. It is so much more interesting than the standard hotel room, although it does require quite a bit of effort on my part to be a good guest. Now I am resting on the second floor of a house under construction. This is really the ideal setup for me, as I am too far from an open city to make it to a legal hotel. And the weather is threatening to rain. It has been overcast and misty all day.
The first 58 km were pure hell due to the extremely rough road. Toward the end, I nearly threw in the towel and jumped on a bus when the road became paved with large cobblestones. But then the conditions improved a bit and I continued.
Now there are several kids playing with my bike and a young girl watching me write. I stopped here looking for food, and the woman of the house made me an enormous three-bowl meal of noodles. She let me set the price, so I gave here the going rate. Then her daughter offered me a pair of shoe inserts that had been embroidered. I bought those as well. They could make a nice gift. Just as I was about to leave, I asked if I could stay in the new addition under construction. She said yes so quickly that I wasn't sure she understood what I meant. But now I'm set up, everybody has inspected my layout and it seems to meet with their approval. The young boy, about ten is a real firecracker, hyperactive in a big way.
This house is truly amazing. It is about 25' X 40' three-story post-and-beam construction put together without a single nail. They have used only wooden pegs and notches to put it together.
My adopted family of six is very hard working. There seems to be never a moment's rest until evening around the dinner fire. An enormous meal was made of rice, mushrooms and potatoes. Everybody pitched in to help prepare it, adjusting the fire, cleaning and chopping the vegetables, and stirring the food. There were seven of us and we managed to finish it off.
Breakfast was the same as last night, more potatoes and rice.
This is a family of farmers, growing potatoes, apples and vegetables. In spite of their dirty and worn work clothes, that seem to be quite well off. They have a large house with a huge addition going up, fertile land, and a tractor. The tools around the house are almost all hand made; the square for carpentry, the string line, and the saws.
It is a cold wet day. There was some rain about dawn. Just before that I made a run for the toilet. I ate too many apples last night. Unfortunately, I didn't quite make it in time.
Now I am faced with how much to pay for staying here and the food.
Last night during dinner, the mother brought out some beautiful embroidery of a flower she was making into a pillowcase. It was evident that she wanted me to buy it. While it was very nice, I didn't think I could pay here what they were worth. So I simply told her that I didn't want them.

It is frustrating for both them and me not being able to talk freely. They had lots of questions for me last night, but only got a few answers.
This river valley is really a gorgeous ride, aside from the lousy road surface. It appears that it will be paved soon. I have seen quite a number of small hydroelectric plants along the river as I travel downstream. It is a very good idea as the power is there to be tapped. In fact, there are have been several water-powered machines along the way, mills being the most common. But there have also been several Tibetan pray wheels stamping the water with imprints of prayers to be carried downstream. The river is also used to transport a large quantity of freshly cut logs. It seems like there is an entire forest scattered along the banks.
I have been passing quite a number of caves. I have heard that China has a large number of people living in caves. This seems to be a good place for it, although I haven't seen any that looked like they were homes.
I stopped along the way to make an entry in my diary in the middle of nowhere. As I was writing, I suddenly felt like I was being watched. I looked up and there was an old man about three feet away staring at me. He scared the daylights out of me. One is never alone in China.
Wenchuan
A very difficult day of cycling. I really lost my cool. The road was unpaved from Maoxian to here, all 48 km and it pounded me hard. In addition the rain from the previous night left it a muddy disaster. All the cleaning I did last night, giving my bike a bath (literally), was undone. The weather continues to be dreary. There was a moment of sunshine mid-morning, but it was quickly snuffed out.
And just like cycling, my moods flow up and down. Ingrid and Hans who I met in Songpan arrived in the late afternoon. I was surprised to see them. We had dinner together which is always a treat, since the more people there are the more variety of dishes there are to eat. We then decided to go to a movie, not having a clue what we would see. There was nothing else going on, so we figured why not? It turned out to be the mid-70's American movie "Foul Play" with Goldie Hawn and Chevy Chase with his long side burns. Maybe that is the reason that the Chinese clothing fashion seems to be 20 years behind.
I got a kick out of the dubbing, especially seeing Goldie Hawn answer the telephone with a big "Nee hao!" It was also nice to share the experience with others. I have really missed the companionship of my fellow countrymen.
On to True Love in Chengdu
---
Skip to: Travelogue Index | Introduction | On the Road Again | Pakistan | Roasting in Islamabad | Monsoon Washout | Breakup in Gilgit | Khunjerab Pass | Kashgar | Urumqi | Lanzhou in September | Labrang Monastery | Zoige, Sichuan | Farmhouse Family | True Love in Chengdu
---
---
Bike China Adventures, Inc.
Home | Guided Bike Tours | Testimonials | | Photos | Bicycle Travelogues | Products | Info | Contact Us
Copyright © Bike China Adventures, Inc., 1998-2012. All rights reserved.