Do you have a China cycling travelogue you would like to share here?
Contact us for details.
---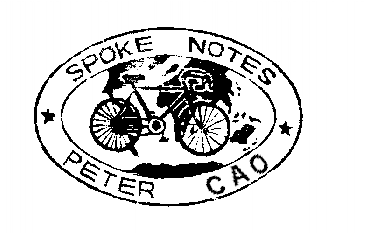 Peter Snow Cao
Spoke Notes

Breakup in Gilgit
Copyright © Peter Snow Cao, 1998.
---
Skip to: Travelogue Index | Introduction | South Korea | Hong Kong | Macao | China | India | Pakistan | China, Again
---
Skip to: Travelogue Index | Introduction | On the Road Again | Pakistan | Roasting in Islamabad | Monsoon Washout | Breakup in Gilgit | Khunjerab Pass | Kashgar | Urumqi | Lanzhou in September | Labrang Monastery | Zoige, Sichuan | Farmhouse Family | True Love in Chengdu
---
Gilgit 43 KM
The day promised to be another scorcher, and it was. Suzanne and I crawled along the highway stopping for water at every place possible. After lunch, Suzanne was seized by another attach of cramps causing her to cry out in pain and to double up is spasms. The landscape was completely void of life; there was only rocks and sand. She said she couldn't go on, so I flagged down a truck, a classic Pakistani Bedford, decked out to the hilt in silver chrome and bright colors. Ironically, it seemed to be carrying ghee (grease), Suzanne's least favorite ingredient in the local food. We climbed in the truck's cab; there were four of us, with Suzanne by the door and me next to her. The young driver couldn't take his eyes off Suzanne. On the way, she told me she was no longer interested in third world countries, she thinks she should go to Europe, Australia or New Zealand where she would be more comfortable. Now she is trying to minimize her losses. She may still go to Africa, but knows nothing about it, not even the names of many of the countries.
For the immediate future, she is thinking of going to China to pick up her mail and then go to Nepal. So it appears our troubles together are over. It was very short lived, only ten days on the road. Most of it was very difficult and stressful. Frankly, I'm quite happy to be on my own again. Uli was quite right about having someone meet you in the middle of a trip: it usually doesn't work out. He had the same experience during his trip in the US when he crossed half of North America to meet a woman he knew from Germany. It was a total disaster for him. I can't remember how long they traveled together but I don't think it was much longer than Suzanne and me.
On our second day here in Gilgit, Suzanne took back her cooking equipment that I had been carrying in a very abrupt manner. Right after breakfast she washed her pans and collected the stove equipment. She is acting very paranoid, like I might try to rip her off.
I went to see the two cyclists whose bikes I saw at the hotel, but they were already gone. Damn. At this point I think I'll go up to Karimabad for a while. Gilgit holds no attraction for me, though I was able to find a very used specialized tire and a very heavy Russian-made stove for 400Rs. I'm still thinking about the latter, though I think it would be worth carrying. I really enjoy the independence of being able to make my own food.
Ratshuposhi Camp Site 68 KM
Phew! I finally split up with Suzanne. Suddenly cycling seems so much better. There was so much tension and stress with her. I hope she finds what she is looking for. Ten days on the road together and seven days at rest. She calls it culture shock, being unable and unwilling to change her style to the Pakistani way. She is also very independent and self-centered, which seems to aggravate the situation. I hope she doesn't get hurt. I think we are both more comfortable travelling solo.
"Mediation is teaching non-reactiveness."
Behram's Words of Wisdom
The eighth highest mountain in the world is on my doorstep. This is a killer campsite. There is a raging river beside me, clear deep blue sky and alternating hot and cold wind. I am actually wearing my wool winter hat that I have lugged around since Katmandu. The final soft pink rays of the day's sun are rolling up the face to the peak. It is so odd how close the peak appears; yet only three Canadians have ever made it to the summit.
The ride was really enjoyable. I stopped a lot and talked to the locals. My arrival here drew a group of ten men and boys. No secretes in Asia. They think I'm crazy for wanting to sleep out here. Maybe I am.
Karimabad 37 KM
I arrived yesterday and immediately met many people from Islamabad including the two German motorcyclists, Elmar and Lotte; Duncan, the Kiwi; and Amin, the Iranian; as well as a Korean cyclist who has been in the Himalayas since January.
I spent the day moping around not really feeling very well. I am having a mild case of diarrhea. I rearranged my camp setup, read the rumor books lying around, talked with Elmar and Lotte, went for a short walk in town and met some more people from Islamabad. I am sitting here absorbing the magnificent views of glaciers, snowy peaks, and barren desert while below the irrigation channels silently funnel precious water to the cultivated areas.
Now I'm feeling better. I discovered what was wrong with my Russian stove. I was treating it like an MSR stove and putting too much pressure in it. I release the pressure and put only about 10 or 15 strokes on the pump in it. Now it works great. I am a happy camper. I was really feeling low and frustrated by this thing. I took it apart and tried to see how it works. When I opened up the valve, kerosene shot up like a geyser.
A long rainy night and today the sky feels like more rain. The temperature is very cool. I may have to pull out my jacket after five months in storage. I'm feeling lost and out of sorts. I have over three weeks before I want to be in Kashgar, and I'm feeling like I should be doing more, like going to Sharaku or Chitral, doing some hikes, etc. But I can't get motivated. I think I'm still recovering from the fiasco with Suzanne. It really took a lot out of me, plus my body seems to be in a perpetual state of moderate diarrhea.
Diarrhea Blues
No drive, no ride, no desire
Just mope around near the loo.
Wishing to be once again a live wire
Oh, how I hate to have the Diarrhea Blues.

It affects your body, but worse,
It affects your mind.
Paranoia, fear, anger and hostility
All take hold and skew all perceptions.
"Here and now."
Behram's Words of Wisdom
Fantasy Dreams
Oh, woman of my dreams
You are a fantasy never to be realized.
It's been years since I made love
Never establishing a relationship.
Traveler, I am
Searching for God-only-knows what
More thrills, more hills
Waiting for inspiration to seize me.
Looking inward while changing surroundings
Trying to be HERE + NOW
And knowing that death
can strike at any moment.
What words can be said
To lift the shroud of dreariness
To charge my batteries and
Instill that lost sense of wonder.
For being like a child
One truly lives each moment
Spontaneously and courageously.
Without prejudice or fear.
It is now early morning on my fifth day here in Karimabad. I just love sitting here watching the new day begin as the sun dawns on these rugged mountains. Yesterday I walked up to Ultar Glacier wedged into a narrow gorge forming a huge ice field. It was a long slow walk for me, but I enjoyed being in the valley gorge looking up at the huge rock faces. They are so vertical, so tall; it is staggering to look up at them.
Passu 51 KM
It was a tiring ride. My legs were sore from yesterday's hike. I picked a good day to ride, however. On the way I met Elmar and Lotte, southbound from the last checkpoint before the Khunjerab Pass. They had met Roland, the German cyclist I met in McLeod Ganj. Apparently today he was going to China and planned on spending a few days in Kashgar. Elmar told him that I was behind him. Roland said there might be an opportunity to cycle together in China. I think he will have to wait two weeks before I get there, so I may miss him.
On to Khunjerab Pass
---
Skip to: Travelogue Index | Introduction | On the Road Again | Pakistan | Roasting in Islamabad | Monsoon Washout | Breakup in Gilgit | Khunjerab Pass | Kashgar | Urumqi | Lanzhou in September | Labrang Monastery | Zoige, Sichuan | Farmhouse Family | True Love in Chengdu
---
---
Bike China Adventures, Inc.
Home | Guided Bike Tours | Testimonials | | Photos | Bicycle Travelogues | Products | Info | Contact Us
Copyright © Bike China Adventures, Inc., 1998-2012. All rights reserved.