Do you have a China cycling travelogue you would like to share here?
Contact us for details.
---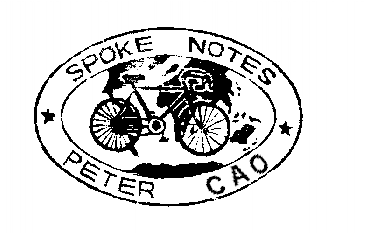 Peter Snow Cao
Spoke Notes

Roasting in Islamabad
Copyright © Peter Snow Cao, 1998.
---
Skip to: Travelogue Index | Introduction | South Korea | Hong Kong | Macao | China | India | Pakistan | China, Again
---
Skip to: Travelogue Index | On the Road Again | Pakistan | Roasting in Islamabad | Monsoon Washout | Breakup in Gilgit | Khunjerab Pass | Kashgar | Urumqi | Lanzhou in September | Labrang Monastery | Zoige, Sichuan | Farmhouse Family | True Love in Chengdu
---
Islamabad In July
I was now growing agitated. I have been in Islamabad for 12 days. Perhaps I should leave tomorrow since I have not heard from Suzanne. It seems silly to sit here waiting for nothing. Only a comment that I would stay here until July 5 is holding me back. Today I looked at the atlases and thought it would be interesting to come around Gilgit from the west across the Shandur Pass. But I don't know anything about the route, only that it is a lot longer than by the Karakoram Highway. I need to do some more research.
Suzanne arrived yesterday! I was forewarned that she was here because at the GPO the letter I wrote her had been picked up and her signature was on the receipt form. I got very excited and went back to the camp, but she wasn't there yet. So I went out and did some more things, like getting more passport photos and registering with Immigration. Then I went swimming at Rawal Lake. When I got back she was there writing letters. I knew it was she, but she looked only vaguely familiar. She commented that I had lost weight and I told her she would too as soon as she got sick. She said she had put on a lot of weight. It must be why I barely recognized her.
We are sweating out the days. On Sunday, she gets her visa for China. She is really feeling the heat and is constantly squinting from the bright light. It must be brighter than the US.
The Will and the Way
"No great deed is done by falterers who ask for certainty. Don't waste time dreaming of obstacles you may never encounter or in crossing bridges you have not reached. To half-will and hang forever in the balance is to lose your grip on life. Circumstances have rarely favored successful people. They have fought their way to triumph through all sorts of opposing obstacles. The true way to conquer circumstances is to become a greater circumstance yourself. For man is not the creature of circumstances, but rather circumstances are the creatures of men. Backed by a resolve determination, there is nothing impossible to those who will try."
Related by Behram
We had plenty of frustration with the bureaucrats today. We got to one office and then were sent to another and another and another. "Go here, come back later, now go back to an office I was at two days before. I think Pakistan has out done even the Indians in the bureaucratic bullshit.
Rawal Lake - Swimming in Pakistan, trying to beat the heat and get a break from the Pakistanis, but that is not possible here. Suzanne was excited to go skinny-dipping in the lake in spite of the fact there were some men around. There was some privacy, but she didn't try too hard to hide. Maybe she figures with me around it doesn't matter if they look. It is hard for me to feel very protective, though I feel like I should be. She has been walking around the market in tank tops and shorts, but has decided that she will dress a little more modestly after noticing the reactions she is getting from the men. Today she bought some baggy white pants and seems pretty happy with them.
Day 16, T-minus 1 day
Suzanne and I went through our gear today, sort of. I am now carrying her cooking gear. We ordered a bunch of stuff from Mr. Lee at Flying Ball Bicycle Company in Hong Kong to be sent to Kasghar. I hope it arrives before we do.
She has been walking around braless and in a tanktop. This is totally inappropriate dress for this Muslim country where some women still wear the full purdah (a head to toe covering of their entire body). Even I feel too shy to walk around in shorts. From the looks of the stares she attracts from the Pakistani men it is as if she is walking naked. Yet she seems oblivious to it all. However, when she went out last night, she started talking to a Pakistani guy and as another walked by he pinched her bottom. She jumped and told the one she was talking the other touched her. He then asked, "Can I touch you too?"
"We are a country of fanatics."
A university professor who gave me a lift from Taxile to Islamabad
Muree (Hill Station) 50 KM, 6,500 Ft. (2000 M)
Back on the bike again after a very long forced stop. Cycling in the high heat made me feel quite sick again and I didn't feel like eating anything except the dates and nut mix I brought along. Suzanne also had a difficult day. It was her first one touring and we encountered about 40 km of first gear climbing on a very hot day. About 12 km out she almost collapsed; however, we declined a truck driver's offer for a lift. She also had a very unpleasant experience with the Pakistani men. One guy rode a bike up behind her while she was cycling and grabbed her breast. She was furious and jumped off her bike and threw stones at him. I gave her my small canister of tear gas for future use. I also had a stone thrown at me by some kids hiding in the brush.
We are staying in a Pakistani resort town where the price of hotels is about double or triple the usual price. There are many Pakistani tourists, but we haven't seen any other Westerners. We walked around the town. In a market a bit like a mall some guy jumped in front of Suzanne and took her picture. She seems unaware of it, but it really annoys me. If she really were my wife I would have tried to ruin the film.
Finding a hotel room was time consuming and a little frustrating, as everybody wanted us to pay 300 to 500Rs for a room. I looked at quite a number and found an acceptable one after about an hour. I tried to take Jean-Louis attitude of trying to look fresh and not worn out when asking about accommodations. I think the owners may offer a lower priced room if they think they may lose the customer.
I am feeling quite protective of Suzanne and I have been watching the Pakistani mens' reactions, usually staring to the point of gawking, with lots of catcalls from passing vehicles. One guy in a barbershop made a loud hissing sound just before I came into view and when he saw me he laughed. I can tell it is going to be an interesting ride.
It has been fascinating to see the Pakistani womens' reactions to Suzanne. They have been very curious, whispering among themselves and often giggling. One woman from a parked car asked her where she was from and welcomed her.
Changlagali 17 KM, Elev. 9200 Ft (2,800 M)
The weather is cooler and I am feeling good about being up here. I think we are camping here tonight. Suzanne's legs are really wiped out and I am feeling the effects of a 70-km climb at a fairly steep grade. We walked much of the very steep parts. Now we have a room with a view. There are two boys here looking through my Pakistani phrase book talking excitedly.
"Right mindfulness is very important."
Behram's Words of Wisdom
Abbotabad, Elev. 4100 Ft (1,250 M) 54 KM
Back down in the lower elevations with the hot, dusty, and dry (though not for long as it looks like the monsoon may hit at any moment). I was hoping to stay one more night in the high elevation, but we unknowingly passed the last hill town thinking there was one more ahead where we could stay. The road dropped very steeply to the riverbed. Several times we had to stop and let the rims cool due to hard braking. The rims got too hot to touch, and I was afraid they would start to melt the tires. Nevertheless, it was a beautiful ride with lots of evergreen trees and great view as we rode along the ridge. But coming down was pretty exhausting as we had some steep climbs at the river level and the heat once again sapped our energy. I wore my turban today and it worked quite well.
When we got into town we went directly to the Tourist Information office. I have had good experiences with these guys so far. The man today was very pleasant and when we asked about camping, he offered to let us stay in the yard beside the Tourist Office. He also said the monsoon might begin at any time now, possibly even today.
On the way, we passed an active rock fall area where five pound rock came flying down the hill beside us whipping by our heads. It was a frightening experience, and I wonder about the prudence of not wearing my helmet.
Last night we met a guy who said he was the Deputy Prime Minister of Pakistan. He and his family were staying in the government rest house. He invited us for a chat, but he had very little to say. I tried to prod him a bit but there was no development. I told Suzanne that it seems like the more important a person is the less he has to say.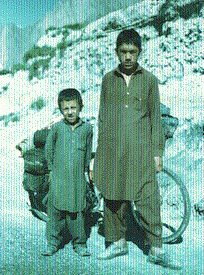 I have been surprised at how articulate some of the shop owners have been that we have met, last night and again today. Suzanne doesn't seem very interested in trying to talk with these people other than to ask a few questions. They are clearly interested in her, but she generally just brushes them off. Maybe I am too sensitive to the reactions of others. I know I am very aware of the body language they are presenting to us. There was a dramatic change in the men's reactions to Suzanne as we descended to Abbotabad. They became more aggressive verbally, cat calling, whistling and gawking. I much prefer the mountain people. They are much more cool and reserved. In a few days we should be back there with them.
Most of the time, I am the spokesman, answering questions, getting directions, ordering food and getting lodging. And I guess that is how it should be under the circumstances.
Abottabad 10 KM
Suzanne got initialed to Asia today with serve abdominal cramps and diarrhea. We started out of town and she literally collapsed on the road. Stopping suddenly and leaning over her handle bars and dropping the bike and falling down on the ground. The Pakistanis were stunned. The gathered around while Suzanne cried out in pain. Those that could speak English started asking questions and giving advice. "What's wrong?" they asked. "She's sick," I answered. "You should take her to the hospital then. This is not the proper place her to be." Then some others started asking the usual 20 questions. "Where are you from? How long have you been in Pakistan?" All while Suzanne is laying in the dirt at the edge of the road writhing in pain. I told one guy, "No more questions!" But he kept on asking. It was a strange scene. The hot dusty street, Suzanne lying in the dirt with agony written all over her face. The men gathered around. I felt rather helpless. I guided her to the Youth Hostel that was fairly close. It was difficult for her to ride. She was not coherent, wandering all over the road. I know the feeling quite well. It happened to me in the Kullu Valley, crying out loud from the cramping pain. Welcome to Asia, Suzanne.
We talked a bit about our pasts and our friends and ex-spouses. It seems odd to be suddenly with someone again. Maybe I should ask her what she expects. From my perspective, it seems odd, but I have no desire to be intimate with her. She seems so alien, even though we speak the same language and are from the same country. It is as if Asia has transformed me into a different person. I thought that once I was with a woman, all my troubles would be over. But, for some reason, the chemistry is not right.
Chatterplain 75 KM
At dawn the monsoon began. It poured for a few hours, then drizzled for a few more. Suzanne was feeling much better, and we decided to leave during a brief halt, but it began raining again soon after we started riding. We stopped for tea at the fanciest restaurant I've seen in Pakistan, where the tea cost 10Rs per person. We said we couldn't afford that and they decided to give us a discount, 5Rs for four cups. That seems to happen more frequently when I am with Suzanne. After that we rode and the rain stopped. It was a beautiful time to ride with cool weather and rolling terrain. It was mostly downhill until about noon.
Suzanne has decided to ride in shorts. I think it is disrespectful to ride like that in a Muslim country, and especially for a woman. I don't know how to convince her though. The reactions from the locals are generally drop-jaw shock. We have had a few "seagulls", but it has been much less than I had to deal with in India. I guess because there are fewer people on bicycles here. It seems odd, but the Pakistanis seem more interested in us than the bikes, whereas in India it was the other way around. But then there is the "Suzanne factor" which over-powers any other. Being a blonde American female riding in shorts and a tank top in a Muslim country is like dropping a magnet into a pile of iron filings. She is simply irresistible to them.
It is also disconcerting to me at Suzanne's flippant disregard for the locals and unwillingness to try and communicate with them. Maybe I am too sensitive, since I have been in Asia over a year now, while she has just arrived.
She has turned me on to the idea of taking a different perspective on eating. There is lots of wonderful food here and since she brought a stove and cooking pans, it is possible to prepare our own food. So, we are going to give it a shot tonight. It will be slightly more expensive, but I think it will be worth it. It amazes me how bad the food is in the local restaurants. Everything is at least one-quarter grease and the vegetables have been in the pot boiling away since dawn, resulting in a tasteless unrecognizable mush.
"In Pakistan, the shit tastes like food."
Danny (UK), a cyclist Southbound on the KKH
Suzanne also had a good idea for lunch; making a vegetable and fruit burrito. Today I bought eight plums, two mangos, a lemon, five tomatoes, an onion and a cucumber all for eight rupees. I also bought three nan (flat bread that looks like a large pita pocket) and a bowl of curd (yogurt). I cut up all the fruit and veggies and dabbed a bit of curd on it, rolled it up and I was in culinary heaven. The locals stood around in disbelief as I prepared my lunch. It was the best thing I've had since my yogurt/fruit/cornflakes and honey mixture back in Islamabad.
On to Monsoon Washout
---
Skip to: Travelogue Index | On the Road Again | Pakistan | Roasting in Islamabad | Monsoon Washout | Breakup in Gilgit | Khunjerab Pass | Kashgar | Urumqi | Lanzhou in September | Labrang Monastery | Zoige, Sichuan | Farmhouse Family | True Love in Chengdu
---
---
Bike China Adventures, Inc.
Home | Guided Bike Tours | Testimonials | | Photos | Bicycle Travelogues | Products | Info | Contact Us
Copyright © Bike China Adventures, Inc., 1998-2012. All rights reserved.