Do you have a China cycling travelogue you would like to share here?
Contact us for details.
---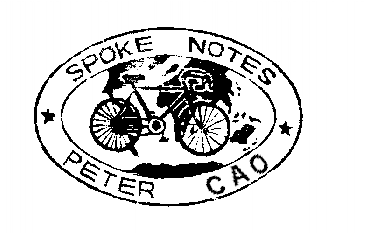 Peter Snow Cao
Spoke Notes

Dali in December
Copyright © Peter Snow Cao, 1998.
---
Skip to: Travelogue Index | Introduction | China in October | November in Yangshou | Road to Taijang | Killing in Kaili | Grinding in Guiyang | Out in the Boonies | Land of Eternal Spring | Dali in December | Tiger Leaping Gorge | Doing Dali Again | Train to Guangzhou | Goodbye China!
---
Dali in December
This place, like Yangshou, is the Western traveler's retreat from the real China. I met Liz, the American who hitch-hiked here from Kunming, stopped in Lufeng a few days before us and tipped off the English class that we were coming.
We caught up on each other's adventures and then went for a hike up to the Buddhist temple halfway up the mountain. It was a good hike, strenuous and rewarding with great view and an interesting Chinese-style temple. I made a few offerings, burnedsome fake paper money and lit a candle. I sat and meditated for a while and felt happy.
I am listening to great Western music trying some Western food I haven't had for a long time. Now I am just fading in and out of miscellaneous thoughts. Dreaming about relationships to be. The music just keeps on flowing out of my past.
A day of goofing off, playing badminton with Liz, chess with Rainer, who said I should be like this everyday. Liz and I had a talk and walk down to the lake. It was a "nonproductive" day of food, walking, watching and being free, wild and irresponsible.
Sounds of the morning: the daily city-wide broadcast of music and news beginning at about 6 or 6:30 AM; a girl practicing her singing doing scales in the courtyard; the jingling of bells on pony-drawn carts; the deep-throated chug of the walking tractors; and the unmistakable sound that reminds you that you are still in China no matter where you are: the clearing of the throat of the previous day's accumulation of cigarette smoke, dust, and pollution. The Chinese, I think, take special pride in doing a particularly good job at this daily ritual. The warm-up can take up to a minute, and the grand finale is shot out in such a way as to give even the tobacco chewing champions a run for their money.
"What a pity!"
A favorite phrase of English-speaking Chinese when they learned we didn't visit a place or doing something in China that they consider essential, such as visiting Beijing.
It has been an interesting time here in Dali meeting the social dropouts who make a life of travelling. That is not my style. I prefer to be moving along. Even after two days here it feels like it is time to go. I played badminton for about an hour. It was great fun as we played like the Chinese, in the middle of the street with people going by. A good day of writing letters, a little reading and a lot of eating. I went to Jack's Cafe and had a Banana Chocolate cake, freshly baked. Great stuff.
I woke up this morning with the feeling if felt like winter; cold, gray skies. I thought it was raining, but in fact, it was snowing! Snow! This is the first time in two years I have seen it. Now I feel more homesick or romance-starved than ever. Snow! Time to head south.
Once I got up I had a leisurely breakfast with two Swedish women, five Germans and a Brit. Then five of us, three Germans and the Dane climbed up the mountain. The snow was getting deeper as we climbed. With only tennis shoes and Rainer's Superman jacket, we slipped and skidded more down than up to the Temple. It was so beautiful. And the Chinese were elated as well since the last time it snowed was seven years ago.
So many fun moments, having lunch in the Temple kitchen with three fires going and no chimneys. It was so smoky in there that when I stood up I had to leave because my eyes burned and I couldn't breathe. On the way down, we ran and slid on our backs, head first. One of the guys said it was scary to watch because I would head off the trail into the trees.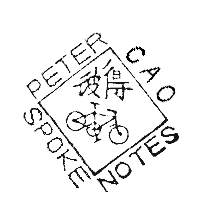 Near the bottom we met some Chinese middle school students and a fierce snowball fight ensued. At one point a Chinese guy came down from above so I took him hostage, holding a snowball to his head and using him as a shield. One of the Germans said that was a very American thing to do. A little further we met some more students across a ravine and another snowball fight began. As it progressed a few guys on our side stormed our opponents. After that we continued down to town and met more opposition. This time it was the People's Liberation Army. I was really fun to be able to throw snowballs at them. We said that there is one thing that is for certain; they have the manpower to beat us.
Now I am laying in the public bath house with a hot tub of water warming my body. Feels good. Snowbound in China. Today looks like a great day to go skiing, but alas, no lift and no skis. But the atmosphere is right, gray snow filled skies, a quaint village with great cafes for talking, eating and just being. How long will this last? Cold weather cycling is okay in small doses, but not for long distance touring.
I am becoming more and more interested in being with a woman. Is it my age or the fact that it has been so long (now about a year and a half) since I felt any intimacy. Intimacy! What is that?
Thoughts from last night. Bert and Stephanie (the two East German guys that hiked up the mountain with me) have such a fresh and excited view of life, much like my former Polish colleague Tomek. I wonder if it is because the have lived their lives in repressive countries, and that when they finally get away, they are like birds set free.
Jianchuan
A cold wintry day, but we managed to get out of Dali, finally after four fabulous days. I wasn't all that anxious to go, but Rainer was. So we packed up and left town about noon. Sixteen kilometers north of Dali we got another offer for a lift in a big green Chinese truck and this time we accepted. It was a very bumpy ride, even though the road, by cycling standards was pretty good. Those drivers have a tough job. Yet their position and status is one of the highest. We didn't talk much during the 80 km lift. There were four of us in the cab and apparently there is only supposed to be three because every time we saw a policeman, I had to duck down. The guy was riding with his wife and was unusual in that he didn't smoke. That was very unusual for Chinese men, and very fortunate for both Rainer and I as we both can't stand cigarette smoke. Apparently he was Buddhist because of all the pictures and images of Buddha all over the cab. About halfway up a pass we went by a wreck of two trucks and we stopped and got out there. We cycled a very quiet 30 km over the mountain that was covered with snow and encased in fog. It seemed eerie and mystical, so silent and hazy.
Now we are sitting in a cold hotel room that doesn't have any hot showers, or if they do they aren't telling us about them. Tomorrow we go to Lijiang. Rainer and I had a pretty good talk about our plans. He says he has reached saturation point of China and is anxious to leave soon. I said I wasn't quite ready to jump on the bus/train/boat/plane just yet.
More notes about last night. I met a couple from Montreal, Canada. The guy was very WASPy looking, the woman a Burmese Canadian. He is a Christian, she is Buddhist. We had a good discussion about Buddhism. She was interested in going to a mediation course run by an Australian couple on Ko Pangon in Thailand. I described the course at Swan Mokkh and she said it sounded too regimented for her.
I opened the book of quotes to the section of love and spotted this, " 'Tis better to have love and lost than to never have loved at all", Alfred Tennyson, 1809-1892. And on writing: "How can a man sit down to write until he has stood up to live", Henry David Thoureau (1817-1862).
I have been thinking about my last diary and how stupid of me it was to mail it from China. Better to have carried it and risked being caught with the information than to leave it in the hands of the Chinese government. There is nothing I can do about it now and I realize it is pointless to worry about it, yet I really feel so violated and betrayed at the thought of someone reading it, taking parts of it or keeping the entire thing. It would be easier to explain that it got lost in the mail rather have things taken out of it and then sent on. And I could see how they could justify it.
"Anything written in English is interesting"
William Lindesay on being illiterate in China, he found himself hungry for English words, any words.
Below are samples of messages we would receive from the Chinese, spelling and grammar unchanged. It seemed that whenever we encountered an English-speaker at the hotel, they would invariably warn us to protect our bikes and belongings. For all these warnings, I found China one of the safest places I have been. Maybe it is the luck of being a foreigner.
My Friends,

First wellcome you to here. I am glad to help you. If you want to wash you face. There is a water's room behind this building. The leader let me tell you protect your bikes, but you don't worry very much, because it is safe in here.

Please can you tell me which school do you learn in China, because the leader let me ask you.

Goodnight my friends,

A PLA man's student
And here is one of many written in Chinese I later got translated. For some reason we would often get written messages when we told them we couldn't understand what they said. I guess they figured we must be like the other Chinese who due to regional language differences, would have to resort to writing messages to get their ideas across.
The room here for two people is 12 yuan, however since you are a foreigner it is double the price. But if you want you also have the choice of a 10 yuan room, a 6 yuan room or a 8 yuan room. It is up to you. Be careful of your belongings. You better put your bike in your room. Did you come here by yourself? Are you here for business? Let us know and we will take care of you.
---
On to Tiger Leaping Gorge
---
Skip to: Travelogue Index | Introduction | China in October | November in Yangshou | Road to Taijang | Killing in Kaili | Grinding in Guiyang | Out in the Boonies | Land of Eternal Spring | Dali in December | Tiger Leaping Gorge | Doing Dali Again | Train to Guangzhou | Goodbye China!
---
---
Bike China Adventures, Inc.
Home | Guided Bike Tours | Testimonials | | Photos | Bicycle Travelogues | Products | Info | Contact Us
Copyright © Bike China Adventures, Inc., 1998-2012. All rights reserved.