Do you have a China cycling travelogue you would like to share here?
Contact us for details.
---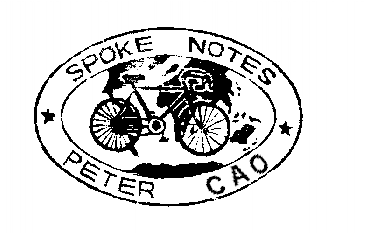 Peter Snow Cao
Spoke Notes

Goodbye China!
Copyright © Peter Snow Cao, 1998.
---
Skip to: Travelogue Index | China in October | November in Yangshou | Road to Taijang | Killing in Kaili | Grinding in Guiyang | Out in the Boonies | Land of Eternal Spring | Dali in December | Tiger Leaping Gorge | Doing Dali Again | Train to Guangzhou | Goodbye China!
---
Guangzhou (once more)
A day of errands, checking on the bike twice, getting some more pages in my passport, bank business, phoning China Airlines in Hong Kong. It looks like I'll be flying in two days, if my bike arrives in time. Hopefully it will be here tomorrow. I hope so, as I would hate to spend Christmas here. Guangzhou is not my favorite place. The hotels are over-priced, and the air is very polluted.
The one nice thing about flying in Asia. The price of the tickets are the same regardless of when you purchase them, and you can often buy a ticket and fly on the same day.
I guess I should ask myself how long I would wait for the bike before I would give it up as lost/stolen? Damn, I hate to even think about that idea. One week, two weeks, three weeks? The best thing that could happen would be the bike arrived tomorrow, then I could catch the night ferry to Hong Kong and have a day to visit Mr. Lee's bike shop and get all the replacement parts I need before going to Bangkok. If it doesn't arrive tomorrow, it means I wouldn't be able to see Mr. Lee unless I changed the flight till after Christmas.
I met an American woman, Andrea from Pittsburgh and spent a few hours talking about China while walking around the city. She has spent the last four months learning Chinese in Taipei, Taiwan and came to China to visit her students before going back home. I was happy to meet her since I was feeling a bit lonely.
Hot damn! My prayers were answered. My bike arrived! Yahoo! I am psyched, as Elizabeth would say. I also was able to get a ticket on the night boat to Hong Kong, meaning I'll be able to... Oh damn! I forgot about getting a Thai visa! I wonder if I can get it in 24 hours. I hope so. If not I'll have to go in without one and get a 15-day visa at the Bangkok airport, and then go to Malaysia to get a normal visa. I'll only go there if Liz is serious about cycling together; otherwise it is off to Dhaka or Katmandu.
I can't believe how everything is falling into place. This is really great! I am really excited about getting to Thailand and getting my mail. I am so happy about how everything is turning out. I hope it continues like this through Christmas. I will call my sister, Elizabeth from Bangkok. This would be my first overseas call since I left the US.
While sitting around here Chinese man came up tome and wanted to practice his English. He said his wife was in New York working as a garment worker and he was planning on going there next year.
What a busy day! I am still reeling over the fact my bicycle is here safe and sound, nothing is missing from it, even the bungee cords, water bottles and my grandmother's rosary. Thank you God, whoever you might be. I will have just over 24 hours in Hong Kong to get everything done.
Another meeting, this time with a Chinese woman who was studying German. It seems like as I get ready to leave I start meeting lots of Chinese that are getting ready to go America.
It was an odd feeling, my last day in China, elation to have my bike and hopefully make my connections, and sad because I really love the Chinese, so friendly and outgoing. Such a beautiful country that is changing so fast. Andrea thought it would develop like Taiwan, very polluted, motorcycles and scooters everywhere and not really a noticeable increase in the quality of life; probably a decrease. Is industrialization a step forward or backward? The development of America has allowed me to travel here and elsewhere. But cultures have become fragmented. Families are splitting up, many die from car accidents, get stressed out from jobs, are victims of violent crime and the inevitable differences between rich and poor.
The Chinese women have the best legs I have ever seen, holy cow!
Today I went to the market that Lonely Planet describes and the a take-away zoo. It is an appropriate description. In the dead/dried department there were baby snakes, curled up to the size of a half dollar. There was also sacks of scorpions, horns from antelope, as well as a lot of things I didn't recognize.
In the freshly dead department, and the live section, I saw lots of frogs, turtles, fish, ells, cats, wart hogs, dogs, raccoons, snakes, baby deer, chickens, pigeons, and ducks to name a few. The butcher department was particularly revolting as sections and whole carcasses were hung up for display. It seemed like the only animal not represented on the hook was man.
"Change money. Hello Money Bag. Hello Banana. Hello Bamboo"
Greetings by Chinese hawkers often heard in tourist areas.
I met two more former East Germans who have been in the USSR for the past six months studying building construction and hope to cash in on the 6-billion German mark relocation of Soviet troops from East Germany back to Russia. They told me of incredibly cheap airline tickets they got by being students and changing marks for rubles on the black market. They paid the equivalent of $8 US for a two-hour flight in Russia.
Goodbye China!

Hello Hong Kong! I feel like I really know my way around here, though there is really not much to know. I spent a very productive day getting my bike overhauled with many new parts including a new bottom bracket, crank, cables, toe clips, chain and brakes. I'm psyched! Everything seems to be falling into place so well. I just hope my luck continues, especially through tomorrow when I fly back to Bangkok.
I am very excited about getting my mail. I hope there is plenty of great letters waiting form me. I still have some business need to tend to. I shouldn't be laying here.
I spent the evening walking the streets with Andrea. We had fun talking about all sorts of things, death of friends, experiences it travel, how often we felt we were in a dream world living a fantasy moving from place to place: China yesterday, Hong Kong today, Bangkok tomorrow. In these circles, it seems so normal. Yet when I look at it from the perspective of the average American worker, or even from my perspective when I was working in Kansas City, it seems so surrealistic. We are jet setters, buzzing from place to place while the rest of the world plods along.
While walking around here I have been struck by all the different flavor people come in; blonde hair, red hair, brown hair, big ones, fat ones, short ones, thin ones, black, yellow, brown, pink. It all seems like such a shock after being in China for two months where everyone seemed to be made from the same mold.
Another sticking thing about this place is how much money is rolling around. There are expensive cars, huge buildings, expensive shops, etc. The entity of Hong Kong seems to be devoted to the promotion of consumerism.
While walking through a store today, Christmas carols were blasting on the speaker system. It hit me full force how close Christmas is, only three shopping days left. Usually I get quite depressed about it, I think from worrying about gifts and feeling like it is a time when I'm supposed to be happy. So why aren't I smiling all the time? But now it has sort of sneaked up on me and I don't have any presents to buy so.. 'alles klar!' (Everything's okay) as Uli would say.
Again I was shocked by the variety of Western products in the supermarket and I finally got some dental floss. Hurray!
I have been talking to a Danish woman who spent some time in Swan Mokkh five years ago, and she reminded me how much I wanted to get back into the routine of regular mediation. Ah, that may be my ticket to getting a longer extension in Thailand as well.
"I see the wings are moving, are they going to fall off?"
Question from the International Airline Phrasebook for aspiring Chinese air attendents with answers in four languages
In flight - Thailand here I come. It is really warm here 32 degrees C (90 degrees F). Now we just pasted into the smog. I can't wait to get 'roam met' (a sweet desert which translates to little friends).
Back in Bangkok! Hooray!
========================================================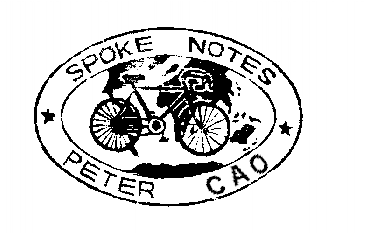 Behind the name Spoke Notes
When I decided to take the "BIG" trip (later called the "Grand Asian Tour", I decided to call my diary Spoke Notes. There I kept detailed (i.e., anal-retentive) records of not only what happened each day, but also numerous records. They included expenses, an expense summary with costs broken down by cost per day per country, a correspondence record of both letters received and sent, a list of books read, and books recommended by other travelers, my limited cinematic experiences, recommended music to purchase later when I got back, a list of alternative transportation used besides by bicycle (including but limited to a motorcycle, a donkey-drawn cart, a horse-drawn cart, train, sleeper boat, sleeper bus, subway, a Bangkok tuk-tuk, elephant, bamboo raft, double-decker bus, etc.), a history of bicycle health and maintenance, my personal health and maintenance (notice which one came first), average local wages, local fuel prices, an incident list of mostly unpleasant things, post trip employment ideas, other touring cyclists found wandering around Asia, a list of favorite foods, a 41-step marriage process in China, a list of ideas from other travelers, a collection of postage stamps, and finally my favorite: Notes and Quotes from Friendly Folks which have be sprinkled about in these pages.
---
On to: Chronciles through India, Pakistan, and China, Again
---
Skip to: Travelogue Index | China in October | November in Yangshou | Road to Taijang | Killing in Kaili | Grinding in Guiyang | Out in the Boonies | Land of Eternal Spring | Dali in December | Tiger Leaping Gorge | Doing Dali Again | Train to Guangzhou | Goodbye China!
---
---
Bike China Adventures, Inc.
Home | Guided Bike Tours | Testimonials | | Photos | Bicycle Travelogues | Products | Info | Contact Us
Copyright © Bike China Adventures, Inc., 1998-2012. All rights reserved.