Do you have a China cycling travelogue you would like to share here?
Contact us for details.
---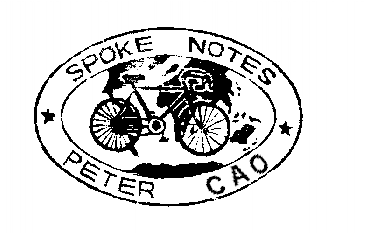 Peter Snow Cao
Spoke Notes

Doing Dali Again
Copyright © Peter Snow Cao, 1998.
---
Skip to: Travelogue Index | China in October | November in Yangshou | Road to Taijang | Killing in Kaili | Grinding in Guiyang | Out in the Boonies | Land of Eternal Spring | Dali in December | Tiger Leaping Gorge | Doing Dali Again | Train to Guangzhou | Goodbye China!
---
Lunan
We made it! Our little foolish folly of taking our bikes through the Tiger Leaping Gorge ended successfully with no major causalities. Rainer's bike suffered a bit with the failure of his straps on his rear panniers that caused the bags to go into the spokes. He lost his temper at one point hitting his bike and then throwing it to the ground while yelling "schizer!" through clenched teeth. I couldn't keep from laughing.
Last night was surprisingly warm in bed. I guess it is the lower altitude. I ended taking most of my clothes off during the night. Our breakfast in the morning was exactly what we had the night before. We were surprised to learn it wasn't included in the price we paid the night before. At 3.20 yuan each it seemed a bit high, but there was not exactly a lot of competition in the middle of the gorge, unlike most Chinese attractions.
Our journey was once again filled with the majestic mountains towering over us. The trail required considerable effort carrying and pushing the bikes over the steep portions of the path. After 10 km, we met a group of five students from California coming the other way on a research trip studying ecology in the Yunnan Province for two months. They seemed envious of our bike trip and I was a bit envious of their group. One of the women suggested getting together when I get back to the States to talk about the trip. It seems like I meet a lot of people from California on the road.
It was ironic, that both of our groups thought that the Tiger-Leaping section was ahead, yet between us we had covered the entire length of the route. It is the narrowest portion of the gorge where the Yangzi River gets squeezed down to 30', a distance at which a tiger could leap across the river. Fortunately for us the hardest part of the trek through the gorge was behind us, though we still had some carrying and grunting to do. Of the 33 km from Daju to the end of the gorge we were able to cycle about half.
Taking the bikes through wasn't the best idea; it was more foolishness than anything else. Tomorrow we will try to take the bus back to Dali. There is no point in cycling the same road again.
On the way to Lunan we crossed a bridge over the Yangzi River. On the far side there was a sign in English and Chinese that said "THIS AREA CLOSED TO FOREIGNERS". We got a few surprised look from the guard as we rode back into open territory. The bridge had guard housed and spot lights mounted on both sides. One way around it is through Tiger Leaping Gorge.
Doing Dali Again
An action packed day from the word go. While waiting for the bus a loud and energetic quarrel broke out between two adjacent sidewalk merchants as they were setting up for the market day. They were yelling at each other stomping their feet and making aggressive gestures. Then they started throwing pieces of each others' stand into the road. It was really quite a drama with everyone in the area leaning out of their windows watching and laughing. It died down after about 40 minutes.
I was cold just standing there and Rainer was sick. The next bus wasn't supposed to come until 2 PM, five hours later, so I decided to ride while he stayed. It was a good morning and a nice ride along the river with no traffic to speak of. I got a few short pulls up some hills from the walking tractors and rolled onto the junction town where I was supposed to meet Rainer. I had a bite to eat and I when I left, my money bag fell out. A lady picked it up and came running after me with a large crowd yelling before I realized it was me they were referring to. Such honesty made me realize how lucky I am at times.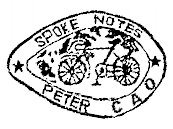 Then I talked to some truck drivers and got a 34 km ride south with a free lunch in the middle. They dropped me off and a snagged a slow-moving logging truck for a pull up a long 10 km hill. On the way down, my helmet, which I had gotten out of the habit of wearing, tapped my on the butt reminding me that I should be wearing it down this high speed decent. I put it on and about 2 km later my pants on the back rack got caught in my fender, locking up my rear wheel and causing me to crash. Fortunately, no vehicles were there when it happened. This resulted in a broken fender and a ruined pair of pants. Not a very professional thing to happen. But it could have been worse, and I felt I was given fair warning to be more careful.
After 75 km of riding, the bus Rainer was on passed me. I caught up to it at the next town and climb aboard putting the bike in the aisle. We soon ran into another town during market day that took almost two hours to get through.
The way most Chinese towns are set up there is usually no alternative route to get around the jam. Thousands of people, farm tractors, bicycles plus the usual traffic of trucks and buses try to get through. A pain in my right chest which at first seemed like a pulled muscle from carrying the bike through the gorge continued to get more painful such at even breathing hurt. I hope it isn't serious.
We arrived in Dali about 8 PM, jumped in the shower and then hit the cafes. The whole group of people we met in Lijiang reappeared here including the two cyclists plus Liz and Jane. It was a fun reunion. Liz is leaving tomorrow to go to Riuli. Maybe it is best for both of us.
I sat between two tables, one where Liz and some Aussie sat and another where two women sat, a German and a Pome (which stands for "Prisoner of Mother England"). The Pome was a very charming woman with a great sense of social graces knowing how to lead and steer the conversation and balance out her travel-mate. This was an interesting contrast to Liz, who seems to be just a kid in her approach to her experiences. The Pome has clearly a healthy intelligent approach to life. I'd like to talk to her some more.
"Superman"
My name for Rainer when he wore his bright red, white and blue exercise outfit in the mist of drab blue and gray in China.
Tomorrow Rainer and I officially split up. He is taking off for Kunming. I am not sure how I feel about it. In the beginning it was very hard, but now we have started to get used to each other and maybe a little more tolerant. But at times it was so frustrating.
I have been thinking about how to get back to Hong Kong and I thought it might be interesting to try hitch-hiking with the bike and signs, first to Kunming and, if that goes well, on to Hong Kong. It would probably take quite a while to get there.
Listening to pianist, George Winston. Great morning music.
Today I'll try to get things fixed; zippers replaced and torn items sewn up by the army of tailors lining the streets.
Yesterday I went to the Shapin Market via bus with Heidi and Sibella. This market is a typical minority market with everybody decked out in there Sunday best. The costumes are not to be missed. On the way, Heidi started telling me about how she insulted some Chinese man in the train station in Chengdu saying how she hated China and the Chinese people and thought they were ugly. It seemed to me to be very disrespectful and in poor tasted to be talking like that in the bus. Either she didn't care or thought no one on the bus could understand her, but I am not so sure that was the case.
I am laying here in a little park thinking about my stay in China. Now I feel it is time to move on. I am not one to be able to sit in one place for very long. Tomorrow I will try and get the night bus to Kunming and book the train to Guangzhou as soon as possible. I am anxious to get to Thailand where it is warm and mail is waiting for me. I doubt there will be any earthshaking news, but still it will be great to get it.
I am trying to get organized for the trip back to Hong Kong. It is a long way away, and getting there will be a bit of a hassle. When Rainer took the night bus last night there was a big confrontation between him and the bus driver. The driver charged him 20 yuan for carrying the bike while the passenger ticket was 25 yuan. All the westerners thought that this was typical extortion and we protested long and loudly. At first Rainer refused to pay, but then the driver started to take the bike off the bus, so Rainer acquiesced and paid the guy.
Quotes: "Don't waste life in doubts and fear", Ralph Waldo Emerson. "Have an aim in life or your energies will be wasted", P.T. Barnum, 1810-1891.
After a pleasant quiet afternoon sitting by the lake watching fishing boats go by, reading the quotes, resting in the grass. I came back and was given a picture show by Frank of his journey so far through Pakistan, India, and China. Really fascinating photos of people. I don't have the boldness to look at people through the lens like that and take their picture. It doesn't seem right, like I am violating them in some way. So my pictures are primarily of landscape, traffic signs and me.
I went to get a massage from the blind masseuse clinic, but didn't find anyone there so I sat down and waited. After a while the son of one of the masseuses came in and invited me to join the birthday party for his son who was 5 today. There was a huge feast of Muslim food (it seems like there are a lot of Muslims in the area). There was a group of 12 people, one who was a highway engineer. When he discovered I was also a highway engineer, he peppered me with questions through my host who translated for us. He wanted to know about toll roads in the US, how much money a general laborer made and how much I made. After the dinner we went upstairs with a birthday cake (with "HAPPY BIRTHDAY" written on it. It seemed odd that it was written in English. They also had a musical card that played Happy Birthday. It was a fun evening with them, and a bit like celebrating my own birthday that will be 4 days from now.
"Many things are red in China"
Tony the Frenchman in Dali on my comment that he was living on the red-carpet side of the hotel.
Afterwards I went to Jim's Peace Cafe and sat with the Danish women, two beautiful blondes, one who was with "Mark from Seattle", the epitome of the ugly macho American male tourist: loud, crude, rude and socially unacceptable. I couldn't figure out what the attraction was, but maybe I'll see them in Bangkok for Christmas.
Today was a day of errors. The bus left at 6:20 AM and not a 6:50 like the sign said, so I missed it. I thought I would try hitchhiking, so I rode in the dark to Xiaguan, the nearby typical Chinese town. On the way, I got sidetracked through some little villages with narrow dirt paths and clay/straw brick houses. I got out onto the highway with my fresh new sign and stood there about 20 minutes half heatedly trying to get a ride. I decided to ride back to Dali and try to get to Kunming tomorrow. I bought a bus ticket to Kunming so I'm definitely going tomorrow. I hope I don't a big hassle over the bike like Rainer had.
In spite of the setback, it was a nice day. I checked back in the government guesthouse and got a roommate who spent 2 week in a closed area and had some good stories about meeting a Lama, getting caught by the PSB and fined.
Yesterday I went to talk to the PSB about the problem Rainer had on the bus with his bike. The officer was cool and trying hard not to understand by repeating the words I said, but mixing up the order so it didn't make any sense. I told him that they stole money from Rainer by charging him too much. He said I should talk to the bus station manager in Xiaguan. I told him it was his job to enforce the laws of China and that he should go down to the Dali Bus Station. He then said he wanted to see my passport. I asked him why and he got very defensive and told me that his position as an officer gave him the authority to see my passport. I gave it to him and he wrote down the number and then told me he couldn't help me. Bureaucracy at its finest.
---
On to Train to Guangzhou
---
Skip to: Travelogue Index | Introduction | China in October | November in Yangshou | Road to Taijang | Killing in Kaili | Grinding in Guiyang | Out in the Boonies | Land of Eternal Spring | Dali in December | Tiger Leaping Gorge | Doing Dali Again | Train to Guangzhou | Goodbye China!
---
---
Bike China Adventures, Inc.
Home | Guided Bike Tours | Testimonials | | Photos | Bicycle Travelogues | Products | Info | Contact Us
Copyright © Bike China Adventures, Inc., 1998-2012. All rights reserved.