Do you have a China cycling travelogue you would like to share here?
Contact us for details.
---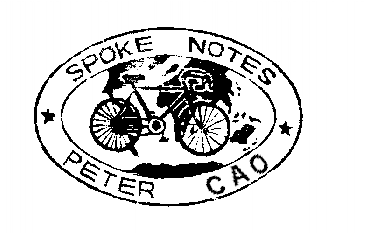 Peter Snow Cao
Spoke Notes

Tiger Leaping Gorge
Copyright © Peter Snow Cao, 1998.
---
Skip to: Travelogue Index | China in October | November in Yangshou | Road to Taijang | Killing in Kaili | Grinding in Guiyang | Out in the Boonies | Land of Eternal Spring | Dali in December | Tiger Leaping Gorge | Doing Dali Again | Train to Guangzhou | Goodbye China!
---
Lijiang
A restless night again. I wonder why I am so agitated. It is probably because of Liz. I don't know quite what to think about her. I feel she is more Rainer's type in age maturity, temperament and style. Yet I am attracted to her. She is a beautiful woman and I am very lonesome for some female companionship.
Uli and I had an understanding that we could split up at any time for any number of reasons; homesickness, met someone along the way, want to stay in one place longer than the other, etc. Rainer and I had a similar understanding, but I think he has forgotten it. He was rather upset when I said I wanted to go with Liz and Jane to Tiger Leaping Gorge early this morning. He said he understood we would stay in Lijiang a few days first. It was a interesting to me because Jane seemed quite keen on me going with them. I don't know if she was playing match-maker or has her own agenda. From a personality standpoint, I think Jane and I are more compatible than Liz and I. However there is little chance of Jane getting into cycling.
"The place was filled with Big-Noses"
Comment made by a Westerner on a restaurant where a big dinner party was being served in Lijiang.
Later after a long talk with Rainer about Liz and future plans. He say he is "not so interested" in cycling with Liz in Thailand. And he thinks she is more interested in traveling with me because she looked at me more when she was talking. I feel like I am in high school again, the way we are carrying on about who likes who.
Right now it is too early to make any plans. Too many things can happen in the next three weeks, like Suzanne may come this way or even Heather. Or Liz may get her job in Laos, which may be the best thing that could happen. Maybe I am too cynical, but women's temperaments seen very fickle. Liz has recently left a failed relationship and maybe she is on the rebound. Argh! Women!
I am sitting on the hotel's front veranda feeling like an old man. My body is in sorry shape. I have a sore throat, I feel weak and I have a queasy stomach.
I had another frustrating experience with the Post Office and the telephone trying to contact China Airlines to set up a reservation for a flight from Hong Kong to Bangkok. Maybe I should send them a letter, but I have no address. I'll give it a shot.
A time for celebration! We have finally met some other cyclists in China. Frank from Germany and Allison from the U.K. They met in Chengdu. He had cycled from Karachi into China. She bought a bike in Chengdu and has just completed 300 km in 3 days. It is interesting seeing their rigs. Frank has 35 kg (about 80 lbs.) of stuff, while Allison has strapped her backpack on top of her rear rack.
I just woke up from a great little dream of meeting a beautiful petite woman in a river and making love. Wow!
Halfway between Lijiang and Daju at a "Truck Stop"
Once again this trip's tried and true adage raises its head, "Plans change quickly". We had planned on taking the mini-bus to Daju and had a hit a problem of putting our bikes in storage at the Number 1 Guest House, so we went to #2. Then we found out the bus was sold out so we decided to go by bike. It was just dawn when we left. The sun is rising about 7:45 AM now. As we rode down the main street the 5,600 meter peak called Jade Snow Mountain was getting the soft yellow glow of dawn. Incredibly beautiful.
"I think we are going to die"
Rainer on the road to Tiger Leaping Gorge when the prospects of getting food looked very grim.
We rode the first 12 km on pavement then hit the river bed stone road. It was very rough going, but with a view of the snow covered mountains as a backdrop, it didn't seem so bad. It was fascinating to watch. It reminded me of my trip in the Swiss Alps, the bare gray rock and pristine blinding white snow. However, the cycling was very, very hard. We hit snow and ice on the road, and I was glad we didn't take the mini-bus because of the road conditions looked like another bus wreck in the making. Today was the first time I experienced shortness of breath, evidently from the altitude, about 3000 meters (9500 feet). We also made the grave error of not bringing any food with us. Our efforts to get a meal were laughed at by the residents of the first place we stopped, so we bought a few things from the "store" which had about a dozen items total. Rainer bought some canned meat of unknown origin, and a jar of miniature cherries. I got a few packages of dried fruit. It made for a rather meager lunch. Then we rode up a hill about 15 km long. I was getting very weak, experiencing light headedness, stumbling, not knowing what I was doing.

Right now Rainer is playing Chung-ge and our host (who provided us with a big meal of fried rice when we arrived) is making two galvanized steel buckets. It is an interesting process to watch. He is working on it like he has done this many times before.
I am totally wiped out, unable to move. I think we would have been foolish to try and ride the remaining 47 km to Daju with only 2 - 3 hours of light and as tired as we are.
We got to talk to Frank, the West German cyclist for a bit last night. He too has been on the road for a year and a half. He has a rather good arrangement with his parents. They support his travelling habit so he is free of monetary concerns. He goes home every couple of years for a few months to spend some time with them.
Daju
The ride to Daju was a piece of cake compared to yesterday, which will remain in my memory as one of the hardest rides in my life. Rainer and I were trying to figure out the elevation of where we stayed last night. I thought it was about 4000 meters, he thought about 3200 to 3400 meters. There is no way to know. I woke up several times feeling short of breath and yesterday I had to pant or hyperventilate many times to keep conscious.
After a short climb of a few kilometers this morning, we were treated to the reward of our efforts, a decent of 35 km. It was the longest continuous decent ever for me.
Our host from last night was very talkative this morning. I wish I could understand what he was saying. He seemed very surprised that we offered him money for his help of 3 meals and lodging. It seems fair to me at the time, but it was probably way too much. He made it clear we should stop there on the way back.
After 10 km (in two hours) we met another man who invited us in for something to drink. He was making some food for lunch and began preparing some extra food for us without asking us. He just knew we were hungry. It was a silent affair, with a very similar kitchen arrangement as our previous host. He used a half barrel cut to be used as stove, a kettle, a wok, a chopping block, and a few vegetables. He made some very tasty fried potatoes, chopping them in very thin strips.
We passed some more spectacular views of valleys and mountains. They would be considered fantastic by normal standards, but paled compared to yesterday's monumental day-long view of Jade Snow Mountain.
As we neared Daju, we caught our first view of the Yangzi River. I am looking forward to tomorrow's adventure. I hope we can make it all the way through the gorge with our bikes. And I hope the ferryman doesn't give us a hard time. Other foreigners have caused problems because the ferryman has a different price depending on who you are: 1 yuan for Chinese, 3 yuan for overseas Chinese, and 10 yuan for the big noses and Japanese. I'll try making a swap with him. A bright red scarf in exchange for passage of Rainer and myself with our bikes. I hope he goes for it.
More observations: the sky is brilliant with some stars over the horizon in the Orion constellation twinkling so romantically. The silence when we stopped along the way was very powerful. Dogs and chickens sometimes could be heard many miles up the valley.
I am very glad I made this journey from Lijiang to Daju by bike. It has been the most spectacular cycling I can remember. Tomorrow ought to be great as well. I hope we don't lose the bikes in the canyon.
Tiger Leaping Gorge
I am awe-struck sitting looking at the 3000+/- meters of vertical rock across the Yangzi River. The sun will set behind the mountains soon making the temperature drop dramatically. But in the meantime I am relishing this moment. After yet another sleepless night because of the dog barking most of the night, we got a fairly early start leaving Daju about 9 AM and started heading for the river to met the infamous ferryman. It was a dramatic drop from the flat valley basin where the town lay down to the river. We slid most of the way down and Rainer was pissing and moaning saying we should turn back. I was determined to give it a shot and continued down the slope. The ferryman we had heard several tales about fights and exorbitant prices was very nonchalant about coming to get us making us wait about 20 minutes. Fortunately the boat was quite large and he seemed to like the idea we were bringing our bikes. He charged us 7 yuan each, but we gave him 15 because we didn't have change. I tried to trade the scarf with him, but he wasn't interested.
Once on the other side. we were faced with the true reality of our predicament; how to get our bikes up from the river's edge. This meant that we had to carry them several hundred meters, an exhausting task. After the initial struggle over some very large boulders, the trail "flattened out" to about a 20% grade. This meant we could push the bikes instead of carrying them. It was still arduous but at least we were making some progress. About an hour after landing on the other side we reached the plateau and came across a small village where there was a hotel and we were able to get some food. I ate three bowls of noodles and the got out the badminton rackets and played with the local boys. They were thrilled about it.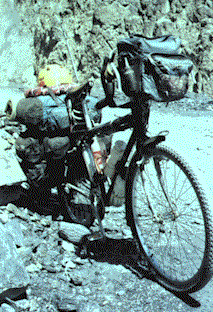 After our snack/lunch, we took off in search of the gorge. We came across another village and were guided through it by some small boys. We were finally on our way in. The path proved very slippery and treacherous. It was definitely dangerous and we risked losing our bikes as well as ourselves on several occasions. However the views made the difficulty worthwhile. The river was roaring 500 feet below. The massive rock on both sides made us feel so insignificant. Huge boulders lay in and along the path giving us fair warning that the erosion that created the gorge in the first place was still ongoing. Many times we were under sheer cliffs of overhanging rock which appeared to be barely hanging on. The hardest and most dangerous part was at the beginning of the gorge when we had to carry our bikes over the boulders and try to keep our balance on the narrow path. The trail got easier as we progressed ever so slowly. We were able to ride about 2 km of the trail after we actually got in the gorge. At 3:30 PM we came across a small mountain-side village where a three-room guest house was built. We decided to stop here for the night, as both of us were exhausted. Besides there is no reason to hurry through such beautiful landscape.
I 'm glad we stopped, the owner indicated that we would have to carry the bikes at some points ahead. It will be good to be fresh after a (hopefully) good night's sleep. We just had a good meal of rice (of course), a bowl of vegetable soup, and some fried eggs in the home of our hosts. Their place is quite similar to the Thai hill tribe homes, except the animals are in stone pens outside instead of underneath the house. The cooking fire is on the floor and the table and chairs are only there for the guests; our hosts have small stools and the floor of compacted earth is their table. Surprisingly, they have electricity, but I haven't figured out its source. It would be nice if the water flowing down the mountain at a mini-hydroelectric plant generated it.
I took my badminton rackets up to dinner with me and we had some fun. I played with the three kids and the father. Sometimes the birdie went into the pig pens or the grain loft.
This place is really romantic...
I just had a big fright; somebody was dynamiting close by. The wall shook violently and the booms ricocheted off the canyon wall. I hope it doesn't happen again. So much for the romance.
Today I really felt like I was mountain-biking, although there was definitely more mountain than cycling. The views are truly stunning. I wish I had a wide-angle lens so I could come closer to capturing what I see. With a normal lens, everything is too chopped up.
These past few days have been the highlight of my China tour. I am glad Rainer and I came up this way. Oh how I love the mountains.
---
On to Doing Dali Again
---
Skip to: Travelogue Index | Introduction | China in October | November in Yangshou | Road to Taijang | Killing in Kaili | Grinding in Guiyang | Out in the Boonies | Land of Eternal Spring | Dali in December | Tiger Leaping Gorge | Doing Dali Again | Train to Guangzhou | Goodbye China!
---
---
Bike China Adventures, Inc.
Home | Guided Bike Tours | Testimonials | | Photos | Bicycle Travelogues | Products | Info | Contact Us
Copyright © Bike China Adventures, Inc., 1998-2012. All rights reserved.