Do you have a China cycling travelogue you would like to share here?
Contact us for details.
---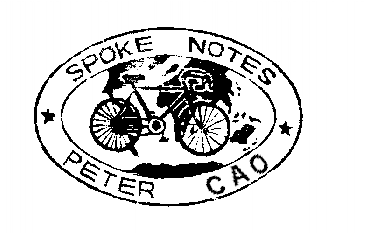 Peter Snow Cao
Spoke Notes

Mount Halesan
Copyright © Peter Snow Cao, 1998.
---
Skip to: Travelogue Index | Introduction | South Korea | Hong Kong | Macao | China | India | Pakistan | China, Again
---
In South Korea Skip to: Seoul in September | Cycling South | Circling Cheju-do | Mount Halesan | Back to the Mainland | Goodbye South Korea
---
September 29 Sogwip'o 96 km
It was a good day of cycling. I had a strong tail wind that followed me around the island up until the last 15 km or where is became a fierce headwind. I visited two tourist attractions along the way: a lava tube cave and Mt. Sanbang Temple. The lava tube was as large as a subway tunnel. There was also some traditional village houses with the thick woven straw roofs that look like a giant quilt. The walls were stone with mud mortar and a mud mortar ceiling. The floor was raised with the traditional ondols used for heating in the winter. I still haven't found out exactly how they work, but have experienced them in all the inns I have stayed in.
The bike ride was very enjoyable. There were interesting country roads, beautiful water and plenty of rock walls. I even saw some of the famous women divers collecting today's dinner.
At Mt. Sanbang, I met two Koreans who live in America, one in Dallas and the other in New York. It was fun talking with them albeit briefly. Then on the way to Sagwip'o I came across a case of puffed wheat that had apparently fallen off a truck and 100 won packages were scattered all over the road. I managed to gather up 14 undamaged bags before heavy traffic destroyed the rest.
September 30 Sogwip'o
6:30 AM A room with a view! What a way to wake up watching the sunrise over the ocean horizon. Beautiful.
8 PM What a fun-packed good day! Starting out meeting an older Chinese man who is staying in this Yoinsuk. We didn't have common language, but that didn't stop us from communicating. Using my pocket atlas, he showed me on a map that he is from Harbin, China north of Beijing. I then showed him where I was from. He just sat for a while and we looked at each other. Like most Asians, he was fascinated with my body hair touching the hair on my arms.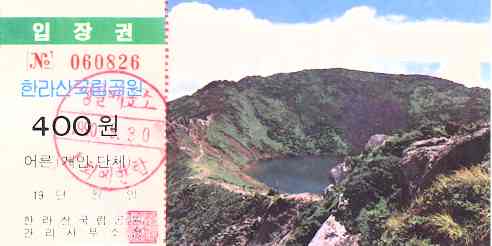 I left to catch a bus to the trailhead Yongshil for the hike up Mt Hallasen. I was apprehensive about catching the bus not knowing which one to take. On the way there I met a couple from Seoul with their mother and they shared a drink, candy and gum with me. The woman spoke a bit of English and enjoyed looking through my Korean phrasebook. At the last bus stop, they caught a cab and I started to walk. After a few minutes a tour bus stopped and offered me a ride with a camping group down from Seoul for two days. Again one person who knew some English started talking to me and we traded pleasantries. Finally I got to the trailhead and realized that this was not going to be quiet walk in the woods alone.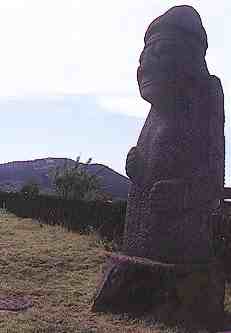 There were literally thousands of people on the trail and reminded me on the Grand Canyon's Bright Angel Trail. This trail was similar a continuous string of brightly colored "dressed-to-the-hilt" Koreans, and me. I spoke with a few friendly people as I worked my way up to the summit. From 900 meters to 1950 meters it was a bit of a workout. Toward the top there were people all over the place. The trail wasn't big enough accommodate everybody and it got a little frustrating. The summit was grand, however. But the only natural Korean lake was more like a pond. The clouds would descend and cover everything up and the disappear momentarily revealing an awesome sight. After the people burnout on the way up, I was ready for a quieter trail and decided to take the trail I was on a few days before when I met the monk. It was the exact opposite of the way up: few people, forested area and very scenic. The only drawback was that it was quite long. 9.3 km to the trailhead and another 3 km to the highway. Still it was worth it.
About noon I realized that wasn't going to make it back in time for the ferry and was surprised it really didn't bother me. "Plans change daily" was my motto at the beginning of the trip, and it still holds true now.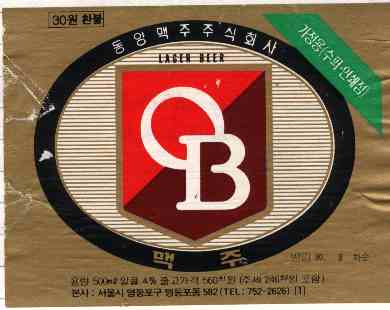 On the way down I stopped at the Buddhist temple and sat for a while with a goal of "mediating". I say quote unquote because it was only for a few minutes, but still it left me feeling very good. I will stop at temples more often. Once back in town I was invited to join some Koreans twice to drink beer with them, accepting one and declining the other. Suddenly I am finding them very friendly! Amazing.
October 1 Sogwip'o
7 AM Last night it occurred to me why people were so friendly: it is a holiday! There was lots of stuff going on outside my yoinsuk window until very late, 1 or 2 AM. Last night I also had very vivid dreams, making love to a friend and then thinking I got AIDS, then thinking I was in prison and my sister Elizabeth joined me. What a strange night.
"Flawless" by Sung Hon 1535-1578
Jade mountains utter no words
And running water is shapeless
The bright moon has no owner
And fresh winds are free, yet priceless
In the symmetry of Nature, may
My life be long and flawless!
4 PM Songsan Ilch'ulbong 50 km
I am at the place where the ferry stops, but it seems like a very small operation. I hope I can get on board without a big hassle. I wanted to find a nice coffee shop where I could rest and write, but instead I wandered over to the crater. Maybe I should go up top. I am just very tired from yesterday's climb up Mt Hallasan and today's short ride. However, it is nice to be around people. Some Korean women came up to talk to me. That was nice.
I feel like I should write some letters because I owe so many, but I am just not up to it now.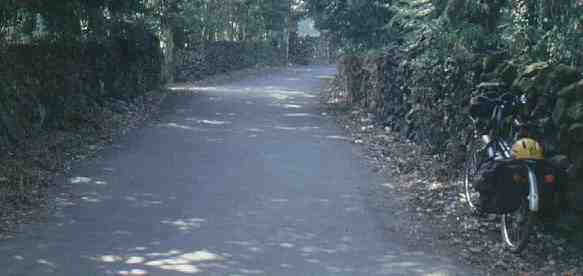 I had a great ride from Sogwip'o to Song-up through little villages on back roads. In fact, I was only on the highway a few kilometers all day. The Korean drivers are really getting to me, so obnoxious and rude.
6 PM I recognized my problem of Dukkha (the Buddhist word for suffering) is caused by my desire for my situation to be different that it is. I feel like if I had someone to share these experiences with (and preferably a woman) all my problems would be solved. Yet I know from experience that I haven't met a woman who I could stand for very long. Is it them or me? Or maybe like Mark Kadillak said, "intelligent women are nothing but trouble". That doesn't sit right either.
Being here on the honeymoon island of Korea isn't helping my girl-sick feeling one bit.
---
On to: Back to the Mainland
---
In South Korea Skip to: Seoul in September | Cycling South | Circling Cheju-do | Mount Halesan | Back to the Mainland | Goodbye South Korea
---
---
Bike China Adventures, Inc.
Home | Guided Bike Tours | Testimonials | | Photos | Bicycle Travelogues | Products | Info | Contact Us
Copyright © Bike China Adventures, Inc., 1998-2012. All rights reserved.