Do you have a China cycling travelogue you would like to share here?
Contact us for details.
---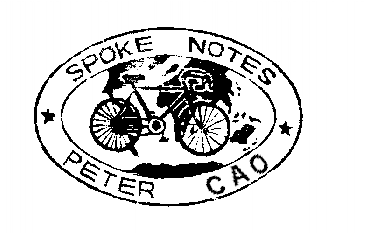 Peter Snow Cao
Spoke Notes

Circling Cheju-do
Copyright © Peter Snow Cao, 1998.
---
Skip to: Travelogue Index | Introduction | South Korea | Hong Kong | Macao | China | India | Pakistan | China, Again
---
In South Korea Skip to: Seoul in September | Cycling South | Circling Cheju-do | Mount Halesan | Back to the Mainland | Goodbye South Korea
---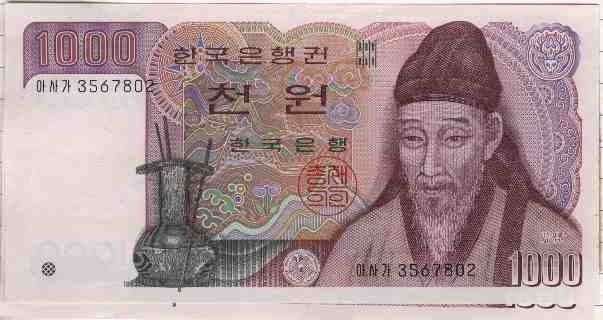 September 26 9 AM Mokp'o Ferry Terminal
Last night I woke up to the 4 AM chime of what I assumed to be the Buddhists monks wake-up call, the beating of a wooden drum. I was thinking that maybe I could stay in a monastery on Cheju-do island. I'll go see the one on the mountain.
On board the ferry, traveling third class I am in a large room with a few benches along the side. It is apparently designed for people to lay on the floor with it mostly carpeted except for an area in the middle for shoes. Being in third class, however, means there are no windows. Fortunately, the ferry has few people on board, so I will try to stay on deck.
The bike created a bit of a sensation and an attendant tried to get me to pay 3,000 won for putting it on board, but I refused. So far, so good. I hope nothing will happen to it.
More observations: The Koreans, particularly the men dealing with driving seem to like to wear white gloves. Taxi drivers, truck drivers, and even the guys on the ferry are running around with white gloves on.
The sky is clear without a cloud in sight, but the horizon has a dirty brown tinge to it. Seems odd to be out here away from the major population centers.
Cheju City
11 PM Well, I made it without paying for the bike. I hope I didn't commit a social blunder. I think not. There always seems to be people who try to stick tourists with non-existent fees. If it was required, I am sure there would be someone with a receipt book to collect the money not only from me, but others who brought large packages on board.
I was met at the ferry terminal by a woman who brought me to here Yoinsuk. Coming here was like a breath of fresh air. Outside the place were two Americans, the first Westerners I have seen since Seoul. It was really nice to be able to talk with them and swap stories. Jay is a Chemist from Seattle who worked for a year teaching English in Japan for the Japanese School District making 300,000 yen a month (about $2,000). Now he is traveling with his brother Doug from the Washington DC area working in Tyson's Corners for some big merchandizing firm. We had a fun several hours together along with a German woman who has been in Korea a month visiting a Korean friend who worked in Germany.
And to put the icing on the cake, they have a kitchen here and I made my first hot meal in Korea. Wow, was it great! I bought two fried potatoes (2,000 won) for munching while shopping, one cucumber (200 won), one onion (200 won), a big bag of kimchi (hot and spicy cabbage, 1,000 won), five eggs (500 won), a bag of been sprouts (500 won), and two packages of Ramen noodles (520 won). Great meal! And the German woman gave me a list of some Korean dishes to ask for in small restaurants that cost about 1,500 won (about US$2). I'll have to try it out and see how it goes. I am so glad to met other travelers again. This was definitely a good choice to make. I was suffering from some serious loneliness.
"The Great Season" by Yi Myongha 1595-1645
Morning shy, stars fade, larks soar
Hoe on shoulder, I go out the gate
The cold dew in the tall grass
Soaks my pants sloppy and straight
Who cares if the clothes get wet
When the season is so great!
September 27 Cheju-do
Now I am somewhere on the side of Hallasan Mountain that is the dormant volcano that created this island. I was riding up to find the Buddhist Monastery and see a few sights along the way when I came across what appeared to be a shortcut. So I decided to see how far I could go with it. The road deteriorated to rough gravel, then slippery mud after about one km. It then turned into a single-track concrete road through a golf course. After another two km it became a dirt track. I passed a few gates and the track became less and less clear ending in an open pasture with cow paths everywhere. I continued up the hill where the map seemed to indicate there should be a road. The cow paths disappeared into the brush and I was left dragging me and the bike through thick vines covered with thorns and covering me with scratches. The brush became denser and denser and I was making very little progress. So much for the "shortcut".
Off in the distance I heard heavy machinery so I headed toward that. At long last I came across a stone wall which I followed and later became barbed wire. There was a large mounds of earth and trees that had been bulldozed off the road. I scrambled over this and saw an army tent with three guys in it. They were startled to see me. But one guy asked me if he could have some water. I shared what I had and asked them to show me where I was on the map. The road was a muddy mess, but mostly rideable - a big improvement over the bush.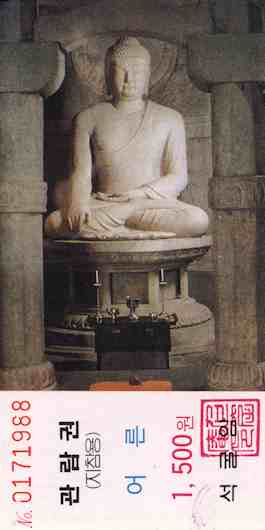 Later I met a Korean Buddhist monk who had spent the day hiking Hallasan Mountain. I shared my cookies with him. He spoke pretty good English and we talked for a while. He invited my to visit him at Songnisia Monastery where he lives. He is 30 years old and has been a monk for four years. He said he will probably be a monk for life. Nice guy, I was fortunate to meet him. I will try and visit him on the way back to Seoul.
After we parted I visited the rock and wood natural sculpture garden. Interesting place. There I met a two American GI woman on a five-day vacation from tour duty. They were pretty drunk, loud and obnoxious. It was weird being with them. They have been here six months, have another year to go and are none too happy about it. They had a Korean guide and were staying in a 75,000 won (US$100) per night hotel. I seem to meet some really strange people here.
I am going to have to revise my impression of Koreans. It seems to be true that they are really good people once you get to know them. It is just breaking the iceberg that surrounds them that is difficult. There are three guys staying next door and they shared some of their coffee with me. None of us could speak each other's language, but it was nice nevertheless.
I have been re-evaluate my financial situation and it looks a lot more grim than I thought initially. I think I have about $5,000 left and assuming I will be back in the States next summer (300 days from now) my overhead costs (such as insurance) will run a minimum of $1,800 leaving $3,200. Of that, I figure I need $1,500 to get back with leaving me with a travel budget of $1,700 or $5.60 per day. No way, Jose! Maybe teaching English doesn't look so bad after all. But should I do it here, Taiwan, Thailand or Indonesia? I could try a few short jobs in Seoul and see how it goes. Don was able to piece together $140 per day and saving $2,000 per month. Economics says I should do it, but I lose interest when the rubber hits the road. If I could earn $2,000 it would really take the pressure off. It means about four weeks of $100 days in Seoul. Fat chance of pulling that off. I will have to wait and see.
The other option is to say screw the budget. I have plenty of time to earn money when I get back to the US. See what I can for the most economical way possible without going overboard and if I spend $2,000 more, that's life. This is the sanest approach.
So the new plan is: Fly to Taiwan for one week Oct 8
Fly to Hong Kong 4 days October
Cycle in China (is this possible?) 3 weeks October
Fly to Thailand 3 weeks November
Fly to India 3-4 months December
Cycle to Pakistan 4 weeks May
Fly to Turkey and Eastern Europe 2 months June - July
Cycle to Western Europe 2 months August-September
This puts me back in the states in a year provided something else doesn't some up. Once I get to Europe I will probably ask Uli to send my camping gear to me so my only real expenses be food if I can gather the courage to ask people to camp in their yards.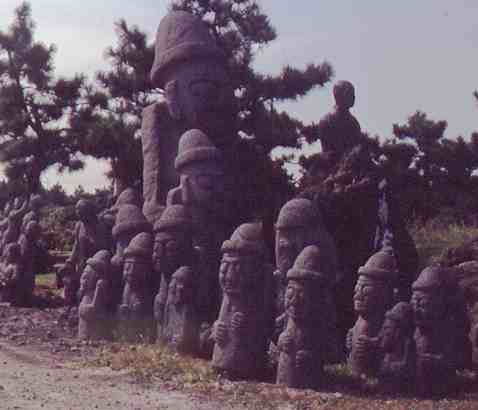 September 28 Cheju-do City
I am lounging around in bed, reading letters, contemplating my navel and my life. (Is it not the same thing? Seems like it sometimes). It seems crazy to be here by myself. I don't have much interest in doing touristy things alone. It seems like the adventure is always for enjoyable when there is someone to share it with. I was very excited when I first got here to find three other Westerners. It was a fun evening, but they all left the next morning. Now I am just hanging out wondering what I should do with myself today. I figure I will spend one more night here and then take off for the other side of the island. The monk said it is supposed to rain today so I won't try hiking the mountain.
"How Stupid of Me" by Kim Soojang 1682-?
Ah so, how stupid of me!
Living a life not quite adept
Whom did I give my youth to,
And whose gray hair did I accept?
Now that I'm anxious to find out,
I'm searching, but I'm still inept.
Later, I spend the day walking around town to see the Dragon's Head Park and climb up Sarabong Hill to write some letters. I wasn't a very productive day, but I did speak briefly to a couple of Koreans who wanted to say hello. That was nice. I also saw a Western woman walking, we smiled at each other but didn't stop. Sometimes I feel so disappointed with myself for being so shy.
After a nap, shower and dinner, I am now feeling very lonely and low. I was trying to write a letter, but stopped because it was coming out so negative. Tomorrow I will head out and see what I can see.
On to: Mount Halasen
---
In South Korea Skip to: Seoul in September | Cycling South | Circling Cheju-do | Mount Halesan | Back to the Mainland | Goodbye South Korea
---
---
Bike China Adventures, Inc.
Home | Guided Bike Tours | Testimonials | | Photos | Bicycle Travelogues | Products | Info | Contact Us
Copyright © Bike China Adventures, Inc., 1998-2012. All rights reserved.