Do you have a China cycling travelogue you would like to share here?
Contact us for details.
---
Rainer Mautz

Rainer Mautz@alumni.TU-Berlin.DE
Cycling Sichuan, Qinghai and Gansu
Email from the Road
Copyright © Rainer Mautz, 2001.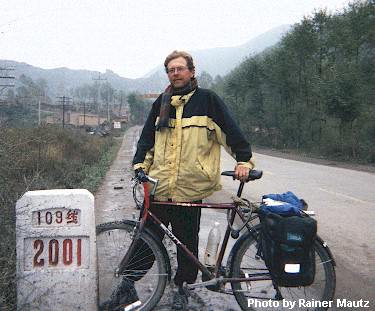 [Editor note: This travelogue was written as email messages from a good friend of mine, Rainer Mautz about his cycling trip into western Sichuan and Qinghai. We cycled together for a week before this first message from Chengdu to Danba in western Sichuan.]
---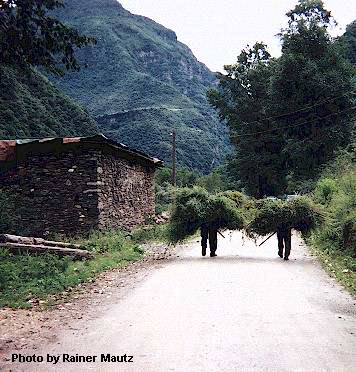 Leaving Danba – September 8, 2001
Dear Peter,
This morning we split and it seems to me, as it has been a week ago. The days are so intense, so many things happen at one day. After you left, I tried to sleep, but I couldn't. After I finally felt into sleep, the room-maids gave me hassle by knocking at the door. At 10 o'clock in the morning I started, not in a hurry, since I didn't plan to go over the pass. But on the way to the top was no place to stay, so that I finally ended up going over the pass today (3850 m) and staying in Bameizhen (3350 m elevation). I was really lucky, I just made it in time to the top (7 pm). When I got here at 8 o'clock it got dark and started raining. The road was fairly good. I had great hot springs on my way (at 3000m ) and soaked for a while. The only problem was to get there: I had to climb over a bridge, consisting of one slippery tree. If I had fallen down, would have been the same result than attending Peter Snow Cao's rafting adventures. I already met some unfriendly Tibetans. Following Marks advice, I just went on, luckily on the way down. My major problem is now, that I am afraid of the Tibetans. Either I overcome my fear or I go somewhere else... The Tibetans are so different: impulsive, noisy, ... I have some problems with their character.
Tomorrow I will reach Daofu (if it stops raining).
*******
Reached Daofu – September 9, 2001
I got to Daofu today. Although everybody is warning me of bad people on the way, I am not that afraid as yesterday anymore. I have passed already the spot, which our Chinese biker had mentioned.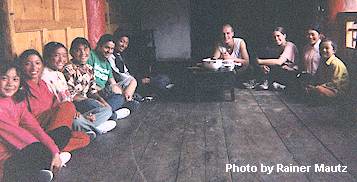 Orphanage near Daofu. In the center is a German couple who are
volunteering for two months. On the left are the children,
a Greek tourist and a Tibetan-English translator/helper.
It is getting more and more Tibetan here. Today I had a nice ride, although I got into a thunderstorm.
You guys had a challenging final yesterday. I really enjoyed riding with you. After we have split, I feel a little bit lonely. Luckily I can write email everyday.
Hope, that there will be another chance of meeting us soon.
*******
On my Way to Qinghai – September 10, 2001
Today I reached the place called Luohou (which means stove-suddenly). If I continue that fast, I will be in Shiqu in 4 days (ca. Friday). Yesterday I met in Daofu a German couple, working as volunteers in a children's home. This was interesting to see and nice, because of our chats we had.
This is just an update. But I am not sure if I will be able to update daily in the future...
*******
On my Way to Qinghai – September 11, 2001
Today I got to Ganzi, after a hard 100 km ride. Today I am ready for my first day off (which means no cycling tomorrow). The sun was shining all the day, and at an average altitude, sorry elevation, about 3,500 meters I was almost fried completely.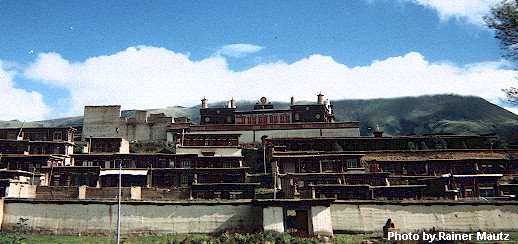 This place Ganzi is a great Tibetan town. A huge monastery (I will visit it tomorrow), Tibetan old houses, glaciers on the mountains around...etc. Not to forget to mention the nice people I met so far. The country side has changed a lot: meadows, no forests, grasslands, cows, yaks, horses.
*******
Unbelievable – September 12, 2001
I was shocked today, reading the German news for three hours. This attack will change a lot! Seeing the pictures I almost cried. And I almost felt hatred for the Chinese, who don't care about it here. Right, it doesn't effect them as it does to us. But even watching the evening news, they spent about 3 minutes out of 38 minutes on the attack! The rest was handshaking! 10 Minutes handshaking with our former Kanzler Helmut Kohl. He is an retired old man without any power anymore. In Germany they wouldn't even mention it.
---
Cycling Sichuan, Qinghai and Gansu: Part 1 | Part 2 | Part 3 | Part 4 | Part 5 | Part 6
---
---
Bike China Adventures
Main Page | Guided Tours | Photos | Bicycle Travelogues | Products | Info | Contact Us
Copyright © Bike China Adventures, 1998-2005. All rights reserved.