Do you have a China cycling travelogue you would like to share here?
Contact us for details.
---
Peter Snow Cao
"Cycling to Danba in Western Sichuan, China - September, 2001"
Part 1
Copyright © Peter Snow Cao, 2001.
---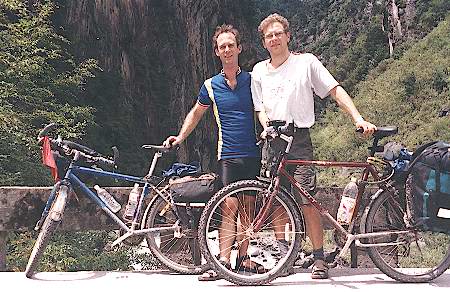 Introduction
The following is an account of a cycling trip from Chengdu to Danba in western Sichuan taken at the beginning of September, 2001. A small group of three decided to embark on this quickly planned tour. Besides myself, there was Rainer Mautz, a German friend of mine, who I met in South Korea in 1990. At that time, Rainer was taking a year off to cycle around the world. We both had wanted to cycle tour in China, but at the time, China was reported to be difficult to enter with bikes. With the help of some knowledgeable people in Hong Kong, we were able to enter and spent an eye-opening two months cycling from Macao to Lijiang, Yunnan. Rainer and I were thinking about doing a ten-year anniversary ride last year, but couldn't pull it off. Rainer had just spent a month traveling with his German-Chinese wife in Mongolia and Russia (maybe I can get him to write about that later). His wife had to return to Germany, but he still had a month more to travel. He bought a bike Chengdu and we set off together.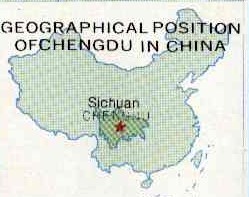 Also joining was Mark Treacher, an Englishman, who spent two years working for a poverty relief organization in Hanyuan, Sichuan before moving to Chengdu last year. Mark also works as a guide for Bike China Adventures.
After several hours of scouring some fairly detailed (1:500,000) but old (circa 1982) topographic maps of Sichuan, we decided to head up the river valley containing the Wolong Nature Reserve. This was chosen for several reasons. Mark assured us the road was in good condition at least to Xiaojin Xian, there was a 4,550-meter pass that would break Rainer's previous record of 3,800 meters, and it passed through open areas (yes, there are still at least eight closed areas in western Sichuan) and lead to a possible open route to Qinghai, Rainer's ultimate destination. Mark had been in the area earlier in the year on a bus trip with his girl friend and was interested in cycling it.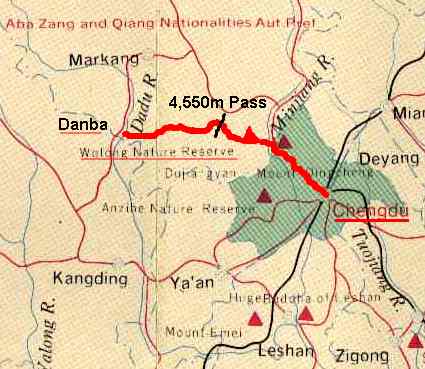 Cycling Trip to Danba, Sichuan: Day 1 Chengdu to Gengda
Since time was short, we decide to hop on a bus from Chengdu to Dujiangyan 66 kilometers to the northwest. Both of us had cycled it before and it really is not the world's greatest ride (flat, broad road with trucks and buses churning up clouds of diesel and dust the entire way). Mark has some business to attend to and promises to catch up later.
After a slow start, we finally manage to get on the slow bus to Dujiangyan at about 11:30 AM. We have no choice in buses, since the express buses will not take bikes. Two hours and 66 kilometers later, we arrive in Dujiangyan with the ever-present threat of rain (it has been raining everyday for the past six weeks with no end in sight).
Heading to the north out of Dujiangyan, there are two choices in roads, one either side of the Minjiang (Min River). The topographic map shows the east road as the only option, while current maps show the west side as the major road. We opt for the east side, which while hilly and rough, has almost no traffic. Dujiangyan is currently constructing an enormous hydro-electric plant on the west side of the road with at least seven 20-meter tunnels being bored into the mountain. From our vantage point on the east side, we see we made the right choice as traffic is backed up for miles in both directions (more on this later). The east road passes an overlook to the 2,500-year old irrigation system, still in use (but modernized many times). We pass rock quarries where it appears the key ingredient for cement is being mined and hauled to a nearby cement plant with enormous tell-tale sky-darkening plumes of smoke pouring out.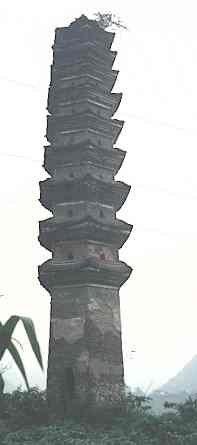 After about several hours of peaceful cycling, we come to a small bridge across the Minjiang top what we think is the intersection with the road to Wolong. Actually, it is the town of Xuankou and its only redeeming feature is a neglected tower at the end of a peninsula formed by a tributary to the Minjiang. The tower looks fairly accessible from the road, so we decide to check it out by cycling down a side street which dead ends into a school for census workers, marriage and birth records (This is the first of its kind I had seen). We tell the surprised staff that we want to visit the tower. There are some bewildered looks and some pointing to other offices before a gentleman who knows where it is points us down the right path. This is a very steep and narrow stairway leading down the river bank about 20 feet, then turning along the wall of the buildings that had been built to the full width of the peninsula. The slippery path passes several open sewers flowing into the river and we end up behind the school in a triangular-shaped garden with the 11-story tower at the point. Sadly abandoned, it sits there with a small tree growing from its top. Inside are several sacks of grain leaning against fire-darkened walls. The interior is open to the top and light can be seen coming in from the windows at each level.
Returning to the road, we find ourselves on the busy side of the river which channels traffic to northwestern Sichuan: Wenchuan, Songpan, Zoige and the frighteningly popular Jiuzhaigou. On a previous bus trip in August, I estimated there were at least 300 buses a day headed to Jiuzhaigou along this road (and there is another way to get there as well).
Ten kilometers later, we turn onto the tranquil road to Wolong following a tributary to the Minjiang. This is cycle touring at its finest. Picturesque farms, friendly locals calling out 'hellos", plenty of places to stop and rest along the river, but unfortunately it is fairly late in the day. Hoping to find a place to stay in the first town, we are disappointed to discover that there is nothing to be had. Darkness is falling as we enter a 400-meter unlighted tunnel. This proves to be just long enough to lose one's sense of bearing, unable to tell where the sides of the tunnel are, and we are forced to walk a good bit of the way. Upon exiting, darkness envelopes us and we are cycling from lighted building to lighted building asking where the next place to stay is. At one point we happen across a hydroelectric plant and ask the guard, swathed in light, how much further to the next town. He appears astonished to see two foreigners on bikes and commences to ask us the standard litany of questions, ignoring our requests for information until we finally refuse to answer any more questions. "Four more kilometers," he tells us. It is almost pitch dark, but fortunately a good road with just enough light to distinguish the edges of the road.
Upon happening on the first sushe (trucker's dormitory) we collapse in the bastion of light. The proprietress knows when she hits on a pot of gold and relentlessly works to overcharge us every chance she gets with an infectious laugh, and a sly look.
I brought the GPS to track our elevation changes, and we discover we climbed 500 meters to 1,200 meters above sea level from Dujiangyan. Tomorrow promises to be more challenging with our goal of trying to get to the last town before the pass.
Next: Cycling Trip to Danba - Part 2: Gengda to Dengsheng
---
Cycling to Danba - Part 1 | Part 2 | Part 3 | Part 4 | Part 5 | Part 6 | More Pictures
---
---
Bike China Adventures
Main Page | Guided Tours | Photos | Bicycle Travelogues | Products | Info | Contact Us
Copyright © Bike China Adventures, 1998-2005. All rights reserved.