Do you have a China cycling travelogue you would like to share here?
Contact us for details.
---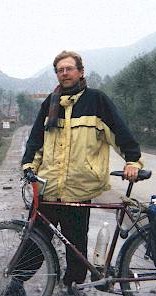 Rainer Mautz

Rainer Mautz@alumni.TU-Berlin.DE
Cycling Sichuan, Qinghai and Gansu
Email from the Road - Part 3
Copyright © Rainer Mautz, 2001.
---
Fri, 28 Sep 2001 10:39:39 +0200
From Gonghe to Xining (2 days).
The Chinese say: If you haven't been to the Qinghaihu, you haven't been to Qinghai. So I decided to have a little loop to the lake first. On the map was a small road visible, which meant a shortcut of about 60 km for me. The locals said, that I should stay on the main road even so it is longer, because its a good road, no passes and anyway everybody takes the main road.
Of course I took the shortcut.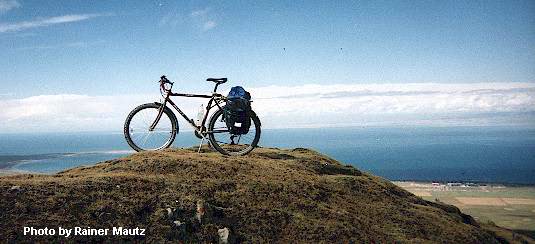 Great view of Qinghai Lake from 3,800 meters. The lake is at 3,260 meters.
In the morning when I was ready to start, it rained until 9 a.m., which didn't improve the road-conditions of a dirt road. After the rain stopped I started, just leaving Gonghe there was an endless climb. First passing two villages with fields around, than a dam for irrigation. After that, with an higher elevation, there were Nomads again with Yaks, Sheep allover. For lunch time, I got invited again by road-workers: sheep meat, mantou (steamed bread), and a tasty soup. I succeeded in reciprocating by distributing Yuebing (moon cakes given out during the mid-autumn festival). Since they were Han Chinese and the moon festival was only 5 days away, they couldn't say no to that offer.
All the day was climbing, with little descents in between. The road was really bad, and no cars were on it. I exactly counted zero cars and only 2 motorbikes.
But suddenly, at 4 p.m. I was on the top, with a sudden, wonderful view of the Qinghai Lake. I climbed a nearby mountain and the view was even better. It's hard to describe in words, the sun came out, I could not only see the other side of the lake, but the mountains around, could see which hard work I had done. I sat down on the top of the mountain for more than one hour (that means a lot for such an impatient person like me). Elevation: 3,900 m.
Going down to the Lake (3,260 m) was stony, but a good challenge for an experienced rider.
Down at the lake: a typical chinese tourist town, with hundreds of restaurants, souvenir shops. What to see: the lake and the docks. I just tasted the water (fairly salty) and went on.
I spent the night in a former fish-fabric factory called Qinghaihu Yuchang. There wasn't anybody, since the guests visit that place only at daytime.
From Qinghai Lake to Xining:
Its a 136-km trip. To do this in one day, I started early. But the headwind was a hassle - what I am saying? It was a hailstorm. It was also very cold.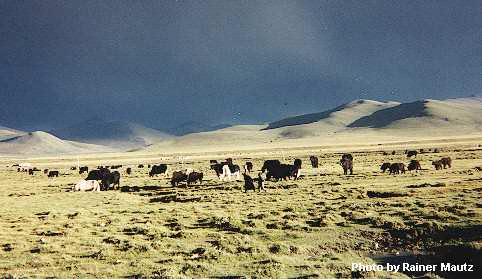 Wearing all my clothes and the raincoat still couldn't warm me up. I had do make breaks and hide in some holes nearby. After 5 hours fighting against the storm, it was already 1 p.m., having done only 36 km, another 100 to go.
Any intelligent person would have given up. After 5 hours of a senseless fight, riding first gear and 6 km per hour, it is logical to take the bus or wait for a better day to ride the bike.
In Daotanghe (36 km-point) I had lunch in a Tibetan restaurant. In this town, almost all buildings were under construction. China is really developing the west.
One hour fight to the pass called RiYueShan (sun-moon-mountain) at 3,510 m. On the top, there was a weather change: dense fog, wet, but.... no wind anymore.
Unbelievable, the remaining 100 km I made within 3 hours, to Xining was a continuous downhill. I rode this section almost nonstop, only pausing twice: 1. taking a picture of me at the 2001-km-stone (as we did in 1990) 2. There were people harvesting carrots and I stopped to have a big vitamin push.
The last section between Huangyuan and Xining was a mess: dirty, dizzy, endless traffic for such a small road. Thirty kilometers of construction: they are building a highway in that valley. It is almost 100% bridge and tunnel. For this complicated engineering work, you can imagine, what was going on.
Xining: Foreigners have to stay in a bingguan (hotel), which was too expensive for me (180 yuan). I didn't give up and finally found a cheap place (where they even don't know that rule).
In Xining: There is a great night market (Yeshe), and an endless food-street. I ate 3 times.
Rainer
******
29th of September Xining - HuZhu (TuZuMinZu ZiZhi) Xian (70 km)
Again construction work on the road. I seems to me, that 50% of all roads are under construction now. Nice weather day, sunny, 15 C. On the road old people from the Tu-Minority (speaking Mongolian!) and selling Yogurt. It was so good, that I ate 9 bowls (they come in big bowls). The "city" of HuZhu didn't have an internet cafe, and it was still early so I decided to go for another 15 km to a small Zhen. I ended up staying in a 3 Yuan Hotel. The sheets hadn't been changed forever since and were so dirty, that I didn't even dare to put my sleeping-bag on top of it.
*******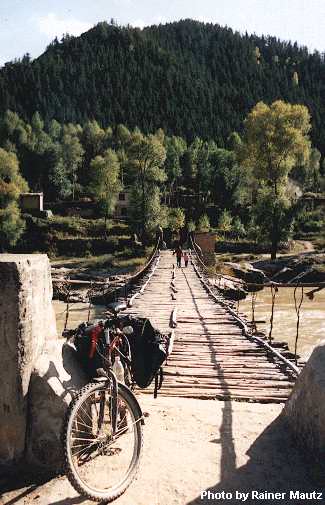 30th of September Huzu - Tanshanling Zhen 115 km
What a day! 3 Passes to climb, and again another 30 km of road construction. I wonder, how long it takes to finish a piece of road. The thing is, that they first destroy the existing road for the whole part, and then start working on it.
The first pass was 3550 m (800 m climb) and the view so outstanding, that I decided to climb a mountain to see it even better. But minor bushes and cold blowing winds gave me a hassle.
I toured into the "North Mountain Forest Park," looping for 30 km in a nice valley, but I didn't see what was so special about it, to establish a toll gate. The valley was beautiful, but almost all valleys here are great.
A tiny little wooden bridge brought me into Gansu Province.
At 5 p.m., at Tianchangsi I had to go for another 28 km. Everybody said, that it is not doable today. I said "of course I can" an started. In fact, the upcoming climb was incredible, actually to climb. On the top of the second pass, it got dark and the round moon came out (it is the Mid-Autumn festival), where the mood can be seen full). But nevertheless, I made it into the coal-town of Tanshanling. People there told me, that they had never seen a foreigner in their whole life. Accordingly, the people were exited to see me. While having my late dinner, I had to tell my story to 20 people sitting all around me.
---
Cycling Sichuan, Qinghai and Gansu: Email from the Road: Part 1 | Part 2 | Part 3 | Part 4 | Part 5 | Part 6
---
---
Bike China Adventures
Main Page | Guided Tours | Photos | Bicycle Travelogues | Products | Info | Contact Us
Copyright © Bike China Adventures, 1998-2005. All rights reserved.