Do you have a China cycling travelogue you would like to share here?
Contact us for details.
---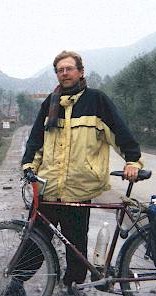 Rainer Mautz

Rainer Mautz@alumni.TU-Berlin.DE
Cycling Sichuan, Qinghai and Gansu
Email from the Road - Part 5
Copyright © Rainer Mautz, 2001.
---
Today only 69 km, what a lazy guy. Whoever thinks so, should take the same way I took today, and then let's see.
It was like taking the bike into Tiger Leaping Gorge in 1990. I wanted to follow the Great Wall. But there was a 30-km dessert part coming up. People said, its impossible with the bike. But I went on until the last irrigated field had passed. Then a real sand dune dessert came up. But I was still confident, since one guy had told me, that it's walkable. If you can walk, why shouldn't it be possible with the bike.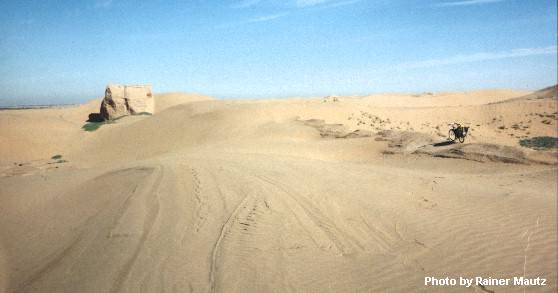 My bike on top of the Great Wall. Here the wall helped
a lot to get forward more easily as it was the only hard surface around.
I soon found out: pushing a bike up a dune is hard work, going down as well (often you end up carrying the bike going down, because of the thorn plants, which might go into your tube). Sometimes the Great Wall helped me with its hard surface. I even could ride on top of it (until the next dune was higher then the wall).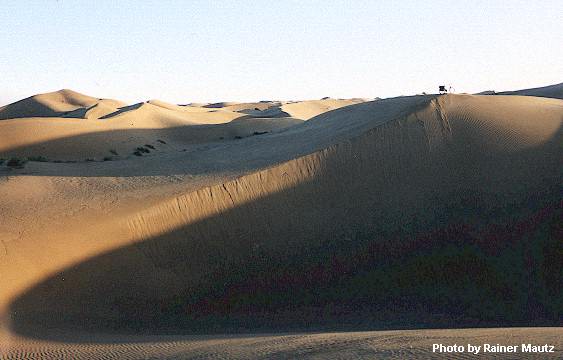 Early morning in the desert.
On the horizon, there was a oasis, giving me courage. At 1 PM I would have to return, if I couldn't get there on time. (I didn't want to overnight, since the nights are about minus 5C and I have no tent). But at 12 o'clock, I got to the green place.
I got a lot of information how to get further and an invitation for lunch. The second part was easier - after passing another 6 towers, a path came up and I could cycle more or less. At 4 PM I got to the main road again, riding another two hours to Wuwei.
In all, I carried the bike 2 km, pushed it 10 km.
Yours Rainer
*******
Friday, October 5th
Hi Peter,
I am in Wuhan now. The last email I sent from the city of Wuwei (Gansu). After I had written the mail to you, I wasn't able to send it. The reason was probably a virus, which they had at the wangba. The wangba-manager and I worked on it until 1:30 a.m., after which I gave up and left the wangba, since my bus in the morning started at 7 a.m. But the manager promised to sent the mail through his account. He obviously succeeded in doing it.
I was feeling sad, not riding my bike anymore. Taking buses and trains is a hassle for me, especially after a joyful month of cycling. The train I wanted to take was the Lanzhou - Hanko at 4:30 p.m. I was told, that the bus from Wuwei to Lanzhou takes 4 hours. Nevertheless, I took the earliest bus at 7 a.m. and thought I would have 5 hours to spent in Lanzhou. But the bus ride, instead of 4 hours, was 8.5 hours. Why? First of all I had to take a bus with a rack on top to carry my bike. These busses are very slow and stop every 500m to get passengers waiting on the road. You would say, they are "hungry".
[Rainer and I had a discussion on how these privately-run busses operate in China. When they first start out, they are empty and the operators are "hungry." They will do everything in their power to get more passengers, even grabbing their baggage, against the will of the owner and putting it on the bus. After the bus fills up, the operators are less likely to use coercive techniques. We said the bus is not hungry anymore because it is "full."]
The other reason was a construction at a bridge, where we had to wait 2 hours. And lastly, Lanzhou is a 30-km long city from west to east, it takes a while to go through the town. Of course, I missed my train, and was a little angry about that and about my bike, which had some damage.
At the train station the ticket situation was worse then ever, no matter were you wanted to go, the women behind the desk would do nothing else then scream "Mei you!", meaning every ticked is sold out. But with the help of a friendly family I managed to hop on the train coming from Urumqi and going to Hanko. In the train I managed to buy a hard sleeper ticket. Perfect!
On Thursday I will call you and tell you, if I can guide the tour or not. In my opinion it doesn't look good. I doubt, that I have a seat by then. I was thinking about buying a one way flight, but that would be too expensive. The plane ticket prices have gone up. I will try one more thing: I have an upgrade for the business class, maybe they have seats there available.
Whatever, I will sent my bike to Beijing, in either case we need it there.
Rainer
---
Cycling Sichuan, Qinghai and Gansu:- Part 1 | Part 2 | Part 3 | Part 4 | Part 5 | Part 6
---
---
Bike China Adventures, Inc.
Home | Guided Bike Tours | Testimonials | | Photos | Bicycle Travelogues | Products | Info | Contact Us
Copyright © Bike China Adventures, Inc., 1998-2012. All rights reserved.