Do you have a China cycling travelogue you would like to share here?
Contact us for details.
---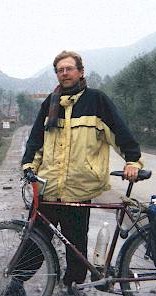 Rainer Mautz

Rainer Mautz@alumni.TU-Berlin.DE
Cycling Sichuan, Qinghai and Gansu
Email from the Road - Part 4
Copyright © Rainer Mautz, 2001.
---
October 1, 2001 Tanshanling Zhen - Anyuan Zhen 100 km
Nice and sunny 820 m climb to warm up in the morning. There were a lot of coal-trucks on the road. That was the reason, why such a minor road was paved (when I first saw the asphalt, I couldn't believe it).
Going downhill for more than 1000 m, I overtook 5 of these slow vehicles. Also, since the road was tarred, it was the most dangerous downhill I had so far. The asphalt makes you run fast, but deep holes and huge waves suddenly appear and you can easily loose control of your bike.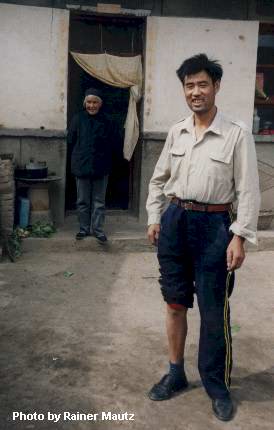 This is the guy who fell in the ditch. He has already changed his shirt. In the back is his mother, but his wife escape just before I took the picture.
At the deepest point, I got to the intersection of a major road (to Xinjiang). A cyclist, 10m ahead on me, suddenly rode far too wide to the right and fell into the ditch, head first and completely soaked in the water-mud mix. And today being a holiday, he was wearing his best clothes. He managed to get out of there by himself. I took the bike out. He wasn't hurt, so we both cycled further. After a while, when he was out of sight, I suddenly started laughing. He himself admitted to have drunken a lot with friends this morning.
Second half of the day: Rain and storm, biking very nasty.
*******
October 2, 2001 Anyuan - Gu(o)lang 30km
Snowstorm. After 30 km I was frozen. Luckily I found an Internet cafe here.
Although its late and I am tired, I am going to try to write about the last two days, which are really a great final of my trip.
*******
October 3, 2001 Gulang-Changcheng (name of a small Village) ca. 70 km

Drying corn in a town called Changcheng.
What a day! No clouds in the sky, as if there had never been a thunderstorm last night. Only the white Mountains around and the muddy road were some hints about yesterday.
My goal was to get to the great wall, so I took a small road to a village called Dingyuan, where my map showed the great wall passing by. But in that village, nobody knew about it, and they sent me 8 km further. At that place I was sent to another, and so on. Most of the people were sending me to a "Guan", a famous place to view the wall. Nobody would understand, why I want to see a washed out muddy piece of wall.
But suddenly I found the wall - absolutely great. 4 m in height, with a tower every Li (about 6m in height). I climbed one, but it was very dangerous. Especially going down was hard on my nerves.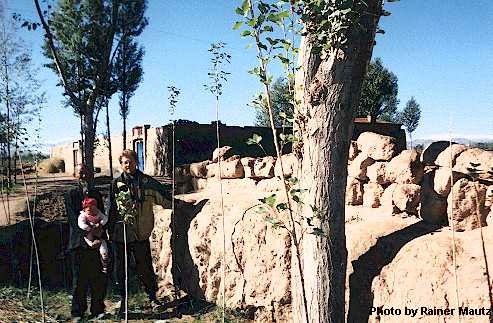 This is where I found the Great Wall for the first time.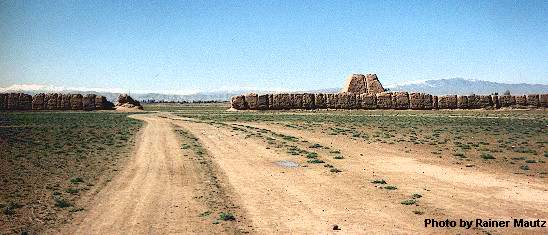 This is my first "real" view of the Great Wall near Wuwei.
The towers were so picturesque, that I wanted to take a photo of every tower I passed. I started riding along the wall, which had destroyed towers, ones which were carved for to have a cool room, ones children playing, the wall was used as a backyard-wall, it followed through fields, graveyards, with a path going along or not. It was so fascinating, that I never left it again.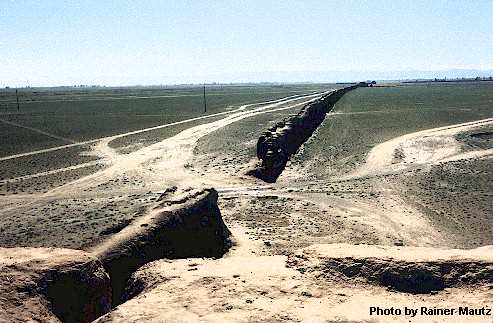 This picture is taken from on top of a tower.
It was a dangerous climb to get this shot, especially going down.
That night I spent privately in a small village named "Great Wall" - oh, I forgot to say that I had about 8 holes in my tires. There were nasty plants in the sand, which punctured my tire, directly into the tubes. The funny thing is, that the air didn't come out, until I took the thorny things out. That happened, when I stopped at a small shop to by some food. People were laughing, when the air whistled out of an endless number of holes - by the way, it was still the air from Chengdu, since I never pumped up the tires for a month. Luckily, I could buy two new tubes (4 yuan each) at that shop.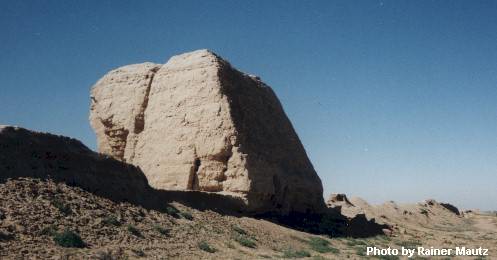 One Tower - The area get dryer and dryer - almost dessert.
This is the area with the nasty plant that destroyed my tubes.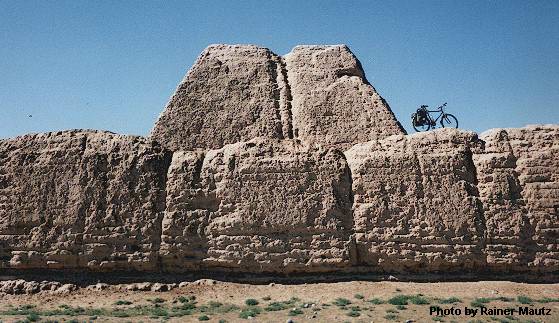 Bike on top of the Wall. I had an enjoyable time getting it up there.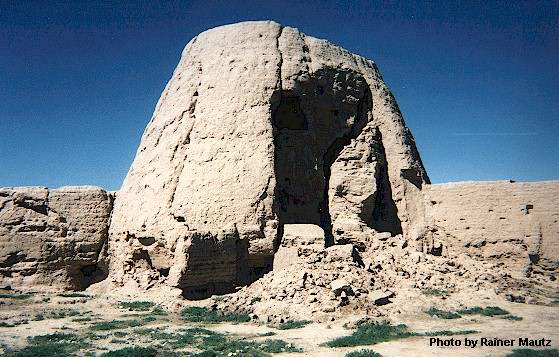 Another broken tower.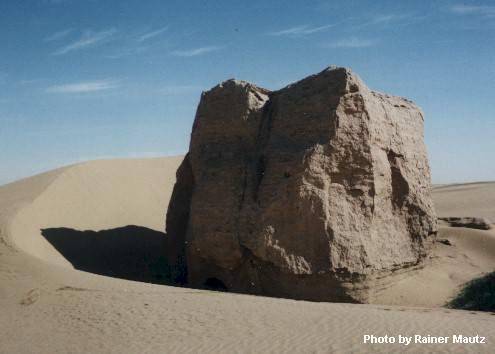 Along the Great Wall in the area of Wuwei, Ganxu.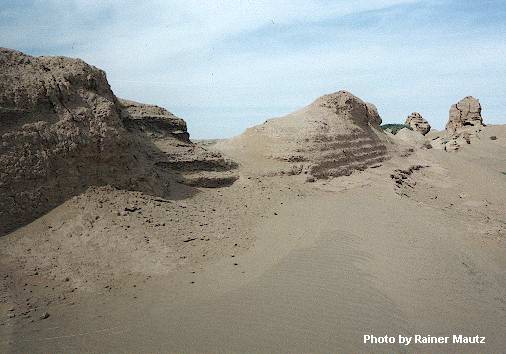 Great Wall - on the right is a tower.
---
Cycling Sichuan, Qinghai and Gansu: Email from the Road: Part 1 | Part 2 | Part 3 | Part 4 | Part 5 | Part 6
---
---
Bike China Adventures, Inc.
Home | Guided Bike Tours | Testimonials | | Photos | Bicycle Travelogues | Products | Info | Contact Us
Copyright © Bike China Adventures, Inc., 1998-2012. All rights reserved.