Do you have a China cycling travelogue you would like to share here?
Contact us for details.
---
Matt Bridgestock
"Cross China Bike Tour - Summer 2003"


Page 5
Copyright &copy?Matt Bridgestock, 2003.
Skip to: Matt Bridgestock - Page 1 | Matt Bridgestock - Page 2 | Matt Bridgestock - Page 3 | Matt Bridgestock - Page 4 | Matt Bridgestock - Page 5
---
So on Eastwards, into more densely packed valleys, then high over a pass through spectacular gorges and down into more population. It was harvest time and the villages were alive with people thrashing corn, cutting and ferrying the straw and there was an air of general industry. Many of the shops were closed during the day as their owners were out in the fields. Ingenious villagers laid their corn out on the road and the passing traffic thrashed the corn off the ears.
A big pass loomed, switchbacks disappeared into the clouds, I reckoned it was one to start tomorrow. I bivvied in a hollow on a cliff face, the views of the lush valley below. Laid out with fields and speckled with houses and yurts was pretty fantastic.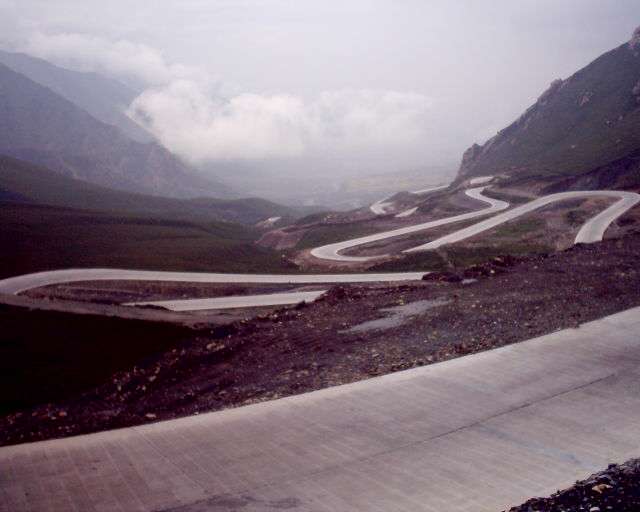 A morning tackling switchbacks and a dirt road decent in the rain was actually pretty exhilarating. In crossing the pass I had moved from the Tibetan area to the Hui Muslim valley. Every man wore a dark suit, with a little white skullcap. Whilst the Tibetans would bade "nihao" from the other side of the road, Hui country would shout "Laowai, nihao laowai!" (laowai = foreign devil) from anything up to a couple of fields away. I dropped into Linxia and had lunch.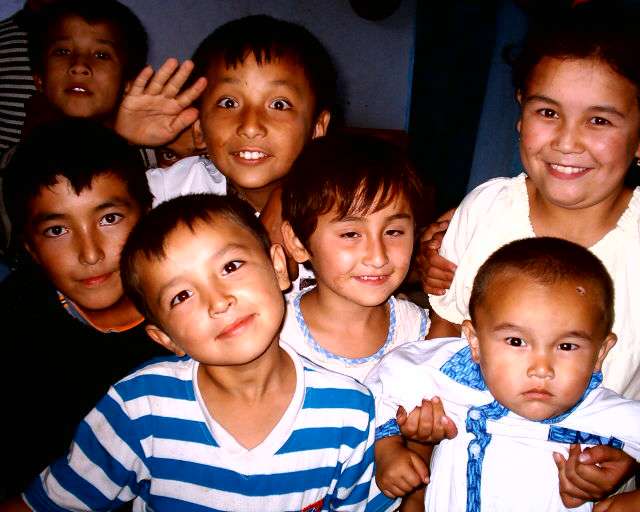 A quick word on the bike's health, neither of the wheels are round or straight after the rebuild. The chain is wearing out meaning that slowly I am running out of gears that are useable and the chain is beginning to lose its flexibility. To cut a long story short, it was desperately in need of attention and parts. I was literally nursing it through each km, talking to in and reassuring it that the next town would have spares. Linxia was the biggest town since Xining and they said to go to Xi'an, a mere 600km away.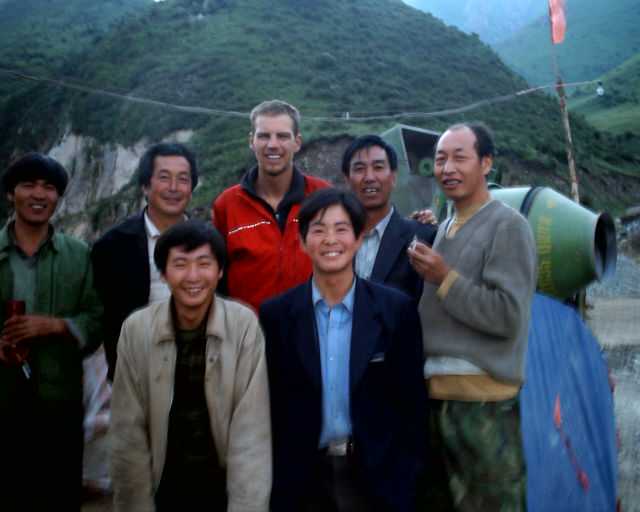 From Linxia I had a 50-mile valley to pass through before hitting the main road to Xi'an. The valley was exclusively Muslim, shinny dome of Mosques littering the skyline. The attention was unnerving, constant and tiring. This valley in particular was the most demanding, and unlike most of the rest of China, folk were not afraid to fiddle and pull at the bike even if I was stood next to it. I played the cantankerous westerner card and shouted if they got too close. In one town I stopped for directions and by the time I had pulled the map out of my bag about fifty folks were jostling for position around the bike. The crowd continued to increase, my Chinese failed me, fingers pointed in every direction I decided to ditch the directions and get out of there. Hectic.
Suddenly I left the valley and joined the main road to Xi'an. The mosques and white caps disappeared, I had hit Han Chinese country and ended my magical mystery tour of the ethnic minorities. I took two days to get my increasingly ailing bike to Lungxia. There was a station, and with the help of Zheng Teng I took the overnight train to Xi'an.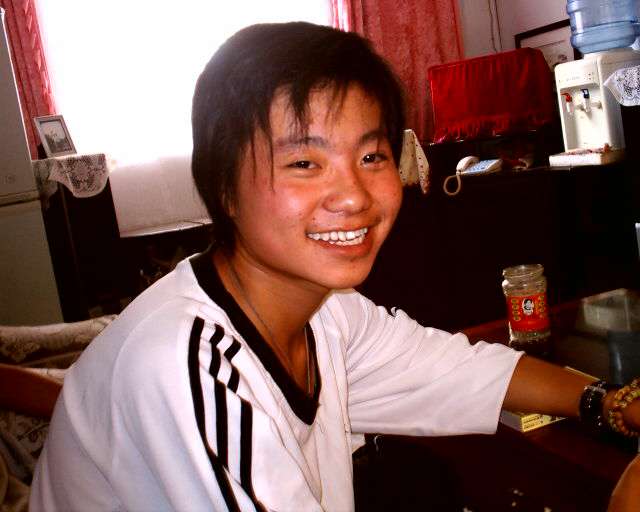 I checked in to the Youth Hostel, had a fry-up on the cafe then went in search of a bike shop. I was in heaven, I located a shop in the middle of town, they took me to another shop to get parts and lent me a round-town bike whilst they worked their magic on my Orbit. Come back tomorrow and well have it sorted was the promise. All the black thoughts disappeared from my head, backup plans were scrapped. I set to working out where I had to train or bus to, to enable me to cycle as far as I could in the days left before my flight. I was going to Wuhan!
Before that I had two days to kill in Xi'an, one of the historic capitals of China, steeped in history but also cosmopolitan. I decided to spend the days mooching round the city, eating and recovering, rather than trying to hit the tourist Mecca of the terracotta warriors. Frankly after meeting a few of the organized tours in Xinjiang province, I balked at the idea of hitting the tourist trail, crowds and noise. Feeling that I was seeing real China, not the tarted up version.
There was also a great opportunity to stock up on food, ad eat some home-type stuff, pancakes and pasta were sought. I did find a really interesting place to eat, called the Typical Fast Food Restaurant (with associated Monopolistic Food Store) it was all but typical. Single-price entry, eat all you can from a selection of delicious Chinese treats, I spent some time in here!
Next day I met Matt, Fiona and Pete, who had travelled together overland from London, we spent the day mooching round the city, tea houses and sights before heading to another hostel in the centre of town. Amazingly, it seemed that everyone knew each other from hostels and train rides. Introduced to everyone as the token madman we all went for a big meal. Like meeting the Peace Corps in Kazakstan, the opportunity to talk proper English, compare notes on a country and generally gossip really revived me. China can wear you down. That day in Xi'an, if I wasn't already, I was restored.
My bike was shinny with a new rim, straight wheels, and a new chainset. We were both ready for the dash to Shanghai. A hectic visit to the station and we were off, 16 hours squashed in the top bunk of a carriage, eating and drinking.
Wuhan, a city on the Yangzi River, not the pretty gorges here, a wide industrious river. Craft of all sizes putted up, down and across. Sadly bicycles are not allowed on the ferries or on the brand new bridge. Neither do people in Wuhan have the ability to offer decent directions. After getting off the train at 7 a.m., I found myself back in front of the station at 11 a.m. It took me all morning to get out of that damn city. Little things can colour your opinion of a place!
Finally I left and enjoyed a decent run along the banks of the river, very lush and quite flat. Houses had gained an extra story, and people were everywhere, it was sometimes difficult to tell when you had left one town and entered another.
The Lonely Planet advises that camping is not ordinary tolerated around habitation, to save the hassle of PSB visits I decided to find cheap rooms from here to Shanghai. Most rooms in villages cost a couple of dollars, and give the opportunity to meet a few folk. A good option considering the amount of habitation, but still managed to attract nighttime raids from the PSB.
An interesting phenomenon is Chinglish, English translations with a Chinese flavor, the best were found in a hotel in Anqi: "Waking up is available. Please contact the floors attendant if necessary" and the peach of: " There is a toilet in every room you may wash your- self in every time". On the train a sign on the toilet door also offered the most memorable: "No occupying whilst stabling" Ill leave you to decode the real intentions.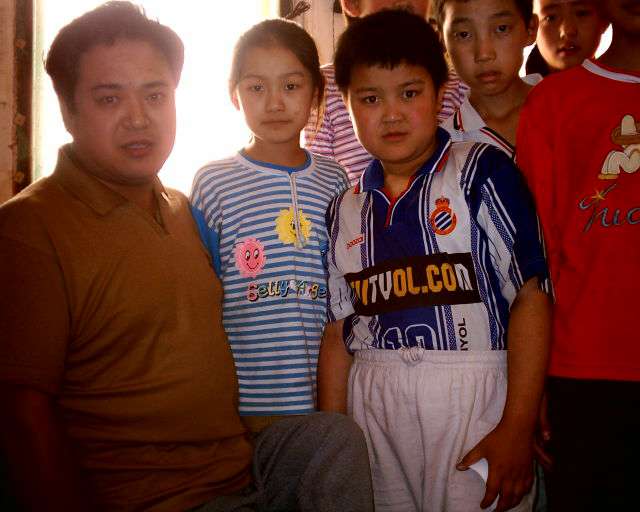 Police attention wasn't just limited to accommodation options. Mid-afternoon on the second day out of Wuhan and I found my self at the entrance to a motorway. Examining the map, it appeared that the motorway had been built on the route of a previous main road. There was no obvious alternative until the old road reappeared about 60 or 70 km further on. The traffic was light and there was a decent hard shoulder. I swung my bike out onto the road and headed onto the motorway. Five km later I was stopped by two policemen. Again very friendly, however, I was loaded on to a passing bus and sent to the next town. Quite a bit of excitement ensued, the police in the next town gave the bus an escort from the motorway, I was fed and watered before I was asked to follow two police cars with flashing lights through the town and back to the motorway. They explained they were putting me on a bus to Shanghai.... Noooooo. Negotiation and phone calls. They capitulated, but I could not cycle from here, there is no road. With blues and twos, they took me and my bike up the motorway to another town; I can cycle from here. It was getting dark; they asked where I would sleep, I said in a tent, whoops, wrong answer. I was installed in a motorway service station for the night; they would come and take me back to the start point in the morning!
So I entered Anhui province in the back of a screaming police car, once back on the road, the lush valleys were tranquil and very pleasant. Houses were dotted about the fields, folks in wide straw hats shouting, "Good morning."
Since Wuhan, the food had certainly got a bit hotter and a bit more exotic. Part of my communication repertoire was abated piece of paper with random phrases, translated by English speaking folk that I had met. One of the most interesting was "I just want to eat, anything is OK" which Alex had written for me in Ruoqiang. It often brought a surprise, frogs legs in one small town and two fried carp in another, both delicious and filling. Rice replaced noodles as the staple and most places give you as many free refills of rice as you like. I was eating well and putting some weight back on. Food is amazingly cheap in rural China.
Anhui is a lush rolling province, the lowlands have rice paddy fields, whilst the hills are soft red sandstone giving a splash of colour now and then. The road followed first the Yangzi River and then headed across the south of the delta area to Shanghai. The area is crisscrossed with rivers and streams, working boats cruising up and down between the green banks.
It was about 150 km before Shanghai when I entered its urban area, the road became wide and whilst still very pleasant to follow the cycle path along side, the pace of life changed, industry and business were everywhere with an almost continuos urban landscape. The last night on the road to Shanghai, I spent in a petrol station, camped in their recreation room. Two guys climbed in through the window that in the night thinking they could get rest whilst their bus refueled, they woke me, I shouted and the shock of an angry Laowai soon got them scuttling back to the bus.
Into Shanghai, on a bright afternoon, pretty pleased to be there, with a day spare before the flights. Shanghai is both a city and municipality, it took several hours to cycle into the center. Cycling is not helped by the cities' modernisation drive, which seems to view bikes as old hat and undesirable. Therefore, most of the main roads are bike-free, and there are enough police to make sure you don't skip along the wide taxi and bus lanes, ensuring you stick to the narrow busy back streets crammed with bikes and parked cars. Occasionally bikes were banished to the tiny pavements, along with pedestrians and motorbikes of all sizes. The chaos was unbelievable.
Shanghai itself is a monster, not only in its width but the sheer number of skyscrapers is mind blowing. Some are fantastic, and some are dire abortions on the horizon. It truly felt like the Fifth Element or Jude Dread city of the future as I cycled in, expressways zipping overhead, crammed pavements, noise, fumes, scores of policemen and massive towering buildings overhead, a heady mix after Anhui province!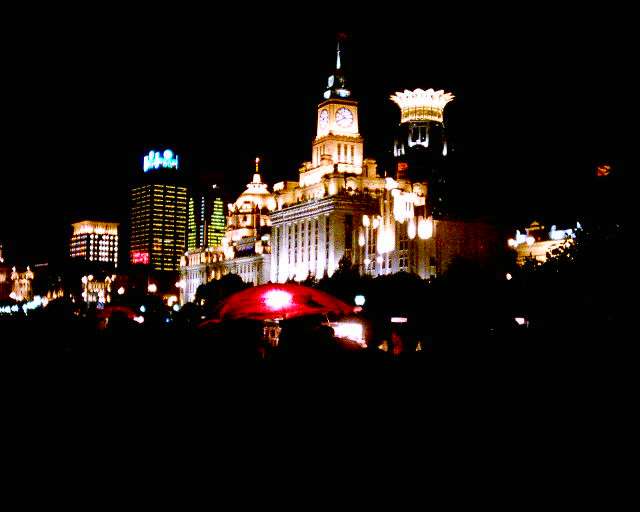 I stayed in a Youth Hostel, right in the heart of town, just off the historic Bund. This was truly spectacular at night, the historic European concession buildings lit brightly, with every skyscraper gently lit in the background, then a veil of flashy neon lights along the streets. I found a pint of Guinness in a small pub. The first for months, I felt I deserved it, I had made it to the Pacific.
More photos and stories at
www.worldonwheels.info/
Skip to: Matt Bridgestock - Page 1 | Matt Bridgestock - Page 2 | Matt Bridgestock - Page 3 | Matt Bridgestock - Page 4 | Matt Bridgestock - Page 5
---
---
Bike China Adventures, Inc.
Home | Guided Bike Tours | Testimonials | | Photos | Bicycle Travelogues | Products | Info | Contact Us
Copyright © Bike China Adventures, Inc., 1998-2012. All rights reserved.