Do you have a China cycling travelogue you would like to share here?
Contact us for details.
---
Matt Bridgestock
"Cross China Bike Tour - Summer 2003"


Page 3
Copyright &copy?Matt Bridgestock, 2003.
Skip to: Matt Bridgestock - Page 1 | Matt Bridgestock - Page 2 | Matt Bridgestock - Page 3 | Matt Bridgestock - Page 4 | Matt Bridgestock - Page 5
---
The antibiotics kicked in; I was restored with cold tea infused with honey, a great energy drink, big steaming bowls of noodles, and most importantly the promise of a tarmac road. I headed off... the wrong way. I wound up at a Police station, lost. Sadly they were keener on interviewing me than on giving directions and it took a while to convince them that I was only in this forlorn, edge of nowhere town by mistake. An English teacher was summoned, and I was sent off in the direction of the highway.
Tarmac glistened on the horizon; snowy peaks darted in and out of the clouds. The land was flat, the wind was little. I rode through an oilfield and out into the desert, until late at night. Again, I felt I was getting somewhere.
The Tibetan plateau is vast; it covers two provinces, Tibet and Qinghai. The Plateau is all above 3000m high, ringed by massive mountains, its heart is a roughly flat desert, weathered into strange formations, extinct lakes and deserted villages. The sun is unrelenting, from early in the morning till after 10 at night. The land and air are arid; water is trucked into most of the habitations.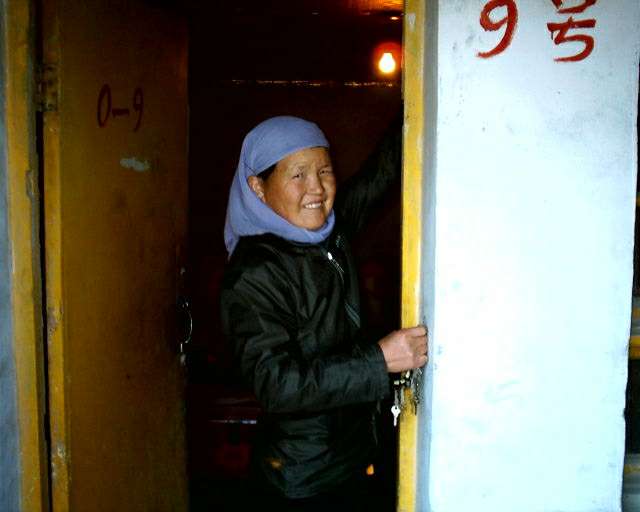 My days across this vast wilderness were a constant search for water, the road was being widened and paved so there were many roadworker's compounds. An empty water bottle virtually always resulted in being invited in for tea, Momos (steamed dumplings) and food from whatever region of China the workers were from. At night I slept under the crystal clear sky.
My bike was beginning to show a few battle scars, and in the middle of a particularly hot day, a rear spoke twanged free. A quick look revealed that the rim was slowly splitting, a bodge repair was out of the question. I flagged down a passing water tanker and hitched the 60km to the next town. That evening, a guy called Lee Dong, assisted me with locating a mechanic, sussing the restaurant menu and giving a guided tour of another depressing, survival-instinct town. Very early in the morning, the truck driver who had given me a lift, hammered on the hotel room door, virtually unable to stand, he said to want to take me out for drinking. I declined, there really couldn't have been that much drinking time left in the night, even with the vile vodka.
No rim available, but a bike mechanic with precious few spares. With some washers and a bit of cunning he bodged a repair, suggesting I go to Delingha for a new rim. With absolutely no confidence in the wheel, I headed east.
My luck was breaking, poor directions added a 200km loop to the journey, the road was finished so no more road workers camps, villages marked on the map were eerily deserted and in a final insult the wind blew strongly into my face. The strain was beginning to show on the bike and me.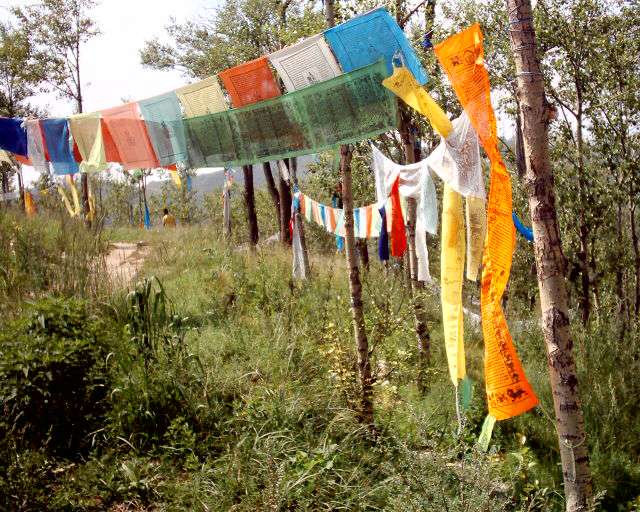 July faded into August as I headed across the mountain ridges and passes to Delingha. An evening ascent of a 4125m pass led to a spectacular and winding downhill and another night under the star-studded sky. Waking from a chilly bivvi, the crystal clear sky revealed new snow on the surrounding hills. I had no water for breakfast, but the views made it the most spectacular morning on the plateau. I set off for the last few miles to Delingha.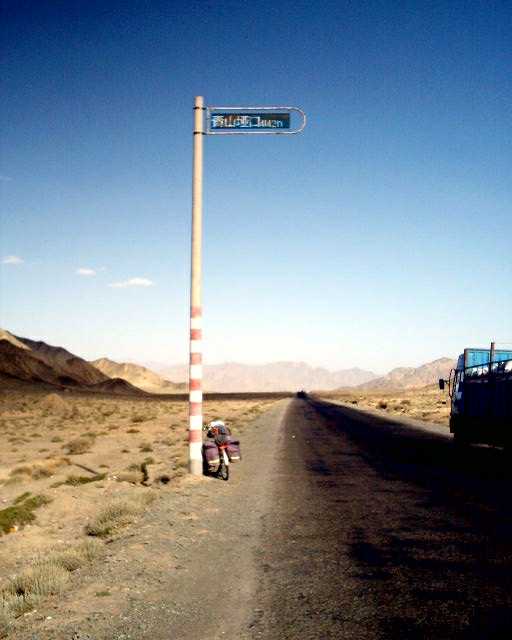 I have a love-hate relationship with China, it is certainly one of the most diverse and beautiful countries to cycle through, but it is also the most frustrating and difficult countries. I have purposely left it some time to write up this segment, hoping the painful parts will fade a little and I can concentrate on telling you about the delight that is the people and countryside of China.
It is worth bearing in mind that the backdrop to all these adventures is one of constant attention, from Xining onwards I was rarely alone. It easy to understand a formerly closed country with few foreigners who leave the tourist trail and very few rural people have seen or spoken to westerners. Language is also a huge difficulty, simple directions, food and drink turn in to a long act, sometimes failing altogether to pass on the message. Whilst I did learn some words, the constant change of dialect and pronunciation meant it rarely helped matters. I coped, and by the end I had a manageable repertoire, but don't assume it as easy.
August dawns out in the dry dusty hills of Qinghai province, I'm over 3000m up camped after a huge mountain pass. From here I'm heading to the first major town in weeks, Delingha. It's a long way down and an adrenaline filled hurtle down a perfectly curvy road. I stop in a small village for some food. The main square is packed with a market, virtually everyone stares as I cycle past, as I stop outside a shop a mass of men and children descend on the bike. I change my mind, make a quick purchase of biscuits and coke, then head to a quite spot out in the desert to munch them. After days of solitude, the attention is unnerving.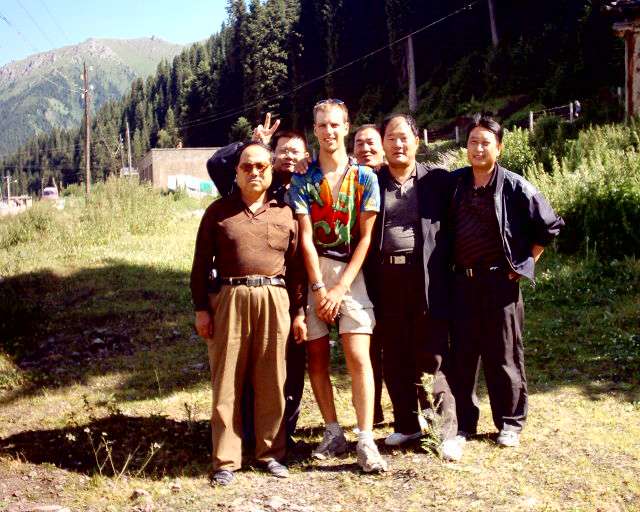 I reach Delingha early that afternoon, make the small but subsequently important decision to take a hotel, shower, and do town things like changing money, Internet, and buying more food.
My methods for finding food and accommodation have gradually been refined. If the town is in the Lonely Planet then its merely a case of sitting down with a cold drink and flicking through the various options and finding the most suitable. My trip rarely manages to hit these towns and cities favored by guidebooks and so I have evolved the cafe technique. Locate the centre of town and somewhere, not too busy, for a drink, perhaps and ice cream or cake. Then with whatever limited language you have, attempt to get recommendations from the staff or other customers of the establishment. This has two effects, firstly you get cheap accommodation, normally, and secondly it helps prevent you taking the first place you find, purely because you're so knackered. I used this technique in Delingha, and found myself in a cheap, but clean hotel.
The banks are shut, but I find a netcafe. I start to notice that I am getting a huge amount of attention. A professional photographer is called to the netcafe, to record my visit; the crowds of teenagers in the place listen as I recount my journey to the owner. I am curiously a superstar in this tiny backwater. I decide to go back to the hotel for a camera before heading out to a restaurant I had spotted for dinner. The fun really begins.
The hotel staff is waiting for me; they hand me a note in English. It reads: Our Hotel is forbidden by the government to accept foreigners, the check-in girl does not know. You must leave now. Sorry. I am swiftly kicked out on to the street. Sketchy directions are offered to the only hotel in town that accepts foreigner. Curiously it in a police station compound.
So for the second time I check in to a hotel for the night. Its expensive compared to the previous offering and plenty of begging and bargaining ensue. We fix an acceptable price and I hand over my passport. The receptionist picks up the phone and tells me to wait. A passing kid tells me that she is phoning the police, you what?? I am brought a pot of tea, its going to be a long wait.
The man from the PSB (Public Security Bureau or Secret Police) is in plain clothes, the only identification is a special PSB belt buckle. I am interviewed in the hotel lobby, two kids interpreting with what seems to be the entire hotel staff + guests in attendance. It is very surreal. The man from the PSB (no name) tells me politely but firmly that this is a closed town and I must leave on the first available bus. What's more, my entire proposed route out of the province is in a closed area and that I must not cycle. No permits are available, I must just leave. The next bus was in the morning at 10 a.m. and PSB man told me he would take me there personally, thanks. In the meantime, I was escorted to dinner by the hotel staff, and surrendered my passport.
Next day I was put on a bus to Xining, the driver and I under strict instructions to only leave the bus in Xining. It's a long and frustrated journey through the most fertile and populated part of Qinghai province. In Xining, city and provincial capital, late in the evening, I find a dirt-cheap bed in a dorm close to the station. Not only do I sleep according to the gaps in the train timetable but when I wake in the morning there are two guys sat on the bed opposite staring at me. They stare as I dress and leave. They are gone when I return later in the day.
Skip to: Matt Bridgestock - Page 1 | Matt Bridgestock - Page 2 | Matt Bridgestock - Page 3 | Matt Bridgestock - Page 4 | Matt Bridgestock - Page 5
---
---
Bike China Adventures, Inc.
Home | Guided Bike Tours | Testimonials | | Photos | Bicycle Travelogues | Products | Info | Contact Us
Copyright © Bike China Adventures, Inc., 1998-2012. All rights reserved.