Do you have a China cycling travelogue you would like to share here?
Contact us for details.
---
Matt Bridgestock
"Cross China Bike Tour - Summer 2003"

Page 4


Copyright © Matt Bridgestock, 2003.
Skip to: Matt Bridgestock - Page 1 | Matt Bridgestock - Page 2 | Matt Bridgestock - Page 3 | Matt Bridgestock - Page 4 | Matt Bridgestock - Page 5
---
I have a British map of China; it has proved to be useless. Even with Chinese script most folk have frozen when confronted by it, it also has all the distances wrong. What seemed in Kazakstan, like a long, but doable ride to Shanghai is turning into an impossible epic. I buy a Chinese road atlas and dump the British one.
I decide that Xining is my best shot at repairing my bike wheel, and engage one of the hotel touts, Neil, to assist me in finding a good bike shop. After a morning of visiting the markets and bike repair men of Xining I am told that not only can nobody in Xining help but l so that it is a western bike and that it will not break. The fact that there are big cracks in the rim appears to be normal around here, and nobody can help. I hit a mental low, deported, unable to speak more than a few words, bike slowly collapsing and now certain that I wouldn't have time to cycle all the way to Shanghai make me feel like I am slowly failing. I seek solace in phoning home, listening to Radio 1 on the web and going to the KFC (which I don't even eat at home). It doesn't seem to help. I spend a second night in the hotel from hell resolved to get out on the bike whatever in the morning. Neil charges me for not helping fix the bike.
I head into the hills South of Xining, resolved to cycle as far as I can towards Xi'an before giving up on the wheel. I stop at Ti So, a massive Tibetan temple in a gorgeous green mountain valley, hoping for spiritual repair. There are thousands of people, and I quickly discover that there is a visiting Lama, only the devout are to be admitted. Bummer. I meet a couple of Chinese guys, strangely called Phillip and Boy, who speak English and we sit on a hill over looking the Temple chatting and drinking bottled tea. It's very pleasant. Karma restored, and in a far more positive frame of mind than I had been for the previous days, I head into the green fertile hills that separate Qinghai province from lowland, east China.
Its another heartstoppingly beautiful ride along dirt tracks through the mountains. The road is once again under construction and I stop and chat with the road workers. More green tea and momos. I am back, enjoying this, weather I make it to Shanghai or not.
Its late one wet afternoon, about 10km from town when another spoke pings free of the back wheel. Its in a bad way, and I hobble into a tiny village. I rock into the first cafe and get some hot food. A Tibetan monk befriends me and offers to help find somewhere to stay, I get a tiny bare concrete cell on the main street to live in for the night. The only lock on the door is on the outside, so even as I unpack people are stepping in to watch. Lucky they did, otherwise I wouldn't have met the guys from PetrolChina, about a dozen of them were living around the town for 18 months whilst working on a new tarmac road throughout the mountains. Between them they had plenty of education and a lot of English. I explained my predicament. We came up with a plan, the motorcycle mechanic in the village would rebuild both my wheels, swapping the front rim for the back, thus putting a good rim where most of the weight was. In the meantime I was to hangout with the PetrolChina folk, chat, eat and take digital photos of their project for them to email their bosses.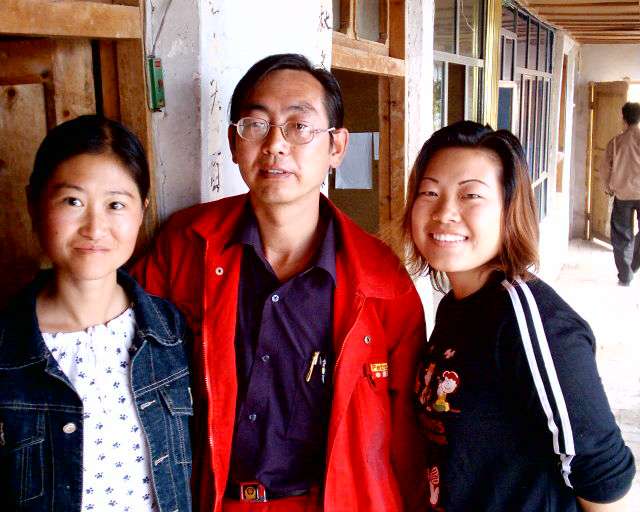 Feng XiuPing in particular had great English and was keen to find out my impressions of China. We had a great chat on the current construction boom, which I liken to being like the one Britain saw in the 1960s and 1970s; projects of little design merit are being thrown up everywhere, some where already failing or collapsing even before they were inhabited. Its a shame for a country with such rich design heritage to be constructing anywhere buildings. In China, these are predominantly concrete boxes clad in white tile. From Xinjiang province to Shanghai, new buildings did little to tie in with their context o environment, leading to one town looking the same as many others across the land. To the Chinese, this is progress, flawed or not.
The wheels took most of the next day to be rebuilt, and in that time people popped in and out of the room, flicking through my books and things. Those that I asked to leave simply stepped outside and watched through the window. I had tried to look my door by piling panniers up against it overnight however I have vague recollections of waking and seeing a man silhouetted against the doorway, in the morning my panniers were neatly stacked in the middle of the room. Yet again a sleeping foreigner seems to be better entertainment than what's on telly.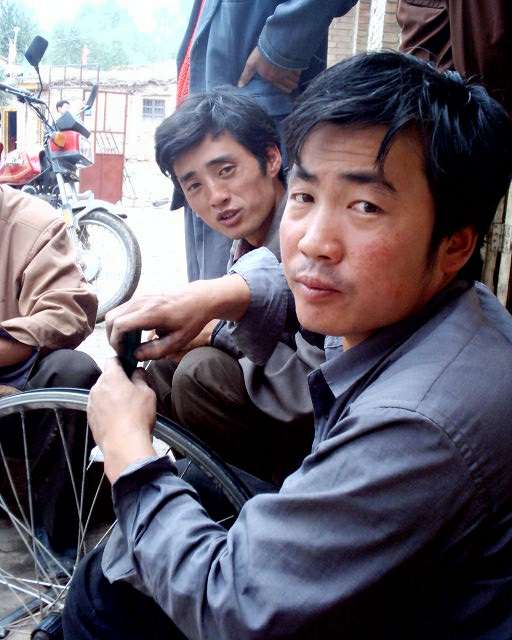 My wheels were finished, and whilst their best friend would not have called them straight or even round, they went through the frame and that's all I needed. 30km later I hit tarmac, and a lot of rain. I stopped to ask for a place to stay. Zalamo was tending the shop. After asking her mum, she invited me to stay with her family. Magic!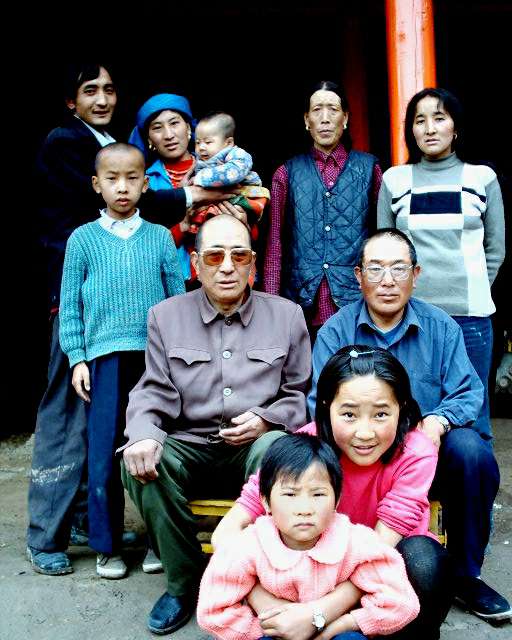 Zalamo and her family are Tibetan, they live in a Tibetan village and Chinese is their second language, English is Zalamo and her Uncle Youla's third language. For a third language they were pretty good at it. They dried me out, fed me a delicious meal and offered a bed. The bed was a platform that we had sat on to sleep. It was five foot in each direction and I am over six-foot long. Three of us slept on that platform. I was quite stiff in the morning. More piles of food and I was taken to meet Youla's family for more tea. They desperately wanted me to stay, and I could have stayed in that cozy front room drinking tea and popping peas forever but with renewed optimism I felt I had to leave. Zalamo cried, it was quite a heartbreaking goodbye.
I made good speed down the valley, inhabited by Tibetans. They had brought their own traditional building methods with them. Similar to the Urghur houses in the Northwest of China, their houses were built within high mud walls, no penetrations save the ornate gateway, closed with carved doors. All the woodwork inside is carved in intricate detail. My hosts were deeply suspicious of the camera and asked that I didn't use it, which was a shame.
Skip to: Matt Bridgestock - Page 1 | Matt Bridgestock - Page 2 | Matt Bridgestock - Page 3 | Matt Bridgestock - Page 4 | Matt Bridgestock - Page 5
---
---
Bike China Adventures, Inc.
Home | Guided Bike Tours | Testimonials | | Photos | Bicycle Travelogues | Products | Info | Contact Us
Copyright © Bike China Adventures, Inc., 1998-2012. All rights reserved.