Do you have a China cycling travelogue you would like to share here?
Contact us for details.
---
Matt Bridgestock
"Cross China Bike Tour - Summer 2003"
Page 2
Copyright © Matt Bridgestock, 2003.
Skip to: Matt Bridgestock - Page 1 | Matt Bridgestock - Page 2 | Matt Bridgestock - Page 3 | Matt Bridgestock - Page 4 | Matt Bridgestock - Page 5
---
I was following Route 218 through the mountains to Korla. Through the lowlands it was great; recently tarmaced and up to Swiss standards with a lovely strip to cycle on each side. When it hit the mountains proper, the surveyors were still working out the route and it turned into a gravel track. As the track climbed into the hills, the solid houses of the Urghur folk disappeared and Yurt dwellings of Kazak and Mongol folk started to appear. Yurts are semi-permanent tented structures, circular in form with a conical roof. The whole structure is held in tension by a strap around the gutter line and can be totally dismantled for transport on a horse or its modern replacement, a jeep. Entire extended families live in these single-room structures, through the harsh winters and hot summers. High on the alpine plateau in the middle of the mountains I was the guest of a Mongolian family in a Yurt. They had just slaughtered a sheep and I was invited to join them for boiled head soup and noodles, again I didn't suck to hard, although it was delicious. I can recommend the meat from the cheek of a sheep. The Yurt was toasty warm and in the morning, it took a chilly trip outside to discover it had snowed, I copied the Mongolians and stayed in bed until it had melted.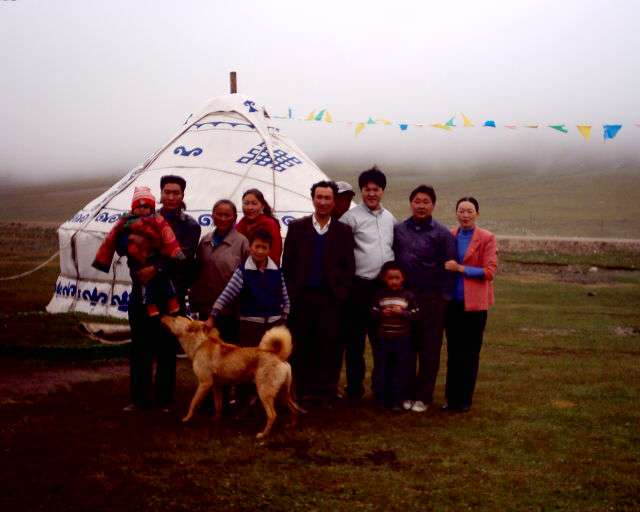 The road down from the mountains was breathtaking; more than 120km of paved downhill, rocky gorges, tiny villages clinging to the hills and increasing oxygen and warmth. I was literally buzzing with adrenaline that evening as I found a bed in a village hostel, on the edge of the desert.
On to Korla, and a scheduled rest day. Expecting a town I came over the final ridge of the hills to find a sprawling modern city in the desert; high-rise blocks springing from the sand. Korla is not a touristy city and I spent my day's rest touring the shopping zone, eating and trying to find a phone that could call further than the next sand dune. Refreshed and restocked with food and water I headed Southeast into the mighty Taklamaken Desert, heading for Qinghai province. The heat was searing during the afternoon, so morning and evening shifts were instigated, at night I slept out in the desert, watching the stars, satellites and meteors dart cross the sky. One night as I was dozing off, spectacular meteorite that lit the sky like a firework and disappeared over the horizon. In my dozy state I decided that there would be a new hole in the desert tomorrow.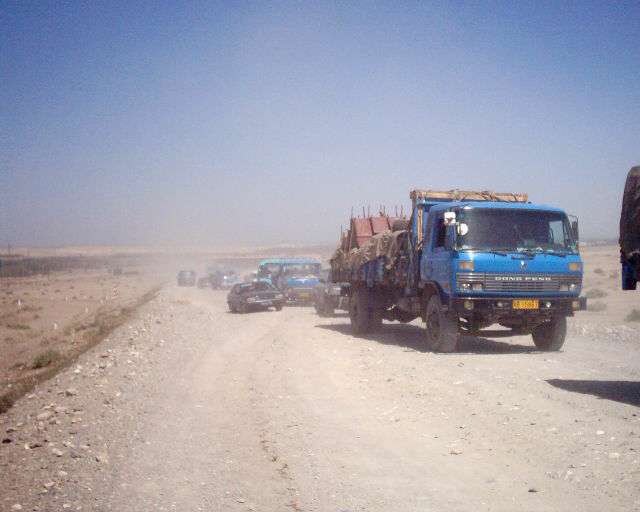 One lunchtime, I stopped at what appeared to be a restaurant in the middle of nowhere, food seemed in short supply but there were plenty of folk all curious and in a good mood. As I munched on the rice and vegetables it slowly became clear what as happening. The large old woman serving me was obviously in charge, the men were obviously customers although none were eating, and the final part of the puzzle were the barely dressed girls who came out to see the bike and the foreigner. The Lonely Planet does not have the word for brothel, but it looks something like restaurant. The Madam was keen to offer me something for free; I paid for the food, and turned down the freebies.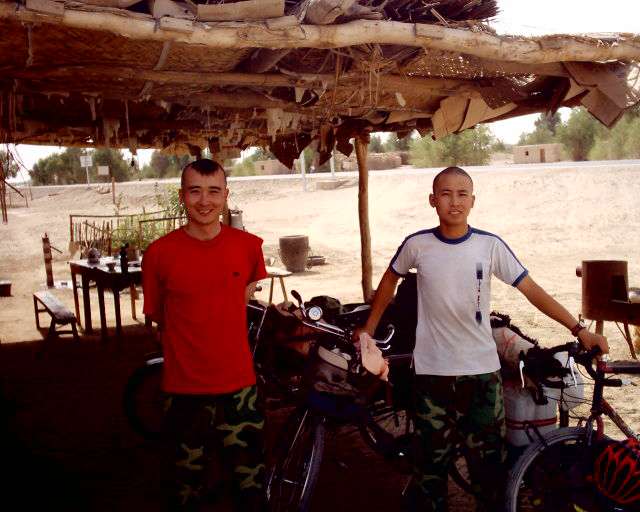 I met a couple of other cycle tourists en route; they were from near Shanghai. Riding single-speed Chinese workhorse bikes they were planning to cycle to Golmud and Dunhuang over the Tibetan plateau. Their gear was basic and they were swathed in clothing to avoid sunburn. I wished them a lot of luck; it would be a lot harder work than my trip!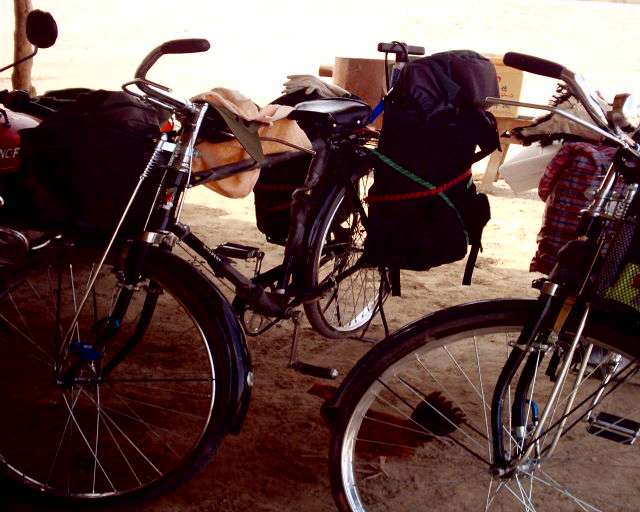 Marmots populate the desert, and on night they successfully raided my camp. The oversized guinea pigs making off with a day's worth of bread. A trail of footprints was the only clue left in the morning.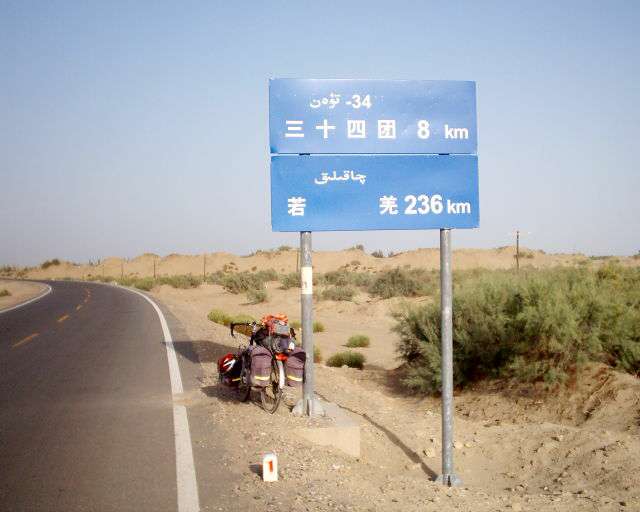 My final night before making it into Ruoqiang, I stayed with Chung Hi Chun and Ewan Li Sing, road construction workers, in their concrete hut. Overnight a sandstorm blew in and in the morning I was stranded, no hope of proceeding. The guys told me it would last about three days. My heart sank, as hospitable as they were; a bare concrete room in the middle of a sandstorm was not a fun place to be. We played chess, a Chinese version, and I inadvertently won. They wouldn't let me play anymore. That afternoon there was a lull, sensing my opportunity and against their advice I set off, full pelt the 80km to Ruoqiang. The wind was strong and there as sand everywhere. As I headed into the town the skies cleared I had made it!
In an Internet cafe in Ruoqiang I met Alex, from Beijing. He was travelling around the desert, his English was good, and it transpired that he was a journalism student. Keen to speak to me he asked if we could meet the following morning for a formal interview that he hoped would be published on his return to Beijing. We spent all morning chatting; it had been a very long time since I had met anyone who could hold a conversation in English. It was late when I set off into yet more desert towards the hills that marked the border with Qinghai province.
The road from Ruoqiang was diabolical, gravel on a loose sand bed. It soon became clear that cycling was going to be a really tough option. The heat was intense, and to compound the problems, I had my worse dose of the squints so far. I was reduced to dragging the bike through the hot sand. It wasn't long before water ran low and in this sparsely populated desert and I resorted to begging water of passing trucks. I made about 90 km in two days. The second night, news of a roadworker's compound close by spurred me on past nightfall. I arrived late and looked a wreck. Very dehydrated and disheveled they fed me and gave me a bed. I slept little. In the morning, after discussing the road ahead, I accepted their offer to find me a lift to the next town. It was 170 km, just as grotty a road over the mountains with only one tiny hamlet in between. The bike was loaded on a jeep and I squashed in the back with melons and a few chickens. It was a dog rough journey.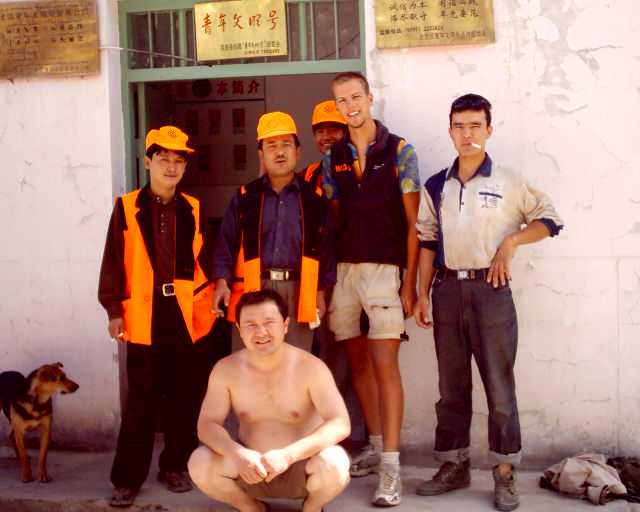 At the end of the journey I was deposited in a courtyard in the middle of a tiny mining community. A concrete cell was again to me my home for the night. Attentive owners, insisting on standing and staring in the curtainless window. It felt like the edge of the world, the town was a mess, rubbish and animal carcasses everywhere, and people just surviving in the wilderness. In my many trips to the bathroom, in the dark, I noticed that the sky glowed red. What they were mining, I never discovered.
Skip to: Matt Bridgestock - Page 1 | Matt Bridgestock - Page 2 | Matt Bridgestock - Page 3 | Matt Bridgestock - Page 4 | Matt Bridgestock - Page 5
---
---
Bike China Adventures, Inc.
Home | Guided Bike Tours | Testimonials | | Photos | Bicycle Travelogues | Products | Info | Contact Us
Copyright © Bike China Adventures, Inc., 1998-2012. All rights reserved.