Bicycle Tour Planner
Tour Planner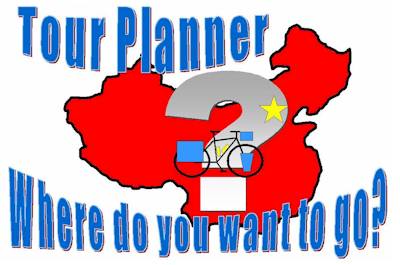 This questionnaire has been designed to help us help you plan a custom bicycle tour in China. Based on your answers we can tailor a tour that meets your requirements. There is no obligation in filling out the form.
Please note: your email address WILL NOT be passed on.
(Note: for ease of inputting answers, some browsers will allow keyboard navigation using the "TAB" key to move down and the "SPACEBAR" to select or de-select. "SHIFT+TAB" allows you to move up.)
---
---
Bike China Adventures, Inc.
Home
|
Guided Bike Tours
|
Testimonials
|
Photos
|
Bicycle Travelogues
|
Products
|
Info
|
Contact Us
Copyright © Bike China Adventures, Inc., 1998-2012. All rights reserved.