Do you have a China cycling travelogue you would like to share here?
Contact us for details.
---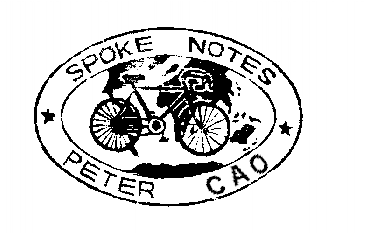 Peter Snow Cao
Spoke Notes
Camping in Hong Kong?
Copyright © Peter Snow Cao, 2000.
---
Skip to: Travelogue Index | Introduction | South Korea | Hong Kong | Macao | China | India | Pakistan | China, Again
---
In Hong Kong Skip to: Howdy, Hong Kong | Camping in Hong Kong?
---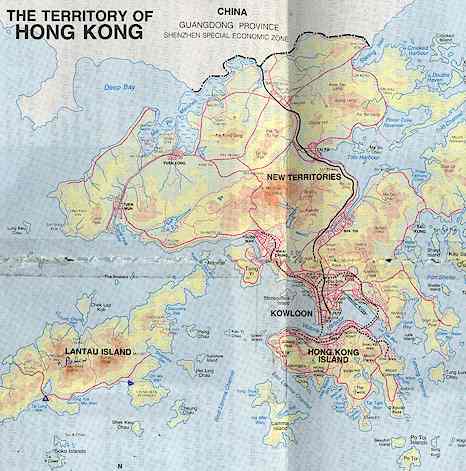 October 14 Traveler's Hostel
7 AM After six hours sleep, I woke up with my mind full of thoughts and questions about China. It seems so intimidating, so overwhelming, yet I am very excited about going. I need to find someone who can give me some good information on the money issue: what kind and how much to bring.
7 PM Beach camping on Lantau Island - New Territories near a prison along the beach 36 km
Today was another hectic day. I think big cities are like that. I met Ann (a molecular biologist from Columbia, Missouri) yet again and talked with here for about an hour. I traded my malaria pills for her Chinese phrasebook. Then I went back to the Traveler's Hostel and traded my SE Asia book for a Swedish woman's China book plus HK$50.
We wanted to go to Hong Kong Central but everywhere we turned up with the bikes to get transportation, we got a no until we pressed them about it.
Central was amazing. Huge office buildings, double decked buses and trolleys: Office City. I am glad we saw it on Sunday.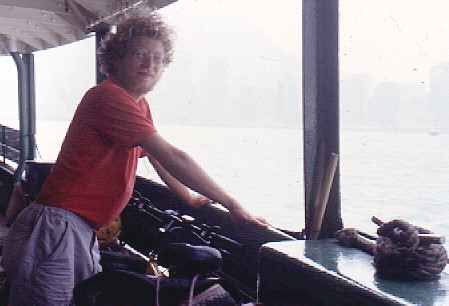 It was good to get on the ferry to Lantau Island and leave that mess behind.
This is the first time I've been camping since I left Australia in May. Both Rainer and I are writing in our diaries by campfire light, the first one in a long time. We will have one day to see the island. I would like to go to the Po Lin Monastery to mediate, and plan to write some letters before we leave Hong Kong.
Staying at the Traveler's Hostel was good from making contacts and getting information from people who have just come from China. I am looking forward to going.
Lantau Island proved to be extremely hilly. It reminds me of my days in New Zealand. Such a contrast from Kowloon or Central. The smog over that area is incredibly thick and ugly.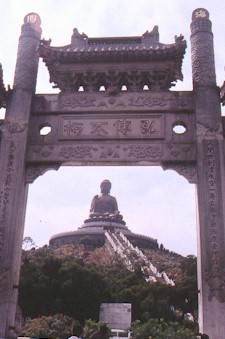 On the way to the campsite, we saw the Buddha image serenely sitting in the saddle between two mountains. It was beautiful. I can't wait to see it up close.
Rainer is in such a different world from me. I guess I should remember that he is my brother's age, but even so it seems like he is more like a teenager in his views and thoughts. I see myself being short tempered with him already. I hope it won't get worse. Uli saw it in me with him in Kuala Trangano.
October 15 Lantau Beach
I had an interesting first night camping with Rainer. His tent is a US$40 K-mart special free standing model that has over 80 nights of use on it (50 cents per night). When it started to rain he informed me, "Nothing is safe in the tent". We took everything out and put them under my rain poncho. Fortunately it never did rain hard. I will have to come up with a better system in the future.
5 PM We hid the bikes in the bushes and took a bus up to Po Lin Monastery to see the world's largest outdoor bronze statue. It is 34 meters high (112 feet), one meter taller than the one at Pulgusa Monastery in Korea. It seems ironic that a philosophy that espouses detachment from material things would build such things. However, it is impressive.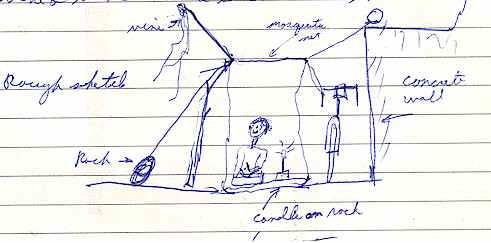 After dinner of peanut butter, bread, lots of bananas, and honey. I am determined to make up for lost time in eating this kind of food until I can't stand it. I am now sitting under my mosquito net. This is the first time I have set it up outdoors. It is a makeshift arrangement with my butt on the ground and the net hung between a vine and a concrete wall. Nonetheless, it is comfortable and I enjoy being outdoors without having to deal with those pesky mosquitoes.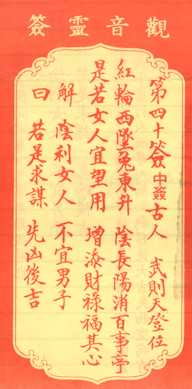 The Buddhist Temple/Monastery was a disappointment. There were too many people, and the atmosphere was that of a tourist attraction rather than a place to mediate. I could find no place to sit in quietly. While there we tried the do-it-yourself fortune telling using the joss sticks. Using a bamboo cup with about 25 thin bamboo sticks we shook the cup at a 45degree angle until one of the sticks fell out. Then we matched the stick with the cubbyhole where our fortune was written in Chinese. I will have to find some one to translate it for me.
On the way back we stopped for a swim at the beach. The water was comfortable though the waves were not impressive, only about 1 or 2 feet high. Then we both broke our rear gear cables within three kilometers of each other. What a coincidence. The lady who gave us water yesterday gave us some more plus three bunches of bananas, ripe to overripe, but good nonetheless.
October 16 Hong Kong Central 30 km
Hectic Hong Kong. Starting with a sleepless night last night with hordes of mosquitoes biting me in spite of all my efforts to keep them out of my net. Finally at 11 PM I gave up and joined Rainer in his smelly tent. It was repulsive, smelling of dirty socks and clothes. He was coughing a lot in the early evening, but settled down around midnight.
We woke up at 6:30 AM and made breakfast of yet again peanut butter and bananas and then went to catch the ferry to HK Central. Once there we were frustrated by our attempts to get back to Kowloon. The Start Ferry attendant wouldn't let us on. It was "Against Regulations". We were told to catch the car ferry - argh! Then we met Mr. Lee at Flying Ball Bicycle Company and extracted a few more priceless pieces of information from his scrap books. After that we made several more trips up and down Nathan Road much to the consternation of Rainer - he really hates big city traffic.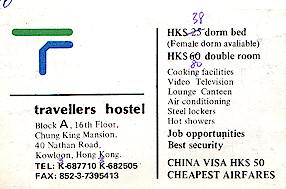 We tried to visit a camping equipment store, but it was closed until noon. We tried to find a map store recommended by a guy we met in the bike shop but never did locate it. We also tried to find the ferry schedule to Macao, but the line was continually busy. Then we tried to pick up our visa early, but were told to come back at 5:30 PM.
It was a tiring and frustrating day. And I started feeling the symptoms that Rainer had: sore throat, deep cough, and feeling run down. This has not been the best of days. I did, however, see Ann again. It was the highlight of my day. A beautiful Missouri woman, and this time I asked for here address. Maybe something will come of it later. It would be nice.
We are now waiting to board the high-speed ferry to Macao. I hope they let us on without a hassle.
Rainer was complaining all day about how much money he spent saying, "Oh my God, so much money."
We walked on the boat without a hitch, bikes and all. I am glad of that. But I just saw a sign that said we could have taken the morning ferry for HK$30 instead of the HK$50 we paid. Oh well, such is life.
8 PM Goodbye Hong Kong!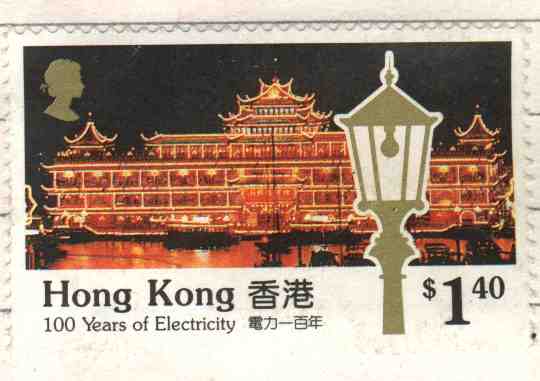 On to: Flyby Night in Macao
---
Skip to: Travelogue Index | Introduction | South Korea | Hong Kong | Macao | China | India | Pakistan | China, Again
---
---
Bike China Adventures, Inc.
Home | Guided Bike Tours | Testimonials | | Photos | Bicycle Travelogues | Products | Info | Contact Us
Copyright © Bike China Adventures, Inc., 1998-2012. All rights reserved.