Do you have a China cycling travelogue you would like to share here?
Contact us for details.
---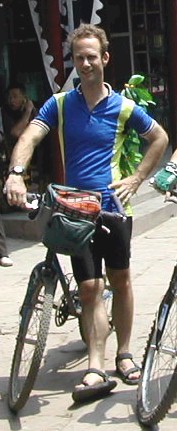 Peter Snow Cao
Tales of Cycling in China
Copyright ?Peter Snow Cao, 2002.
The following are short articles about my experiences bicycling in China since 1990. Enjoy.
Today, I Met a Chinese Bicycle Master April 1999
Bicycling in China Aug 1999
A Bike Trip to Hailougou National Park, Gonggashan, Sichuan China September 1999
Bike Trip from Chengdu to Xi'an, China October 1999
Cycling in Chengdu, China May 2000
Tonight, I Met Another Chinese Bicycle Master July 20, 2002
---
---
Bike China Adventures
Main Page | Guided Tours | Photos | Bicycle Travelogues | Products | Info | Contact Us
Copyright © Bike China Adventures, 1998-2005. All rights reserved.