Do you have a China cycling travelogue you would like to share here?
Contact us for details.
---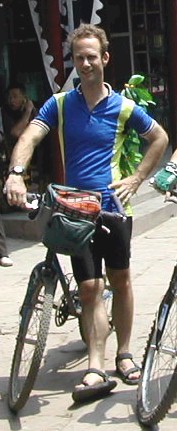 Peter Snow Cao
Tales of Cycling in China
Copyright © Peter Snow Cao, 2002.
Bicycling in China
The following is one of several a short articles about my experiences bicycling in China. Enjoy.
---
As I sat watching one of my bikes being worked on for the third time this week, it occurred to me how different this is from when I lived in the US and thought you all might be interested in how some of the rest of the cycling world lives.
I live in the heart of China, in Sichuan Province, home of spicy food and the Giant Panda. Also the third most populous province with 84 million souls (it used to be 110 million, until the government created a new district). I live in Chengdu, the capital of Sichuan, although I doubt my experiences vary much from most of the rest of the people in China.
For the average person, the bicycle is still the primary form of transportation in the community, in spite of growing car ownership. Only by a very small minority is the bike considered as a form of exercise, and even fewer as a means of long distance travel. I once gave a talk before a group of college students about traveling around Asia and the US by bike and they were dumbfounded. "Why would anyone want to do that?" they asked.
I mention this only as background to what initiated this post... my frequent visits to the bike mechanics.
When I lived in the US, I always did all my bike maintenance. It just how I am. For one, it was much more convenient to do it myself rather than haul the bike down to the shop. Another was that I was my bike as my transportation, everyday, and I couldn't be without it. A third reason was economic; I would rather use the money on new gear than spend it on labor I could do myself.
These are the habits I had when I came to live in China last year. Rather than shipping my US bike to China, I decided to buy one here. So I went shopping and picked up a locally made 18-speed mountain bike for about $37. Not top of the line, but serviceable for my around town needs.
New and shiny, it caught the eye of the bike thieves and was stolen from in front of the American Consulate about a month after I got it. Drat. Not a huge loss, but it stung nonetheless.
I vowed not to repeat the same mistake twice. This time I went to the used bike market and picked up a Phoenix 12-speed mountain bike about 2 years old for $13. Now you wouldn't think a two-year old bike would require much maintenance, but then you probably haven't owned many $13 bikes.
This began my close and frequent visits to my local bike mechanics. First of all I needed a front basket. Extremely useful, and everyone has one here. Price: $1.10. Then my pedals fell apart, replacement cost $0.75. Then comes the biweekly air for the tires because of the leaky valves that are used here; $0.02 each time. Then my bottom bracket stared acting up. This was interesting as it was replaced by the lady of the shop who needed to get some extra leverage to get the right cup off. The left came off with no problem since it is frequent adjusted, but the right was really on there. She took a 17 mm nut and welded it to the right cup and then put a 2-foot pipe wrench on the sucker. It took about 45 minutes. I was in awe. Total cost for a new axle, bearings and cups, $1.90.
A new leather triple spring bike seat (looking a bit like a Brooks, I think) $3.30. Flat tires are repaired on every corner for 10 cents. Replacement tubes are $1.00 installed. A super double ringer bell (required safety equipment), 50 cents.
In short, my bike maintenance days are history. Both labor and parts are inexpensive and available everywhere. And I like the idea of supporting my local bike mechanics and shops. So while my bike isn't all that flashy and weighs a ton, it gets me around and keeps the local industry humming. There are about 2 million bikes in Chengdu.
Some of you may remember me talking about the time the bus turned my front wheel into a potato chip and the old bike master returned it to true in 20 minutes. Cruiser Bob wanted to know if it would stay that way for long, as his experience has been that a master's influence fades with time and distance. Well, I am happy to report that the wheel is an good as ever. A true master, indeed.
---
Other Articles
Today, I Met a Chinese Bicycle Master April 1999
A Bike Trip to Hailougou National Park, Gonggashan, Sichuan China September 1999
Bike Trip from Chengdu to Xi'an, China October 1999
Cycling in Chengdu, China May 2000
Tonight, I Met Another Chinese Bicycle Master July 20, 2002
---
Other Articles
Bicycling in China Aug 1999
A Bike Trip to Hailougou National Park, Gonggashan, Sichuan China September 1999
Bike Trip from Chengdu to Xi'an, China October 1999
Cycling in Chengdu, China May 2000
Tonight, I Met Another Chinese Bicycle Master July 20, 2002
---
---
Bike China Adventures
Main Page | Guided Tours | Photos | Bicycle Travelogues | Products | Info | Contact Us
Copyright © Bike China Adventures, 1998-2005. All rights reserved.