Do you have a China cycling travelogue you would like to share here?
Contact us for details.
---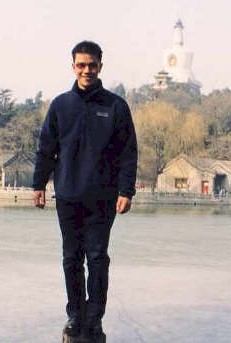 Michael Barker
Cycle Tour through South-west China:
Kunming (Yunnan) to Chengdu (Sichuan) - July-August 2002

August 1998
Page 3
Copyright © Michael Barker, 2002.
All Photos by Michael Barker
Skip to: Michael Barker - Page 1 | Michael Barker - Page 2 | Michael Barker - Page 3
---
Zhongdian (Altitude 3200 metres)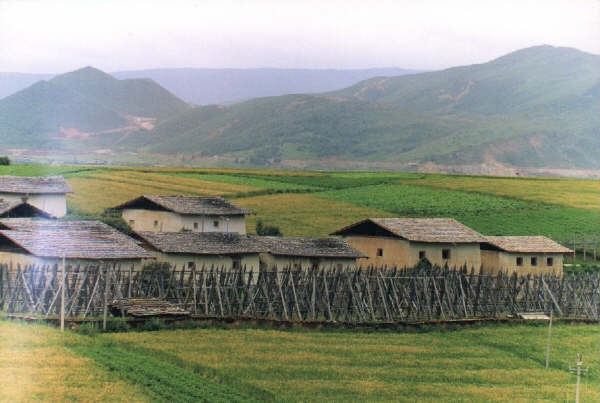 After climbing another 800 metres in a short time I became really tired and my body needed oxygen to recover. It was a little difficult to breathe in the morning due to the altitude and this woke me up most days. This was Yak country. I ate Yak yogurt which was nice but very rich and more like crumbly cheese. The Yak tea was revolting, like drinking liquid butter. The main attraction here was a large 300-year old Tibetan monastery (Songzanlin Temple) on the outskirts of the town. When I walked back into town, a couple of other travelers told me the place had marijuana plants growing along the roadside. I never saw any myself but they pocketed a fair bit and I knew they were right from the conversation that unfolded at dinner.
After a couple of days and back on the bike, the roads changed from rough cobblestones to dirt and then thick mud which made riding tough going. On the roadside, Yaks were grazing everywhere. I climbed into the rain, cloud and mist to around 4000 metres. The route I had planned went over some of the highest mountain ranges in China. There were craggy mountains and dead trees; the vegetation was a good guide as it changed noticeably depending on the altitude. At 4000m and in the rain, the air temperature was less than 10 degrees and the wind-chill was easily zero degrees so I only stopped a couple of times to take photos to remember it by. I reached the next main town of Xiangcheng and stayed in a large Tibetan-style house with a communal sleeping area on the floor.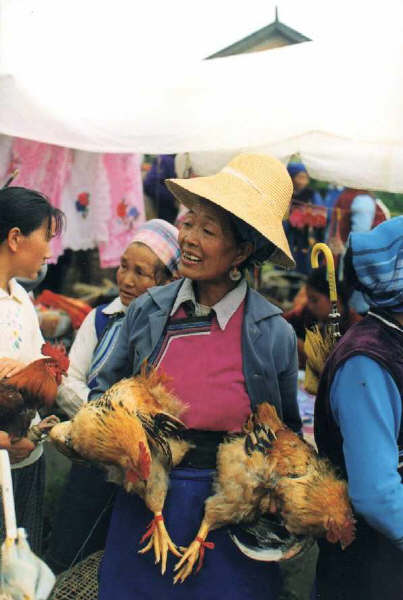 The guy I was riding with for the past 2 days had bike trouble so I reluctantly agreed to hitch a ride on the back of a truck with him. This was a bad decision. One reason was that the weather was custard and with no certainty about how long it would take to get to the next town given the dodgy roads and weather, I didn't have adequate camping gear to handle the altitude in case there was no town. Riding for what turned into six hours on the back of a truck was not much better, in fact pretty dangerous. That's because it started raining (again), day turned into night, we climbed higher into the mountains where it was bitterly cold, and both us and our bikes were being tossed around on the back of a truck with no suspension. I forget the name of the crossroads where we stayed.
The same dilemma happened again, but unfortunately I hadn't learnt my lesson. Unsure of what lay ahead and a lack of detailed maps meant we hitched another ride (another 6 hours), this time on the back of a 4WD driven by 3 Tibetan men. The area was rocky and the scenery depended on your taste but we passed by several Tibetan families and their herds of Yaks. In sight of the Tibetan town we were heading to, they stopped the jeep about 5 km away in the middle of nowhere. They got out and asked us to pay them 200 yuan which was definitely not part of the deal. We also knew that all Tibetans carry knives so wondered what was install next. I jumped out and started unloading my bike and gear so I could ride into town which led to them arguing amongst themselves. They finally gave up and agreed to take us the rest of the way for nothing.
I carried a knife for whatever uses it came in handy for, although I heard a story about a Japanese or Korean cyclist who carried a bulletproof vest and pepper spray! We were apparently lucky not to run into wild dogs heading into Sichuan; the few cyclists I did meet had some bad experiences and forced to hurl anything they could find.
Litang (Altitude 4000 metres)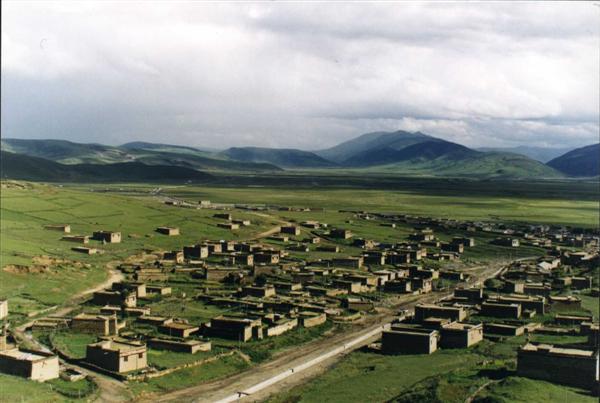 Litang has a predominantly Tibetan population and a monastery. I was now at a higher altitude than New Zealand's highest mountain, Mt Cook. This is where I got my first taste of Yak meat - it was quite nice and tastes like beef. This was like a cowboy town; Tibetans wear interesting and traditional clothes and have long hair. Some rode through town on horseback complete with cowboy hats. I rode through a local village where there was a big "hello" factor, especially among the kids. Though I soon learned they had other motives. Hello was soon followed by a persistent "gei wo qian" which means "give me money." They hounded me in packs, grabbing at my watch and going straight for my pockets, god knows where they learn this. One girl still managed to steal the drink from my bike. The upside was that I spent a long time talking to many kids and taking their pictures.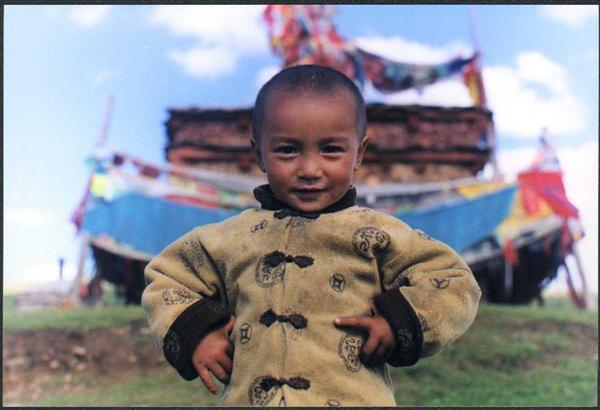 I got invited inside a Tibetan temple for what I thought was a look around. In fact I got invited upstairs into a room of about 12 Tibetans drinking Yak butter tea, beer and eating bread. I was asked to sit on one side of a long table next to the head guy and a monk. On the other side of the table were common Tibetans. A couple could speak Chinese so I could communicate with my broken Chinese, the rest all spoke Tibetan. They were very hospitable; when I wanted to leave to explore other places, I finished off my Yak tea but it was refilled within seconds! They even invited me to a Tibetan wedding the next day - which would have been great. After too much time hitching and cheating, and the scenery amazing, I was keen to get riding again - though now after the wedding. Unfortunately, and unbeknown to me, my travel partner bought bus tickets to take us about 130 km to Kangding. Hitching or taking a bus was definitely not my idea of cycle-touring. Apart from missing the wedding, I missed out on riding a 50 km downhill!! In some ways (though also in hindsight), I feel I need to come back to do this section again.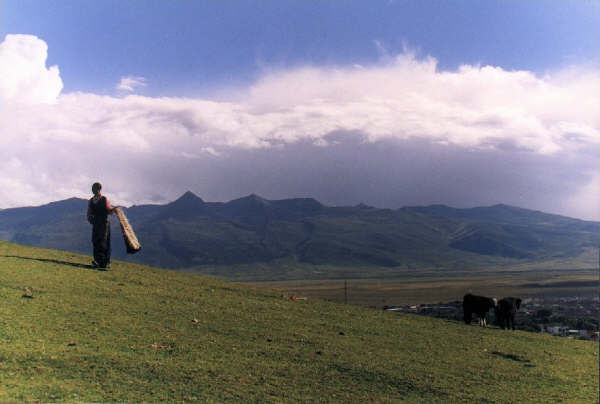 This area turned out to be one of the most spectacular as we crossed over a few high passes. We passed by camps of Tibetan nomads on horseback in the process of moving their herds of Yaks. We descended about 1500m to 2500m to the crossroads town Kangding (2560m) which is shadowed by Gongga mountain 7556 metres high. After my frustration from sitting on a bus instead of my bike, I decided to carry bike on no matter what. I learned that it was important to use your own common sense and judgement about the weather and road conditions. Sometimes the advice I received from the locals was wrong. One piece of advice that is important is the distance to the next town.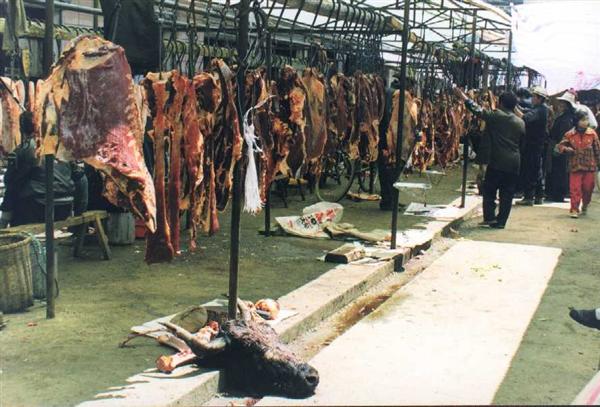 The road was in a terrible condition and passed through a long gorge. There were slips and running water all over the road so in fact the road was only open to traffic in each direction on alternate days. Apart from being slowed down by the conditions, this was not a problem on a bike. The road eventually improved during the climb over yet another mountain pass, and riding around the barrier gates to take a shortcut through a new 4 km tunnel which was closed to bikes. On the other side it was a very long and fast 25-30 km downhill in the wet which helped with the time on a day where the plan was to ride 130 km.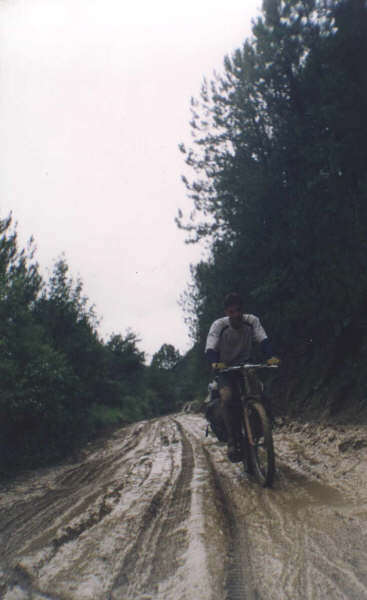 Chengdu (Capital of Sichuan Province & end of Cycle Tour)
Arriving in Chengdu at night was bad as it meant staying in a filthy place that isn't allowed to take foreigners because the standard is so low and it is not necessarily safe. After that, I stayed at a university hostel so everything around it was cheap. Eating simply but sufficiently, I got a basic breakfast for one-two yuan, lunch for 2 yuan and dinner for 3 yuan. The following day I walked my bike though a pedestrian mall and the security people turned a blind eye to me because I was a foreigner and because I had an expensive bike. Bike thefts are apparently common in China and one reason most locals ride old clangors – so there was no way I was about to leave my bike at the side of the street. Unfortunately (for him), some nosey guy took exception to this and started a scuffle with me for pushing my bike. This attracted about 40 onlookers and a guy who could well have been media taking photos as he asked me questions afterwards.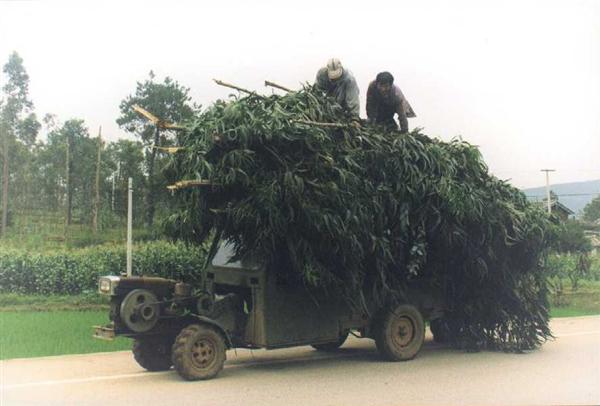 The best part of Chengdu for me was the panda research base. Most pandas in China live in this province. They were most active in the morning and the nursery was the best part, with a mother and two babies. With not much else to see, I went to Peoples Park to kill time before my train. Like many cities, there were people spending the day playing mahjong or drinking tea in the tea garden. One very interesting sight at places where people congregate like the tea gardens are the services you can receive. While you enjoy a cup of hot tea on a sunny afternoon, you can have someone clean out your ears using an array of sharp metal instruments! While I was offered this unique opportunity, I didn't bother asking how much.
Leaving Chengdu for Beijing was also difficult, especially as every man and his panda also wanted to go there. Again I was forced to buy a more expensive ticket off some touts. The system is pretty corrupt; I suspect the train ticket people are in on the game. The train to Beijing was 27 hours and passed through a gorge and caves built into the cliff-faces (I believe they might be temples). With only 5 hours in Beijing, I had to bike to the main train station in 30+ degrees and try my luck with a ticket back to Harbin. Nothing was available until I refused to leave the ticket office. A quick phone call, a check on the computer and like magic, a ticket appeared. A good trick that sometimes works if all else fails. It was a hard seat though which caused some hassles as they wouldn't let me on the train with my two big bags – "bike? what bike?" I got it on in with the train leaving. I have been on crowded trains before but this time was ridiculous. Once lucky enough to be seated, people couldn't leave their seat for the next 13 hours. There was literally no room to walk, get hot water, go to the toilet, or for the food and drink cart to come through. It was standing room only for many, some lucky people managing to find some room to crouch on the floor. I would hate to think what would happen if there was a fire. I arrived back in Harbin with a cyclist tan from hell caused from the sun (between the rain) and the altitude.
--End
Skip to: Michael Barker - Page 1 | Michael Barker - Page 2 | Michael Barker - Page 3
---
---
Bike China Adventures
Main Page | Guided Tours | Photos | Bicycle Travelogues | Products | Info | Contact Us
Copyright © Bike China Adventures, 1998-2005. All rights reserved.