Do you have a China cycling travelogue you would like to share here?
Contact us for details.
---
Michael Barker
Cycle Tour through South-west China:
Kunming (Yunnan) to Chengdu (Sichuan) - July-August 2002

August 1998
Page 2
Copyright © Michael Barker, 2002.
All Photos by Michael Barker
Skip to: Michael Barker - Page 1 | Michael Barker - Page 2 | Michael Barker - Page 3
---
Dali (Altitude 1900m).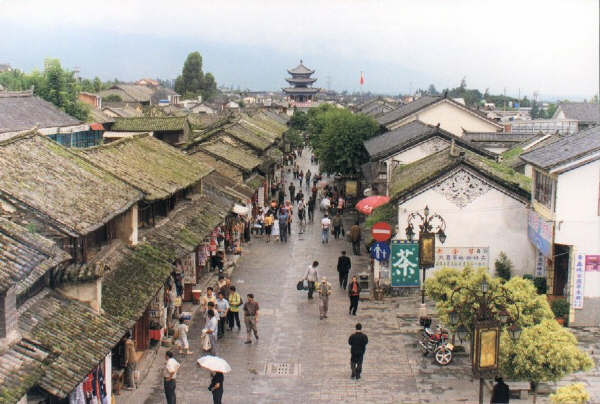 Old Dali is a walled city which I was looking forward to seeing - that was until arrived at the entrance to find hordes of Chinese and foreign tourists, and coaches. It wasn't quite the idea of an old city that I had expected. It was bursting with cafes and restaurants offering all sorts of food from around the globe, and tourists from all over. Many of these catered to Japanese and Korean tourists; so did the prices. The scenery that surrounds Dali was spectacular, located on a lakeside and shadowed by the massive Jade Green mountains that average 4000m. One of the best things about Dali was the backpackers I stayed in and it's all you can eat breakfast - the perfect way to refuel and I met a few other cycle tourists here. Some of them had a hard time leaving because of it. A main tourist attraction includes the Three Pagodas (the highest being 70m) which are some of the oldest standing structures in south-west China.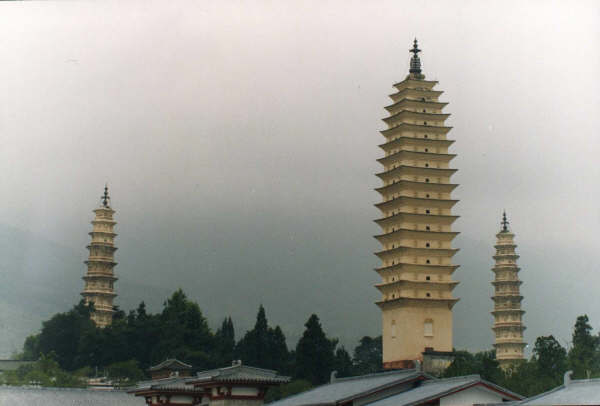 Back on the road, I passed through Xizhou (a small old town 18 km north of Dali), though one of the best and real-life places I visited was Shaping (30 km north of Dali) which has a weekly Monday market. I timed it so I arrived the day before and could take a look around on a typical day. Shaping is a small fishing village that also has some kind of stone or cement industry. I took one photo of a woman breaking rocks with a sledgehammer - all in a days work. I stayed in a place run by a Naxi minority and my room overlooked rice fields. It was a new building but in keeping with Chinese building styles, there was no toilet or washing facilities other than a cold tap outside, and the heavy overnight rain ran under the door like a river. In fact, there was a toilet, but it was outside and across the main road about 150 meters away.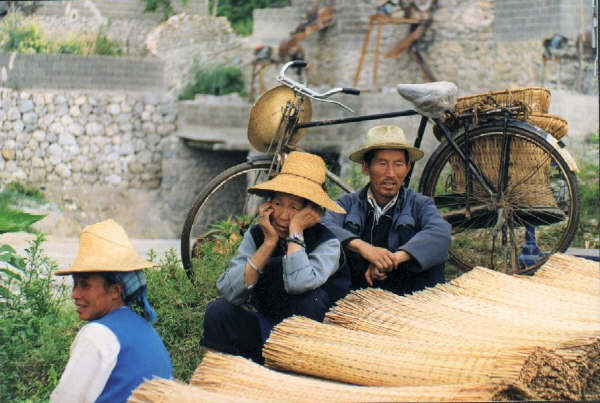 The Monday market was definitely worth waiting for and where the colourful local minorities came to buy and sell everything they needed. There were pigle ts being sold and taken home in woven baskets attached to a woman's back or to the side of an old Chinese bicycle. Other women with gold teeth carried live chickens and offered them for sale. Butchers were cutting up pigs. Old men with wispy beards sold tobacco. And in case you were need of a check-up, there was even an outside dentist complete with foot-pedal for operating the drill! Many people sat around eating spicy noodles and other local foods. Everyone was a character and it is a photographer's paradise. In fact I stayed so long that I ended up riding into the night to ride the 90 km to the next old town of Heqing. This included some passing by some high mountains which I could see were huge, but were mostly obscured by cloud and increasing rain. I arrived in the dark, and cold cold rain.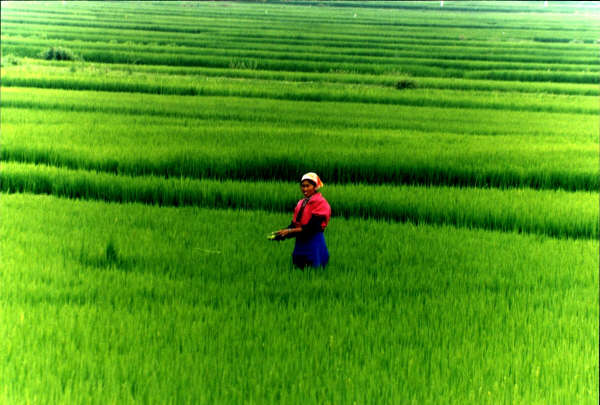 The rain got to be a bit of a nuisance. I also underestimated how long cycle touring can take - especially seeing that I wanted to take photos along the way, and needing to unwrap my cameras where they were away from the persistent, sometimes driving rain. I saw so many great opportunities but could not keep stopping or I would never get to where I was going - opportunities that included two minority women (in dress) carrying baskets of crops walking along the road with big banana leaves (or similar) on their heads protecting them from the rain; another of a man who looked like a Chinese Crocodile Dundee! There were so many great sights like this.
Lijiang (Altitude 2400m)
My next destination was another old city called Lijiang which sits at 2400m, is surrounded by mountains and is on the World Heritage list. It was a good fast ride to Lijiang, the last 30 km or so being dead flat. The restored old city is full of winding narrow cobbled streets with clean water canals alongside, old stone and wooden buildings, restaurants and outdoor cafes. Even though this attracted hordes or Chinese and foreign tourists it was one of my favourite places because of how I spent my time. I met a Japanese girl at my hostel and we did a 2.5-day walk through the famous and spectacular Tiger Leaping Gorge starting at Qiaotou. We took the high track because of the heavy rain that had caused landslides and because the views were more spectacular. We stayed in a hillside guesthouse run by Naxi minority people facing the mountains and dark clouds on the other side of the gorge. The walk passed through a bamboo forest, crossed about 5 waterfalls and numerous landslides that had come down in the days before - rocks were still falling so we had to keep an eye out. We also saw a brown snake about 1 metre long in the growth next to the track.
We walked about 7 hours on the second day trying to find a place to sleep which were few and far between. When we hit the low road, my friend flagged down a caterpillar-type front-end loader and we hopped on the side saving us a good half-hours walk. We got off in a new village that was literally full of men workers. They all took a good look at us and we ended up staying in a room with three other Chinese - and a mouse that liked beds. My friend was pretty scared and had to laugh to stop herself from worrying too much. We inspected the kitchen which was fly-ridden so we played safe and ate eggs, potatoes and Pepsi. I never got a photo but here were about 15 Chinese men sitting around watching TV and watching us eat our dinner. I doubt foreigners stay here often or at all, opting for the several backpacker places we had passed about 2 hours before. It was so bad it was kind of interesting.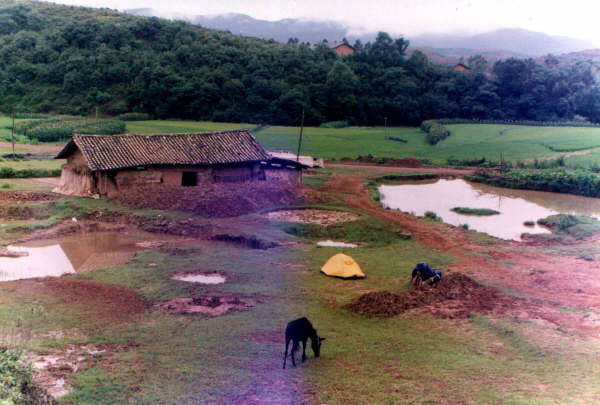 The night was amazing. With no moon, we sat outside on rocks looking at the Milky Way and more stars in the night sky than either of us had ever seen before. On the horizon we saw a storm approaching, with amazing sheet lightning that lit up the entire sky and made a silhouette of the surrounding mountains. This lasted for hours with a flash of lightning about once every minute. We even saw a couple of shooting stars. When we slept the thunder and lighting continued and came closer, sometimes the thunder following the lighting by only a couple of seconds and literally shaking the whole building.
After living poorly and walking a long way, and paying 33 yuan for the return bus (only 12 yuan to get there), Lijiang was the perfect place to return to as we indulged ourselves in a canal-side cafe with a cold beer or two, Burritos, pancakes, apple pie and ice-cream. Being able to get this kind of food is rare where I live in Harbin, and only helped by the fact there are a lot of tourists here. It was also the annual Torch (Fire) Festival (July) so candle lanterns were floating down the narrow canals and had people danced around tall fires.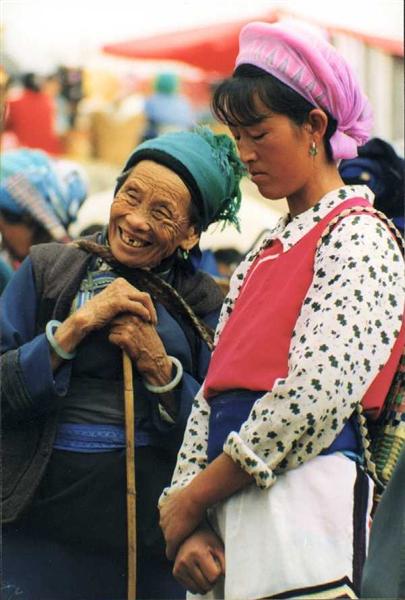 After one days rest I set off north and managed 85 km to back up to Qiaotou in 4 hours. There were landslides everywhere and a couple of times I had to stop while workers cleared the road with dynamite. I stayed in one place with not a foreigner in sight. I ate in place with plenty of 'character' - it was dirty, very dodgy looking and I saw a massive rat as I tucked into my dinner. The place was popular though, a major reason for choosing it as it means it must be good enough for the locals and there is a decent turnover of food so food isn't sitting around for too long.
The next morning I didn't feel good, no doubt from one too many on my last night saying goodbyes in Lijiang. I had a late start with 95 km ahead of me on a rough road with landslides, waterfalls crossing or running down the road and one-way traffic in many places. This was the toughest day both mentally and physically. The climbing was never ending, the first 65 km was uphill and I thought I might never make it to the next town. Heading into a more remote area, there was also nowhere to buy any decent food and I was living on biscuits and Pepsi for energy. Luckily for me, the people were so friendly and I guess surprised to see a cycle tourist that many passing cars or busloads of Chinese toot their horns, hang out the window to say "hello" or even stop to take photos with me. This provided good motivation to keep going. At the top of this climb I was greeted by a plateau and a change in scenery; the houses were now Tibetan style. After finding a place to down a big bowl of fried rice, I gunned it for the last 2 hours and arrived at dusk in Zhongdian.
Skip to: Michael Barker - Page 1 | Michael Barker - Page 2 | Michael Barker - Page 3
---
---
Bike China Adventures
Main Page | Guided Tours | Photos | Bicycle Travelogues | Products | Info | Contact Us
Copyright © Bike China Adventures, 1998-2005. All rights reserved.