Do you have a China cycling travelogue you would like to share here?
Contact us for details.
---
Pete Richards
"Bicycling in Yunnan and Sichuan Provinces, May 2001"
Part 3

Copyright © Pete Richards, 2001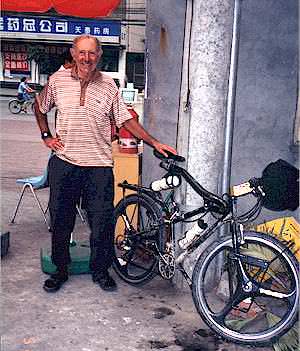 ---
Sichuan: Chengdu to Jiuzhaigou via Songpan, 440 km, Five Days
Summary: Road is good all the way, but heavy traffic first 155 km to Wenquan. Lots of ups and downs to Songpan. Last 100 km from Songpan to Jiuzhaigou great, easy ride. Fabulous scenery approaching and in Jiuzhaigou Park.
Day 1—Place where stopped is town about 15 km past major city of Dujiangnan where Hwy 213 changes from southwest to due north and crosses river.) By starting at 5:30 AM managed to get to outskirts of Chengdu before traffic becomes impossible. The 55 km to Dujiangnan, are on flat, well-paved four-lane highway with wide bike lanes on both sides. At least to me, it was safe and pleasurable in spite of the traffic. But the final 15 km narrows to two lanes, bad in parts owing to construction, heavy traffic, and a lot of industrial grime.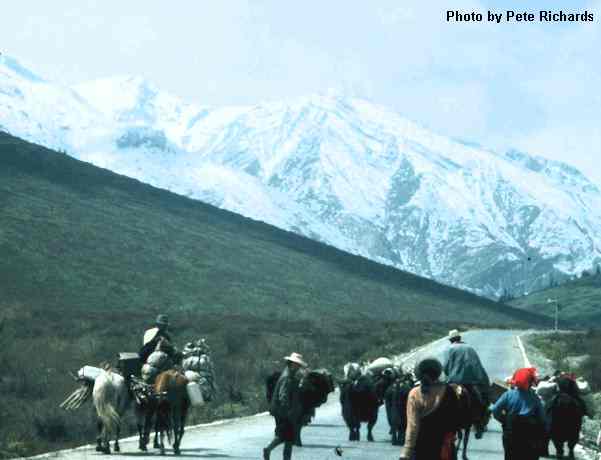 Day 2—First 11 km continue from yesterday to be good surface but with heavy traffic, industrial grime and filthy air. Things improve after the town at 11 km, good-sized but not shown on Map 142 (probably called Yangxiu), which only indicates a junction with road heading west. Traffic and industry lighten considerably. Road remains good, but with many ups and downs; a feature which continues almost all the way to Songpan, as the route follows a river through fairly steep gorge. The longest stretch (over 250 km) of gorge I can recall riding. Though scenic, it gets to be tiresome.
Day 3—Traffic largely disappears. Road continues good with ups and downs, though mild compared with yesterday. After crossing river 23 km north of Maoxian, road gets bumpy for about 2 km, but smoothes out. Then climb from 1860 to 2210 meters where there is a gazebo and what appears to be summit. But it isn't. After a brief descent of 30 meters, climb to 2400 meters for true summit. Then some up and down before reaching delightful Jiaochang. Delightful thanks to a bus-stop restaurant run by laughing, smiling minority women and sleeping quarters which amounted to a comfortable attic in store down the street. One of those evenings which make China special and justify my modus operandi (see Introduction).
Day 4—Descend to lake at 2200 meters, then follow elevation of river, with no significant ups or downs.
Rest day in Songpan—Songpan is one of those backpacker havens. Except for those in Chengdu, I see other 'Lao Wai?(foreigners) for first time since leaving Lijiang. Entry from south has many new and under-construction glitzy hotels trying to rival Las Vegas. Downtown is teeming with Tibetan fur and knife markets, but relatively little in the way of street eating. Main attraction for backpackers is horseback trekking. Though having no interest in that, I frequent Happy Trails Horse Trekking on tip it has good English speakers happy to provide free information on just about anything. A visit is well worthwhile, even if your 'horse?has two wheels, especially if English-name 'Emma?is around. I'd almost go so far as to say that's the only reason for spending time in Songpan. Otherwise go straight on to Guan Long, 17 km up Hwy 213 (see next entry).
Day 5—A rare case where the whole ride rates five stars for scenery, road quality, and, except last few km near park, freedom from traffic. Until today, I couldn't understand where Songpan got the reputation of being a beautiful area frequented by wealthy Chinese. But just north of town architecture changes from honky-tonk to attractive homes and villages, several under construction; more what you'd expect in Switzerland than a Chinese tourist trap. And the scenery becomes open Tibetan grassland with high mountains in background.
Junction for turn-off to Jiuzhaigou is at Guan Long, 2980 meters, 17 km out of Songpan. This seems a lovely place. Unless you are starved for western food and conversation with foreigners, try to overnight there instead of Songpan. (I'm not totally knocking the Songpan ambience. I do enjoy socializing and swapping stories with backpackers, but preferably in a different setting.) For about 10 km out of Guan Long there are several Tibetan villages with friendly natives. Probably would be easy to get food and accommodations. But nothing from there until an open market just before summit, 3520 meters, about 40 km from Guan Long. Ascent is very gradual. Almost too gradual. There wasn't the usual feeling of relief and elation at the top. But nonetheless a spectacular view worthy of anything I've seen in the US, Canada, or Switzerland, which just gets better as you descend at a much steeper rate than going up (about 1400 meters in 43 km vs. 600 meters in 57 km.) There is no place to eat on way down until a few km from park entrance. Then it's solidly built up, and rapidly becoming more so.
About Jiuzhaigou: Chinese call the park, whose name means 'Nine Villages Gully,?a fairyland. They could be right. And, at least for the moment, it's largely unspoiled and well-controlled once inside.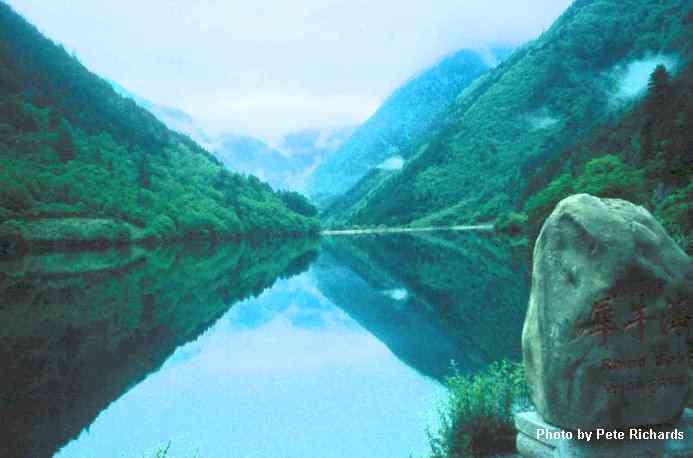 Too well controlled for cyclists. One of the official rules is 'no bicycles allowed.?An Irishman, the first of only two cycle-tourists I encountered on the whole trip, had warned me of this the day before, but added he had gotten permission after some haggling. I had the same experience. It probably didn't hurt when I said, truthfully, I wouldn't pay 115 Y to go into the park unless I could do it on two wheels. The next day I met a Slovenian cyclist they also let in. But, in the Kingdom of the Bicycle, no local bikers inside the gates. There are several reasons for the rule and apparent lack of interest Chinese have in trying to circumvent it. If you've ever seen the genuine bicycle gridlock in Chinese cities, you can imagine the chaos possible in Jiuzhaigou. But authorities needn't worry. Very few Chinese cycle for sport, and even fewer have cars, with or without bike racks. Almost everyone arrives by bus; and though most busses have roof racks and accommodating drivers, there's a limit to how many bikes they can handle. Finally, roads in the park are steep enough that they'd have to walk their one-speeds—still dominant in China—much of the way.
So the masses must go through the park on foot or bus, mostly the latter except for brief excursions from designated stops. This is no concern to cyclists—at least until too many of us start begging to be let in, or some authority takes the rules seriously. True, zillions of Chinese are flocking to Jiuzhaigou. But they're easy to out-maneuver. It still hasn't reached the point where there's a bus stop at every good viewpoint, or there are enough busses to make traffic a major problem.
Eating can be a problem, however. Facilities are confined to four villages (no idea where the other five are), at about 4, 8, 14, and 15 km from the entrance. These occupy only a fraction of the main road system which has a single stretch of 14 km north from the entrance to a junction where it splits into northwest and northeast forks, each 18 km long. None of the places has a typical roadside restaurant. Instead each has a large dining hall which is either packed or deserted, depending on whether a bus is in the parking lot. Worse, they close around 6:00. So it's a hassle unless you're happy to survive on canned goods, cartoned noodles, and the typical road-stand snacks. I had lunch at one of the dining halls, and found it good but expensive. My solution for each of the two evenings was to barge into places where Tibetan villagers were eating, be granted delicious food, and have my money refused.
The villages do have hotels, very reasonable, especially compared with inflated prices immediately outside the park. They were largely empty, indicating most of the visitors are on one-day bus tours.
My first day route was up the northeast fork where it currently terminates at 3000 meters with a close view of an awesome mountain ahead. Possibly owing to construction that was no problem for a cyclist, busses were going no further than about 8 of the 18 km, which made for an extra-nice ride. Then it was back down for overnight at the village 8 km from the entrance.
Next day turned to rain. I hung out with backpackers until late afternoon, then cycled to stay at the 15 km village and hope for clear weather tomorrow. But heavy morning skies sent me back down without seeing the northwest fork.
Speaking as one who's seen a fair amount, Jiuzhaigou ranks with the best of the western US and Canada as well as Switzerland and Italy, all packaged into one. It has lush forests, rocky snow-capped mountains, waterfalls, crystal-clear rivers and mirror lakes which might well be home to fairies. And, if you include the trip up from Songpan, wide open spaces worthy of Montana. No wonder Chinese flock there. A first-time-in-China traveler would be foolish to pass up the Great Wall or classic Chinese landscape such as at Huang Shan (Yellow Mountain) in favor of Jiuzhaigou. But if she's exhausted the main tourist corridor, and loves mountains, clean air and water?
Thoughts for Future: Take bus from Chengdu to Wenquan. This cuts out most of the traffic and much of the tedious ups and downs. Another possibility might be an alternate route, taking Hwy 108 instead of 213 from Chengdu, and approaching Jiuzhaigou from the east, but I have no idea what road is like. The route would provide a challenging ride from Jiuzhaigou to Guan Long, and allow bypassing Songpan on way from Chengdu to Zoige. I hear Zoige is a great place, but road pretty bad.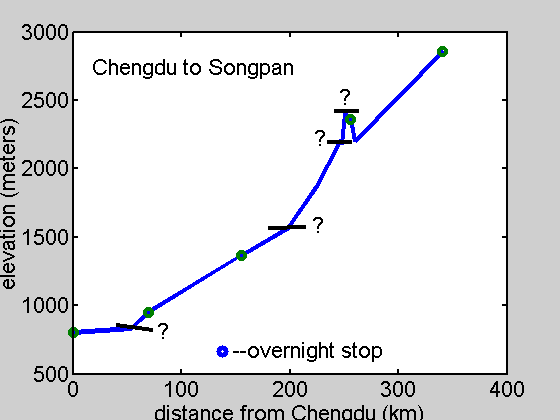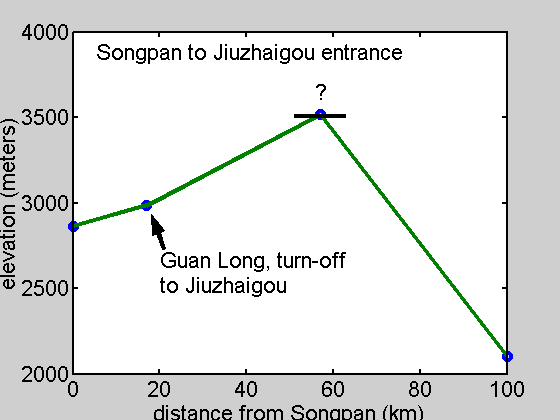 Day

Starting Place,

Elevation (meters)

Distance(km)

Elevation Change (meters)

Significant Climbs (meters)

Road Conditions

1

Chengdu,

800

70

+150

None

Good, except for construction past Dujiangnan. Heavy traffic.

2

Xuankou,

950

85

+410

None, but many ups and downs

Good. Heavy traffic lessens somewhat after 11 km.

3

Wenquan,

1360

100

+1000

540, plus ups and downs

Good, with light traffic.

4

Jiaochang,

2360

85

+500

None, just steady uphill, with few ups and downs

Good, with light traffic.

5

Songpan,

2860

100

(to park gate)

-760

660, gradual

Good, with light traffic.
---
Skip to Pete Richards: Page 1 | Part 2 | Part 3
---
---
Bike China Adventures, Inc.
Home | Guided Bike Tours | Testimonials | | Photos | Bicycle Travelogues | Products | Info | Contact Us
Copyright © Bike China Adventures, Inc., 1998-2012. All rights reserved.