Do you have a China cycling travelogue you would like to share here?
Contact us for details.
---
Pete Richards
"Bicycling in Yunnan and Sichuan Provinces, May 2001"
Part 2

Copyright © Pete Richards, 2001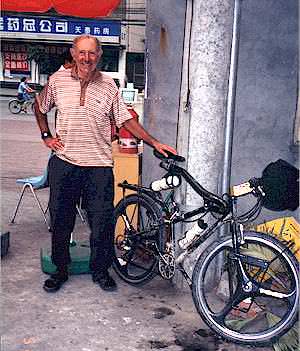 ---
Sichuan: Panzhihua to Leshan, 750 km, 9+ days, beginning May 12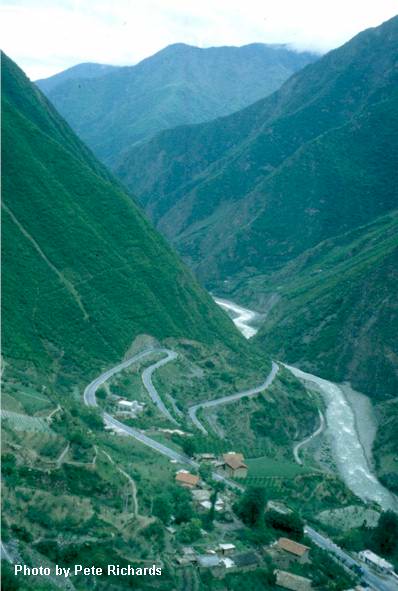 Summary: On average the road is fair. All asphalt or concrete, some new and very good, but many parts badly deteriorated. Main appeal to me is a lengthy, scenic point-to-point route without heavy traffic and never so bad as to want to give up.
Day 1—Road good until a few km past Miyi, then lots of potholes, but asphalt still basically OK. No climb over 100 meters. Good hotel on north side of town where I stayed at Guanyincun, about 25 km past Miyi and 17 km before junction with Hwy 108. (Until stated otherwise, route is on Map 180)
Day 2?7 km to junction with Hwy 108 (about km 2899, sign says 121 km to Xichang, 666 km to Chengdu), which will stay on until just north of Ya'an. Then another 77 km to town (Huangshuitang) with small hotel at km. 2822. A couple of over 100-meter climbs shortly before and after getting on 108. Road is very bad through town at about km. 2893. A pattern begins which lasts the next 300 km: Continuous alternation between good and badly potholed or torn up asphalt, as though each 100-meter section is the responsibility of different work crews, only half of whom are on the job. (My definition of bad asphalt is that even a bicycle can't avoid the potholes, etc.) Everyone had told me the road is good new asphalt all the way from Panzhihua to Chengdu. It's the classic glass half-full vs. half-empty, Chinese taking the former view. Another, well-known theory is that they tell you what they think you want to hear.
Day 3—Short, level ride to Xichang, largest city on route.
Day 4—Mostly steady, gradual climb without much up and down. One 120-meter climb starting at km 2736. Maps 174-175 incorrectly show main Hwy 108 reachable about one km north of Mianning, on the west side of river. If you want to bypass Mianning, follow sign to Chengdu at junction, km 2700, without crossing river. I went into Mianning after being told at jct. there were no hotels for another 50 km. Next morning discovered there is a town with several restaurants at about km 2695. Likely has a place to stay. But Mianning has a good hotel and probably worth the detour.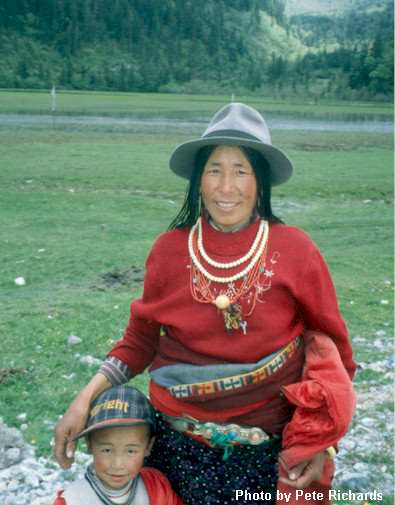 Day 5—Reverse 3 km back to junction to return to 108. (Could find no evidence of what appears on Map 174 to be main road north, west of river. Saw later where it seems to link up; appears to be very bad). Several climbs (see profile map), with 2630 meters summit coming at about km 2645. This is the highest point on Hwy 108 between Panzhihua and Chengdu. Road OK until then, but becomes full of rocks and potholes the 17 km down to Liziping.
Day 6—About first 16 km, down to Nan Ya at 1390 meters, very bad. OK rest of way. Becomes new concrete—good even by non-Chinese standards? km south of Shimian and continues excellent with gradual descent all the way to Huanyuan. Shimian looks like a nice town. Wish timing/distances had been right for an overnight there.
Day 7—Peak at 2340 meters, best guess 45 km into ride. With almost no km signs, have to rely on independent, but consistent, statements of two locals. Road down is superb. (There is heavy construction first few km down, but this likely will be finished by next year, and even then they've left one good lane open—rarely seen in Chinese road projects.)
Day 8—Bad road returns with a vengeance, just out of Siping. So rocky had to walk bike up a couple of minor grades. Becomes OK after a few km. Then have a 100 meter climb, ending past km 2440, descend to 870 meters at km 2430, then climb 400 meters to Guanhua Xiang, where sign says 25 km to Ya'an, which would make it 51 km into ride. (Sorry, spotted no km signs at either Siping or Ya'an). Concrete highway looks like has been bombed first 5 km down, but in good shape rest of way. Ya'an is very nice, with attractive riverfront.
Day 9—Took the well-marked turn off to Leshan about 10 km out of Ya'an. Good road, but lots of ups and downs after first 12 km, with one 180-meter climb and a couple of others in the 100-meter range. Could have made it to Leshan by late afternoon, but prefer to arrive early in large, unknown cities.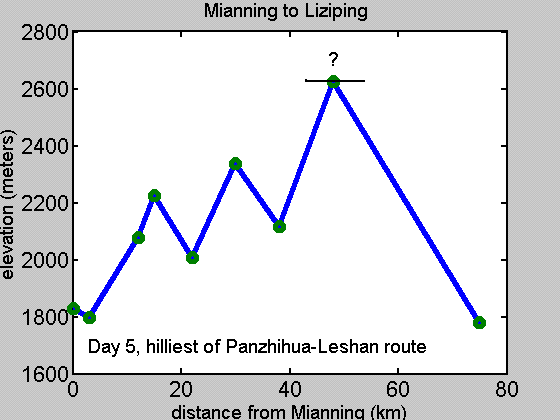 Day 10—Map has it 44 km to Leshan, but it's probably no more than 30 km. Road is almost completely flat and first class except for few km between entrance to expressway (no bikes allowed) and Leshan County sign. Even then not really bad. To get directly to Leshan's main attraction, world's largest Buddha, cross river before getting to center of town (not well marked.) It's impossible to see Buddha from road, and the hiking trail to it, though worthwhile, leads to an observation platform too close for a good full view. Best to take a boat, of which there are many. Love to know what Lonely Planet authors were drinking when they claim to have had "excellent views of the Da Fo (Buddha)" from the Taoyuan Hotel. Checked on rooms and found good view of river and mountains, but Buddha is hidden around bend. Stayed there anyway because—as Planet says—it has best location by far. Fancy hotels on Buddha side of river seem too isolated and do not offer any views of statue.
Will road improve? Highway 108 is a toll road, free for two-wheelers. You'd like to think the money will go toward badly needed repairs. But there is a disturbing trend (or cyclists) in Sichuan and other parts of China: High-speed expressways are for cars, trucks, and busses only. Likely the revenue goes here, leaving the older roads to rot.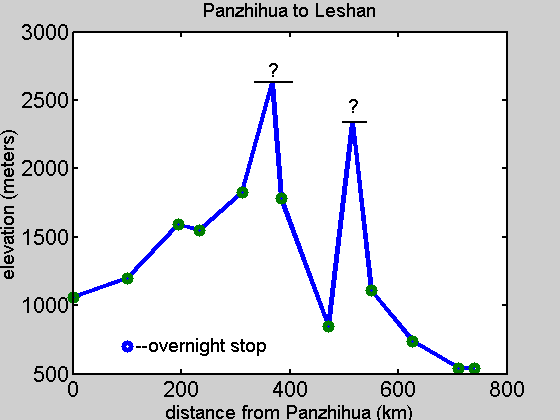 Day

Starting Place,

Elevation (meters)

Distance (km)

Elevation Change (meters)

Significant Climbs (meters)

Road Conditions

1

Panzhihua,

1060

100

+140

None

Mostly good,

some potholes

2

Guanyincun

25 km past Miyi,

1200

94

+390

Two around 100 meters, many ups and downs

Alternates every 100

Meters or so between

good and torn up asphalt

3

Huangshuitang

44 km short of Xichang,

1590

44

-40

None

Alternates every 100

Meters or so between

good and torn up asphalt

4

Xichang,

1550

78

+280

None

Alternates every 100

Meters or so between

good and torn up asphalt

5

Mianning,

1830

72

-50

430, 330, 510

Mostly good except

for very bad final

17 km descent.

6

Liziping,

1780

87

-930

None

Very bad first 16

km, then OK

7

Huanyuan, 840

79

+270

500

Good

8

Siping, 1110

76

-370

100, 410

Terrible for a few

km of first part,

good toward end

9

Ya'an,

740

85

-200

180, many ups and downs

Good

10

Jiajiang,

540

30

Almost 0

None

Good to excellent
---
Skip to Pete Richards: Page 1 | Part 2 | Part 3
---
---
Bike China Adventures, Inc.
Home | Guided Bike Tours | Testimonials | | Photos | Bicycle Travelogues | Products | Info | Contact Us
Copyright © Bike China Adventures, Inc., 1998-2012. All rights reserved.