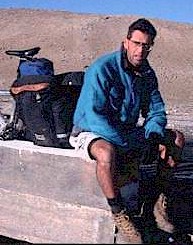 Do you have a China cycling travelogue you would like to share here?
Contact us for details.
---
John McHale
"Uighurs and Other Friends:
A Xinjiang Travel Experience"

August 1998
Page 3
Copyright © John McHale, 2002.
Skip to: John McHale - Page 1 | John McHale - Page 2 | John McHale - Page 3
---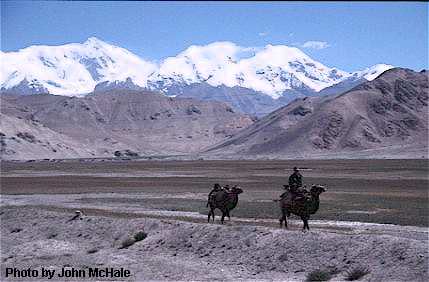 DAY 11: TASHKURGAN – KARAKUL – BULUNKUL 22 August 1998
The following morning I arrive at the bus station at 9.00 am and finally catch up with Gia and Christina. I've decided also to catch a bus back. There's no point cycling up to the pass since it's uphill all the way and there doesn't seem to be anything more of interest along the way - just more rocks. Later I came to regret this laziness, since the pass itself is a significant place.
Finally the ticket office opens and the locals begin to scrap. Obviously there are limited seats available. I'm wondering if I also need to join in the fight, but then I'm relieved to see that there is a separate tourist bus for foreigners.
There are quite a few other foreigners around, including a fellow kiwi wearing a shalwar chamiz. The bus is delayed by two hours, but the time is spent chatting with other travellers against a backdrop of mountains shining in the morning sun. I'm in two minds about whether to take the bus all the way back to Kashi. But I tell myself not to be such a wimp, and end up buying a ticket to Karakul. We finally head away and I spend most of the trip chatting with Gia beside me. We exchange farewells and addresses at Karakul. Hopefully, I'll catch up with both of them again in Kashi tomorrow.
After another "expensive" meal at Karakul (Y30) I set off on a leisurely ride to Bulunkul. It's windy and I'm in no hurry to get to the Ghez checkpoint until tomorrow – hopefully when there is less wind. Unlike my experiences in Heaven Lake, I now have romantic notions of staying in one of the yurts in Bulunkul. The ride is pleasant with some reasonable photos along the way, but it's starting to get late. The wind picks up as I approach the head of the Ghez canyon, and I'm standing on the pedals while going downhill as I finally approach two solitary yurts opposite a range of sandy mountains.
I arrive at 6.00 pm and I'm greeted with enthusiasm. I'm reminded again of Heaven Lake and I'm wondering if I really want to do this – but I guess at this stage the only option is to camp out. After two hours inside the yurt I'm seriously considering the option. These people are so backward, and I must seem like a freak from another planet to them. I'm not able to communicate with them very effectively in Chinese, and they seem to have a limited knowledge of even the major Chinese cities. The food is awful and as expected the yurt is filled with dust and flies. Mum occupies herself by picking the nits out of her daughter's hair, while Grandad sits and grins at me with a half drool expression.
I spend the time writing up my diary which I've neglected for two days – probably because I haven't been so self-obsessed recently. I decide to kill more time by going out for a walk, and hopefully it will be time to go to bed soon after. Outside it starts to gets very cold with a gale force wind. After a beautiful sunset I resign myself to going back inside.
Finally the lights are out, but Mum is continuously ranting on to Dad about something. After an hour I can't handle it anymore, along with the thought of catching nits or some other interesting disease. So I grab my things and head outside to sleep under the stars. It's freezing and windy, but once I'm in my bag I'm fine. I'm dreading the thought of it raining and having to sheepishly go back inside the yurt. Luckily, it doesn't rain and I have a reasonable night.
DAY 12: BULUNKUL – GHEZ – KASHI 23 August 1998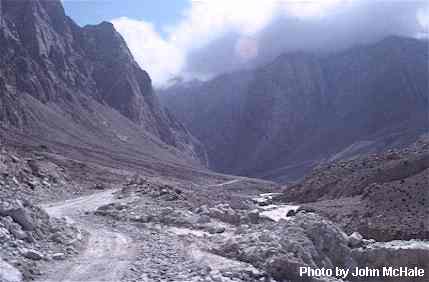 The next morning it's clear with no wind. There is already plenty of noise coming from the yurts. With a minimum of fuss I pack my bags, and then breakfast on tea and a stale lump of bread. I pay them Y20 and start riding again around 10 am.
Already the wind has picked up but the final hill ahead of me is easier than expected. I linger at the top of the Ghez canyon taking photos and experience a sudden euphoria about being in the mountains alone again. It's downhill all the way from here, and I'm excited by the prospect of having a whole day to explore this awesome place. I have a great time going down the canyon taking photos, and rolling easily over the washed out sections of the Karakoram highway. On the way down I pass four trucks heading the opposite way towards Pakistan, although one is stationary with a broken axle. It will be days before he gets out.
I stop at the Hotsprings restaurant and have a breakfast of eggs and tomato. I'm tired but enjoying the peacefulness of the mountains. Although the peace is eventually disturbed by a bunch of Chinese tourists from Tianjin who arrive in a minivan. Although I'm friendly at first, I react unkindly when they continue to treat me like I'm one of the tourist attractions to be goggled at from close quarters.
I carry on savouring the downhill to Ghez and finally arrive at the checkpoint around 2 pm. As I'm ordering some nan bread a Chinese person appears around the corner with a voice so familiar that I immediately relate to him: "Yeah gidday, hey have you got any spanners?" After chatting for a few minutes my suspicions are confirmed: he's a kiwi, and like me, he's cycling the Karakoram Highway. Only he's on a $ 50 clunker he bought in Kashi, and he seems so poorly equipped with a haphazard arrangement of bags tied on with string. I feel sorry for him. Particularly as he is going the opposite way up the Ghez canyon. I'm tempted to give him my miniature shot pump so that he can discard the industrial size model he has sellotaped to his bike frame – but it doesn't suit his tyres, and of course I still need it myself.
After only one day out of Kashi his bike is already falling apart. I'm not able to help him with spanners either since my bike doesn't need them, but we have a good chat for an hour or so. He has travelled the Silk Road from Iran and is now trying to cycle to Pakistan. As I imagined, he is finding the journey very hard. He is now spending a day at Ghez recovering from his previous day of cycling, and I don't envy the climb ahead of him tomorrow. He has spent most of his life in NZ and, ironically, doesn't speak any Chinese.
I can recognise that young Kiwi "have a go" mentality in him that drives people to undergo ridiculous physical ordeals, and ignore all common sense. Admittedly, I'm still a bit like that, but hopefully getting away from the more extreme tendencies. Although it could also be that I'm simply getting soft in my old age. I feel very spoilt next to him with my high-tech Cannondale and state of the art panniers. I've got all the gear and yet I still find it hard.
I wish him luck and go through the checkpoint. I know that the 130 kms back to Kashi is a long, hot stretch with little worthwhile scenery, so I feel justified in trying to hitch a ride. As it happens a modern tourist minivan is returning half empty, and I'm able to sit in comfort with my bike next to me in the aisle. It only takes two hours to get back, and I manage to catch Gia and Christina in the Seman hotel before they leave on their flight to Urumqi. My flight is not until Wednesday, and it occurs to me that I could have problems getting out on an earlier flight.
That evening I have dinner with the Kiwi I met in Tashkurgan, and two Aussies at the local al fresco dining scene. This now seems more appropriate and enjoyable than the "groovy" and overpriced traveller's caf?that attracts most foreigners staying in Kashi.
DAY 13: KASHI 24 August 1998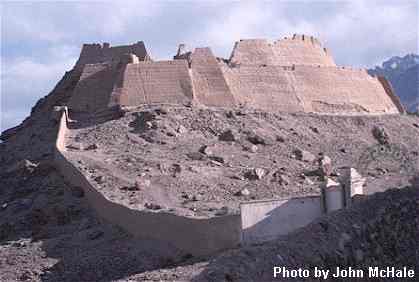 I pick up the money that has been transferred to me by the British Consulate. Back at the hotel a thermos flask explodes onto my bare foot and they want me to pay for it. I tell them to go to hell - really starting to hate this hotel.
I go for a longish bike ride to nowhere eating Hami melon at regular intervals and then head out to the airport that evening to try my luck catching an earlier flight to Urumqi. There is an Italian family there who also want to catch an earlier flight, since they were bumped off their scheduled flight yesterday. They hear me speaking Chinese to the airport staff and ask me to translate for them. I do my best, but the officials are generally unhelpful. Ultimately though they manage to get on the 9.00 pm flight, but mainly as a result of their own efforts.
I'm concentrating on the midnight flight now. It starts to rain as it gets dark and I don't want to have to cycle back to town after waiting for six hours. The French-Chinese family are also there and the Chinese father tries to help me secure one of the empty seats remaining. But the guys behind the desk won't confirm anything.
I meet Xue-hua while waiting and she tries to help also. She's from Chengdu and not without her attractiveness. If nothing else it helps to pass the time waiting. She will be passing through HK next month and I give her my address.
I manage to get the last seat on the plane and feel enormously relieved. When we arrive at Urumqi airport the same man is patiently waiting in the baggage area with my bike. Xue-hua is staying with friends and I head to the Hongshan Hotel. She says she'll give me a call in HK – women always say that.
DAY 14: URUMQI 25 August 1998
I now have to fly to Beijing to pick up a new passport and I talk to the tour people at the hotel about buying a plane ticket. Among the people there is Li WuShi who doesn't seem to recognise me. The only confirmed seat available is in two days time so I buy a ticket in the hope of catching the earlier flight tomorrow.
After overfeeding myself at the Holiday Inn breakfast buffet I spend the rest of the morning waddling along trying to find Urumqi's only email caf? Once there I'm able to send a further message to Nigel.
In the afternoon I decide that Urumqi is a really boring place to cycle around, although I do meet an interesting Chinese guy who is in the middle of a cycle trip around China. He's already done a phenomenal distance starting from Harbin in the north-east, then down through Shanghai and across to Urumqi – all on a Chinese made clunker complete with flag. He has a large scale return loop planned also. Wow! He must really like road cycling – something I still can only partly relate to.
I ring the NZ/British Embassies in Beijing to confirm my likely arrival. Damn! NZ passport is going to take three days after I arrive – then I've got to get a replacement visa from the Chinese authorities. So much for getting back to HK by the weekend.
I spend the evening drinking beer morosely in one of the cafes. Urumqi isn't exactly the garden spot of China and I don't want to spend too much time here. A pleasant American sits down and we talk about the status of the Pakistan border. He's planning to go to Pakistan but is concerned about the sensationalised reports coming from CNN and the US Embassy there recommending that all American citizens leave. I tell him that I don't really know how serious things are, but that there are still plenty of foreigners crossing the border into Pakistan.
Eventually I go for a walk looking for icecream. I buy one and throw it away, then buy another one and throw it away – the colour alone puts me off. I settle for an iceblock.
DAY 15: URUMQI 26 August 1998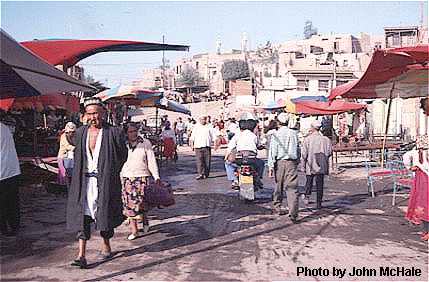 Urumqi Airport is another exercise in stress management and ends with me not getting on the flight. Apparently it's the end of a public holiday and there are a lot of people returning to Beijing – but Beijing is always a popular destination for business and travel from anywhere in China. I met up briefly again with Xue-hua. She wasn't able to get to Chengdu yesterday but has got a seat for today's flight. I help her with luggage and we say good-bye again.
It takes two leisurely hours to cycle back to town and again it's very pleasant, but I now have more time to kill in this place. I try to cheer myself up with lunch at Holiday Inn and lots of coffee – but I don't have much appetite in spite of no breakfast. I spend a lot of the day sleeping and thinking. Again little appetite for dinner, but the beer is o.k. I'm told that Bogda Feng is visible from Urumqi, and I try to find some high ground before sunset to get a glimpse. But I only get a partial view of snow covered mountains from a rubbish dump.
DAY16: URUMQI - BEIJING 27 August 1998
This time I get up early and cycle to the airport. Urumqi Airport seems a much more relaxed place now that I have a ticket for today's flight. Unfortunately I'm on the wrong side of the plane and don't get a view of Bogda Feng and the Tianshan mountains. The aircraft is the oldest thing I've ever flown in and all the safety instructions are in Russian. My seat belt doesn't work properly and music is played at high volume throughout the flight. I'm not too bothered though as we are flying across Mongolia and the landscape is fascinating.
We land at Beijing Airport and I'm expecting a similar chinese man to be waiting in the baggage area with my bike, but this time there's no one. Everyone's luggage is arriving up the conveyor belt and I'm thinking: surely they wouldn't try to send it up on the conveyor??!
Sure enough there's a banging and crushing sound, and my bike jams at the top. I haul it free but there's no serious damage. All the same it puts me in a bad mood as I head directly to the NZ embassy.
Debbie looks like she's straight out of some provincial NZ university, and experiencing the world for the first time. She has a naïve homeliness that I've seen before in kiwi girls, and it's unlikely that working in a sheltered environment like an overseas embassy will change that. But she's very nice, and is the one responsible for my new passport. Contrary to her previous advice it will be ready tomorrow, but will cost Y1500 (NZ$ 400) – even for an express passport it's a ridiculous price, but I have no choice. It's a large proportion of the money I have left, and I now have to be careful about my spending if I want to get back to HK. Consequently I don't bother to get a replacement British passport, but I call around to the British Consulate to thank Scott: the person responsible for helping me, and pass on a message from his colleague Melanie.
I go straight to the Beijing Public Service Bureau who say it will take five working days to issue a replacement visa. This seemss ridiculous for a large, international city like Beijing, when in HK a new visa is available in one day. But then I realise I am up against the epitomy of Chinese bureaucracy. The people there don't even want to talk to me because it is fifteen minutes to closing time, and I begin to get a further insight into the non-thinking mentality of Chinese officialdom. In hindsight, dealing with these people proves to be the one of the most difficult and disturbing aspects of the trip.
I check into a hotel that Gia told me about in the southern part of the city. After sneaking my bike into the room I ring Xiemeng's number and manage to talk reasonably effectively to her father. Xiemeng is now in Turfan, so I leave the hotel number for her to call when she arrives back in Beijing. I spend the evening drinking beer with an interesting bunch of Slovakian travellers.
DAY 17 - 22: BEIJING 28 August – 1 September 1998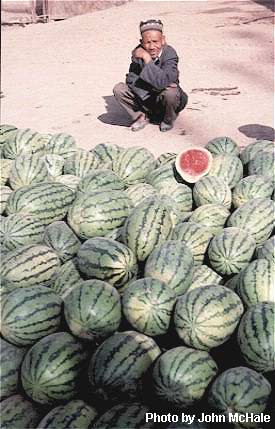 Cycling around Beijing is fun, but relies on listening to a walkman and avoiding eye contact with bus drivers. This is my second visit to the Chinese capital, and it occurs to me that a bike is the only sensible way to get around. It's a big city and definitely not a place for walking.
I pick up my new passport and head straight to the PSB office. But at 11.30 am they are already closed for lunch. I waste a bit of time cycling around Tiananmen Square and eating ice-blocks. When I return at 1.00 pm there is a long queue waiting to go in. I'm finally at the counter and it takes a long time before anyone even looks at me. It's the start of a long and difficult process, and the detail of it is too boring and frustrating to bother recording - suffice to say that I eventually get a replacement visa issued on Tuesday the following week i.e. three working days.
The rest of that time is spent cycling around and enjoying Beijing, including a visit to the Great Wall at Simatai. Beijing certainly appeals to me as a place to work and study.
DAY 23: BEIJING – SHENZHEN - HK 2 September 1998
On my last day in Beijing I finally catch up with Xiemeng and we have brunch together. I have a cheap flight to Shenzhen in the afternoon, since I don't have enough money for a direct flight to HK. I've heard Shenzhen is a bad place, but I haven't stopped there before and in some ways it's just as convenient, since the new HK airport is quite a distance from HK island also.
I kiss Xiemeng on the cheek and say goodbye for the last time, and then start cycling out to the airport. I can't afford the taxi fare. Unlike all the previous flights this one is a boring four hours, and we arrive at 6.00 pm. It takes a while for me to orient myself at the airport but then I realise that I need to take a bus into the city since it's a long way and getting late. In any case the airport is within a buffer zone surrounding the Special Economic Zone that is Shenzhen. The bus conductor eventually lets me take the bike on the bus when I show him how I can remove the wheels. I have to buy two tickets even though I'm only taking up one seat.
We travel towards the city and stop at a passport control checkpoint in the outskirts. This place is like a post-nuclear wasteland with rubbish scattered everywhere. The traffic clogs up as we get nearer the centre, and in my typically impulsive fashion I decide it will be quicker by bike.
It's dark when I unload at one of the early stops, and then it begins to rain – excellent! One of the gear cables on the bike has also broken – hmmm, not bad I guess, considering it is the first and only problem I have had with the bike. I pedal off in one gear in the rain towards the neon lights and rush hour traffic.
Shenzhen city seems o.k. compared to it's disastrous surroundings. In fact in many ways it is cleaner and more pedestrian friendly than Hongkong, but I don't want to spend the night there. I cycle with increasing urgency in the humid conditions, and the locals are friendly and happy to give me directions. I get to the railway station hot and grubby, and flounder around trying to find the right exit level. The Chinese immigration officials look bored and disgruntled, and only give me a cursory glance as I pass.
Eventually I cross a line and suddenly I'm in HK. The difference is immediate. Everything seems so ordered and familiar. The platform attendants are relaxed and efficient, and even have a sense of humour. I realise that I'm in a typical Hongkong MTR station. I put on a clean shirt, and with my last few dollars I buy a ticket to Kowloon and a Mars bar - home at last!
EPILOGUE:
The most striking memories I have of this trip are not of despair and hunger, or disappointment about my trip not going to plan. Instead, they are of staggering mountain scenery, the experience of a fascinating culture, and of the great friends I made along the way. This is captured in the many photographs I took, and outweighs by far the low points of the trip.
In fact, the theft of my belongings, although distressing at the time, has given me a better perspective on things and made me realise how lucky I am to have these travel opportunities.
I remain convinced that travel of any kind, and the good and bad experiences that result, is ultimately worthwhile and rewarding. I would welcome an opportunity to go back to this area, and similarly would recommend this trip to anyone.
November 11, 2002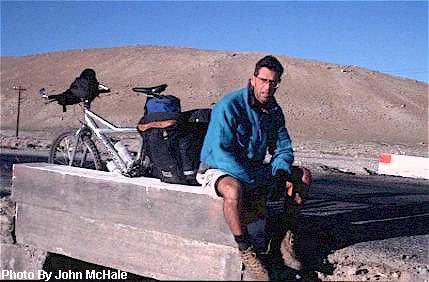 John McHale.
Skip to: John McHale - Page 1 | John McHale - Page 2 | John McHale - Page 3
---
---
Bike China Adventures, Inc.
Home | Guided Bike Tours | Testimonials | | Photos | Bicycle Travelogues | Products | Info | Contact Us
Copyright © Bike China Adventures, Inc., 1998-2012. All rights reserved.