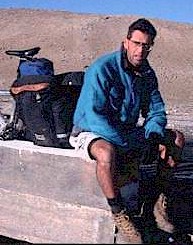 Do you have a China cycling travelogue you would like to share here?
Contact us for details.
---
John McHale
"Uighurs and Other Friends:
A Xinjiang Travel Experience"

August 1998
Page 2
Copyright © John McHale, 2002.
Skip to: John McHale - Page 1 | John McHale - Page 2 | John McHale - Page 3
---
DAY 5 : KASHI 16 August 1998
It's a clear blue day. I'm force fed at breakfast again but manage to leave for the market by 9.30 (Beijing Time). The market is a wild, wonderful place. Every bit as exciting as I imagined it would be with so many interesting things to photograph. I just wish people would stay still. The best photos I get are close ups within the crowd. Most of my subjects are old men and young girls. Many of the girls are actually keen for me to photograph them which seems very unusual. I spend several hours there until I'm all dried up and then stagger back to the hotel. The air here is extremely dry and parts of the city are reminiscent of Kathmandu. I pass by some stunning women on the way back.
There's a phone message from Muntsillop at the hotel, but there's no response to his pager number. I guess he was about to leave town. I feel terrible now that there no longer seems an opportunity to repay him.
I realise I haven't had a shower since the theft and I wonder if there's been a subconscious resistance to it. During my second shower I realise how often I must have looked away from the window ledge or had my eyes closed. Certainly during the daylight it seems a much easier and safer exercise.
I spend the afternoon back at the caf?chatting to some Brits who have travelled overland from Uzbekistan. They're leaving tomorrow for the border pass. Three will travel to India via Pakistan, and one will go to Afghanistan to carry out research for his dissertation. I admire his courage. Afghanistan is also on my future list, but I know that things are particularly unstable at the moment outside of Kabul. Still – is there ever a safe time to visit Afghanistan?
There is also a tour group nearby who are having a restrained argument. There have been a couple of major landslides on the Karakoram Highway this side of the border. The tour group has to be in Islamabad by Friday, and they are debating the responsibility for the cost of extra flights in the event of not being able to get to Pakistan overland as originally intended. I'm so glad I didn't book a return flight out of Pakistan. The extra flexibility has paid off now that I can't get into Pakistan.
My stomach is still unsettled. I figure that once I get some money I should still try to cycle up to the Pakistan border. I won't be able to cross of course, since I no longer have a passport or Pakistan visa. I put a note on the caf?notice board for a cycling partner.
I have my first bout of diarrhoea, but I'm determined to have dinner, as if to deny the fact that I'm sick. Later that afternoon I go back to the market - this time on the bike, and it's a lot of fun weaving my way through the crowd and taking more photos. I feel very tired coming back, and by the time I get to the dinner table I'm listless and weak. The chopsticks in front of me look ominous - hell, I could get hepatitis from these! Must get a clean pair as soon as possible. Eleven dishes again and the only thing I can manage is beer, rice, one or two dumplings, and watermelon. I feel guilty about turning down so much of the food. I apologise again for not eating enough and return to sit at the caf?across the road………Baoqian, hen haochi keshi wo douzi bu shufu.
About 10% of the traveller population here seem to be hippy types. A group begin chanting in a corner of the restaurant, which is then followed by "Hava Nagila" with guitars. I'm finding it all a bit hard to take, but then I realise that my worsening condition is making me less tolerant. I decide to be sensible and go to bed early. By the time I'm in bed I'm shivering with fever.
DAY 6 : KASHI 17 August 1998
Jintian shi wo de shengri! My fever broke at midnight but I'm still feeling delicate in the early hours. A man wailing in the distance keeps me awake but it's not a problem. I've always enjoyed the sound of Muslim prayer in the morning, and it reminds me of what an amazing place I'm in. My stomach is cramping and I have to get up several times. I'm very weak at the breakfast table and only manage a glass of tea and a small piece of bread. Even then I have to rush out to the toilet.
I try to fax Nigel but it doesn't work so I go back to bed. Around 11.00 am I'm told the police have caught the thief and I have to go to the Police station. What surprises me even more is the hotel giving me Y10 for a taxi.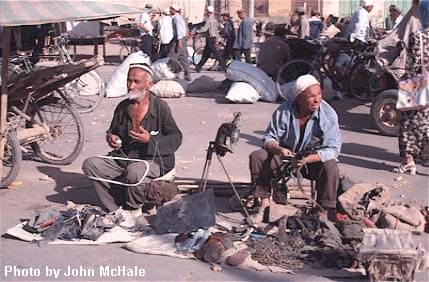 The thief is a youngish looking Chinese guy who doesn't look at all like the evil villain I imagined. I'm nervous about the prospect of meeting him and what I will say - but it doesn't happen. I feel hostile, but at the same time I can appreciate how much of a temptation it was for him. I'm not sure what will happen to him….but then I realise this is China where life is cheap, and I suspect his punishment might be a little too harsh. It's probably best that I don't meet him.
Apparently, after changing my US dollars into RMB at the bank this morning he tried to use my visa card - blatantly stupid. But then I realise there is general ignorance here about how credit cards work. Even amongst the police I have to explain the difference between traveller's cheques and cash, and a visa card and a travel visa. My two passports are still missing but I get back my credit card, HKID card, and waist bag. It's a shame my visa card no longer works.
One of the police officers gives me Y5 for a taxi back. I try to refuse saying I can walk, but they insist. I walk anyway. Maybe I can use the money to buy some chopsticks. I have another gut attack on the way back and have to duck into a nearby hotel. It's a close call.
Back at the hotel I pick up a fax from Julie: a friend who happens to work in the HK British Consulate. I'm glad she is involved now as well with her connections. I manage a glass of tea and a soft drink for lunch. Soft drink goes down well. I spend the rest of the day in bed without any thought at all of going down to the restaurant for dinner. A California girl has arrived in the dorm. Her name is Shanti and she's a bit of a space cadet….but harmless. She immediately asks me about my scar, but I forgive her when she offers me a bread roll and watermelon. Towards the evening I start to feel a little better.
A different group of police arrive in the evening to take more photos and I repeat my story yet again. Wow - don't these guys talk to each other? How many reports are they writing? I go back to bed getting up only to retrieve a further fax from Julie/Nigel. Ani arrives later and we chat for a bit. I try to give him the Y5 for the breakfast he bought me but he refuses. I fall asleep around 8 pm and generally sleep until morning. So much for my birthday.
DAY 7 : KASHI 18 August 1998
It's another clear morning. I feel a lot better and sit up to see what effect gravity has on my stomach. Seems o.k. and I'm vaguely hungry. I guess I can stop feeling sorry for myself now. I wonder if it's worth risking the hotel restaurant for breakfast, but of course I have no other option. I sit down at the restaurant and the chopsticks (or deathsticks as I've come think of them) are ceremoniously laid out in front of me. I ask for just bread and tea, but as usual there is an assortment of greasy meat and vegetable dishes. I give everything a token wipe with the grubby napkin and try eating what I can.
I spend the morning at the traveller's caf?reading about all the mountain trekking I could be doing in Pakistan if I were there. The staff there don't know anything about my situation, but kindly bring me a free glass of tea. When I return to the hotel there is a further fax from Nigel, and four representatives from the Bank of China are there to see me. The main purpose of this visit it seems is to tell me what a great job they did catching the thief. They take back my visa card after I have folded it in half and tell me that it should only take one day for money to be transferred from their branch in Beijing – so, in theory, tomorrow. I thank them and we spend the rest of the time chatting. It's obvious that they are in no hurry to go back to the bank.
The police also arrive to tell me my passports were thrown in the Kashi river. I'm vaguely sceptical about this – there is a big market for passports here. But that's it – I have no choice now but to backtrack via Beijing to pick up a new passport, and all hopes of getting to Pakistan are gone.
I go to the police station that evening to pick up the money that has been retrieved. For some reason the police have noted in their report US $400 rather than the $500 that I had stated previously. After a moment's thought it occurs to me that this may be deliberate, and I suspect that they have pocketed the difference. I realise then that it doesn't make any difference to me providing they have the amount stated correctly in the report. They seem happy to correct this and hand to me the RMB that was exchanged. In any case I would rather have lost all the money and got back my passports.
I'm still a little perplexed as I leave the police station and head to the caf? but at the same time I'm relieved to have some money at last. Suddenly a voice calls out and I'm pleased to see it's Gia and Christina. I sit down with them and have a relaxing coke, bought with my own money and with the comfort of never having to eat in the hotel restaurant again. From the caf?I'm also able to send an email to Nigel and Julie. I then return to the hotel to pay off my outstanding bills. The phone bills are ridiculously expensive which I guess is typical of hotels.
I'm now able to devote my thoughts to other activities. At the hotel I also arrange to have some laundry done, and suddenly I am face to face with the laundry girl. She is Turkic, and one of the most beautiful woman I have ever seen. From the first glance I am speechless, and then slowly I starting mouthing some words. Oh tragedy!! she doesn't speak Chinese - we can't communicate! The laundry transaction is completed far too quickly. She takes the bundle and hands me a receipt while hardly giving me a glance. I'm left standing there like an idiot. Reluctantly I leave, but continue looking back in her direction like a puppy dog. She doesn't show any interest in me, but of course it's difficult to charm someone when all you can offer is a gormless grin.
I spend the rest of the evening planning my journey up to the border. I'll travel to Lake Karakul with the American girls on Thursday with a view to getting to Beijing by 31 August. I go to bed with at last a feeling of certainty about my future.
DAY 8 : KASHI 19 August 1998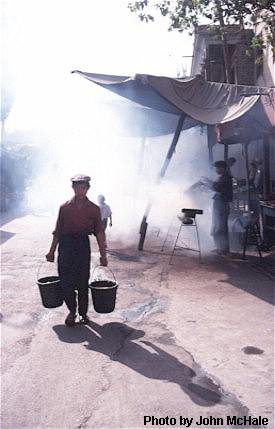 I pay off the rest of my debts and then loiter around the laundry area. The laundry goddess has her hair down this morning. Again it's all a major tragedy for me. Finally I say goodbye for ever, and go to ring the British and NZ embassies in Beijing. I have breakfast with a loud, friendly Bostonian and his two kids.
I cycle to the bus station to check out tickets for tomorrow and become acquainted with two other girls on rental bikes: Helen (meiguo huaqiao) and Xiemeng (beijing ren). Xiemeng joins me for a bike ride to some of the sights around Kashi which generally are pretty boring, but she's very pleasant company.
I guess it really emphasises the important thing about travelling. It's not so much about seeing sights but more to do with meeting different people and experiencing different lifestyles. We often cycle past the sights because we are too busy talking. There is a good language exchange between us since her English is about as good as my Chinese. We have lunch at a Uighur restaurant – the laghman is the best food I've had in Kashi so far: noodles, meat, vegetables. My stomach is fine now and it's a pleasant day. We agree we should meet up in Beijing since we're likely to arrive there a similar time.
That night I arrange purchase of a plane ticket back to Urumqi and afterwards Xiemeng and I meet again for dinner, along with her friends Helen, Melanie: a British girl, and Melanie's Chinese boyfriend. Melanie is on holiday from her job at the British Consulate in Beijing. Naturally she knows the people I've been dealing with. The conversation at the dinner table is almost entirely in Chinese and I struggle to keep up, but they're all good company.
DAY 9 : KASHI – KARAKUL – SUBASH 20 August 1998
I get up knowing I haven't had enough sleep. I meet with Xiemeng and we go to the military station to see if there are going to be any problems for me travelling to Karakul without a passport. There is a military checkpoint along the way, and according to Xiemeng, the PLA soldiers are notoriously stupid. Xiemeng's Chinese makes the whole exercise a lot easier and quicker. Apparently the stamp on my police report blitzes all other bureaucracy and there won't be a problem. The report can serve as my travel document until I get a replacement passport. Unfortunately it still doesn't allow me to exit China.
I meet Gia and Christina again at the bus station and say goodbye to Xiemeng. As usual the locals are amazed at the concept of quick release wheels as I load my bike onto the bus. It's a pleasant trip up to Lake Karakul with the scenery becoming progressively more dramatic, although I have the beginnings of a cold. I unload at the lake but Gia and Christina decide to carry on to Tashkurgan. The accomodation at the lake is a bit more spartan than they imagined. I start cycling at 6.30 pm thinking that I can make Tashkurgan by nightfall.
It's a slight uphill with a headwind – not a good start, and my lack of fitness begins to show. Being at 12 000 feet doesn't help either. I pass by various Kirghiz huts. The people living in these communities seem so pathetic. They have all given up their traditional lifestyle in exchange for grubbing for tourist dollars.
It's obvious by 9 pm that I'm not going to make Tashkurgan tonight – no way. The map I have is not very detailed but I set my sights on Subash. It turns out that I'm mistaken about it's location. I see a series of uphill switchbacks in the distance and I decide that getting up this, and out of the valley, is my goal for the day.
The 1000 ft climb seems endless, but finally I get to the top just on sunset. I'm exhausted and feeling the effects of altitude. I've also drunk all my water. There's no plateau at the top as I had imagined, but I'm still convinced Subash is around somewhere. The place is empty – no signs of habitation, just miles of rubble desert. After downhilling in the dark for ten minutes I see some lights. I'm completely wasted when I arrive at what is a military training camp. I ask if I can stay the night but they don't want me there and become increasingly aggressive. In my delirious state I also become aggressive and take my time leaving. I'm sure they see me as just another crazy foreigner, and certainly I'm feeling stupid about my mistake.
Subash was obviously the small collection of stone huts at the foot of the hill I had just climbed, and the Subash "plateau" was in fact the valley below. I resign myself to sleeping out in the desert that night. I move off the road in the near darkness and try to feel heroic about the idea of sleeping on a pile of rubble and having no dinner. It's cold already but I have a good sleeping bag. During the night the temperature plummets to near zero but I'm warm. In spite of that I don't sleep at all and spend the whole night thinking under a brilliant blanket of stars. It occurs to me that there may not be any food or water until Tashkurgan 70 kms away, and I'm not sure if it is downhill all the way.
DAY 10: SUBASH – KARAKUL – TASHKURGAN 21 August 1998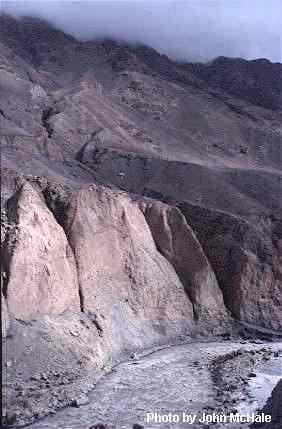 It's very cold in the morning when I get out of the sleeping bag, and I'm very hungry. It goes against my instincts, but I decide that the most prudent thing to do would be to backtrack and get some food at Subash or Karakul. I hate the thought of going back up the hill and wasting all that hard work the night before, but I can't risk collapsing through exhaustion or dehydration looking for food in this barren wasteland.
Going back uphill proves even harder than I imagined and I'm dreaming of a continental breakfast: coffee, croissants, maybe a pancake, and lots and lots of orange juice. No chance of that in this part of the world. I'm thinking also that it might be worth flagging down a truck going to Tashkurgan. I don't mind being hungry for another hour or so if I'm on the back of a truck, but there's little or no traffic at this time.
I reach an emotional low point three quarters of the way up, and for some perverse reason I decide to take a self-timed photo for posterity – just in case I ever forget how bad it was.
After another half hour I decide to stop and wait for a ride back to Karakul. Sure enough a truck pulls up and I load up. It's not until I start speaking that I realise how haggard I am. We set off around the first corner and immediately we are at the top. The view over the valley is fantastic and I suddenly feel anxious. I should be photographing this. After all, this is the whole point of being here.
I make a quick decision and ask the two Chinese men in the cab if they have any food. They give me a fried dough concoction, and they're confused when I tell them I want to get out after only two minutes. I guzzle their tea, give them Y10, and clamber out. They drive off looking confused, and maybe a bit intimidated by this crazy foreigner. I don't care. I sit on the road edge admiring the view and eating the mutton/dough thing which is delicious. My stomach has shrunk so much I can't eat it all in one go, but I'm feeling a lot better. I take photos all the way down and amble into the group of huts at the bottom.
The kids there offer me cold yak milk but I don't want to risk getting sick again. Eventually they give me some murky tea, and I finish the mutton. I fill up my water bottles and it's an easy cycle back to Karakul. This time a slight downhill and no wind. At Karakul I finally get a proper meal of rice and vegetables. I'm expecting a tourist bus to Tashkurgan to arrive at 6 pm, but in spite of the pleasant lakeside view of mountains I get sick of waiting and flag down a local bus. The local bus is every bit as bad as I imagined it with people and animals crammed inside. My real concern though is whether the bike will fall off the roof. It's a rough ride. We get to the point where I spent the previous night and I get off the bus, again to the astonishment of the locals. As it turns out it is downhill all the way, and there are settlements at regular intervals.
It's hot in the desert as I get lower down, and very dry and barren but with views of distant snow covered mountains. Vegetation starts appearing again 20 kms out from Tashkurgan as I enter a gorge. Coming out of the gorge the road flattens out and becomes a bit of a drag. It strikes me that the only sensible way to go on a bike is downhill.
Tashkurgan means "stone fortress" and I'm looking out for signs in the distance of the 600 year old ruins. Finally I arrive at the town and check into the Bingshan (Icemountain) Hotel. I'm tired, but I want to photograph the fort before sunset. The ruins seem a bit of an anti-climax – but then I remind myself: they are 600 years old. I take several photos to celebrate my arrival. Walking back, I spot some familiar fellow tourists: a very pleasant French/Chinese family. They tell me Gia and Christina are in their Hotel. Makes me think how wonderful it is that fellow travellers relate so easily to one another.
I spend most of the evening trying to organise some hot water for a shower and shave which I desperately need. I'm so tired and don't manage to eat dinner until 11.00 pm. Dinner is in a dark, smoky hut filled with quiet, serious men with beards and head rags. I finally get back to the Hotel and it's a relief to get to bed away from the freezing cold outside. My cold is much worse, but my bed is infinitely more comfortable than the pile of rocks I experienced the previous night.
Skip to: John McHale - Page 1 | John McHale - Page 2 | John McHale - Page 3
---
---
Bike China Adventures, Inc.
Home | Guided Bike Tours | Testimonials | | Photos | Bicycle Travelogues | Products | Info | Contact Us
Copyright © Bike China Adventures, Inc., 1998-2012. All rights reserved.