Do you have a China cycling travelogue you would like to share here?
Contact us for details.
---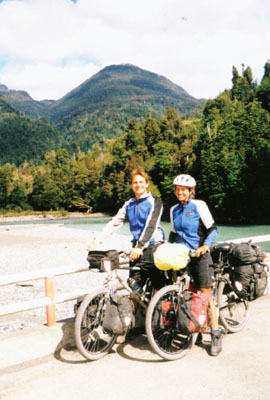 Ros and Paul Whitelegg
"Whiteleggs on Wheels Through China for Starfish"


Ros and Paul Whitelegg's story of cycling through China for Starfish Charity.

copyright © Ros and Paul Whitelegg, 2003
---
Whiteleggs on Wheels - Update One
Latest News: The first report, 07 April 2003
Easing into the Saddle

Sunday 23rd March, the day of rest and we find ourselves in an internet cafe in the "tourist mecca" of Yanshuo in the Province of Guanyxi . Yesterday afternoon we arrived with relief, earlier than expected at about 3pm, at the Riverside Retreat, a small family run hotel, having cycled 71km, mostly in the rain. Only after they had carefully hand washed the dirt off all our 14 bags, did they let us in. We stood by in our full Goretex kit, dripping water on the floor and waited for us to be rubbed down too. On getting into the room, I eagerly did my end-of-day task of the cycling statistics and happily reported to Paul that we did deserve a couple of days rest. (Not complete rest though as Ros is doing an intro course in Chinese tomorrow) In 10 days, we had done 8 days of cycling, averaged 80.9km a day, ascended over 1000km on 2 of the days and had 2 days of rain. One day it was 36 degrees, which we thought, was a bit hard (how could we complain!) but since then it has barely been over 15 degrees.

The beginning

We started our cycle on Thursday 13th March from the banks of the South China Sea in Macua. Similiarly to the Honk Kong history, Macau had been a Portuguese protectorate until returned t o China 1997. I hadn't even known it existed! We decided that our cycle the day before downhill through the streets of Hong Kong from Colleen and Pete Hayward-Butts flat in Mid-levels to Central to catch the ferry could not really be counted as the start, although I did get rather a buzz from actually getting into the saddle at last and braving the streets on bike.

We had taken a week of acclimatising, which included a reccy trip by train without bikes into China to visit our friend Sanjay in Guangzhou and just generally get some idea what we were letting ourselves in for. I (Ros) must admit that I was rather daunted and overwhelmed once faced with the reality of a lot of people and signs everywhere and no idea whatsoever what either were saying. Thanks to kindness of the Hayward-Butts and Sanjay I got my breath back, took a deep breath and felt as ready as I ever would be to cycle into the not-quite-as-unknown. Starting ones cycle in the Pearl River Delta in the Province of Guandong would not be most people's idea of a good idea. This area produces 10% of the world's consumer goods and is the fastest growing region in the fastest country in the world. Needless to say, you can start getting the picture of our first four days cycle being a constant frantic stream of factories, housing blocks, trucks, buses and of course bicycles. It is rather a flat area and was actually more tiring on the cheek muscles than the leg muscles as all these many people busily (and indeed the Chinese seem to work very hard) keeping these wheels of industry turning, seem to be trained to shout out "hello, hello" at any non-Chinese person and then they all merrily burst into laughter. The only response can be to grin and shout back "hello". As we have started travelling through more hilly areas it has been more demanding on the legs and a whole lot harder to keep that any smile on your face as bunches of schoolchildren or roadworkers are shouting to you and laughing as you are slowly labouring past them uphill. "Performing monkeys" spring to mind.


We had become so used to seeing practically unending streams of civilisation, that we were caught somewhat by surprise when the scenery at last changed into rolling green countryside. Delight at the refreshing change was dampened by the rain and then changed to a feeling of dismay as we realised that there was no way that we would make any town for the night. This was the first day we had a total ascent of 1214m and we were tired and sweaty! We were rather nervous about what to do for the night as "wild-camping" is not really the done thing in China. Eventually we found a house to beg some water from (we did filter the water) and then half an hour before going dark we found a "camping" area away from the road behind some bamboo plants. I am no t sure if we were more nervous about the snakes (Paul saw one slither away but only told me when I was safe in the tent) or the PSB (Public Security Bureau ie Police) who like to know where tourists are and thus, in the right place. We went to sleep really early and were off again at sunrise having really enjoyed the first bit of peace and quiet since arriving. The Chinese love noise and being noisy - cars and trucks hoot constantly, everyone shouts, TVs at full blast and they even have "squeaks" in the toddlers shoes - imagine how irritating (especially with twins) - ee ee ee ee ee ee all day long! (Just had a little interlude to watch some night cormorant fishing on the Yulong River (Dragon River) where we are staying at the Riverside Retreat)

Experimenting with food - ordering frog¡­

The food experience has been interesting. The most adventurous was me ordering Menu C and waiting to see what arrived - voila -some rice with small white bony meat pieces. I was so 'anious' (there is no "kiss" "ks" key on the computer) about what it was that I am not sure what it tasted like. Paul shared it with me too I must add. I carefully copied down the Chinese characters of the dish form the menu and at the Consumer Day fair the net day (China seems to be very keen on consumerism) I got an English speaking man to translate, and it was...FROG. Not so bad really but there ends my food adventures. Mind you each meal is fun as we know the words for "rice, vegetables, noodles and eggs" so we ordered a combination of these at e ach meal and wait to see what arrives, each time something different of course. We haven't yet got into having the same food 3 times a day as the locals seem to - the same thing everyday is tiring (spoilt westerners!). And there is one thing that I must confess. Paul had a day of being physically ill and so having made him cycle 70kms to a decent hotel in a bigger town, we then headed for a sterile eating experience - Macdonald's. Paul and I have never been to a Macdonald's together but boy were we happy to be there as suddenly Fish-o-Fillet and Apple Pie like only Macdonald's can make it seemed the best eating experience we could imagine. The following day, Paul still needing a bit of comfort food (oh and celebratory food for passing his A level with an A) and came running back to show me the Eccles Cake that he had found in China - that enterprising baker from Eccles, Lancashire. He had bought a whole big bag full and the net snack stop we each bit into one and surprise surprise found that Chinese Eccles cakes are actually made from sugar cane and the filling tasted rather like molasses. Made sense seeing as there is loads of sugar cane (or sweet bamboo) around but no sighting of grapes (actually other than Cape Grapes we saw in a supermarket!).

The advantages of being South African¡­
Having enjoyed three days of R&R and Chinese lessons (it is a mighty difficult language!!) in Yangshou and having gazed many times in wonder at the fantastic limestone karst scenery that I can only attempt to describe as tall toblerone pieces scattered across the countryside as far as the eye can see, we leave here tomorrow and head north to Guilin and Longsheng and almost due west to Kunming. That should take us about there weeks and up to the second bulletin.........that reminds me that we had been catching snippets of Iraqi news on Chinese TV and it was like a charades game for us to work out what was going on. It was only when booking the Chinese lessons that we mentioned Paul was from England, that it was confirmed for us that the war was on as the lady said "England bad, fighting war, killing." It may just be easier to say we are both from South Africa I think.... Thursday 17th April - Kunming, Yunnan Province, SW China - written by Ros with contributions from Paul
Whiteleggs on Wheels - Update One | Update Two | Update Three | Update Four
---
Starfish - Turning the Tide on AIDS
An old man had a habit of early morning walks on the beach. One day, as he looked along the shore, he saw a human figure moving like a dancer. As he came closer he saw that it was a young woman and she was not dancing but was reaching down to the sand, picking up starfish and very gently throwing them into the ocean.
"Young lady", he asked, "Why are you throwing starfish into the ocean?"
"The sun is up, and the tide is going out, and if I do not throw them in they will die."
"But young lady, do you not realise that there are miles and miles of beach and starfish all along it? You cannot possibly make a difference."
The young woman listened politely, paused and then bent down, picked up another starfish and threw it into the sea, past the breaking waves, saying:
"It made a difference for that one."
Adapted from the story "The Star Thrower" by Loren Eiseley
Starfish was formed in response to the unfolding tragedy of children orphaned or affected by the HIV/AIDS pandemic in South Africa. South Africa has the highest number of HIV positive people of any country in the world. By 2010, HIV/AIDS will kill as many as 7 million people, leaving 2.3 million orphans in its wake. (Source: UNAIDS)
Starfish was founded in London, England by a group of young South Africans and their friends in 2001. Motivated by our founding parable, Starfish believes that each of us can make a difference to the lives of the children of South Africa orphaned or affected by HIV/AIDS.
---
---
Bike China Adventures
Main Page | Guided Tours | Photos | Bicycle Travelogues | Products | Info | Contact Us
Copyright © Bike China Adventures, 1998-2005. All rights reserved.