Do you have a China cycling travelogue you would like to share here?
Contact us for details.
---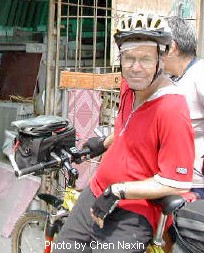 Stephen Shapiro
From Qingdao to the End of the World:
Bicycling China's Shandong Peninsula
Copyright © Stephen Shapiro, 2002.
Part 1
[Editor's note: This travelogue was written by Stephen Shapiro, from Baltimore, Maryland, U.S.A. about his bike tour with his wife on a their first trip to China.]
---
When I received an invitation to give a few lectures at Shandong University, in Jinan, China this spring, I jumped at the chance. Eric Easton, my colleague at the University of Baltimore Law School, was to be teaching there the entire spring semester, as part of a USIA grant. One of the two classes he was teaching was a course on American Constitutional Law for foreign students, which I had developed and taught at the University of Mainz, in Germany last year, as part of a Fulbright grant. So my reward for providing the course materials was to get to come and teach one of the classes and to meet with members of the Shandong University law faculty.
My wife, Donna, was able to join me for two weeks. We would spend a few days seeing all the obligatory sights in and around Beijing (Tian'anmen Square, Forbidden City, Great Wall, Summer Palace, and Temple of Heaven). Then we would take the short 200 mile plane trip to Jinan, where we would visit for a few days and I would give my lectures. But we also wanted to do something a little more exciting while we were halfway around the world.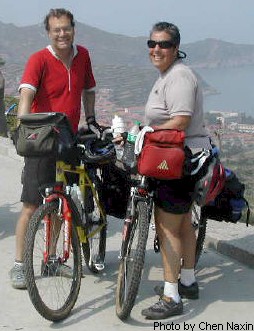 Donna and I are inveterate bicycle tourists. Each summer for the last fifteen years we have made a three to four week bike tour in Europe, which I plan myself. We carry everything with us on our bikes and stay at nice B and B's and small hotels. We wanted to do a bike trip in China, but didn't feel we could do it ourselves, since neither of us spoke a word of Chinese, and we wouldn't be able to even read the maps or road signs. On the internet, I found an organization called Bike China, which ran group bike tours in various parts of the country. We also didn't want to ride as part of a group, but Peter, the owner of Bike China, said that he would provide us with our own private guide (as it turned out, we got two). Peter and I decided that a ride along the Shandong Peninsula, starting in Qingdao and riding to Weihai at the Eastern tip, made sense, since it was not too far from Jinan and the weather along the coast in June would be dry, but not too warm.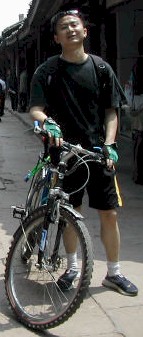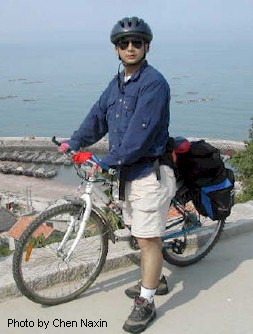 Our guides, Chen and Mike, met us in Jinan and we all took the four-hour bus ride to Qingdao to start the bike trip. They had spent the previous four days scouting out the territory by bus and motorcycle, picking a safe route and finding suitable accommodations along the way. They were both thirty-three years old and experienced tour guides, although this was the first bike trip they had led. Mike was the Energizer bunny of the pair, riding in the lead, gregarious with both us and strangers, and always willing to answer our questions about China. Chen was the quieter, steady one, who rode in back, handled all the money, and dealt with the hotels and restaurants.
They were not only great guides, who took excellent care of us on the road and off, but fun companions, which was important since we spent almost every waking hour with them for a week. Their only shortcoming was their almost comedic lack of skill as bike mechanics. On the second day of the trip, Donna got a flat in her back tire. Since I'm the one who usually fixes all the flats on our bike trips, I was happy to sit in the shade with Donna while "the guys" did the work. When I looked over a few minutes later, however, I was horrified to see Mike in the process of trying to remove Donna's chain, a difficult procedure, totally unnecessary to the process of removing the rear wheel. I walked over, released the back brake (an easy and necessary step) and then proceeded to teach them how to fix a flat. After I convinced them to let me do our own bike maintenance after that, everything was fine.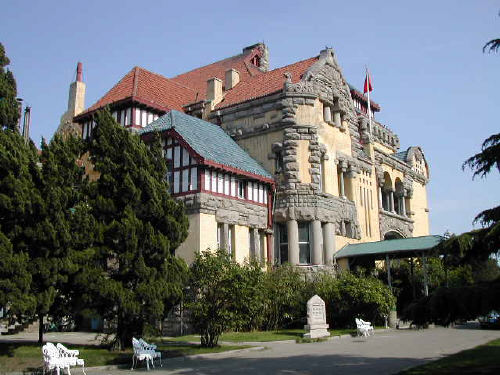 We arrived in Qingdao, where our good quality mountain bikes awaited us, in time to take a two-hour tour of the city on our bikes. Qingdao is, for China, quite a beautiful city, spread out along miles of picturesque sandy beaches. It was a German concession for sixteen years early in the twentieth century, and retains some German influence in its architecture (including a castle and large Catholic Cathedral) a large statue of Beethoven in the park, and the best brewery in China, Tsingtao (which is the only Chinese beer exported in large quantities to the U.S.). We stayed at the four-star Oceanwide Elite Hotel, overlooking the bay, in the old part of the city, where we were among only a handful of western tourists, the last Westerners we would see until our arrival in Wehai a week later.
---
From Qingdao to the End of the World: Bicycling China's Shandong Peninsula Part 1 | Part 2 | Part 3
---
---
Bike China Adventures
Main Page | Guided Tours | Photos | Bicycle Travelogues | Products | Info | Contact Us
Copyright © Bike China Adventures, 1998-2005. All rights reserved.