Do you have a China cycling travelogue you would like to share here?
Contact us for details.
---
Pete Richards
"Bicycling in Yunnan and Sichuan Provinces, May 2001"
Part 1

Copyright © Pete Richards, 2001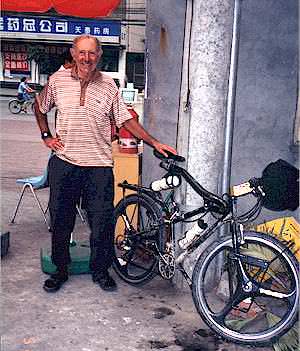 These notes describe road conditions and altitude profiles for cycling in Yunnan from Lijiang to Lake Lugu, and in Sichuan from Panzhihua to Jiuzhaigou via Leshan, Chengdu and Songpan. They are meant for cyclists, for whom there is little reliable information about road quality and steepness. There's some, but not much, of general interest to independent travelers, who have many sources.
There are three types of data: Descriptive notes laced with comments, tables of daily distances and elevations, and—where appropriate—graphs of altitude vs. distance.
My odometer wasn't working, so I had to rely on km road signs and maps for distances. (Maps referred to are from the all-in-Chinese 374 page road atlas "China Driver's Atlas" (dark red cover, 25 X 13 cm, with steering wheel logo; available at Xin Hua and other bookstores in most sizeable cities). An uncertain distance on a profile graph is indicated by a ??and horizontal error bars. I did, however, have a working altimeter, which agreed well with posted elevation signs; so absolute altitudes probably are correct to within plus or minus 100 meters, and climbs/descents considerably more accurate.
Though speaking enough Chinese to get by, I'm woefully weak on characters. So you'll find cases where I don't know a place's name in pinyin, and can only give its (sometimes) approximate location.
It's wise never to trust anyone's word on road conditions unless they have personally cycled the route, and recently. Even bus and truck drivers often said roads which turned out awful were well-paved. When Peter Snow Cao tells you he doesn't know what a road is like, be grateful for his forthrightness. Such information is ridiculously hard to come by. Statements herein about roads come with a 30-day warranty, less if there are bad rains.
You need to know something about me to put what follows into perspective. (What's difficult for a weekend rider can be a breeze for Lance Armstrong). Though this trip was by mountain bike, I'm primarily a road biker who sticks to pavement. Good dirt roads are fine for me on fat tires, but not rocks, cobblestone or—ubiquitous in China—asphalt badly in need of repair. I'm a 66-year-old exercise addict who immodestly claims to be a good climber for his age. But a "clunker" loaded with about 21 kg obviously slows me down.
Every place I stopped had at least a room for rent, if not a hotel. Bus rides account for gaps between places, such as biking to Leshan and reappearing in Chengdu.
Finally, this and most of my tours are unguided, unsupported, largely unplanned, and alone. The way I like it, but not necessarily for everyone. Though he wasn't there holding my hand, I'm grateful to Peter for several helpful suggestions culminating in our meeting in Chengdu.
Yunnan: Lijiang to Lugu Lake via Yongsheng and Ninglang, 2+ days biking, 1+ on bus, beginning May 7
Summary: Good road from Lijiang to Yongsheng and most of Ninglang to Lugu Lake. Very bad from Yongsheng to Ninglang, forced bus ride. First 50 km of Lijiang to Yongsheng is a five-star touring route in my book. Next year new road directly from Lijiang to Ninglang may be completed.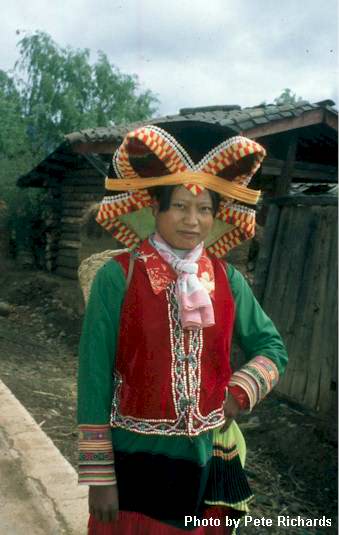 Day 1—First 50 km are on my list of world's best rides. Road is well-paved, as advertised, most all the way. Climb from 2450 meters at Lijiang to pass at 2783 meters where have great view of 5596 meter Yulong Snow Mountain. About 2 km descent to 2710 meters where hit only bad part: about five km of cobblestone road. But it is in a level valley. Then steady descent rest of way to river at 50 km, 1460 meters on good road with views of terraced hills. Remaining 36 km follows the river; good surface but with many tedious ups and downs; net gain from 1460 to 1760 meters considerably underestimates total amount of climbing. At 86 km reach foot of steep climb, and decide best to quit at small village.
Day 2?4 km to Yongsheng, then about 25 km of terrible Yongsheng-Ninglang cobblestone road (Map 179, straight north from Yongsheng) before hopping a bus in disgust. Glad waited until morning for 480 meter, 10 km climb then gradual descent into Yongsheng. A travel agent in Lijiang, who spoke good English and said was in constant contact with tour-bus drivers, assured me the Lijiang-Yongsheng-Ninglang-Lugu Lake route is well-paved all the way. She is prime example of don't trust anyone. Shortly after Yongsheng the road turns to a combination of rocks and cobblestones. Made the climb from 2200 to 2900 meters, but this type road is more difficult going down than up. Four km into the descent flagged down a bus and rode to nearest town with hotel, 52 km from Yongsheng. Road continued bad, and got back up to 2900 meters.
Day 3—bus to Ninglang. Yesterday's driver told me the road stayed bad the remaining 60 km to Ninglang. I took his word, and caught the morning bus. He was right except for the last 15 km, and about a 10 km stretch midway, both paved. Pity, because otherwise it would be a great ride—mountainous with colorful minority villages.
Day 4—Everyone tells me the road is new asphalt all the way. They're right, except for about 12 km which, of course, are at the steepest part. The road is excellent for the first 52 km, which include climbs of 240, 200 and 330 meters. But from there the final climb of 8 km, 540 meters to the pass at 3350 meters is all cobblestone, as are about the first 4 km of descent, to 3180 meters. The view of Lugu Lake from the summit made it worthwhile, even with the dark rain-threatening sky.
A cold rain began shortly after reaching lake, and continued through night and morning. I gave up and caught bus back to Ninglang without ever seeing much of the lake.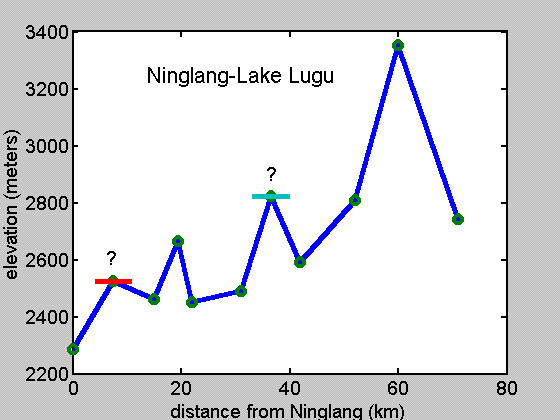 Thoughts for Future: There is a new road under construction direct from Lijiang to Ninglang, supposedly near completion. This new route makes it unlikely there will be any improvement in the one between Yongsheng and Ninglang. And there was no sign of any work on the bad part of Ninglang-Lugu Lake. Further Yunnan information, of questionable value since it came from the same travel agent who said how great the road was from Yongsheng to Ninglang, is that the new Lijiang to Shangri-La (Zhongdian) road is still under construction for the last 30 km. That was enough to discourage me from taking a route originally planned on.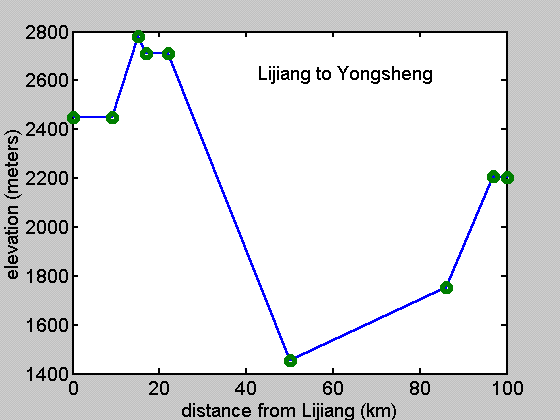 Day

Starting Place,

Elevation (meters)

Distance(km)

Elevation Change (meters)

Significant Climbs (meters)

Road Conditions

1

Lijiang,

2450

86

-690

330, many ups and downs last 36 km.

Good.

2

Village at junction 14 km east of Yongsheng,

1760

14 + 25

+470

(to Yongsheng)

480

Good to Yongsheng, then cobblestones.

3

Bus ride to Ninglang

105

Unknown

Unknown

Mostly cobblestones.

4

Ninglang,

2290

71

+450

240, 200, 330, 540

Good, except for 8, 4 km cobblestone up to, down from pass
---
Skip to Pete Richards: Page 1 | Part 2 | Part 3
---
---
Bike China Adventures
Main Page | Guided Tours | Photos | Bicycle Travelogues | Products | Info | Contact Us
Copyright © Bike China Adventures, 1998-2005. All rights reserved.