Do you have a China cycling travelogue you would like to share here?
Contact us for details.
---
Peter Snow Cao
"Cycling to Danba in Western Sichuan, China - September, 2001"
Part 1
Copyright © Peter Snow Cao, 2001.
---
Cycling Trip to Danba, Sichuan: Day 2 Gengda to Dengsheng
After a lukewarm shower and a surprisingly restful sleep, we rise early to make the most of the day. The road continues upward, though not painfully so, as we pass the Wolong Panda Nature Reserve without stopping. The entrance is lined with tourist souvenirs, an instant turnoff to Rainer who just keeps on cycling.
Further on, lunch is a satisfying bowl of egg and tomato noodles, and I check my email with my Palm Pilot using a land telephone line. Doing this is hit or miss as some shopkeepers are distrustful of where I am calling and how much it will actually cost them. I have to disconnect the telephone line from their phone, which usually acts as the billing meter, so we have to establish a per minute rate for the Palm Pilot and then monitor the time I am actually connected. I always have to pay top yuan for the charges, but the alternative is worst, and I am grateful for the access. It turns out to be the last telephone until Rilong on the other side of the pass about 100 kilometers away.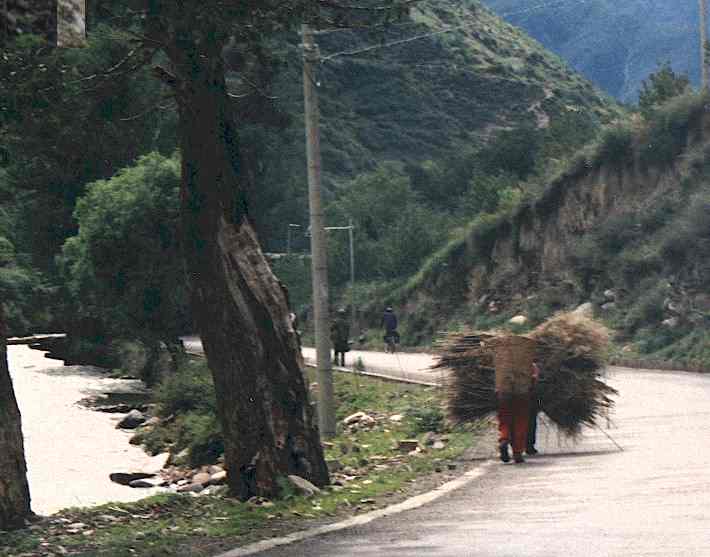 We continue our climbing, and as the day progresses, we start to wonder where all the towns that dot the road on the map are. Finally we come across a mechanics garage and learn that the next place of lodging is ten kilometers away, uphill. We collapse at the Dengsheng Sushe (dormitory), a two-building town (the other is a research building for Wolong Nature Reserve, still under construction). Out front is a Changan mini pickup truck with its engine on the front steps, a victim of the hill. It seems portend our own fate, so we don't dwell on it.
The Dengsheng Sushe has a number of environmental researchers staying there to record the weather at several locations in the area three times a day. The nearest telephone is 35 kilometers back down the hill, and takes about an hour by bus to get to it.
Mark said he would try to meet up with us today by bus, so Rainer puts his bike out beside the front gate so he can see it. However, as night falls, we figure he won't arrive tonight. There is no way to contact him, so we hope he will catch up tomorrow.
After dinner, we go out with the researchers to look at the work sites in the woods, but it starts raining again, so I turn back and walk up the road a few kilometers. Rainer said that mountain climbers will usually climb 200 meters higher from where they intend to sleep for the night and stay there an hour or more to acclimatize as it tends to reduce altitude sickness. I decide to try it.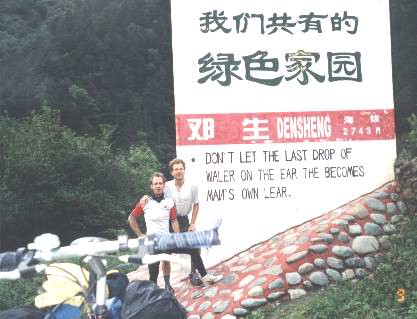 Dengsheng makes its own electricity, and the power is so weak that the electric lights throw off only a faint orange glow. There is an electric water heater in the toilet, but the hostess tells us the power isn't strong enough to use it. We are desperate for a shower, so she prepares several hot water thermoses for us to dump into the shower water tank. While this results in a lukewarm dribble, the result is satisfactory.
Rainer tries to write in his diary, but gives up after recording only the basic statistics: elevation 2,750 meters, 70 km, light rain at times. We cycled up 1,550 meters in elevation, and we are both dog-tired. We discuss our strategy for tomorrow's assault on the pass. Neither one of us has done much cycling in the last few months, and we wonder about the effect of high elevation on our ability to climb to the pass. Everyone we ask about the height of pass gives us a different figure: 4,000 meters, 4,400 meters, 4,800 meters. Already the elevation of Dengsheng is leaving me short of breathe and patience. I start to feel the familiar altitude headache coming on. My previous record was between China in Pakistan, 10 years ago. My friend, George Frigo, wrote to me after I told him I cycled over the Khunjerab Pass at 16,000 feet (4,600 meters) said, "Do you realize that you have been four times higher on your bicycle than I have been in my airplane?" I wonder if I am up to the challenge ahead.
We hit the bed at 8:00 PM with instructions for the staff to wake us at 6 AM. We figure it could take all day to reach the top. On the Khunjerab Pass, it took me two full eight-hour days to cycle 80 kilometers.
Next: Cycling Trip to Danba - Part 3: Dengsheng to Rilong and the Pass
---
Cycling to Danba - Part 1 | Part 2 | Part 3 | Part 4 | Part 5 | Part 6 | More Pictures
---
---
Bike China Adventures, Inc.
Home | Guided Bike Tours | Testimonials | | Photos | Bicycle Travelogues | Products | Info | Contact Us
Copyright © Bike China Adventures, Inc., 1998-2012. All rights reserved.