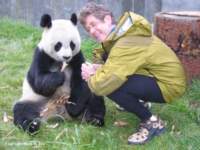 Mark making friends with a panda at Wolong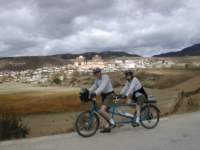 Barry and Joyce on their tandem in Shangri-La (Zhongdian)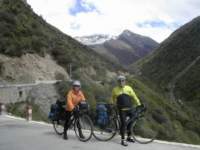 On the road near Four Girls Mountains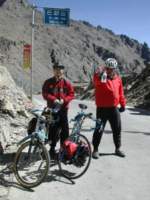 Guide Danny Chen and Dean on top of Balangshan Pass (4,523 meters, 14,485 ft.)
Do you have a China cycling travelogue you would like to share here?
Contact us for details.
---
Bill Weir and "Bessie Too the Bicycle"
Across China by Bike
"A Six-Month Trans-China Bicycle Adventure"
Part 4

Copyright © Bill Weir, 2006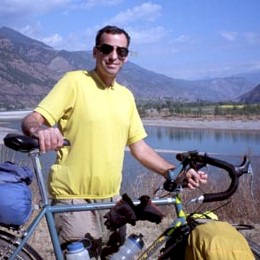 ---
Bill Weir and "Bessie Too the Bicycle": Bill Weir 1 | Bill Weir 2 | Bill Weir 3 | Bill Weir 4
---
Happily depressed in Turpan with Bill and Bessie Too
24 Jul 2006
Turpan, Xinjiang Uygur Autonomous Region, China
From Liuyuan I had only 93km to Xingxingxia and China's largest province-Xinjiang. It's a land of extremes with the second highest mountain in the world (K2) and the world's second deepest depression (Turpan), yet both nomadic and farming groups have made their homes here for thousands of years. The Chinese arrived during the Han Dynasty, pushing as far west as present-day Kazakstan, but found the almost constant rebellions of the local people a major headache. Chinese troops and settlers would conquer, then retreat repeatedly before the communists arrived. Xinjiang encountered much the same fate as Tibetan--both regions had long been settled by non-Chinese peoples, yet all that changed after 1949, when the communists encouraged large-scale immigration from the east and ruthlessly suppressed any separatist movements. Today the Uigur ("ooygOOr") people--once the majority of Xinjiang--are now a minority. The Uigur speak a Turkic language and many look like Turkish people. They follow Islam and tend to live a slow-paced lifestyle look after their shops and fields. Donkey carts still provide transport around the villages and towns.
I counted 12 crumbling mud-brick watchtowers on the hills surrounding the border town of Xingxingxia. My room for the night cost only $1.25, but the toilet was WAY out back and there was not a shower or running water anywhere in town. Weather had been surprisingly cloudy and cool, getting cold in the evening. Where was the fearsome desert sun?
A strange thing kept happening over my next four days in Xinjiang--meeting long-distance cyclists on the road! After crossing over a rugged range of tan and black mountains west of Xingxingxia, I saw three U.K. cyclists on the long haul between London and Beijing. Layers of dust caked their happy faces--they were now on the homestretch. You can follow their progress at http://www.chinacycle.co.uk/
Much later that day I met a Chinese cyclist who was riding from west of Urumqi all the way to his hometown near Kunming, far away to the southeast. Today was a long one for all of us--139km without any food or water available on the way. Winds blew from just about every direction, but mostly were light headwinds for me. Snow-topped mountains rose to the north. Luotuojuanzi turned out to be just a bunch of oasis villages, but there was an isolated hotel here with rooms and food.
The next morning I met "Flybird," a Chinese cyclist headed from Urumqi to Lhasa. He spoke a little English and could tell me which places ahead had food and water. The 60km ride into Hami went fast thanks to tailwinds and flat terrain. I turned into town with its tree and flower-line lanes. To the Chinese, Hami is synonomous with the country's finest melons; and I saw many roadside stalls and donkey carts loaded down with them. Shiny high-rise buildings mark the Chinese center of Hami, while Islamic architecture and earthwalled houses of the Uigur lay to the south. One street in the Uigur section had rows of shops selling petrified logs! Hami kings had ruled the region from about 1697 to 1930, and I sought out their tombs--a group of large halls, packed wall to wall with masonry coffins, and a mosque. The main tomb had beautiful blue and white tiles, trimmed with green tiles on the borders and dome; blue-on-white floral designs covered the interior. Two other buildings housed prime ministers and looked a bit like a tiered Chinese temple on the outside, but the domed interiors were thoroughly Islamic. A nearby green-tiled tomb held the remains of one of three Arab missionaries who had arrived during the Tang Dynasty (A.D. 618-907); originally buried in Xingxingxia, he was reinterred here in 1945 after Nationalist troops had destroyed his original tomb. While among the dead bodies in Hami, my camera died. I had hoped that it could be reset and brought back to life, but my attempts failed; it will have to go back to the USA for repair and I'll have to purchase a new camera when I get to the provincial capital of Urumqi.
The day still seemed young after the Hami sightseeing, so I decided to push on to the next town, Sandaoling. Unfortunately the distance was greater than my map indicated, and the headwinds stronger than I anticipated. The ride dragged out and I didn't reach a hotel until nearly midnight (Beijing time). My knees were a bit sore after the day's 150km (94 miles), so I decided to take it easier in the future. Hami would have been a better overnight stop.
Three "boys in blue" showed up at the hotel the next morning to check my passport. Apparently little Sandaoling sees very few foreign tourists! Back on Highway 312 I met Dutch cyclist Leon Meisel, who is doing a similar ride to mine, but in reverse. He had started from Tashkent, cycled around Uzbekistan for a month, then crossed into Kyrgyzstan, which he liked so much that he stayed two months. A ride over the Irkeshtam Pass brought him to China and Kashgar. Now he's headed for Southeast Asia. The road gradually climbed higher and higher into dark, sunbaked mountains streaked with bands of reddish-brown. Finally I had a long series of descents. Crosswinds became hotter as I descended and required careful steering to stay on course. At the bottom, the road turned directly into the wind and I had a tough end-of-the-day climb up to the strip of forlorn truckstops at Hong Shan Kou. Despite a dismal appearance, the place had welcome food, shelter, and water after the day's 106km ride.
The fierce wind still blew the next morning, but now from the northeast and gave me a push. I continued climbing in the dark mountains, then began a fantastically long and fast descent to the plains far below. This was probably the fastest day of the trip so far. While speeding downhill with the wind at my back, I met a cyclist from Taiwan who was determinedly winching his way uphill while being blasted in the face with the wind. He had ridden all the way across China from Guangzhou to Kashgar, taking the hardest route of all--across eastern and western Tibet. Now he was going all the way back to the east coast on a more northernly route. I think that he had tackled many such hard days before. Soon I arrived at the oases surrounding Qiketai. A duststorm threatened, but quickly disappeared. Winds died down, but I had an easy level ride the 30km on to Shanshan. It had been an exhilarating day with 129km covered. My hotel had airconditioning--which I could appreciate--along with a cold shower--which I could appreciate too.
A tailwind was out the next morning, and I sped westward. The mountain range to the south had beautiful tan and pink colors, along with wavy patterns caused by weathering of upturned strata; it's part of the Flaming Mountains that Turpan tourists gawk at. I spotted my first karez--an underground irrigation canal; mounds of dirt marked access holes about every 20 meters. Desert people have hand-dug these karez for about 2,000 years to bring water from distant mountains to irrigate lush fields of grapes, melons, and other crops. After a quick 42km I saw the sign for Tuyoq, an Uigur village that I wished to visit. A narrow paved road led past some villages, then down a spectacular gorge through the Flaming Mountains. A green valley and a village of mud-brick houses at the other end marked Tuyoq. An earthen wall enclosed a green-tiled tomb, believed to be that of the first Muslim missionary to the Uigur; seven visits here are said to be the equivalent of a visit to Mecca. I saw many Uigur coming to visit the tomb, but non-Muslims were banned from the tomb area and local mosque. I strolled the dirt paths through the village, probably little changed in the past 100 years except for the addition of electricity and some motor vehicles. Up in the gorge above the village, a boardwalk and stairs led to a group of ancient Buddhist grottos. Only three were open, and only one had good paintings, but I enjoyed the view and walk getting here. Across the gorge I could see more grottos and wall remnants of a monastery. A hospitable Uigur in the village plied me with tasty dumplings and melon, then encouraged me to take a rest before heading off into the heat.
Well, you know the story about mad dogs and cyclists. I rode off into the summer sun and super-heated air of about 45 degrees C (low 100s F) to the nearby Ancient City of Gaochang. Much of the original high walls still surrounded the site, but it took a lot of imagination to visualize what the mounds of mud inside might once have been. Some small rooms had survived along with many bits of walls. Two tower-like structures enclosed by an inner wall near the center probably had once been part of a magnificent palace complex. Over in the southeast corner I did recognize the multi-angled form of a chedi; fragments of paintings still adorned the walls inside the small adjacent temple. A much larger monastery complex stood in the southwest corner of the city; a central column in the worship area had a base in front that must have once held a large Buddha statue and smaller niches on the sides for other statues; an assembly hall and walls of monks quarters stood nearby. In the early 1900s, Archaeologist Albert von le Coq discovered a mural of a Manichean priest and attendants--the religion once followed by the Uigur; it originated in Persia in the third century A.D.; le Coq also broke open the floor of another chamber to discover the gruesome remains of about 100 murdered monks, which he attributed to religious persecution in the 9th century. Until very recently, Chinese authorities did almost nothing to protect the ruins of the ancient city; Peter Neville-Hadley remarked that farmers were still flooding and tilling land within the city ten years ago, ending the dryness necessary to preserve walls and buried documents. Now, finally, the city is dry again and being looked after.
Another short ride took me to the Astana Tombs. Of the three Tang Dynasty (A.D. 618-907) tombs open to visitors, one had paintings of Chinese officials representing proper Confucian behavior; another colorful paintings of ducks, pheasants, and other birds; and the last with naturally mummified bodies of a couple dressed in cloth fragments.
From the tombs, I turned west along the south side of the Flaming Mountains toward Turpan, still a long 40km ride away with a headwind. I arrived as darkness was settling in and eventually found the Jiatong (Traffic) Hotel near the center; a good room atop the fifth floor (no elevator) cost me $12.50.
I spent the next day recuperating from the long travels. The following day I was ready for some cycling and sightseeing, so headed 9km west to see the Ancient City of Jiaohe, another famous center along the Silk Routes. I managed to arrive early--before the heat and tour groups set in--and greatly enjoyed walking the old streets of the ghostly city. It lay atop a plateau protected by 30-meter cliffs. Because of its height and dryness, far more of the buildings had survived than at Gaochang. Entering from the south, I passed a huge watchtower, then the government area, some of whose chambers had been hollowed out underground in the soft sandstone. To the east and west lay most of the residences, along with shops. The north of the city held the greatest interest for me, with a large chedi marking the beginning of the religious area. A large monastery had three headless Buddhas in niches of the central column as well as many walls that once enclosed the monk's quarters. Farther north I visited a middle-sized and a small monastery. Finally I came to a chedi on a raised base surrounded by 100 smaller chedis, neatly arranged in four groups of 25.
Back in town I stepped into the coolness of the Turpan Museum, which features the skeleton of giant rhino, nine meters long, five meters high, and once weighing in at around 30 tons. I also saw skeletons of dinosaurs and early mammals that had also been excavated in Xinjiang. Mummies filled another room, where a woman still wore a fur-lined robe and a man was dressed in an elaborate blue robe. Artifacts excavated in tombs included textiles, little figures of women making bread, and even some very old grains and dried fruit.
The heat had yet to abate when I pedaled to the Emin Minaret and mosque at the southeast edge of town. The 37-meter-high minaret, built in 1777, has beautiful designs created by its brickwork; I counted 13 different patters. Thick walls of the mosque made the interior delightfully cool. I also visited a nearby reconstructed house of a local leader; the interior looked very Arabic with brightly colored carpets and low furniture.
Today I'm resting from yesterday's exertions. Tomorrow I'll probably head northwest to Urumqi, a two-day ride, to see about getting a Kyrgyzstan visa and a new camera. From there, the long ride to Kashgar will take about two weeks plus resting and sightseeing time. From Kashgar, it's only two or three days to the next big adventure--Kyrgyzstan!
With very warm greetings
On the Urumqi-Dafancheng-Turpan segments of your cycle tour in Xinjiang in September, I can offer this advice--
1. The newly redone Xinjiang Autonomous Region Museum has very extensive and excellent exhibits on the ancient Silk Road cities and tombs, including the "Loulan Beauty" and other mummies. There's also a large section on the different ethnic groups of the province. The museum is a place that one could spend hours. I recommend that you allow time for it in the tour or encourage people to stay an extra day after the tour to see the museum. I understand that it's open daily 9:30 a.m.-7 p.m.; cost is 25 Y.
2. Relatively few people cycle in Urumqi, so there's not much in the way of bike paths. One needs to be extra careful to watch for vehicles pulling out in front or turning into one's path. Otherwise cycling is fairly straightforward. I suggest avoiding the busy streets in the very center of the city. Freeways are closed to cyclists. Warn riders that Urumqi has a rough edge and to use a money belt--don't keep credit cards or large sums of cash in one's pockets! I was pickpocketed today in front of my hotel and lost about $20--my lunch and taxi money.
3. Heading out of Urumqi, the old highway goes thru the usual mess of truck repair shops and industrial areas, but the paralleling freeway carries most of the traffic. There are some short sections of dust and gravel about 25km south of the city; otherwise the old highway is paved and a bit uneven.
4. Dafangcheng is just a small town. I recommend the hotel next to the bus station; it has standard doubles w/private hot shower but no air conditioning for 80Y (I paid 70Y after bargaining). Triples without bath are available too. There are a couple restaurants downstairs; I had a good noodle dish; shops sell lots of snack foods. You can't get breakfast here, however, so I suggest stocking up on food the previous day. The hotel is at the far edge (south) of town on your left and just north of the bus station; entrance is at the back. Dafangcheng also has truck stop accommodation, but I'm sure that the riders will appreciate the hotel and its showers.
5. From Dafangcheng the road leaves the green fields around town and enters a dark river gorge, following the clear waters downstream. The old highway mostly stays on the other side of the river from the freeway. The gorge opens up onto gravel plains, then the roads merge at a tollgate. From here on to Turpan there's only the freeway and it is signed as being closed to cyclists. The police never bothered me, though. Few people are crazy enough to cycle this road. Most of the freeway is four-lane divided, but only some has paved shoulders.
6. Food and water are available every 20-40km, so riders will need to carry plenty of water in between. Most likely they will have great tailwinds from Urumqi through the gorge. Out on the gravel plains to Turpan it's anyone's guess--I had tailwinds there. Your daily distances for the two days match mine.
7. Turpan has a good museum too, with natural history as well as Silk Route artifacts. I found cycling a good way to see the nearby sights. Jiaohe was my favorite.
Urumqi and a spell in the Western Siberian Taiga with Bill and Bessie Too
03 Aug 2006
Urumqi, Xinjiang Uighur Autonomous Region, China
Fueled by an omelette and a chocolate-banana pancake, I rode west out of Turpan and onto desert gravel plains. Snowy summits of the Tian Shan range rose to the north, although temperatures down here remained very hot. A tailwind added some speed--it looked like this would be an easy day. I ignored "no bicycle" signs above the freeway because I had no alternative route to Urumqi. Passing police cars ignored me as well.
Cycling got a lot tougher when the road turned north and I hit a southbound wind roaring out of a dark, barren gorge. Still, I had a far easier time than cyclist Edward Genochio did on this stretch. He faced such stiff headwinds that he could barely ride, then spent a night under a culvert. Ed, by the way, has been riding hard across Kazakhstan and Russia recently, and has now reached the Ukraine. His ride from Dunhuang (May 9) to Urumqi (May 20) took the same route as mine for the most part, and you can see his photos of places and oddities along the way on his website. Yes, there really are kangaroos beside the highway; just don't ask me why! You can see the photos and follow his progress--more or less--at http://www.2wheels.org.uk/blog/index.asp
After a long gentle climb up the gorge, I entered a verdant valley full of crops, cattle, and sheep. The bus station hotel in Dabancheng provided a welcome stop for the night--and a lot more comfort than Ed enjoyed in his culvert. Noodles are big here in Xinjiang, and I had a big plate topped with vegetables--tasting just like spaghetti.
The headwind was waiting for me the next morning. I later passed hundreds of electricity-generating windmills in this region famed for its windy weather. I kept pushing onward across the broad valley and through some hills to the provincial capital, Urumqi. The name of this city--now with about three million inhabitants--comes from the Mongolian word "Wulumuqi" for beautiful pasture land. Nowadays you would have to travel far out of the city to find a place to graze your horse. Shiny high-rise temples to China's economic might now rise from the center. Only the outlying Uighur areas remind one that the city is in Xinjiang. It's not the greatest place for walking because the Chinese don't quite have the concept of car parks, with the result that cars are constantly cruising down the sidewalks looking for a place to park downtown! Cyclists have to be very careful with heavy traffic in the center and lack of cycle lanes. I take taxis, which are incredibly cheap--just $0.75 buys a short ride and twice that amount will take me on a long trip.
I was here for just one reason--to get a visa for Kyrgyzstan, my next country after China. Finding the Kyrgyz consulate turned out to be surprisingly difficult. The travel agents and staff at a luxury hotel had no clue about its existence, or even the existence of the country! What saved me was a recent posting on Lonely Planet's Thorn Tree forum (http://thorntree.lonelyplanet.com) that gave the address. A quick taxi ride, one photo, one application, one letter asking for a visa, and US$56 later, I was done. Except for the wait, however, because the visa processing would take one week. That's a long time to be in Urumqi.
The city did have one marvelous sight--the newly expanded Xinjiang Autonomous Region Museum--and I spent several happy hours looking at Silk Route artifacts and ethnic exhibits. The most famous of all was the "Loulan Beauty," a woman of Indo-European origin. Actually, beauty is relative here, but she did look in very good condition for someone who has been around 4,000 years. Many other mummies from different periods were in the museum too; one man wore an elaborate blue robe and a woman sported a fur-trimmed outfit.
Xinjiang Province borders eight countries--nine if one counts Tibet--and many peoples from these countries have settled here. Neighboring countries are Mongolia (to NW), Russia (to N), Kazakhstan (to W), Kyrgyzstan (to W), Tajikistan (to SW), Afghanistan (to SW), Pakistan (to S), and India (to S). Of the eight, only three currently have international border crossings with the province--Kazakhstan, Kyrgyzstan, and Pakistan; and only the first two have consulates in western China, which limited my choices. I chose to go to Kyrgyzstan because of many favorable reports from other cyclists. The mountainous nation has little in the way of natural resources except for beautiful scenery, so it's more tourist-friendly than the other 'Stans.
In the evening of my first full day in Urumqi, I went shopping for a camera to replace mine that had died in Hami. Only a few shops still had film cameras, and it turned out that the first shop I visited had the best deals. Finally, late at night, I finished off the day with a pizza at a Pizza Hut; the restaurant chain here in China is very upscale with Western prices and such treats on the appetizer menu as escargot.
The next morning I discovered the dark side of Urumqi when a pickpocket cleaned out my pocket, getting away with nearly $20. I pursued him and some locals and security men pitched in too, but we only managed to get back about $1 that the thief had thrown down as a decoy. (I don't carry a wallet when I travel, and I keep credit cards and big bills in a hidden money belt.)
Among the countless banks and cell-phone malls of central Urumqi, I found one photo lab that sold and processed slide film. They did a fine job with my film, which I'm mailing back to the USA and eventual scanning onto this website.
Among serious cyclists who frequent Asia, the name of Pete Jones "Tracksterman" stands out. Check out photos of his recent rides to see what you think, http://petejones.fotopic.net/c999640.html Pete likes Urumqi, and between his bicycle adventures he works at a job teaching English. We got together for a hot pot dinner at the Wuyi Night Market, where hundreds of food stalls appear in the evening.
Part of pushing the limits in cycling China's mountains is getting arrested occasionally, which Pete had managed on a back road to Yining, west of Urumqi. Pete strongly encouraged me to try the remote mountain road to Kuqa via Bayanbulak (a military closed area that needs a permit), but I plan on taking a safer route farther east where I shouldn't have to worry about getting collared by the police. My route will also climb up to the Shengli Daban Pass--the first part of Pete's link above--but I will continue south on Hwy. 216 to Korla and the desert road (Hwy. 314) to Kashgar.
Among the options of what to do while the visa-processing gears slowly ground at the Kyrgyz consulate, was a tour to Kanas Lake in the extreme north of Xinjiang Province, very close to the borders of Mongolia, Russia, and Kazakhstan. I signed up for the four-day bus tour, knowing full well that I would be getting not only a couple days at Kanas Lake, but the Chinese tour experience. The tour cost $90 and included basic accommodation, transport, park entry, and, of course, a Chinese-speaking guide. The tour went well, and the good-natured Chinese passengers didn't smoke on the semi-air-conditioned bus, which had been my main worry. The Gurbantunggut Desert lay between Urumqi and Kanas, and the first day was spent simply driving around its eastern edge to the town of Burqin. The Ertix River near Burqin is China's only one to flow into the Arctic Ocean; it passes west into Kazakhstan before turning north through Russia. Early the next morning we continued north up onto higher and greener valleys, dotted with yurts of Kazakh sheepherders, then entered the park. Kanas Lake formed after the last ice age when glacial moraine dammed a river, leaving a finger lake nestled in the Altay Mountains. Both the lake and the river below had a beautiful turquoise color. We first saw the river, roaring down the steep valley, slowing here and there in tranquil pools, one of which had a sleeping dragon--actually a marshy island that resembled a dragon. We got off the shuttle bus near Kanas Lake, and I was happy to be given the afternoon free to do as I pleased. I followed a 4.5km boardwalk trail through very pretty forest along the marshy lakeshore. The trail led to prehistoric petroglyphs (antelopes and other animals) and a viewpoint above the lake. Trees along the way included birches, Siberian larch, pines, and other species of the Western Siberian Taiga--this was its southernmost extremity. Weather was cool and cloudy; I hardly ever saw the sun. The next morning we returned to the park, driving through cold drizzle and fog to a viewpoint high above the lake. The day looked hopeless at first, but then the clouds cleared and revealed the lake far below and gentle, snow-dappled mountain ridges all around. Wildflowers bloomed in many colors across the meadows. On the ride back to Urumqi, our bus took a different route, skirting the western edge of the desert and passing oil fields near Karamay.
Now I'm just about ready to depart Urumqi for the last leg of my long China journey. The Kyrgyz visa is in my passport and my bicycle tires are pumped. I plan to see Pete again tonight to hear more about his travels. I may swing by the provincial museum for a second visit as well. I have a new camera, a Nikon point-and-shoot with a 28-100mm zoom lens and enough film to last until Kashgar.
From China's wild west, Bill Weir and "Bessie Too the Bicycle"
Snow, wildflowers, and the Shengli Daban pass with Bill and Bessie Too
09 Aug 2006
Korla, Xinjiang Uighur Autonomous Region, China
I hung around Urumqi for an extra day to do some fun things. First, a big buffet breakfast at the Xinjiang Grand Hotel, where I filled up on everything from sushi to muesli--things that I rarely taste in China. I paid about $8, but hotel restaurant lost money on me. I worked off some of the calories by wandering over to the Confucius Temple, a quiet spot with a group of halls encircling two courtyards. Some of the buildings contained art exhibits, including a series of paintings with English captions depicting the life of Confucius and his lofty ideals. I also swung by the provincial museum for a leisurely second visit to marvel at the several-thousand-year-old textiles, statues, paintings, and mummies. Some of the artwork looked as though it came from ancient Greece, perhaps filtered through the Gandaran civilization of present-day Pakistan. Photos showed the archaeological sites, some now in such barren desert wastelands that one cannot imagine living there today.
For geographers, the coordinates 43 degrees 40 minutes 37 seconds north latitude and 87 degrees 19 minutes 52 seconds east longitude will have significance--it's the center of Asia as calculated by Chinese scientists. Since Urumqi is the world's most landlocked city, it's logical that the center of Asia could not be far away. A stone-clad tower marks the spot just 30km southwest of Urumqi, and I made a short diversion just to be there.
When I first mentioned my planned route on Highway 216 south from Urumqi to a travel agent, I was told that I couldn't go that way because of Number One Glacier. I thought that the agent simply meant a big glacier, but no, that's the actual name of it. Us cyclists often like to go places that people say is impossible to ride, and so it was the case with me.
Day one was all uphill, first across gently sloping oasis fields and barren desert, then into a canyon which abruptly transformed from one of sun-baked cliffs to a green alpine world of meadows and conifers. I stopped for dinner in the industrial area of Houxia, and continued several more kilometers up the valley to camp beside the roaring Wulumuqi River. The beautiful mountain scenery continued the next morning under blue skies and snow-topped peaks as I slowly wound higher. Trees had disappeared from the landscapes by the time I reached a group of Kazakh yurts. Here I turned 3km up a gravel track to Number One Tianshan Glacier, said to be 2,200 meters long and to descend from 4,474 meters atop a ridge down to 3,730 meters at its tongue. Short trails led to an overlook and down to the icy tongue itself. Nearby, a large snowfield gracefully curved down the mountainside. I camped beside the yurts and had the daily (and only) special--mutton stew. The Kazakhs move up here for the summer to graze their herds of sheep, cattle, and horses, while serving food to passing tourists.
Despite the high elevation at the yurts (about 3,500 meters), I slept well and was ready for another ride under bright blue skies the next morning. The pavement ran out as the "highway" crept up the barren ridge in seemingly endless switchbacks. Here and there among the rock I noticed clumps of flowers, moss, or grass. Several snowfields surrounded me, and I got a higher perspective of the Number One Tianshan Glacier. It took about two hours to ride the 9.6km from camp to the Shengli Daban pass at 4280 meters, only to be greeted by an icy headwind. Wrapped up in my down jacket, I slowly bounced down the rough gravel road to flower-filled meadows and sparkling streams. Gradually, the alpine scenery transformed into one of the high desert. No trees grew on the mountain slopes this side of the pass, though trees of the desert lined the river. Late in the day I rolled into the little town of Balguntay, where I met two Chinese cyclists. They had ridden the tough mountain road from Yining to the west, and were now set to head over the pass that I had just climbed. They planned to camp despite gathering storm clouds overhead, while I headed for a guesthouse and a hot shower. Few Westerners come this way, and before I could check in, I had to visit the police station for permission to stay overnight, which was speedily granted.
I rarely carry a spare tire, but I was sure glad to have one because the previous day's rough gravel had done in my rear tire, which had developed several lumps where the cord had begun to disintegrate. Underway with the new tire, I was delighted to find smooth pavement, a tailwind, and a long gentle downhill. Riding at 30-50 km/hour, I sped down the river gorge, then out into the open desert. At the end of the descent, I crossed several Uighur oasis towns surrounded by fields and poplar-lined roads. For lunch, I enjoyed fresh bread, baked by a Uighur who slapped pieces of dough on the wall of a clay-pot oven, a technique I had seen in India; even the name of the bread was the same--"nan."
The first 55km of the day had been nearly effortless, making it possible to cover a total of 139km and reach Korla, a city of about 200,000 on the northern Silk Route. There's so much greenery and water in the city, that it's easy to forget one is at the northern edge of the Tarim Basin and Taklamakan Desert. From here I'll be following the Silk Route westward, passing many oasis settlements watered by streams from the Tianshan range to the north. In another ten days I hope to reach the most famous oasis city of all--Kashgar.
With warmth from the edge of the Taklamakan, Bill Weir and "Bessie Too the Bicycle"
West on the road to Kashgar with Bill and Bessie Too
15 Aug 2006
Aksu, Xinjiang Uighur Autonomous Region, China
Dear Friends and Family,
I've been enjoying the fruits of Xinjiang. Perhaps the two sweetest melons I ever tasted were passed to me by a motorist out in a desolate section of desert northwest of Hami. Some people count as many as 15 different types of melons in the region, but they come in standard watermelon, cantaloupe, or green or yellow varieties. They're all tasty, especially on a hot summer day! Grapes grow in greens, reds, and combinations of the two colors. Turpan, the most famous town for grapes, is full of lattice-walled brick buildings; the holes allow desert breezes in to dry the fruit. The Chinese love raisins, though some varieties contain seeds. I've not had good luck with grapes; they tend to be very sour. Peaches come in both regular and "squashed" shapes; I've found the squashed ones the sweetest!
From Korla, I joined Highway 314 on the long westward trek across the desert toward Kashgar. A hot sun ruled on the first day, and I had to contend with some light headwinds. The wrinkled tan and gray foothills of the Tian Shan lay to the north, and China's biggest and meanest desert, the Taklimakan to the south. I met a slightly crazed Chinese cyclist headed the other way; he had ridden the tough high roads from Lhasa and seemed to be in a hurry to get someplace else.
This was the hottest day since Turpan, and I took refuge under a leaf shelter at a melon stand, stuffing myself with watermelon slices and a green melon. A Uighur man skillfully broke open the watermelon using nothing but a rock. This was one of those days when I didn't know if there would be any accommodation available at nightfall, but I was in luck--not only was there a basic inn with a room for $1.25, but the inn had a shower to wash the dust and sweat off.
On my entire ride across Xinjiang Province, the Tian Shan range has been a constant companion. Its slopes provide water that makes life possible in the desert--fields of corn, melons, fruit trees, and grapes appear amongst the wastelands; rows of towering poplars line the highway. I even passed through a vast grassland where the groundwater collected close to the surface. Although I cannot see the summits of the Tian Shan due to the haze, my map shows peaks above 7,000 meters and huge glaciers just 100km to the north, where the borders of Kyrgyzstan, Kazakhstan, and China meet. I hope to visit the mountains and glaciers when I get to eastern Kyrgyzstan.
It was an easy day to Luntai, where I wasted the afternoon surfing the Internet and stuffing myself with Chinese food. Luntai is also where the Trans-Taklimakan Highway heads south across the heart of the desert and Tarim Basin. Why build a highway across such an arid, inhospitable area? Oil and gas. China has been seeking out these deposits needed to fuel the booming economy. Currently, petrol costs about US$0.60 per liter or $2 per gallon, fairly cheap by world standards, but a hardship for poor people who rely on their mototcycles.
Believe it or not, cyclists have been crazy enough to ride the Trans-Takalmakan! See http://www.bikechina.com/ct-corax6-6.php for photos by Janne Corax, one of those hard-core cyclists who is always pushing the limits.
Kuqa had a glorious Silk Route history as one of the main centers for the transmission of Buddhism to China. Its Indo-European inhabitants received much of their cultural inspiration from Persia and the Graeco-Indian Ghandara civilizations. Early travelers reported splendid Kuqan palaces, as many as 100 temples, and a pair of 30-meter Buddha statues at the west gateway. Today it's just a scruffy, dusty Chinese/Uighur city. I did come across the Kuche Folk Collection Museum on the west side of town, and stopped to see the exhibits of ancient textiles, Uighur brassware, and white Hotanese jade (one piece weighing in at more than 40kg!).
My route out of Kuqa passed by a long series of oasis villages, then out into the open desert. Tailwinds helped me cover 150km to a remote group of roadside businesses, where I had dinner and got a room and a bucket shower.
Today I'm in the city of Aksu, taking a break from long days of desert riding. Nightmarkets, bakeries, restaurants, and a supermarket, just around the corner from my hotel, provide tasty comforts while I rest up for the last leg of the ride to Kashgar.
Tomorrow I plan to set out again across the desert to China's most westerly city--Kashgar--on a ride that will take four or five days. Besides having a long history as a trading center and cultural crossroads, its also a place where cyclists converge on adventurous rides to/from Tibet, Pakistan, Kyrgyzstan, and China. I hope to meet a few, as well as take in the traditional Uyghur life.
From the sands of the Taklimakan, Bill Weir and "Bessie Too the Bicycle"
From the Dusty Silk Routes,
Bill Weir and Bessie Too
22 August 2006
Kashgar, Xinjiang Uighur Autonomous Region, China
After a breakfast of dumplings, green melon, and red grapes in Aksu, I headed out into the desert. As on most days on my ride from Korla to Kashgar, arid foothills of the Tian Shan rose to the north and distant oases lay to the south. The wind couldn't make up its mind which way to blow today, except that it had no intention of becoming a tailwind! A dust storm and dark clouds threatened in the afternoon, but they faded away. I felt sympathy for Xinjiang meteorologists who try to track this crazy weather.

I pulled into the village of Aqal after the 120km from Aksu and quickly found a little inn with a shower, but the owner pointed to a photo of a policeman on the wall. This wasn't going to be easy. At the police station, a Uighur officer insisted that I stay at the station, but I refused as the place was smelly and noisy. He then led me to a police compound where a Chinese officer offered use of a guestroom next to his room, and I happily accepted. Noodles and bread for dinner. It's said that Marco Polo brought noodles from Asia home to Italy, where they became known as "spaghetti."

The 99km ride to Sanchakou turned out to be all headwind and all desert. That night a massive thunderstorm came crashing over the mountains with strong gusts, rain, and lightning--I was sure glad not to be camping!

The next morning the air was fresh from the rain, and, more importantly, had changed direction 180 degrees. All tailwinds, all day! I hit the road and sped west on the longest cycling day of my life--210km (130 miles). I stopped at a melon stand--far from the nearest settlement--and picked out a small dark green melon, sweet and orange inside and the perfect snack in the desert. Later I met a Chinese cyclist doing perhaps the ultimate China ride. >From his home in northeastern China, he had ridden south along the east coast, turned westward across Yunnan and Tibet to Kashgar, and was now headed to Kanas Lake in the northwest corner of Xinjiang before the last and eastward leg back home. A little settlement that I passed in the early afternoon turned out to be the last place with accommodations for another 100km, so I kept pedalling and the wind kept blowing as I rode on into the night and arrived at the small city of Artux, the capital of a Kyrgyz Autonomous Prefecture. My hotel featured a cold shower and a peeling ceiling, but I was happy to have ridden so far.

With only a bit more than 40km to ride the next day to Kashgar, I was soon into the dusty, chaotic city. Traffic seemed to followed no rules, and was the worst of any place that I had visited in China. I first stopped at the recommended Chini Bagh Hotel, built on the site of the former British consulate, but it was full. Today was Saturday and tourists from far and near had congregated in anticipation of Kashgar's famous Sunday Market. I next tried the Seman Hotel, built on the site of the former Russian consulate, but its rooms were overpriced. Cheaper rooms without bath were an option, but I had read the horror story of a cyclist who lost his passports and money to a thief while in a communal shower; you can read John McHale's tale "Uighurs and Other Friends: A Xinjiang Travel Experience" at http://www.bikechina.com/ct-johnmchale1.php

I wound up across the street at the Seman Road Hotel, full of Central Asian traders; here a room with private shower cost half the price that the Seman asked. The next morning I headed straight for the Sunday Livestock Market. Farmers were still pulling in, arriving by donkey cart or small trucks with cargos of bellowing cattle and bleating sheep. Men gathered in small groups, greeting each other, inspecting the animals, and haggling. Informal sheep markets sprang up on the road in, but the main action took place in a fenced field with designated spaces for each type of livestock. Buyers had a wide choice of sheep, cattle, and donkeys plus a small selection of horses. Bakery and food stalls lined one side, and diners seemed oblivious to the dust settling on their meals. Near the entrance, men took a seat in an outdoor barbershop to get their beards trimmed or heads shaved. Huge piles of melons awaited buyers, as did heaps of bright colored tomatoes, chili peppers, and eggplants. If your donkey or horse needed new shoes, blacksmiths stood ready. You could also pick up a shiny new donkey cart, handmade from wood, to take everything home.

Cyclist F.A. Hutchison "Hutch" is currently in town. He left a stressful life as a Hollywood scriptwriter long ago, and now lives on his bicycle. He plans to stay in China working on a business venture and doing some long cycle rides until at least the Beijing Olympics in 2008. You can read his blog and stories of past adventures at http://www.cyclingpeace.org/

Kashgar--Crossroads of Asia
The Silk Routes, which split into northern and southern sections at Dunhuang, rejoined here at Kashgar, along with branches south across the Karakoram to India and west to Iran, Central Asia, and beyond. The Chinese came first in 126 B.C. during the Han Dynasty and took control in A.D. 73, but their power came and went over the following centuries. Marco Polo is said to have passed through via the southern Silk Route in about 1273, and later travelers used his book as a guide into the early 20th century. Travel never was easy in the old days. Even in the 1930s, Kashgar was at least three months from Beijing, six weeks from the nearest Indian railhead, and two weeks from Moscow. With motor transport, travelers then could reach the provincial capital Urumqi in just eight arduous days instead of weeks on horseback. Now one can travel to Urumqi by train or sleeper bus in about 24 hours or fly in just 1.5 hours. Then there's the cycling option--the ride from Urumqi to Kashgar took me 15 days including rest days.

The Great Game
During the 19th century, as the British and Russian empires expanded across Asia toward each other, spies and counter-spies of each side began swarming across the region. Much of the Great Game, which the Russians called the "Tournament of Shadows," played out in Kashgar. The Russians established a consulate in 1882, followed by the British with a trade mission (later a consulate) two years later. Both nations strove to influence the policies of the Chinese official in charge, while constantly trying to outfox each other. The intrigues continued until the two powers agreed in 1895 and 1907 on boundaries, giving Russia most of the Pamirs and establishing Afghanistan's Wakhan Corridor as a buffer zone. The consulates lasted until the Chinese communists took over in 1949.

On to Kyrgyzstan
I'll be in Kashgar for a couple more days before hitting the road to Kyrgyzstan. There's an Old Town to explore and a bicycle to get ready for the kilometers ahead. I'm told that the Irkeshtam border crossing is closed on weekends, so I'm timing my arrival for Sunday, so that I'll be ready to depart China on Monday Aug. 28th--the last and 180th day of my Chinese visa. The mostly uphill road to the border should take me three days. Once in Kyrgyzstan, there will be even more uphill and some not-so-good roads. I've been reading about the country the past few days, and realize that there's a lot of great places to cycle--easily a couple months worth. September is said to be the best month to visit, with October good too despite some frosty nights.

Westward Ho,
Bill Weir and "Bessie Too the Bicycle"

24 August 2006
Kashgar, Xinjiang Uighur Autonomous Region, China

Kashgar seemed just another Chinese city--abeit dustier and more chaotic than most--but I read that a beleaguered Old Town lay within. So yesterday, under a bright blue sky, I set out to find it. I started at the Id Kah Mosque, built by a local ruler in 1442 and now full of shaded courtyards and gardens as well as a huge gateway and a many-columned hall. From here I wandered east across a square and into the thick of the bustling little markets of Old Town. Piles of green grapes, figs, melons, and other fruits of the oases blocked the sidewalk. Turning down a side street, I saw nothing but hats. Muslim men in China usually wear a cap, but the Uighur have the most colorfully embroidered versions; some even with sequins! The Uighur have no concept of vegetarianism--a meal is not a meal without meat and some bread or noodles. Headless sheep and goat carcasses hung from tiny stalls, with the butcher ready to hack off whatever part the customer desired. Deeper into Old Town I entered the residential areas of narrow lanes curving this way and that, with tunnel-like passages leading to walled compounds. This was the Kashgar that I had imagined to exist, and seemed centuries away from the broad streets and shiny high-rises that the Chinese had built nearby. Little kids were friendly, and I got some good photos of them.

In the afternoon I headed to the northeast part of Kashgar to visit Abakh Hoja Tomb (1640), also known as Fragrant Concubine Tomb because a Uighur lady had once won the heart of the Chinese emperor. It's not known if the lady is actually buried here, but the large, domed structure contains many graves, each reverently covered with cloth and set on a raised base. The tomb is painted white inside with hardly any decoration, but green, brown, and blue-and-white tiles cover the splendidly decrepit exterior (quite a few tiles have fallen off over the years). Two small mosques nearby have some finely carved wooden columns and decorative ceiling panels.

Today, with the clock ticking down the last days on my Chinese visa, I got to work fixing up "Bessie Too the Bicycle" and her adornments. She's now cleaned, has a shiny new chain, freshly greased hubs, and scrubbed panniers. Next I headed for the post office to mail home some now unneeded things, but alas, the customs official prohibited my sending a Chinese road atlas--I never suspected that it contains State Secrets, but apparently it does! A stop at a camera store for slide film drained my money supplies; the stuff is expensive here ($8 per roll of Provia F), but at least it's available. I don't know if I'll find slide film in Kyrgyzstan or not, but I do know that the mountainous country is very photogenic. After a stop at the Bank of China to replenish my funds and get some cash US dollars, I still had time to head out to the Kashgar Museum. It's small, but worth the $0.75 admission fee to see the ancient textiles and other relics from the Xinjiang province's long history. Inside lay silk that once traveled the Silk Routes as well as cotton and wool garments, some pieces still very colorful and beautiful. I finished off the day with a noodles dish topped with vegetables at Orda Restaurant. Hutch had introduced me to the place and claimed that it's probably the best Uighur restaurant in Xinjiang. Paintings, tiles, dark woodwork, and arches done in an Islamic style decorate the interior. A trio of Uighur musicians struck up a few tunes on lute-like instruments, two played like a guitar and one with a bow.

Tomorrow I'll have my last banana pancake for who knows how long, and pedal yet farther west toward the Irkeshtam Pass and the Pamirs of southern Kyrgyzstan.


All the best from Central Asia,
Bill Weir and Bessie Too
3 September 2006
Osh, Kyrgyzstan
I'm in a different world now, having crossed the geo-political boundary between China and the ex-Soviet Union. People now speak to me in Russian, and road signs are in Cyrillic. Some things are the same, as the Uighur of Xinjiang share a similar Turkic language and culture with the Kyrgyz and Uzbeks here in Kyrgyzstan. I still get tasty nan (flat bread) and the same flavorful chai.

The sun shone brightly as I slowly retraced my route from Kashgar northward 20km across barren desert, before turning west through a long series of Uighur oasis villages. Poplar trees lined the road and helped fend off the stiff headwind, then I was back in the desert, continuing up along a fast-running braided river, then over a broad pass. Mountains here had eroded into dramatic vertical slabs.

On the way down from the pass I dropped by the camp of six Swiss cyclists. They had organized a one-month double-delight mountain tour, starting in Dushanbe and riding Tajikistan's famous Pamir Highway; now they were headed for Kashgar and the Karakoram Highway--another great mountain ride--then ending at Gilgit in Pakistan. Because the group had arranged vehicle support in China, they would be able to cycle all the way; normally cyclists cannot ride the Tashkorgan-Khunjerab Pass section because it's a restricted area.

I ended the day at the pleasant small town of Wuqia, which had a hotel and lots of Uighur restaurants. A policeman came by in the evening to photocopy my passport and make sure that I had filled out the hotel form perfectly, before wishing me a pleasant stay in China.

The icy Pamirs to the south made their first appearance the next morning. This would be another tough 98km day with lots of climbing and a stiff headwind. The road climbed into one desert valley after another with lots of great geology to see but no greenery or habitation. The kilometers crept by so slowly that I began to wonder if I would make it to my destination today. Eventually the road dropped to the muddy orange braided Kizil He river and I started to see small groups of Bactrian camels and a few Uighur villages. I camped near Ulugqat, a scruffy village and checkpost. Amazingly, this was only the fourth time I had pitched my tent on the long ride across China.

Up the valley, then back into desert hills the next day, I had it much easier because the headwind had disappeared and I had only 48km to ride. Simhana--the Chinese border town at the Irkeshtam border--is an unloved place with muddy streets and trash all around. I found a basic guesthouse room, spaghetti dinner, and a great hot shower. Heavy rain fell that evening, making me very glad that I wasn't camping.

Friday the 28th of August was the 180th and last day of my visa. If I didn't cross today, I would be in trouble. I passed through the gates of the large white-tiled border post in Simhana and held my breath. The immigration officer took a long time examining my passport and Chinese visa, then went to a back room where I imagined the officers counting up the days on their fingers. Finally immigration cleared me and customs waved me through. I wasn't quite out of China because 7km of "no man's land" lay ahead before the Kyrgyz border control post. While cycling I met three other cyclists, a Swiss-Italian fellow and a couple from Amsterdam; all had ridden from Europe and hoped to continue into western Tibet.

My guidebook--Lonely Planet's Central Asia--had called this border crossing "Irkeshtam Pass," but in fact there was no pass at all! I was still following the river valley of the Kizil He that I had joined two days ago. Even though there wasn't a pass at the border, the landscape did change dramatically here from barren desert hills to one of gentle grassy hills; no trees at all on either side. Formalities at the Kyrgyz immigration went smoothly and customs merely asked what I had in the pannier bags. While this was going on I noticed a traveler with a boxed bicycle; I wanted to ask him why he was dragging it around instead of riding it through this scenic region, but I didn't get a chance to talk with him. The Kyrgyz border town had the ambience of a trash dump, and I felt lucky not to get a flat tire from all the metal debris on the ground. I hurried out as fast as I could, forgetting to ask around if there was a place for currency exchange.

I was following a branch of the Silk Routes. During the Great Game in the late 1800s and early 1900s, diplomats and archaeologists often chose the Irkeshtam passage as the easiest way to reach Kashgar. The Chinese later closed it and the route only reopened to international travelers in 2002. Of course, "easy" is relative in this remote region. Lady Macartney, wife of the English consul in Kashgar wrote in her 1931 book, An English Lady in Chinese Turkistan--
"Then we saw ahead of us and a little lower down, in a gloomy valley, a caravan of horses and men, the horses still standing but frozen to death, overcome probably by a blizzard. And there were the vultures at their ghastly work, picking the skeletons clean."

Finally free of bureaucracy, I could enjoy the blue skies and brilliant white peaks of the Pamir, now closer than ever. The highway passed Nura village--the last one that I would see today, then crossed the Kizil He and climbed among grassy hills. The smooth pavement that I had been following since Kashgar disappeared about 15km from the border. A soldier at a checkpost asked to see my passport, then I began a long bumpy climb up a high ridge, topping out at 3,536 meters (11,600 feet). The ridge appeared to be an ancient glacial moraine, and I could see many other moraines to the south beneath the towering Pamirs. Rugged mountains to the north attracted dark rain clouds, but I got nothing more than a bit of mist. A Belgian couple headed for China cycled by as I began the gradual descent to grassy plains. I began to see Kyrgyz yurts and herds of sheep along with many horses. Signs near some of the yurts advertised "kumys," fermented mare's milk with bits of black stuff floating in it. Cyclists had told me that it's "an acquired taste" or that it's simply "awful." I camped behind a grassy hill. It rained a bit during the night, then skies cleared and temperatures dropped below freezing; I was glad to be deep in my down sleeping bag. Although I covered only 62km today, it had been a tough ride because of the rough gravel road and the long climb.

By morning the frost on my tent had melted and clouds filled the sky. A Kyrgyz man rode by on horseback and questioned why I was wearing shorts. I wondered too, and put on cycling tights and all the other cold-weather gear I had. I met two more cyclists coming from Europe and headed for China, a Swiss then an Austrian. I was seeing more cyclists in the past week than in the previous six months! The Austrian had the most high-tech bicycle and gear that I've ever seen; he even had a pair of digital cameras mounted and synced for taking stereo photos and movies.

Dark clouds built up and bits of rain and hail started to fall when the village of Sary Tash came into view. The mere 19km I had just ridden turned out to be rough and punishing. I pulled into a gostinitsa (guesthouse), glad to be out of the cold weather. My room even a very welcome electric heater. Besides offering accommodations, the little gostinitsa housed a family, a cafe, a bar, a shop, a currency exchange, and a petrol station (sold out of plastic bottles). Life was simple in Sary Tash, but people seemed happy. They had electricity and televisions, but no running water or public bath house. Surrounding grasslands had already turned brown due to frosts; the calendar may have said "August," but winter was just around the corner.

Clouds had vanished the next morning, though it was still bitterly cold. The icy Pamir caught my eye, and I decided to ride farther west along the Alay Valley for a better look at the mighty peaks. With the sun and wind at my back, I rode to Sary Mogul village, which lies directly across the valley from Pik Lenin (7,134m; 23,400 feet), officially renamed Koh-i-Garmo, but everyone uses the old name. It's the highest summit in this part of the Pamirs and is one of the most accessible 7,000-meter peaks in the world, not that it's ever easy to climb that high and face the dangers of avalanches and altitude sickness. Farmers were out with their horses harvesting hay near the village--horses and donkeys still have a big role in working the land and getting around. On the way back to Sary Tash I also had the sun and wind at my back; the road was mostly paved, too--a perfect day. That evening a Swiss cyclist, Reto Bachmann, popped into my room. He had been traveling overland from Europe, bought a bicycle in Bishkek--the capital of Kyrgyzstan--and had ridden south to Tajikistan via the Pamir Highway. He had the proper visa and GBAO permit required for the Pamir Highway, but officials at Murgab had turned him back, saying that because he only had a COPY of the permit he could not proceed, even though the original permit was at the other end of the Pamir Highway in Khorog. So he had to retrace his wheeltracks back to Sary Tash. Now he was headed for China and the Karakoram Highway to Pakistan.

On August 31st--Kyrgyzstan Independence Day--I turned my wheels north toward Osh. The highway was mostly paved, to my relief, as I slowly climbed the double Taldyk Pass (3,615m; 11,857 feet), not so difficult as Sary Tash was around 3,300 meters. In the heights I met a Frenchman cycling from France to Beijing, where he would be working; his plan was to take the southern Silk Route, which leads through a very remote part of China.

A long series of switchbacks took me down a bumpy, dusty road into a valley with stubby trees on the hillsides. It was warmer and drier here, and colorful rock layers put on a fine show of geology. A roadside cafe filled me up with goulash, nan, and tea. Men outside sold little purple berries out of buckets, but the sample they gave me was so bitter that they lost a potential customer.

You never know who you'll meet in remote corners of Central Asia. Later that day a van stopped and a man jumped out and asked if I was Bill Weir. It turned out that this was a tour group with a traveler and cyclist that I known for years through the Internet and had often corresponded with--Jim Hendrickson. He was on a (non-cycling) round-the-world trip, partly independently and partly on tours, and here out routes crossed. We had time for photos and a brief chat before the group headed on to Sary Tash, then the next day to Kashgar.

I had no idea where I would be staying, but toward the end of the day I spotted a somewhat secluded spot beside the river where I could pitch my tent and clean myself up.

The next morning I continued down the valley to Gulcha, the largest village in the area, but the only cafe open wasn't interested in fixing any breakfast. Schoolkids had dressed up today, the boys in white shirts and black pants, vests, and coats; the girls in black dresses with white aprons and sporting white lace bows in their hair; they were cute and looked like little waiters and waitresses. Another day, another pass--this time about a 800m climb up the Cigirchik Pass (2,406m; 7,892 feet), passing villages and farms, then kumys stands near the top. A long downhill took me to the outskirts of Osh, though the broad valley of tan-colored grasslands offered no scenic delights.

Although the second largest city in Kyrgyzstan, Osh is just a leafy, spread-out town of about 300,000 people. No street signs, however, and I had a tough time navigating my way through the crowded market area and on to a guesthouse, where a room with hot shower set me back $10.

The ride from Kashgar to Osh had been very scenic and varied, but tough. I rested, ate, and surfed the Internet on my first full day in Osh. Today I headed out for the sights, clustered around a rocky peak called Solomon's Throne. In 1497, the newly crowned king of Fergana, Zahiruddin Babur, built a private mosque atop the eastern promontory and it's now a Muslim shrine. Babur later ruled Afghanistan from Kabul for a couple decades, then marched into Delhi and founded the Mughal (a corruption of 'Mongol') Dynasty. I started with the Silk Road Museum, which illustrated the region's history from prehistoric to independence, along with collections of bugs and other critters. My favorite exhibit was the colorful carpets, woven in many different styles including the Kyrgyz felt carpets--shyrdaks--decorated with with overlays and abstract embroidery designs. The trail up Solomon's Throne passed by a second museum, the Cultural-Historical Museum, housed in an enlarged cave; it was similar to the Silk Road one but not as good. At the top I came to Babur's little shrine, topped by a shiny metal roof. Visitors would stoop down to go inside and sit on a carpet while a Kyrgyz man said a blessing. Hazy views from the nearby viewpoint took in the tree-lined streets and buildings of Osh.

I've spent a lot of time reading up on Kyrgyzstan and the other Central Asian countries, thinking about where to go next. Most likely I will stay in Kyrgyzstan for the next one-two months, cycling around to see the villages, mountains, meadows, and lakes. I may end the ride in the capital Bishkek, where I can fly to Bangkok and on to the USA. No direct flights go to Bangkok, however, so I'll likely go via India and, who knows, maybe do a bit of cycling there!

In closing...one last piece of fruity wisdom from a package of dried bananas purchased in Simhana--
Osaka Banana Bouchee
Friends made in sincerity. Friendship is cherished with understanding. The same lof in life may only once.


From the end of the road,
Bill Weir and Bessie Too
19 September 2006
Bishkek, Kyrgyzstan
It's over. The long bicycle ride from Southeast Asia to Central Asia came to an end yesterday as I battled cold headwinds and rain to reach the capital, Bishkek. Snow completely covers the Kyrgyz Alatau Range to the south, and it seems barely above freezing in the city.

Bright blue skies and tailwinds, however, prevailed on the rest of my journey from Osh. While there, I visited one more museum--a three-story yurt called the Alymbak Datka Museum, filled with beautiful carpets and shyrdaks (felt rugs); I never did find out about the museum's namesake because all the labels were in Russian or Kyrgyz. My other big mission in Osh was to cash travelers checks, not easy in this part of the world. Staff at the AKB Bank kept directing me to the wrong lines until I finally found the one person who knew how to process a travelers check. While hanging out for an hour or so in the bank, I observed customers hauling in bags of Kyrgyz som to exchange for bundles of crisp US $100 bills. I also noticed a LOT of shiny Mercedes cars in Osh--there's money in this town, but little seems to trickle down to the countryside.

Until the Soviets took over the region, most of the Kyrgyz and Kazakh people lived a nomadic life, living in collapsible yurts and tending herds of horses, sheep, goats, and cattle. The present-day flag of Kyrgyzstan reflects the nomadic heritage, and, in case you didn't pass a Kyrgyz flag this morning, there's one at http://ky.wikipedia.org/wiki/Image:Flag_of_Kyrgyzstan.svg The curved lines of a yurt apex in the center are surrounded by rays of the sun representing the 40 Kyrgyz tribes.

The Soviets forcibly moved the Kyrgyz onto collectivized farms and suppressed their Islam faith. Stalin himself is said to have had a hand in drawing up the boundaries between the various ethnic groups of Central Asia in the 1920s. The jigsaw borders and enclaves were part of a divide-and-rule strategy, never intended to be international borders. But that's just what happened when the Soviet Union broke up in 1991. While the Eastern European countries were overjoyed at their newfound freedom, countries such as Kyrgyzstan didn't know what to do with it as they were so isolated from the rest of the world and so economically bound up with the Soviet economy. Russia remains the mother country in many ways--much trade continues and Russian remains the principle international language. Also, many Russians still live here. Kyrgyzstan is slowly finding its own way as an independent country and shaking off the economic malaise left by the Soviet Union break-up.

The Fergana Valley north of Osh has the craziest borders, with the fertile lands split between Krygzystan, Uzbekistan, and Tajikistan. While it's only 55km from Osh to Jalalabad, for example, I had to travel twice that distance to avoid a protrusion of Uzbekistan. So, on my first day out of Osh I had to detour to Ozgon, a small town with watermelons piled high beside the road and in the markets. One of Kyrgyzstan's few remnants of the past lies here, three Muslim tombs from the 12th century and an 11th-century minaret of a capital, all decorated with geometric designs in their brickwork; Ozgon had been a capital of the Karakhanid kingdom at the time. Nearby I saw a monument of a sad soldier labeled "Afghan" with a list of about half a dozen townspeople who had died there. What I didn't see was a monument to a far greater tragedy--a savage battle between Uzbeks and Kyrgyz in the summer of 1990 in which at least 300 people died. My room in a guesthouse across the road from the tombs looked OK at first, but flies and mosquitos attacked that evening. Also, the guesthouse lacked running water or anyplace to take a bath; down the road the next morning, I found that about $15 had been stolen from my pocket money.

I was getting tired of the Fergana Valley. It was fine for the farmers who grew corn, sunflowers, and cotton, but I was missing the cool mountain air and alpine scenery. At Jalalabad I decided to head for the hills. So, after stocking up on groceries, I tried to find the road to Kazarman. It seemed to be a state secret as no signs pointed the way. I kept asking people and they pointed me in the direction to go. Later the road climbed into the mountains--but it was the wrong road! I returned to the valley, took a side road, and was on my way again. At the next junction, I made sure to check, and again the sideroad was the one to take. Into the hills I passed villages with more sunflower fields than I had ever seen in my life. People were using the road to dry the seeds before sending them off to market. Higher up the villages disappeared and scattered yurt camps lined the river. I camped too, under the full moon, in preparation for the tough 17km climb up Kaldama Pass (3062m; 10,043 ft.) the next morning.

The road had long since turned to gravel. A cyclist had e-mailed earlier this year that he found this section so rough that he had taken motorized transport. Another report from cyclists said that the road was "OK." Fortunately the latter report turned out to correct! I spent most of the day climbing up the treeless slopes with views to the west out over the hazy valleys. A waterfall about halfway provided refreshing drinking water. Finally, over the top I could gaze over vast valleys of Kyrgyzstan's interior. Here I met a French cyclist who was enjoying a challenging one-month loop around Kyrgyzstan. He reported seeing only two other cyclists, figuring that most of the long-haul riders from Europe had passed through the country by August in order to reach onward destinations before the snow flew.

I had a pleasant camp beside a braided river before pedalling on to Kazarman the next morning. Supposedly about 18% of Kyrgyzstan's GDP comes from gold mines, one of which was near Kazarman. None of that wealth was evident here, as apartment blocks and houses in the small town seemed to lack running water. I had a laghman (noodle) lunch at an attractive little cafe, then found a woman at the CBT (Community-Based Tourism) office. This was my first experience with the CBT program, which provides homestays and tours in many corners of the country. The CBT woman brought me to her family's house and I was given a bed made out of quilts on the floor, then served a dinner of stew and home-made bread. Out back, I enjoyed a hot bucket shower. Weather had been perfect--cloudless skies, tailwinds, and ideal temperatures.

The small shops in Kazarman didn't have much, but I did get a package of cheese, which I devoured whole along with a can of peas the next night for dinner. I was headed east on a bumpy gravel road. Instead of following the Naryn River upstream, the road turned up a long series of canyons and valleys to a pass, then wound down to a small tributary, where I camped after a tough 65km day. Rough, loose gravel continued to plague me the next day, which started with a 16km climb. I was beat and suffered an energy crash that not even a large bar of chocolate could cure. So I rode a bit, rested, rode a bit more, until finally reaching the pass in the afternoon. Just over the pass, I saw a tractor cart overflowing with a packed yurt, stove, and furniture--all looking like the Beverly Hillbillies truck. The family had decided that it was time to move their camp from this high meadow. The view ahead took in the vast valley of the Naryn River and its tributaries, along with low arid hills and snow-topped mountain ranges. I liked the long downhill and regained my energy. Riding on into the night, I finally camped beside a river just outside Jangy Talap village.

Cyclists had raved about the beauty of the alpine lake, Song-Kol, set at an elevation of 3016m (9892 ft.) and covering 278 square kilometers. But to get there I needed food. Fortunately some men in Jangy Talap pointed out an unmarked house that turned out to be a shop; I loaded up on canned goods and a giant chocolate wafer. The road to Song-Kol headed north up a wide valley, full of hayfields, then turned into a pretty alpine gorge of firs and a sparkling stream. From here the road left the stream and began long traverses up the mountainside to Moldo Ashuu Pass (3660m; 12,005 ft.). Here the road entered rolling grasslands--not a tree in sight--dotted with yurt camps. Riders on horseback were bringing their herds of sheep back to camp, while the cattle and horses seemed to be left on their own. I camped beside a dry creekbed just 3km from the lake. The night was absolutely still--probably the quietest of the whole trip. I liked it.

Frost covered my tent the next morning, but soon faded away beneath the warm sun. I found that I could leave the road and pedal across the grassland to the water's edge. Two men were loading up a donkey with water at the marshy shore as seagulls--about as far from the sea as they could get--flew overhead. Farther out on the dark-blue water I saw a flock of birds honking noisily; perhaps they were the Indian mountain goose. The road followed the east shore of the lake--though mostly far from the water--for about 40km, passing the lake's outlet river about halfway. Dramatic cirrus and cumulus clouds formed overhead. A lone camel looked out of place, but a romping fox seemed perfectly at home. Around at the north side, the road left the lake and went northeast to Kalmak Ashuu Pass (3445m; 11,300 ft.), an easy and gradual climb. On the other side I plummeted down to the Tolok River valley and camped beside an old willow tree on an island in the river.

Strong winds had come up at night, but at least they were tailwinds! I sped down the valley, but then had to climb up a high ridge--Soviet road engineers seemed to have a thing about making the roads difficult for cyclists. Then I met pavement. After a week of bouncing over gravel roads, it felt so good to have an asphalt highway under my battered tires. A long stretch of downhill took me to a wide, green valley and the large village of Kochkor, home to a very active CBT office and a popular base for trekkers and travelers. The CBT arranged a homestay for me, which turned out to be a very pleasant house full of carpets AND an indoor bathroom with hot shower. The family was very friendly and one of the younger girls could speak English. I was in heaven.

I took it easy for two days. Kochkor's main sight, a little museum, seemed straight out of the Soviet era. Inside are stuffed wildlife, such as a giant boar and magnificent goats, a yurt full of carpets and shyrdaks, and a series of rooms devoted to Kyrgyz history. The Great Patriotic War (WW II) exhibits have center stage, and there is photo after photo of men and women heros whose chests are covered with medals. My timing for a rest day was perfect, as rain and thunderstorms lashed the landscape while I stayed indoors and dry. I also got a chance to meet other travelers, most trekking but one couple driving overland from Switzerland to China and back. I tried to get on the Internet at Kochor, but the dial-up connection was agonizingly slow and I only managed to send out one e-mail.

Fully rested and ready to go, I hit the road and pedaled 129km to Tokmok, crossing one pass and enjoying a long downhill through Shoestring Gorge and out into wide, fertile valleys.

Yesterday I had only 60km to ride to Bishkek, but it was a tough one. Clouds blocked out the sun and the wind started to blow against me. Then the rain came and the temperature plummeted. I had to put on my down coat, rain jacket, mitts, and helmet liner to keep from freezing. Traffic was heavy, the road edge rough, and the headwind unrelenting.

Finally I reached the leafy capital, Bishkek, and oriented myself; the city, like the rest of the country, is woefully short on street and road signs. Travelers had bemoaned the poor state of budget hotels in Bishkek, so I tried to find a homestay, but was unsuccessful. In the end I wound up at Hotel Sary Chelek, where my guidebook advised to "check that the door locks, and ignore the cockroaches." I had better luck with food, and swung by Fatboys for a Mexican burrito and a hot chocolate. Next I began making the rounds to travel agents to see about a flight to Delhi or Bangkok. The first two agencies told me that no direct flights went to those cities; I would have to fly via Tashkent and pay fares of more than $500 one way, which seemed awfully steep. Then an agent at Glavtour told me about the "secret" direct charter flight to Delhi and gave me directions to the place where I could buy a ticket. At Aviakassa Achikey, in the midst of a bunch of money-changer stalls, a woman sold me a Bishkek-Delhi ticket on Galaxy Air for the relatively modest price of $310. Departure is Sept. 21st and should be a spectacular flight over some of the world's highest mountains in the Karakoram and Himalayan ranges. Unable to wait that long for Indian cuisine, I finished off the day with a malai kofta at Bishkek's Bombay Restaurant.
---
The End.
Bill Weir and "Bessie Too the Bicycle": Bill Weir 1 | Bill Weir 2 | Bill Weir 3 | Bill Weir 4
---
Skip to Bill Weir and "Bessie Too the Bicycle" : Thailand | Laos | China - Yunnan | China - Sichuan
---
Bike China Adventures, Inc.
Home| Guided Bike Tours| Testimonials| Photos| Bicycle Travelogues | Products| Info| Contact Us
Copyright © Bike China Adventures, Inc., 1998-2015. All rights reserved.