Do you have a China cycling travelogue you would like to share here?
Contact us for details.
---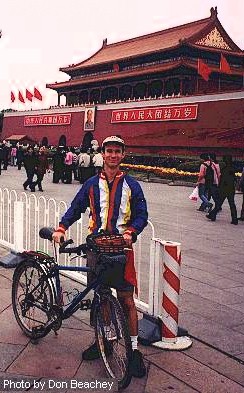 Peter Snow
Cao




Beijing to Chengde Seven-Day Tour Notes
Part 1
Copyright © Peter Snow Cao 2002.
October
I began after my morning Chinese classes and I had two and half hours until my plane was due to take off. I returned home to take care of some last minute items like getting my pants repaired at the street-stall seamstress, making photocopies of maps and loading the bike. By 1 p.m. I was ready to go and set out for the Chengdu Shuangliu Airport, 18 kilometers to the south. The knowledge that the ticket gates close promptly 30 minutes before scheduled takeoff, made me a bit anxious and I rode hard to get there as soon as possible.
About half way, the thought of getting a flat tire on the way popped into my head and set me looking carefully at the road for glass and nails. Interminable road construction created a challenge as the road took a long, dusty detour. I searched for an alternative route when suddenly spotted a cyclist emerging from a foot path under a bridge to the parallel road on the other side. Ah, salvation! This road was equally dusty, but a direct shot to the airport.
Arriving 10 minutes before gate closure, I wheeled in past the standard bevy of bewildered looks I get whenever I travel by air with my bike. The airport personnel looked equally so, even though I know many people take their bikes with them through the Chengdu airport. We had a discussion about putting the bike through the X-ray machine and on the conveyor belt. I told them it wouldn't work. They insisted on trying anyway. It didn't work; the bike got hung up immediately. So I walked it over to the door of the luggage loading trucks and handed it over to the baggage handler.
At the ticket counter I met Kaspar Wyss, from Switzerland, and we happened to sit near each other on the plane so we had time to converse. Kaspar has been in China for two months, with another four to go working with the Ministry of Health and the British Ministry of Health through Health & Life Sciences Partnership in setting up a pilot social services project in several cities, including Chengdu. His family is with him, temporarily in Beijing. He also enjoys cycling and rides his bike everyday to work in Beijing. He asked me to help him buy a bike when he returns to Chengdu.
I arrived in Beijing on Friday afternoon about 4 p.m. with my bike. The new Beijing airport terminal apparently is still having the bugs worked out. There was a 30-minute wait for the luggage to appear. The bike arrived at the oversized luggage area, unharmed. I loaded the panniers and road out of the terminal glad to back in the saddle again.
Fortunately Beijing airport is easily accessible by bicycle. There is a narrow frontage road to the airport expressway, and at 4 p.m., it was bumper-to-bumper into the city. Nonetheless, it was a pleasant ride for most of the way.
Arriving at the northeast corner of the city, just outside of the Second Ring Road where the airport expressway begins, I stopped to call my German friend Rainer's in-laws. They live in the Chaoyangmen area, and invited me to spend the night. Rainer also had some things he borrowed from me he used on his month long bike trip through Sichuan, Qinghai and Gansu. I had met Rainer's father-in-law in San Francisco in 1997 when he, Rainer and his wife visited us.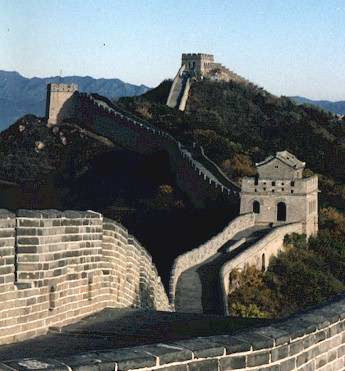 The Great Wall at Badaling
I misread the directions, and thinking that the address was Dongzhimen, I wandered up and down the street for some time amidst the bevy of Muslim and Chinese restaurants before realizing my error. Mr. Chen was waiting for me on the street when I cycled up to him. At 83, he is very active and energetic, helping with my luggage up the five flights of stairs.
I met the rest of Guang's family for the first time. Six people live in the cramped but homey two bedroom apartment. We had dinner and chatted about things. I asked them about the impending WTO admission of China, and they thought it would be good for all.
Mr. Chen graciously offered to let me spend the night with them, and set up a fold-up bed in the living room for me to use. The family has two computers, and I was able to check and send email before retiring to bed.
The next morning, I got an early start. First on the list was to find a hotel so I could move my gear and the second bike to the hotel in preparation for Don's arrival. Using Peter Neville-Hadley's Beijing, I identified several options. The first, Huakai Binguan north of the Forbidden City on a quiet hutong told me that they don't accept foreigners. That was a bit of a surprise. The staff suggested another nearby hotel, but they were booked up. I then went down my list of possibilities, and found that one after the other was full. I was getting concerned as time was running out and I had to come up with something. I thought that the week after the end of the National Day holiday week would not be many tourists. At last, six hotels later, I got a room in the Qianxin Hotel in the Qianmen area south of the Forbidden City.
Don told me he was coming to China on a volunteer medical mission and wanted a cycling tour that included some of the well-known sights, including the Great Wall. We started communicating in January, 2001 and I got some information from him as to the type of tour he was interested in doing. He was to come to China in October and he could fit a week of cycling in on either side of his medical mission, which was scheduled for October 21-November 4 in Xi'an. I suggested that the tour be done before the mission, since the weather would be turning progressively colder. In mid-October, there was a good chance of nice cycling days.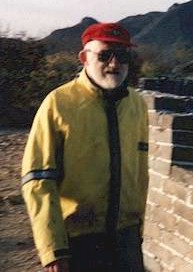 Don Beachey
I worked up a suggested itinerary and we agreed to meet at the airport in Beijing on October 13. When I asked Don how I would recognize him he answered, "It will be obvious, I am a cyclist." How true that was! Emerging from international arrivals, Don was clearly a cyclist, wearing a tell-tail glasses-mounted rear-view mirror, and sporting a winning yellow color jacket with white reflective strips. His demeanor was excited to be here and ready to go.
Not knowing how he would feel from the 13-hour flight from Detroit, I suggested we go to the hotel via bus and subway. Don was like a kid in a foreign toy store, noticing the differences between the China and the U.S.: types of cars, buildings, roadway markers, etc. His energy level was high and after we checked in, we decided to go for a ride around town.
---
Beijing to Chengde Seven-Day Tour Notes: Part 1 | Part 2 | Part 3 | Part 4
---
---
Bike China Adventures, Inc.
Home | Guided Bike Tours | Testimonials | | Photos | Bicycle Travelogues | Products | Info | Contact Us
Copyright © Bike China Adventures, Inc., 1998-2012. All rights reserved.