Do you have a China cycling travelogue you would like to share here?
Contact us for details.
---
Adele Arthur
"The Bin Yang Experience"
Part One


Copyright © Adele Arthur, 2004
The Bin Yang Experience - Part One | Part 2
---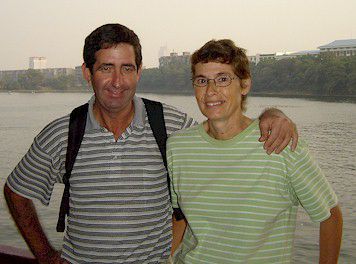 ---
We had contemplated a rest day in Nanning after our heroic 119 kilometres yesterday from Qinzhou but a very noisy night in the hotel made the choice for us. We would continue on to Bin Yang a small town (only 100,000!!) about 80 kilometres away.
An inspection of the small piece of sky available to us through the window seemed to indicate fair weather so we collected all our gear together and reclaimed our bikes from their undercover parking spot behind the hotel. We had paid 1 Yuan (16c) for them to be watched over during the night with many other bikes, cars and assorted vehicles. Of course the foreigners' bikes earned the privilege of staying out of the rain.
Much to our disappointment we discovered that it had rained recently and the roads were wet, always a depressing start to the day. We rode slowly out of Nanning as we were on the lookout for a 'bike shop' to see if we could purchase another spare tube. This side of town had less designated lanes for bikes and there were a few small hills and various other obstacles to negotiate including a wailing ambulance which couldn't seem to find its proper destination.
Nanning seemed to stretch forever and it must have been twenty kilometres before we came to genuine rural scenery again. Today the shoulder was small and patchy, combined with more traffic and mucky edges it was not the most pleasant riding. At Wutang we were amused by a group of chooks and ducks who were making the most of a 'free meal' that someone had deposited in the middle of the road. They seemed to be quite unperturbed by the fact that all the traffic on the main road had to negotiate around them!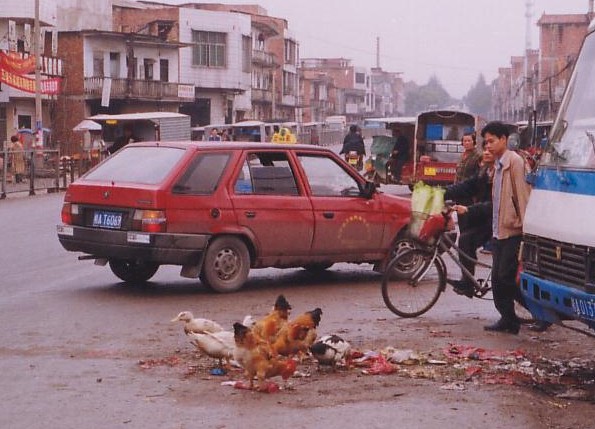 The chooks in the road.
Although it had not rained on us the day was cool and murky and the road surface was not drying out at all. When the main traffic line isn't drying there is absolutely no hope for the muddy puddles on the edges. However we were slightly cheered by the sight of some hills in the distance, and as we left Nanning behind the scenery improved.
In China there are often broken down vehicles on the roads. These are usually marked out by branches or rocks to warn the oncoming traffic of a stationary vehicle and repairs seem to take place at the point of breakdown. Today we came upon a group of very greasy, grimy men who were busily working underneath a large truck. Our appearance caused many amazed looks. A little further on we met another 'parked' van whose occupants consisted of two gentlemen in suits and ties. One was arranging help via a mobile phone while the other had set himself up in a folding chair beside the road and was reading a newspaper. The contrasts of China!
The road climbed fairly gradually over tree covered hills, with long constant ascents several kilometres long. Just the perfect opportunity for all those trucks and buses with overpowering diesel exhaust fumes to add a little more pollution to the atmosphere. After a short lunch stop there were some lovely downhills only marred by some uneven surfaces and a narrow or nonexistent shoulder.
By the time we rolled into Bin Yang about 3.30pm the road was just starting to dry out a little, despite there having been no rain at all during the day. Now we were faced with our usual challenge – how to find accommodation. As we rode into town we passed the police station and were slightly worried when a police van followed us along the street for a few minutes. Either they thought we were harmless or they were on a different mission because our escort soon disappeared.
We finally spotted a promising place and David went inside armed with the phrase book to make inquiries. While he was away a couple on a motorbike pulled up beside me and asked in perfect English, 'May we help you?' We were rather wary after a bad experience in Fangcheng so I just confimed with them that the building we were standing outside of was actually a hotel. They dubiously agreed and moved on.
A few moments later David appeared and reported that, 'Yes, it was a hotel but it didn't accept foreigners' – or at least that was his interpretation of the Chinese message he had received. We continued on down the street and eventually stopped near a major intersection while we considered our options. While we were there the helpful couple appeared again and this time we were happy to accept their offer of assistance. It turned out that we had just passed a hotel without noticing it.
David disappeared inside with our new 'friend' while I stood outside with the bikes and his wife. She told me in quite good English that she and her husband both taught English but in different schools. He was head of his department at a middle school in town while she taught younger children in a smaller school out in the country. She also told me – to my absolute amazement – that I was the VERY FIRST FOREIGNER she had ever spoken too. Her husband had been lucky enough to have had a foreign teacher at his school but she had trained at a different college and had learned all her English from Chinese teachers. She had a little difficulty in understanding what I said to her but I could understand most of what she said to me.
Finally we were safely checked in and I gave them one of our Australian postcards in thanks. They were delighted to receive it and we parted on good terms. We were kindly allowed to park our very filthy bikes in a nearby corridor rather than in the outside parking lot and we carried our bags up to our fourth floor room.
Everything was damp. The stairs has been recently mopped making them very slippery, the verandah outside the room looked as if it had been hosed down as there was water dripping from the ceiling and our room had the wet recently mopped look too. There was a persistent drip right above the door which David finally muzzled with a well placed ear plug! We hung up our wet washing in the rather vain hope that the socks might dry out a little – with the kind of weather we were experiencing it was taking about five days for them to dry!
We cleaned all the day's mud off the panniers and ourselves. Like most Chinese hotels the hot water in the shower would only be available for a few hours every day – usually between about 7.00pm and 10.00pm. However the other Chinese custom of supplying unlimited amounts of boiling water in thermoses (for hot tea) meant that we had plenty of warm water to wash in.
With nothing more exciting to do in our room than contemplate non-drying socks and Chinese TV we were soon on the move to investigate the town. We found a small supermarket which was useful but no obvious eating places. Eventually after walking around most of the town we ended up buying some tofu and corn on the cob from a street stall. It was served on a skewer and cooked over a small grill fire then liberally daubed with chili seasoning – hot stuff!!!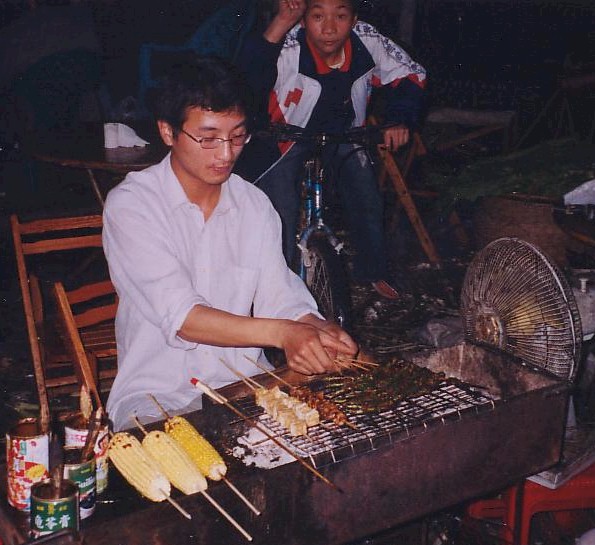 Cooking tofu.
Our friends had told us that we had come to Bin Yang at the right time – it was the night of the Fire Dragon Dance so there would be a big celebration in town. On our wanderings we had seen tables of fireworks for sale and as evening approached the crowds gathered. Soon the main street was virtually blocked off with people and it was difficult to move around freely. Around 7.00pm the noise began. The crackers were sold in huge coils and as multiple amounts were let off all at once it was definitely 'fingers in the ears' time. Apparently each family needs to ignite at least one coil so the town's potential was many, many metres of crackers.
The most exciting occurrence was the Fire Dragon's Dance. It emerged from a side street accompanied by a team of men dressed in yellow trousers and conical hats and equipped with 'broomsticks' – their function was to create a space between the crowd and the dragon. Although the dragon itself was not terribly spectacular it was an exhilarating feeling to be caught up in a genuine local celebration. I risked my eardrums and took my fingers out of my ears for a few seconds to take a couple of photos. It was extremely noisy!!!!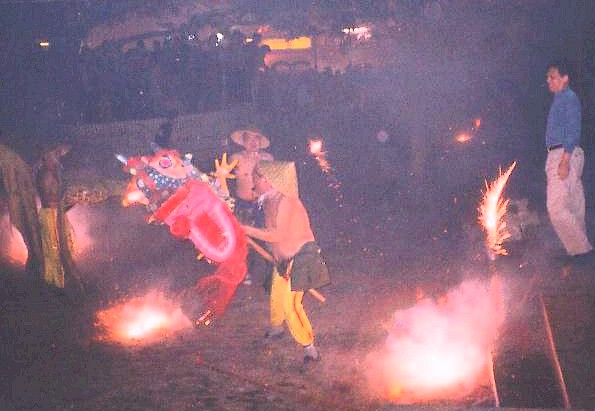 The Fire Dragon Dance.
Amazingly there was no letup in the volume and when we retired to our room at about 9.15 it was still going strong. Fortunately we weren't too close to the centre of activities and as we lay in bed it just sounded like a heavy rainstorm, complete with the occasional 'clap of thunder' when other fireworks were ignited. It was after midnight before there was quiet in the town – there had been over five hours of continual fireworks!!
Next: The Bin Yang Experience - Part Two
---
The Bin Yang Experience - Part One | Part 2
---
---
Bike China Adventures, Inc.
Home | Guided Bike Tours | Testimonials | | Photos | Bicycle Travelogues | Products | Info | Contact Us
Copyright © Bike China Adventures, Inc., 1998-2012. All rights reserved.