Do you have a China cycling travelogue you would like to share here?
Contact us for details.
---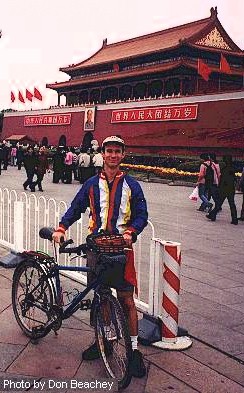 Peter Snow
Cao




Beijing to Chengde Seven-Day Tour Notes
Part 4
Copyright © Peter Snow Cao 2002.
Cycling to Chengde
The restaurant we stop at is clearly geared for unsuspecting tourists with prices many times the norm, but as the first customers of the day, we are able to negotiate a four-fold reduction. Tea is served unordered, and when the bill comes they try to charge us 10 yuan for it. We refuse to pay for it and walk out the door.
The ride north of the Great Wall is on good relatively low traffic roads, with few hills. We pass through small towns and villages with farms between. There are few industrial complexes in this area. I am anxious to check my email, but strangely there are no internet cafes. When we stop to ask, most people seem uncertain as to what is we are looking for. Another odd thing about this area is that we could not find any telephones where we could make a call to another province. It was as if one were in Beijing there would be no reason to call anywhere else. This was totally different from southwest China, where internet bars and country-wide telephones are available even in the most remote areas.
At lunch time we stopped at a small village which had the curious distinction of having all the business signs uniform in size, color and format; blue characters on white background written vertically and attached at the same height to the outside of the buildings. They must have had a very rigid sign ordinance, or there was just one sign maker in town.
Randomly picking a small restaurant us sat down for a good meal of bread and soup. The owner told us she gets a few foreigners stopping at her place while hiking along the Great Wall which is just a few kilometers north. The latest was two months ago when a New Zealand backpacker stopped in.
Our map indicates that the Great Wall crosses the road ahead, so we do not detour to the crossing north of town. However, when we get to the point where the wall was supposed to be, nothing could be seen. Yet another map error.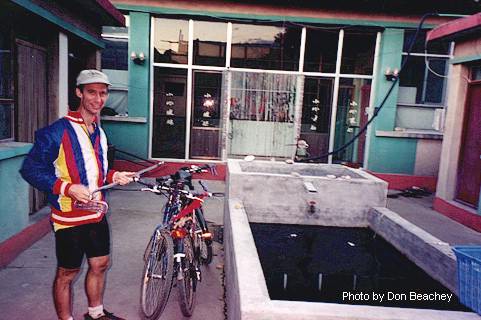 Simple accommodations
Our stop for the night is in a small village with only simple guesthouses with no shower, only hot water bottles and a basin. After a big meal of the local specialty, small fried fish, we go to bed.
The next day we get up before light, and fortunately are able to let ourselves out the door. We are cycling in a narrow valley, winding along a small stream. No place is open for breakfast, and besides, Don likes to work an appetite beforehand.
At a turnoff, we climb a moderately long hill passing a small hotel/resort. However, it appears they have closed for the season. Nearby is a metal stairway leading up a rock face new a dry waterfall, and we stop to investigate. It leads up into a small canyon with more dry waterfalls. It would be spectacular with water.
The landscape has changed dramatically, with small mountains on either side of the winding road and many short tunnels. The elevation we have climbed now affords us a good view.
After the stairway, we continued along this wonderful road. The bleached white rock formations and the vistas afforded by being midway up along the canyon made for a most enjoyable ride. The road was surprisingly free of traffic, but it also meant there were few services along the way. About 9:30 a.m. we had worked up one heck of an appetite, and spotted a small settlement off the main road. The small shop there had only a few dry goods, hardly satisfying for two ravenous cyclists. The owner took us to her friend who we met walking along the road. We explained the situation and she said she could make us a little something to eat. This middle-aged hefty woman had an infectious laugh and chatted away as she led us to her place. She ran a guesthouse, now completely empty since the season had apparently passed. She invited us to rest in one of the guest rooms while she prepared the meal. It was a long time coming, and Don made use of the warm room and beds to take a nap.

Getting the royal treatment from our jolly hostess
The meal was enormous, even by cyclist's standards and we had trouble finishing it. For payment, she said it was up to me to decide. I always hate it when this happens. Offer too little, and everyone feels bad, offer too much and pay too much. I tried to get her to set a price, but she apparently thought the chances of getting more were better this way. I had 19 yuan in change, and then nothing but big bills. I thought that the meal was probably worth about that in normal circumstances, but here I wasn't so sure. So I thought I would give it a shot. Our proprietor was not impressed, and asked if I thought it was fair (a clear sign she didn't). I explained that I didn't have change, and she assured me that was no problem. So I asked if 30 yuan would be satisfactory. Apparently so because she was all smiles after that.
The road snaked along the north side of the Miyun (Hidden Clouds) Reservoir. There were various tourist attractions along the way, but we chose to continue on instead. Passing through several villages we would attract kids on bikes who would tag along until they reached home, or poop out. It was nice being in an area where the common people spoke relatively understandable Mandarin. In the southwest, the dialect is often so far from Mandarin, one wonders why bother learning any at all.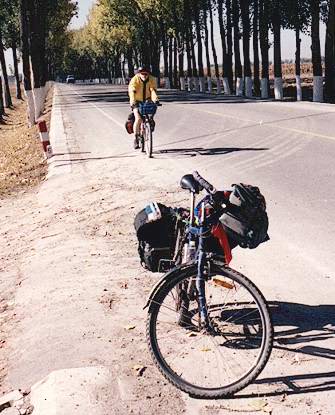 Quiet roads north of Beijing
We arrive in Gubeikou near dark and check into a roadside hotel which, like the night before, has no hot water because the boiler is being fixed. The staff provides all the boiled water we want, however, so we shower using a basin and thermos bottles.
Gubeikou is the location where several Great Wall sites can be view, the most developed being Simatai and Jinshanling. Talking to the locals revealed that it is also possible to visit another site that is undeveloped. We think that sounds grand and make plans to go first think in the morning.
We awake before light again and decide to visit the Great Wall before cycling, so we flag down a mianbao mini van to take us to the undeveloped site. After a five minute ride we stop at the base of a hill and our driver points at the Great Wall on top and says we are here. Neither Don nor I wish to spend half a day climbing up and back, so we change our plans and decide to go to Jinshanling instead. A renegotiation in fare begins as we set off. It is about 18 kilometers away, and relatively low in elevation compared to the Badaling site. At the entrance our driver drags the ticket seller out of bed and appears in his underwear to sell us the tickets. There are a few guesthouses/hotels on the grounds on the this site so we could have stayed here if we wanted to.
We have arrived before sunrise again, but the souvenir sellers are a bit more ambitious here as we are tagged the moment we start walking up to the wall. They are, however, low-key and never get pushy.
The wall has the just-minted feel to it, but the setting is spectacular and we spend an hour or so climbing around and snapping photos.
After returning to the hotel, the driver tries to extract more money from us, but in a non-confrontational fashion and I tell him to forget it. He shrugs and returns the correct change without further argument.
Today will be our last full day of cycling as we make our way to Chengde. The road is well paved with a wide shoulder, and busier than the previous days. It is also lined with restaurants, many with attractive young ladies sitting near the roadside even at 8 in the morning attempting to lure drivers to stop.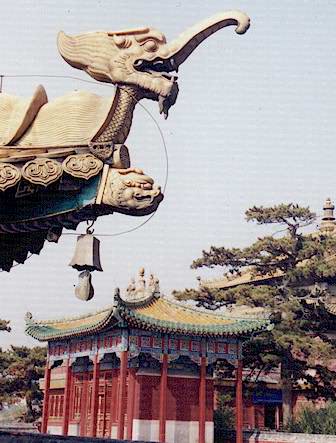 Roof detail on a temple in Chengde
Chengde was used as the Imperial Mountain Summer Resort to get away from the steamy hot summers in Beijing. Aside from the enormous resort itself, there are eight temple/palaces around it used for visiting dignitaries of various factions including a mini Potala.
Arriving in Chengde, we make a bee line for one of the nicer hotels, determined to have nice hot shower tonight. We stay at the Dehui Hotel near the south gate of the Summer Resort.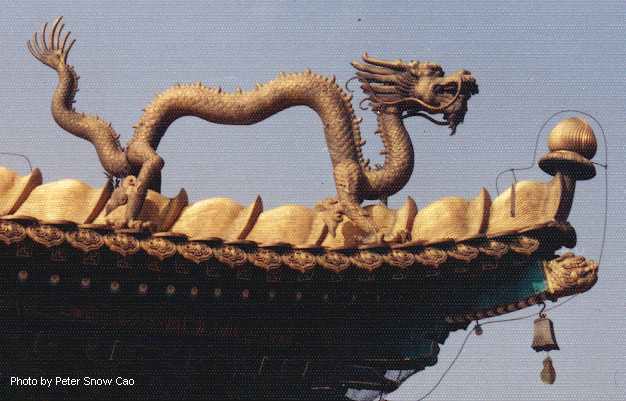 Roof detail on a temple in Chengde
We plan to visit the sights in the morning and catch the train back to Beijing since Don's brother is a railroad engineer in the U.S. and he wanted a report from Don as to the trains in China.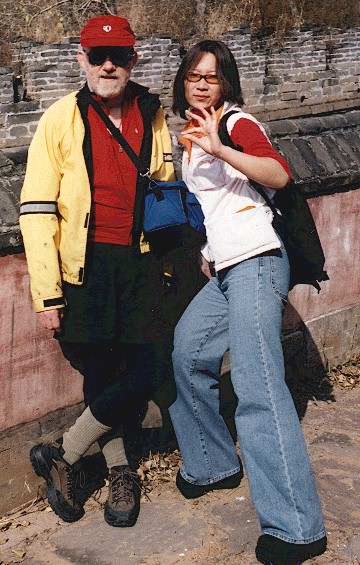 Woman in Chengde who wanted to take a photo with Don
It is a 4.5-hour trip and we are assigned seats in the soft seat car with only foreigners. The train attendants entertain us while trying to soft sell a number of trinkets, books and the like. They model scarves, sweaters and jewelry while serving coffee and tea. The Europeans are buying, but we just watch.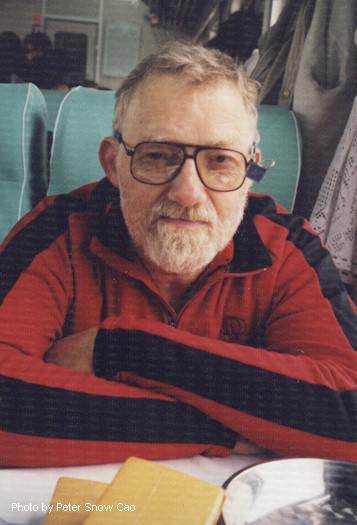 I shipped the bikes directly to Chengdu, where I live, from Chengde, so we arrive in Beijing with only our bags. We take the surprisingly clean and uncrowded subway back to the hotel where I check Don in, and we bid our goodbyes. Don is on his way to Xi'an for some medical volunteer work and I am going home to overcast Chengdu. It has been a wonderful trip with plenty of memories.
---
Beijing to Chengde Seven-Day Tour Notes: Part 1 | Part 2 | Part 3 | Part 4
---
---
Bike China Adventures
Main Page | Guided Tours | Photos | Bicycle Travelogues | Products | Info | Contact Us
Copyright © Bike China Adventures, 1998-2005. All rights reserved.