Do you have a China cycling travelogue you would like to share here?
Contact us for details.
---
Amelia Oliver
"Cycling over the Himalaya from Kathmandu, Nepal to Lhasa, Tibet"


Amelia Oliver cycled with Christine and Malcolm Clark (www.kiwisonbikes.com) who rode from England to New Zealand.

copyright © Amelia Oliver, 2002
On top of Yakri Shung-La
SHIGATSE, TIBET 6 Nov. 2002
We've been on the road cycling for three weeks now, and have managed to come across the Himalaya and up onto the Tibetan plateau. The route in the opposite direction is famous for being "the world's longest downhill" - 120 km from the top of the first high Himalayan pass strait down to the fertile rice paddies of Nepal. Apparently it's a popular thing to do in a LandCruiser - we've seen a fair number of tourists go roaring by. For us it was 120 km of uphill, over roads that were sometimes mud, sometimes rocks of all sizes, sometimes sand, but almost never pavement. We had four passes over 5000m (I think that's around 16400 ft), which was difficult. At altitude your breath gives out quickly and your body cannot push like it can at sea level, since the air here contains only 60% the amount of oxygen as air at sea level (at 5000m it's only 53%). Plus the loaded bicycles are heavy anyway and you don't sleep well at night in the cold and altitude. But the high passes reward a bicycle's grinding progress by slowly unfolding spectacular views of the highest, whitest, cruelest, most sacred mountains in the world. And the top of each pass is crowned with masses of colourful silk prayer flags, backed by unbelievably blue sky and panoramas of the Himalayan ranges named for their 8000m superstars: Shishapangma, Langtang, Cho Oyu, and the Everest (Jomolangma in Tibetan) range. Two of us also did a day trip to the top of 5220m Pang-la, the pass heading toward Everest base camp from the Tibetan side. They say that seen from the Nepali side, Everest is partially hidden behind Nuptse and Lhotse, and doesn't even look like the highest mountain. But from up on the Tibetan plateau, it stands out unmistakably like a huge dark pyramid, trailing a giant plume of jetstream cloud. I had always dreamed of seeing Mt. Everest, and the views from Pang-la were stunning.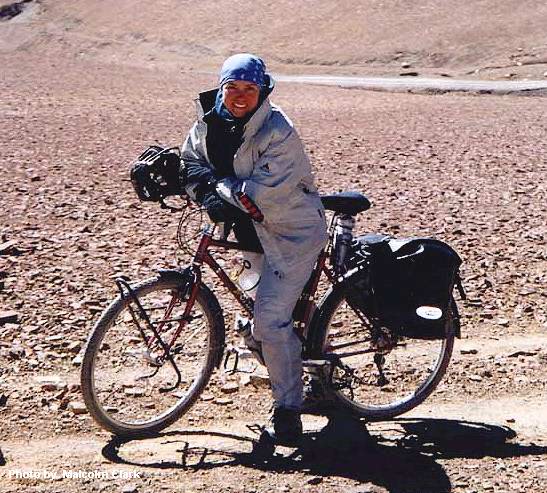 On the road to RongBu Monastery and Everest Base Camp, just below Pang-la pass
We had the mountains on our horizon for several days before crossing the final, highest pass into the heart of Tibet. It's called a plateau but actually it's covered with small mountains. The horse is still a major means of transportation here, and yaks, sheep and goats the source of human sustenance. It's moderately cold at night (around -5-10 Celsius) and gets up to +15-20 Celsius during the day, but there is no snow on the road.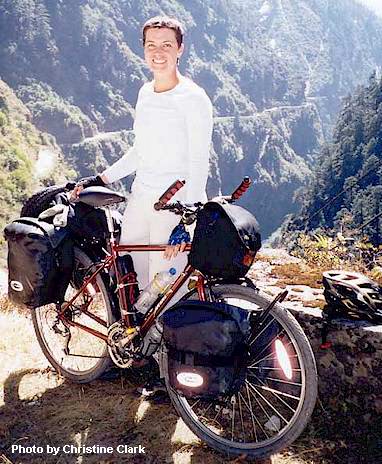 The climb from the Friendship Bridge on the Nepal-Tibet border up to Zhangmu, the Chinese border town, our first day in Tibet
October-November is atually the tourist season in the trans-Himalaya, because it's dry and clear, even though it is cold. We are sometimes camping, sometimes staying in guesthouses, rooms in someone's house in a village we pass through, and a couple of times in road-mender camps. Usually there is no electricity and any heat comes from yak-dung stoves in communal rooms. We are eating what we can find - the staples are instant noodles, processed meat sausages, fried dough cakes, and Chinese Army ration carbohydrate bars. Most of what you can buy to eat here is either Chinese food processed and packaged to death in tiny unidentifiable portions, or local sheep carcasses sold off the back of a donkey cart. Water is scarce so cleanliness has become a luxury, since at altitude you're supposed to drink 4-6 liters a day. It's not very clean water, even after iodining and boiling it, so we are also getting sick. Luckily the hardest part of the trip - climbing from warm green Nepal up into cold, brown, dusty Tibet - is behind us. Today we visited a stunning monastery, enormous, packed with Tibetan Buddhist art and with chains of pilgrims offering oil and money to the monks and sacred images. We are about two weeks out of Lhasa.
-- BREAK --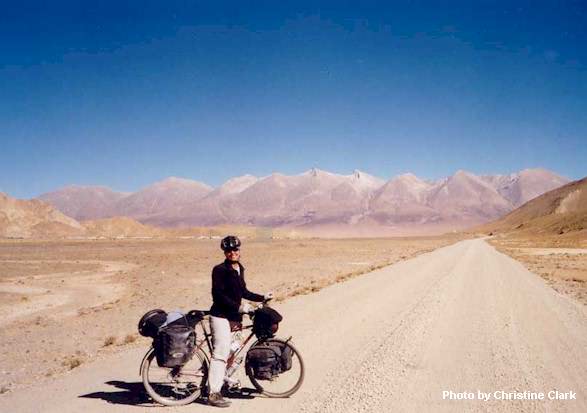 Somewhere on the Tibetan Plateau
LHASA, TIBET 15 Nov. 2002
Shigatse marked two-thirds of our route from Kathmandu to Lhasa finished. We had only 350 km left to go, and planned to do it in eight days. We left Shigatse on a brand-new flat tarmac road to the next town, Gyantse - it was like riding on silk. In comparison to our earlier route, the valley through which we now rode was wide and well irrigated. The road was almost always lined with houses, and the plains beyond were planted with barley, or grazed by horses, sheep, small shaggy goats, cattle-yak hybrids, and even pigs. We met many people along the road, mostly schooldchildren and pilgrims. The pilgrims were sometimes on foot, sometimes riding in carts towed by horses or more often by tractors, and sometimes packed into covered-wagon trucks like something out of the American Old West. The day was beautiful and everyone smiled and nodded or waved in greeting.
In Gyantse we checked into the guest house of the local furniture factory. Gyantse seems to be the least Chinese of the large Tibetan towns. I remembered Lhatse, where filthy Tibetans had loitered drunk and begging on the sidewalk while Han Chinese ran stores in Chinese buildings. Gyantse still looks like a Tibetan city, the only one we would see. Tibetan houses are thick blocks around a central livestock courtyard. The bricks are cut from the clay earth and then dried in the sun, and the houses are painted white, with black around the small windows and elaborately-carved and brightly-painted wooden eaves. Thick wooden doors are often painted red and mounted on giant brass hinges. White curtains flutter above the doors and windows.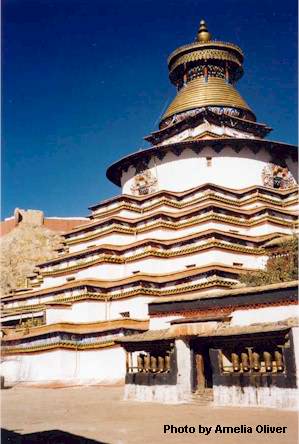 The Kumbum (hundred thousand) Stupa in Gyantse
Gyantse is famous for its stupa, the largest in Tibet, called the kumbum (hundred thousand) stupa because of its hundred thousand Buddha images. You ascend the eight levels of the stupa walking clockwise around the outside, and as you walk around you visit little chapels built into the walls. Each chapel has a statue of a Buddhist deity, or a lama, and hundreds (or thousands) of exquisite Buddhas painted on the walls. The higher you go, the more esoteric the images become, but we were not allowed to climb to the highest levels. I imagine in days past only months or years of study would earn a student admittance to successively higher chapels, to behold the brilliant Buddhas and learn their tantric secrets.
The other site in Gyantse is the dzong (fortress), crouched on top of a huge rock mountain rising out of the center of town. The fort was sacked by a British army in 1903-04, and now houses a small "Anti-British Museum" to commemorate the battle, and the valiant effort of the Tibetans to "protect the Chinese Motherland"!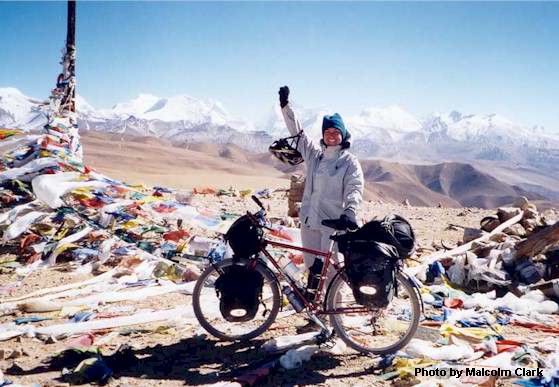 On top of Yakri Shung-La (la means pass)
I left Gyantse ill. The next four days were punishing, including two high passes which rewarded hours of sweaty climbing with 1000-meter bone-bruising descents over horrible rocky roads in late-afternoon cold. We did get very close to some impressive glaciers while we crawled over the shoulder of mount Nojin Kangtsang, although I was almost too tired to care. For me these passes were the most difficult, probably because we were camping and I didn't sleep well in the freezing nights. Once my companions had pity on me and we spent the night in a nasty little town. We got a late-night visit from the local cops, checking to see if our permits and visas were in order. It was more annoying than frightening, although travellers in Tibet share stories of midnight harassment and fines by rude and corrupt police.
The next day we were cycling around holy Yamdrok Tso lake, at 4500 meters, when we noticed clouds erasing the scenery behind us. We had been incredibly lucky with bright hot days our entire way from Kathmandu. Now, instead of its famous turquoise color the lake showed us only murky grey, and the snow-brushed peaks around it were fast disappearing under the descending sky. At lunch we sheltered from the wind in a small pit and decided to push over the last pass that day, instead of camp below it as we had planned. We were afraid of getting snowed in. We reached the top of the Kambala pass at 4:30 p.m., just as the tiny snowflakes started to really bite our faces. After rushing through the obligatory photograph with the Chinese tourists who always turn up at the tops of passes in Land Cruisers, we put on our balaclavas and down vests and started down the other side. A few minutes later we stopped to put on all our other clothes - I wrapped my extra wool socks over my hands, nearly frozen into position on the brake levers. After 15 km and probably 20 switchbacks we found a campsite in a depression on the side of the mountain above our road. We had descended 700 vertical meters.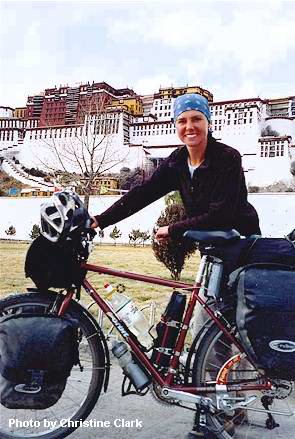 The first one is the day we arrived in Lhasa (in front of the Potala Palace).
The night was warmer than I expected, and in the morning everything was insulated by a light layer of snow (and ice). We started off early and by mid-morning we had come down the mountain, crossed the Brahmaputra river, and reached a paved road. The road turned into a real highway, with paint even, and traffic. Around 4:00 p.m. we had our first glimpse of the Potala Palace in the distance, sadly crowning the once-holy city of Lhasa. An hour later we were there, in front of it, surrounded by fascinated pilgrims, beggars, and jewelry vendors. We took what I imagine will be pictures worth a thousand words about our condition when we arrived in the Tibetan capital. Then we dragged ourselves to a hotel, trailing children and curious locals, where we spent over an hour unloading our tired bikes and dragging everything up to rooms on the third floor. I had made it - exhausted, filthy and ill - to the end of our road and to a well-earned dinner and sleep.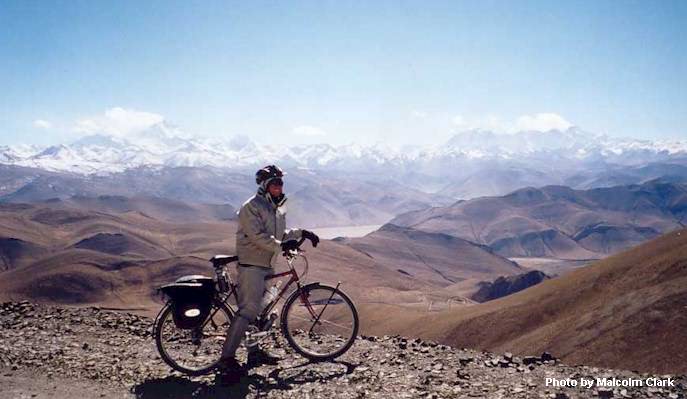 On the road to RongBu Monastery and Everest Base Camp, just below Pang-la pass. Behind me on the left is Everst and on the right is Cho Oyu.
---
---
Bike China Adventures
Main Page | Guided Tours | Photos | Bicycle Travelogues | Products | Info | Contact Us
Copyright © Bike China Adventures, 1998-2005. All rights reserved.